VietNamNet Bridge – The market of goods and services for children is really a big cake for every enterprise, which is worth $5 billion. But it has not fully exploited by domestic enterprises.
Figures can talk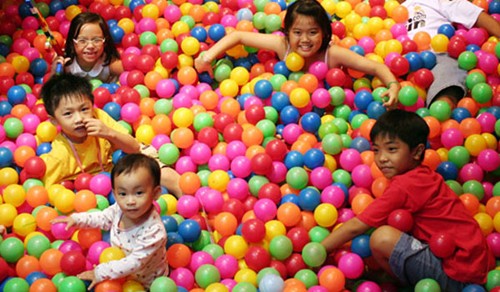 According to Thomas J. Ngo, CEO of Nkind, a market survey firm, Vietnam has some 20.6 million children aged from zero to 12, who could be the targeted clients of goods manufacturers and service providers.
The market comprises of three main market segments 1) educational services 2) healthcare services and 3) other kinds of goods and services.
The third market segment alone is worth $3 billion a year, in which dairy and nutritious products alone is worth $1.2 billion. Other products including toys, clothes, and hats make up $1 billion, while entertainment services can bring $700 million every year.
It is estimated that every parent pays VND500,000 for his child every month in Vietnam. Meanwhile, the figure is triple in HCM City, about VND1.5 million.
A survey of FTA, also a market survey firm, has made some interesting findings. The people who make the main decisions in buying goods and services for children are middle aged women, 30-55.
According to Tran Ngoc Dung, Managing Director of FTA, the women belong to a special group of consumers, with 40 percent going to work or having their private business. The average income of the financially independent women is VND20 million a month, which mostly comes from their business.
Therefore, Dung believes that the mothers should be the potential clients manufacturers should target to when selling the products for children.  He has noted that mothers usually buy things for themselves and families when they go buying things for their children.
What do mothers buy?
In general, mothers choose the clothes priced at no more than VND200,000 for their kids aged 1-3. A mother can spend up to VND1-2 million for every time of going shopping, especially if she has children aged less than six months old.
In the previous years, the domestic children's toy market was dominated by foreign products. However, FTA has noted that Vietnamese mothers now tend to buy domestically made toys for their children. 52 percent of mothers said they would prefer Vietnam made toys.
While Nkind says a Vietnamese mother spends VND500,000 a month on her kids, and VND1.5 million in HCM City, FTA believes that the mothers in big cities spend VND2 million a month.
Low cost products for children flooding market
Unofficial statistics say that Chinese toys now make up 80 percent of the domestic toy market.
The owner of a toy shop on Hai Ba Trung Street in HCM City confirmed that only 10 percent of the products available there is made in Vietnam, saying that domestically made products are more expensive, while they are not really attractive.
The lack of Vietnamese toy products in the domestic market has been attributed to the lack of investment capital. It is estimated that investors have to spend at least one million dollar to set up a toy production line which can make safe and high quality products. Besides, investors would also have to spend money on research and development.
Ngo from Nkind believes it'd be better for Vietnamese manufacturers to develop niche markets, which foreign products have not reached to.
TBKTSG