VietNamNet Bridge – Millions of farmers in Mekong Delta never dream of making a profit of 30 percent as promised by the government. They just wish to sell out the rice.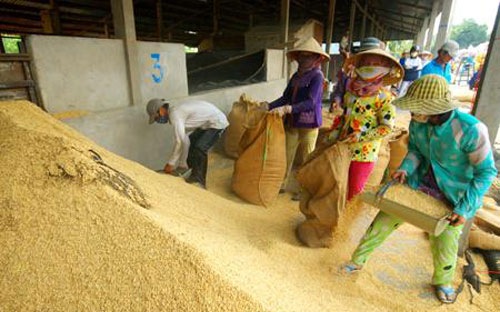 The campaign of collecting rice from farmers for storage began several days ago. However, the rice price in Mekong Delta still could not rise up. The rice fields are ripening profusely and vigorously. But the rice still cannot be sold. Merchants have gone away.
A farmer in Co Do district of Can Tho City said some days ago, he refused to sell rice when a merchant paid VND4,100 per kilo of fresh long grain rice, and now he regrets the decision, because the price has been decreasing since then.
Tu Thanh, a farmer in Tan Hong district in Dong Thap district, complained that the rice price has dropped to the deepest low.
"I heard the price has increased by VND100-200 per kilo since the day rice companies began collecting rice for storage. However, no price increase has seen in our locality yet," he said.
"I just wish to sell out the rice now," he said.
Fresh normal rice is now reportedly traded at VND3,700-3,900 per kilo in the Mekong Delta, while long grain rice is at VND4,100 per kilo.
However, a lot of farmers complained they cannot sell rice at the said levels. A  senior official of the Kien Giang Department of Agriculture and Rural Development has confirmed that no price rise has been seen in the locality.
Seven export companies have been assigned by the Vietnam Food Association to collect 85,000 tons of rice in the province
Meanwhile, Phan Kim Sa, Deputy Director of the Dong Thap Industry and Trade Department, said the summer-autumn fresh rice price has dropped dramatically by VND700 per kilo in comparison with the last year's. A lot of households had to sell rice at the prices below the production costs just to get money back to pay debts.
Who will rescue farmers?
Farmers now put a high hope on the Vietnam Food Association VFA, which takes the responsibility of collecting one million tons of rice from farmers in Mekong Delta.
Some days ago, VFA Chair Truong Thanh Phong reassured farmers that the current problems would only exist until the end of June, while the situation would be improved by early July, when the import demand increases again.
Le Anh Tuan, Director of Thinh Phat Company, also said that Vietnam's loyal importers such as Indonesia and the Philippines usually begins importing rice in large quantities in July, which is a reason for VFA to cherish the hope of boosting exports in the time to come.
Phong, at a recent meeting, promised that VFA would try its best not to let farmers incur loss.
However, no "good news" has come yet. Experts said though more rice export contracts have been signed, Vietnam is still in big difficulties, because it has to compete fiercely with other exporters. Vietnam's rice export price has decreased by $22.8 per ton so far this year.
FAO has predicted that the global rice output in 2013-2014 may rise to the record high at 499 million tons, an increase of 2 million tons over the previous year. This may lead to the record high inventory volume of 182 million tons, or four percent higher than the year before.
Meanwhile, also according to FAO, the global rice trade would see a slight decrease from 37.6 million tons in 2012-2013 to 37.2 million tons in 2013-2014.
Compiled by C. V