VietNamNet Bridge – Viet Nam is on track to fulfil its target of attracting US$32-34 billion in Official Development Assistance (ODA) and preferential loans during the 2011-15 period, along with capital disbursement of $14-16 billion.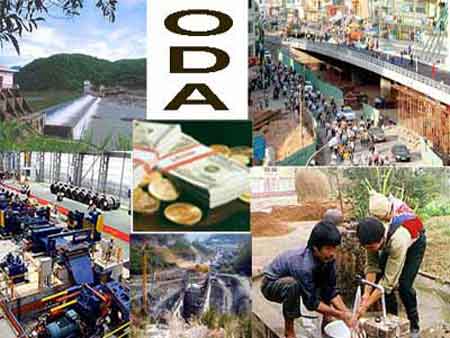 Viet Nam is on track to fulfil its target of attracting US$32-34 billion in Official Development Assistance (ODA) and preferential loans during the 2011-15 period.
The statement was made by Deputy Minister of Planning and Investment Cao Viet Sinh, who added, "Viet Nam has disbursed more than $7.8 billion during the past two years."
"This year the country targets to disburse about $4.5 billion, raising the total amount of ODA disbursement during 2011-13 to $12.3 billion," he noted.
"It means that the country needs to disburse between $1.6-3.6 billion in the next two years to fulfil the target," he pointed out.
During the past 20 years, donors' ODA commitments to Viet Nam reached about $76.2 billion, while total ODA disbursement during the period was estimated at $36 billion, according to the General Statistics Office.
This year, foreign donors pledged $6.45 billion in ODA for Viet Nam.
The European Union and its Member States alone have pledged $965 million in ODA for Viet Nam this year, said Franz Jessen, head of the Delegation of the European Union to Viet Nam at a press briefing in Ha Noi yesterday, June 18.
The EU had allocated development assistance to sectors where Viet Nam is seeking progressive reforms to maximise synergies between Government policies and development assistance programmes, said Jessen.
"Bilateral assistance allocated to Viet Nam will trigger and drive policy reform in a wide range of sectors such as the rule of law, public finance management and the health sector," he said.
To ensure the ODA target is within reach, Prime Minister Nguyen Tan Dung in April asked for comprehensive measures to attract, manage and use ODA more efficiently.
The PM asked relevant ministries, sectors and localities to co-operate with the National Steering Committee for ODA and Preferential Loans to review and assess the implementation of ODA-funded projects and programmes and have measures to promptly tackle difficulties for projects with sluggish disbursement.
However, Deputy Minister Sinh admitted that challenges remained for Viet Nam in ODA disbursement, including difficulties relating to ODA-related mechanisms and policies, differences in procedures between Viet Nam and donors, the lack of corresponding capital and land clearance for ODA projects.
Asian Development Bank (ADB) Country Director for Viet Nam Tomoyuki Kimura said that since 1993, the ADB had approved over 100 loan-funded projects, half of which have been completed. A post-project evaluation suggested that with a 90 per cent success rate, most ADB projects have been successful.
However, the ADB director said many of these projects faced significant implementation delays.
"This means the intended benefits of the projects are delivered to beneficiaries much later than originally hoped. Also the actual costs of projects increase due to inflation, and in an effort to fit the project activities within the original budget, many projects are downsized in scope," he said.
"Start-up delays and mechanism for project approval remain key issues."
In addition, Viet Nam is expected to face more challenges as it is now a middle-income country, which means that attracting high levels of ODA will become increasingly difficult.
Sinh said some donors had changed their official development co-operation models with Viet Nam to focus more on co-operation between partners while some donors may stop providing ODA for Viet Nam in the coming years.
"That requires the country to have appropriate measures to attract and improve the efficient use of this capital source to meet investment development and ensure ability to pay foreign debts," he said.
ADB country director Kimura said the type of ODA projects, as well as availability of the funds in Viet Nam, are quickly changing.
"Concessional assistance is becoming increasingly scarce and Viet Nam will eventually have to graduate from it. Therefore, it is essential for Viet Nam to make sure that limited ODA funds are allocated where most value can be added and utilised efficiently," Kimura said.
To ensure efficient use of ODA, Sinh said the ministry had worked with relevant ministries, agencies and donors to carry out a number of measures, including finalising ODA management mechanisms and policies and increasing guidance and support for project owners to deal with difficulties.
Work has also been carried out to review and assess the implementation of ODA projects to ensure timely measures to tackle the shortcomings of troublesome projects, Sinh said.
As a donor, ADB urged the Government to better ensure project readiness and make sure that projects in the pipeline are only approved once they have achieved a high degree of total project readiness, said Kimura.
"Key to this is professional capacities of Project Management Units (PMUs), where key staff including project directors, chief accountants and procurement officers should be members of permanent units that provide staff with attractive career paths and monetary and non-monetary incentives to perform well," he said.
Source: VNS