VietNamNet Bridge – The European Union has committed EUR743 million (US$965 million) in official development assistance for Vietnam in 2013, making it the country's largest aid donor.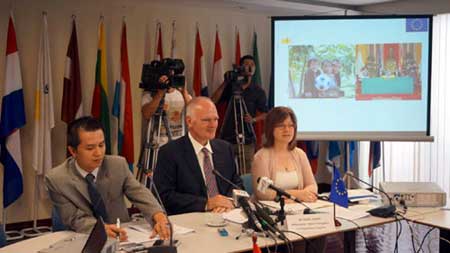 Ambassador Franz Jessen (in the middle) announces the EU's aid package for Vietnam.
The EU believes that its assistance will help Vietnam accelerate reforms in legislation, public finance management, and health care, said Franz Jessen, EU ambassador to Vietnam, at a ceremony in Hanoi on June 18 to release the EU's Green Paper 2013.
The EU will help Vietnam integrate into the region, directly support the civil society, and increase cooperation in such areas as energy, tourism, climate change, and the environment, he said.
The diplomat said total EU grants, including non-refundable aid, will fit in with socio-economic priorities in its socio-economic development strategy and support the Vietnamese government's economic restructuring effort towards long-term development and social security.
The donor will allocate development aid to Vietnam's priority areas in order to optimise the consistence between the government's policies and development programmes, contributing to sustainable development, poverty reduction and global economic integration.
The Green Paper has examined challenges Vietnam faces to become a middle-income nation in the context of the slow global economic recovery and increased inequality. It also looked at ways to overcome these challenges.
Source: VOV