VietNamNet Bridge – From 2015, Vietnamese products of pork, chicken and poultry eggs would no longer enjoy the local production protection policies. It is expected that by that time, Thai, Indonesian and Malaysian products would flood the domestic market.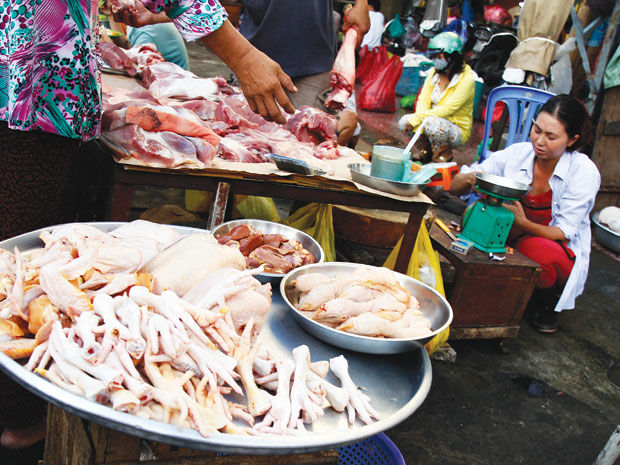 Thai chicken need 6 hours only to arrive in HCM City
Pham Duc Binh, General Director of Thanh Binh Company, who is also Deputy Chair of the Vietnam Animal Feed Association, said with the current conditions of the livestock industry, which is far inferior to regional countries in terms of the scale, productivity, production costs and quality, Vietnamese enterprises and farmers would suffer big difficulties once the protection is removed.
Also depending on the breeders' quality, Thailand, Indonesia and Malaysia, which are believed to have the most developed livestock industry in the region, have greater advantages than Vietnam in the field, especially in the farming scale and the productivity.
A worker in Thailand is believed to take care of a flock of 20,000 fowls, while a Vietnamese worker handles 5,000.
Thailand has been pursuing a methodical investment strategy on the animal husbandry industry, which allows to control the feed material sources. Unlike Vietnam, Thai farmers can make animal feed instead of relying on imports.
Especially, Thai farmers can access bank loans at the low costs, enjoy tax incentives and the government's support. All of these help make their production costs lower by 15-20 percent than Vietnam.
Binh said 10 years ago, he once came to Thailand to learn about the competitiveness of the country once the tax is removed. In early 2013, he decided to quit the fowl farming because he realized that he would not be able to compete with Thais.  
"Thais can provide fowls at very low prices. And I am sure that Thai chicken need only six hours to arrive to Vietnam. The products can be available at the Vietnamese markets at 4 am before housewives go to markets to buy food for the days," Binh said.
Other Asian countries can sell chicken at low prices to Vietnam partially because they are the big exporters, which sell products to many countries in the world. Since European countries favor chicken breast, the exporters would export chicken breast to Europe, and export chicken legs to Vietnam at low prices to make their products more competitive than domestic ones.
Domestic farmers bear hard pressure
Since taking a loss, foreign invested enterprises have been trying to apply different measures to cut losses. They have prolonged the farming time and cut down the output.
According to Nguyen Dang Vang, Chair of the Vietnam Livestock Association, the flcok of fowls has been narrowed considerably. In 2011, three big foreign invested enterprises -- namely C.P, Emivest, Japfa, bred 120 million fowls. The figure dropped to 70 million in 2012 and it is expected to decrease further in 2013.
"Up to 50 percent of the farms in the north have stopped farming," Vang said.
Vang went on to say that the tariff cuts within the framework of AFTA would have serious impacts on domestic farmers. He thinks that foreign big groups in the fields have realized that there are no more great opportunities for them. Therefore, they have been taking steps to gradually scale down the farming in Vietnam.
SGTT