VietNamNet Bridge – The Government's new VND30 trillion bank loan package was providing positive signals to Viet Nam's gloomy real-estate market, said the director of the State Bank's credit department, Nguyen Viet Manh.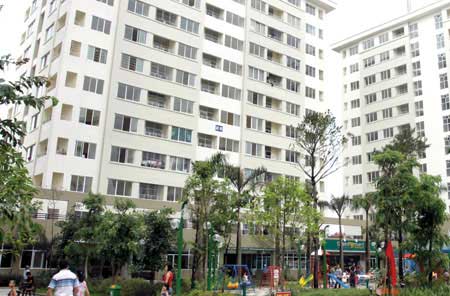 Low-income apartment buildings in the Dang Xa Urban Area in Ha Noi's Gia Lam District. The Government's new VND30 trillion bank loan package is a drastic measure to help prop up the low-cost housing segment.
Speaking at an online meeting on Monday, Manh said the package was a drastic measure that helped prop up the low-cost housing segment.
He said there was high demand for housing among low-income earners, especially those in urban areas, but low supplies.
Manh said the revived low-cost housing segment was expected to lead a spillover to other property segments.
Under the programme, the State Bank of Viet Nam will provide VND30 trillion ($1.428 billion) to five banks, including BIDV and Agribank, so that they can offer preferential loans to low-income earners and developers.
The fund will be disbursed over three years. From this month, eligible borrowers can access preferential home loans of 6 per cent.
On May 28, the Housing and Urban Development Corporation and Viet Nam BIC started a social housing project in Ha Noi's Linh Dam New Urban Area - the first to be developed with credit from the stimulation package.
Director general of the corporation Nguyen Duc Hung said on Monday that the project would provide more than 1,000 low-cost apartments by early next year.
"Thanks to the preferential loans, we can offer home buyers a price of about VND12 million per square metre," he said, adding that another of its housing projects in suburban Me Linh District could offer prices of less than VND9 million per square metre.
The corporation plans to develop about 5,000 low-cost apartments by 2015, and 20,000 apartments by 2020.
Hung said that the social housing segment would be a priority in its business strategy following Government incentives for housing, including preferential loans and tax policies.
Deputy minister of Contruction Nguyen Tran Nam said that social housing projects in Ha Noi would sell for less than VND12 million per sq.m.
In other provinces including Hung Yen, Thai Binh, Phu Tho, Bac Ninh, the price would be less than VND7 million per sq.m, he said.
"The prices offered express great efforts made by Government and developers, despite costs for building materials and land," he said.
In late 2009, the first social housing project was developed in major cities. So far, nearly 10,000 households have moved to their new homes.
In Ha Noi alone, there is a need for at least 100,000 low-cost apartments.
"We don't expect the package can meet demand, but it will help warm up real estate and prop other segments," he said, adding that at present, 70-80 per cent of housing for students and workers at industrial zones had been built by individuals, not by Government or housing corporations.
Tran Xuan Hoang, deputy general director of the Bank for Investment and Development of Viet Nam, said in the next few days, the bank would also implement projects with investors in southern Binh Duong Province.
Deputy Minister Nam added that early this week, Agribank signed lending contracts with 10 investors in 13 housing projects eligible for preferential loans under the stimulation package.
Source: VNS