VietNamNet Bridge – Last week, the VN-Index dropped 4.25 per cent over the previous week's close, reaching 473.21 points after breaking important support levels.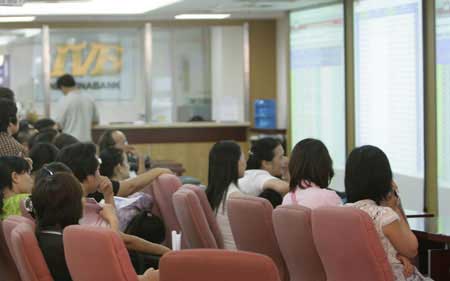 Investors watch market movements at SSI Securities in Ha Noi.
 
Trading value and volume on the HCM City Stock Exchange slipped 35 per cent compared to the previous week, averaging VND713.2 billion (US$33.9 million) and 36.3 million shares.
On the Ha Noi Stock Exchange, the HNX-Index fell 3.2 per cent to 58.36 points. Trading declined by 43 per cent to an average of VND194.1 billion ($9.2 million).
Foreign investors were net sellers in HCM City last week by a combined margin of VND27 billion. However, the net selling value on Thursday only hit VND90 billion ($4.2 million), based on blue chips.
When supportive information is scarce, trading by foreign investors usually defines the general movements of the market.
Reduced fuel prices and the coming reduction in corporate income tax offered some support. Petrol prices fall by VND410 (1.9 US cents) per litre, the second reduction after a dramatic price hike last month. In addition, the fuel import tax will increase by two per cent.
According to a draft amendment of the Law on Corporate Income Tax, which is expected to go into effect in July, the tax will go from the current 25 per cent to 22 per cent for businesses in general and hit 20 per cent for small and medium enterprises.
Meanwhile, nearly 30 securities firms have published their financial reports for the first quarter, with large companies – except for Bao Viet Securities (BVS) – posting strong growth.
However, profits declined by 20-50 per cent for many others, while small firms lost business.
Last week, while foreign-invested enterprises saw a trade surplus of $1.18 billion in the first quarter, the country's March trade deficit hit $545 million.
There was no indication that cash flow would move forward, said analysts of FPT Securities Co, "Instead, the caution of investors prevails as the market trend remains unclear."
The market might tumble further this week, PetroVietnam Securities Co analyst Dao Hong Duong predicted.
"Technically, if the VN-Index crosses the level of 470 points, it will get worse, causing foreign investors to run," he added.
On the gold market, 263,400 taels (10.1 tonnes) were sold in 10 auctions run by the State Bank of Viet Nam. The domestic gold price decreased but was still VND7 million ($333,300) per tael higher than the world price.
During the week, the price at one time reached VND38.7 million ($1,840) – its lowest level in 22 months.
Source: VNS