VietNamNet Bridge – The credit packages with preferential interest rates offered by commercial banks are all the short term ones, while banks do not intend to push up long term lending.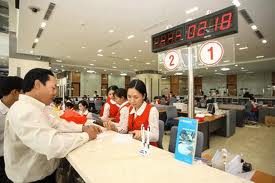 Banks not keen on long-term loans
A report by the State Bank of Vietnam showed that in December 2012, the interest rates of short term loans provided to the agriculture and rural development sector and export companies, were between 10 percent and 13 percent per annum. The interest rates for other production fields were 11-15 percent. Meanwhile, long term loan interest rates were still very high at 14.6-17.5 percent per annum.
Businesses complain that it's very difficult to borrow medium and long term capital to expand production scale or renovate technologies. Banks either refuse to provide long term loans, or set sky high interest rates which are unaffordable to businesses.
The Deputy General Director of a joint stock bank in HCM City admitted that the long term loan interest rates are still high. He said banks define long term lending interest rates after considering the deposit long term interest rates.
Meanwhile, they have to pay high for long term deposits and ensure the margin profit of 3-4 percent. Therefore, slashing long term lending interest rates now is really impossible.
According to the HCM City Statistics Office, the lending interest rates have been decreasing significantly, but the outstanding loans still have been increasing very slowly. The outstanding loans in HCM City had increased by 7.5 percent by the end of December in comparison with the same period of the last year. Of this, medium and long term credit just accounted for 42 percent.
At many commercial banks, medium and long term loans just account for 30 percent of the total outstanding loans, but they still do not intend to push up lending.
VIB Bank, the first bank which makes public the lending interest rates, has only quoted the interest rates for 1-3 month term loans, while there has been no information about the 6-12 month term loans.
Bankers say they are not keen on long term loans because of the high risks. Pham Linh, Deputy General Director of Phuong Dong Bank, also said the bank still disburses money for rice and rubber projects, but these must be highly feasible projects.
Meanwhile, another banker said medium and long term lending would not bring personal customer services, while it is difficult to maintain the lending monthly, which explains why banks are not eager for providing long term loans.
Banks buy cheaply and sell high
Economists have pointed out that the slower credit growth than the total money supply increase shows an abnormal thing. While banks have profuse liquidity, loans remain inaccessible to businesses.
Pham Ngo Hung, Deputy Chair of the HCM City Business Association, has noted that though the lending interest rates have decreased significantly, they remain very high for businesses.
The sky high interest rates make it impossible for businesses to renovate technologies and make heavier investments to improve the competitiveness.
Hung stressed that the ceiling deposit interest rate reduction to 8 percent per annum has brought big benefits to banks, but not to businesses. Since the State Bank does not set the ceiling lending interest rate, banks still require overly high interest rates for loans. As such, banks now can buy cheaply, but still selling high to businesses.
NLD