VietNamNet Bridge – Vietnamese officials have been astonished with the information that China has prohibited to import fresh shrimp from Vietnam.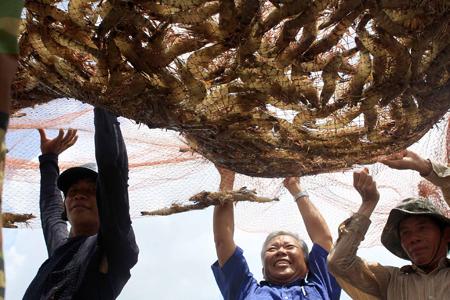 The Ministry of Agriculture and Rural Development (MARD) has requested its belonging agencies to clarify why China has released the decision to prohibit importing fresh shrimp from Vietnam.
No state management agency had been informed about the news until a seafood company sent a dispatch to the Ministry of Industry and Trade (MOIT), informing that it could not export shrimp to China.
An official of MOIT said the information came from Tuong Huu Company headquartered in Tan Phu district of HCM City.
"At first, we thought that China only temporarily stopped importing products from Tuong Huu only. However, later, the Chinese Embassy in Vietnam has confirmed that the ban would be applied to all fresh seafood products from Vietnam," he said.
The Chinese side informed that there are three main reasons that prompt its competent agencies to stop importing shrimp from Vietnam.
Firstly, Chinese agencies have doubts that Vietnam's shrimp bears viruses that may cause hazardous diseases.
Secondly, the certificates on Vietnam's exports do not come in accordance with the procedures required by China.
Thirdly, Vietnam still has not provided the list of the shrimp culture, processing enterprises to China.
The official from MOIT said the ministry has sent dispatches to MARD, requesting to provide information about how Vietnam has fulfilled the requirements set by China.
He explained that since the requirements relate to the quarantine works between the two countries, therefore, MOIT still needs to await the answers from MARD.
Meanwhile, Tran Bich Nga, Deputy Head of National Agro – Forestry – Fisheries Quality Assurance Department under MARD, said: "We have not received any official document on the issue. We have just heard that an enterprise has complained its fresh seafood products cannot enter the Chinese market."
"MARD has sent a group of officials to China where they would have working sessions with the Chinese competent agencies to clarify the issue," she added.
Vietnam's shrimp sullied?
Tran Van Linh, Director of the Thuan Phuoc Trade and Seafood Joint Stock Company in Da Nang City, said Vietnamese management agencies need to find out the true reasons behind this.
Linh said it would be okay, if China prohibits shrimp imports from Vietnam just because it wants to protect local production. However, it would be a big problem if they try to speak ill of Vietnam's shrimp in the world market.
According to the Vietnam Customs Agency, Vietnam had exported 143 million dollars worth of shrimp by the end of October, accounting for 8 percent of Vietnam's total shrimp exports.
Tran Van Pham, General Director of the Soc Trang Seafood Company, said the shrimp exports to China remain modest, while its orders are unstable, thus making it very difficult for enterprises to set up their business plan.
Truong Dinh Hoe, Secretary General of the Vietnam Association of Seafood Exporters and Producers VASEP, has confirmed that the ban has been applied to fresh unprocessed shrimp.
However, Hoe said, the products have been mainly exported across the border gate in small quantities. Therefore, the ban would in no way affect Vietnam's shrimp industry.
Dan Viet