VietNamNet Bridge – Policy difficulties and consumer reluctance to part with conventional fossil fuel have limited the development of E5 biofuel products, which are expected to help Viet Nam reduce its dependence on petrol and curb pollution.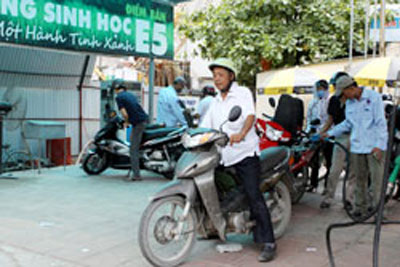 Motorcyclists buy E5 bio-fuel at a station in Ha Noi. E5 biofuel products
are expected to help Viet Nam reduce its dependence on petrol and curb pollution.
Only 150 of 12,000 petrol stations nationwide have sold the E5 bio-fuel since the Government's Plan of "Bio-fuel development till 2015, vision to 2020" was approved in 2007, Phung Dinh Thuc, chairman of the Petrol Vietnam, told Vietnam News Agency recently.
Currently, customers do not know much about the new fuel, so they do not feel confident about using it.
For the first nine months of this year, three bio-fuel wholesale suppliers (PV Oil, Petec and SaigonPetro) provided 15,000cu.m of E5 petrol to the market, an amount equal to what a plant can produce in two and a half days.
Therefore, ethanol producers were forced to export their product to neighbouring countries for VND13,000 (US$0.62) per litre - VND2,000 per litre less than production costs - to avoid having too much stock on hand and ensure funds to maintain production, he said.
The weak domestic demand has afflicted farmers growing cassava – a major raw material needed to produce E5 bio-fuel - and suspended many projects.
The Phu Tho Ethanol Production Factory was scheduled to come into operation one year ago, but it still has not been opened, deputy chairman of the northern Phu Tho Province's People's Committee Hoang Cong Thuy said.
The province set aside 8,000ha in the disadvantaged districts of Thanh Son, Tan Son, Yen Lap to grow cassava for the factory and help struggling area residents.
Cassava problem
The delay had negatively impacted the province's socio-economic development, Thuy said, adding that farmers were very worried that they could not sell cassava to the factory.
Chairman of Petrol Vietnam, a shareholder holding 39 per cent of the factory's capital, admitted no investor dared to pour more money into the projects unless they saw positive results.
National Assembly's Science, Technology and Environment Committee vice chairman Vo Tuan Nhan said that the Government's plan aimed at protecting the environment, responding to climate change and ensuring energy security - all vital goals – had not been carried out successfully.
The reason was that the Government still had not issued consistent policies and a specific preferential regime for those participating in the project, Nhan said.
Thuc said the fact that the State did not offer significant and timely support to investors in the initial stages of the plan was also a problem.
Here, enterprises producing bio-fuels have to pay the same taxes as other businesses.
However, neighbouring countries that have been successful in bio-fuel develop-ment like Thailand and the Philippines have implemented policies to force the use of bio-fuels and raise people's awareness of their benefits. They also offer more practical support to producers and distributors.
So in those countries, the price of bio-fuel was often much lower than that of petrol, thus altering fuel consumption patterns, Thuc said.
Nguyen Phu Cuong, deputy director of the Science and Technology Department under the Ministry of Industry and Trade, said that bio-fuel was widely used, with 60 countries and territories having already made it mandatory.
India is one of four countries with the largest amount of ethanol production and consumption. The Philippines also approved a law on bio-fuel in 2007. Meanwhile, a specific roadmap to implement the plan in Viet Nam was still being drafted.
Prissana Prakanwiwat, a researcher from the Fuels and Lubricants Research Department of Thailand's PTT Plc, said that in Thailand, the price of biofuels was 1.5 baht per litre lower than traditional petrol thanks to a reduction in the special consumption tax and other supporting policies. Therefore, Thai consumers had welcomed bio-fuels enthusiastically.
Besides, close co-operation among related ministries and agencies made it easy to grow raw materials and develop a distribution network, he added.
Nhan suggested that the Government offer tax incentives to those importing bio-fuels production equipment to encourage enterprises to participate in bio-fuel production.
The increase in international petrol prices should be seen as an opportunity for Viet Nam to boost its biofuel industry, especially given that the country can harvest 8.7 million tonnes of cassava each year and cassava cultivation areas can grow by 2.5 per cent per year.
Experts also called for the setting up of a time frame to regulate domestic use of bio-fuel.
VietNamNet/VNS