VietNamNet Bridge – Credit institutions, attracted by the offered high interest rates and high liquidity have poured trillions of dong into corporate bonds. However, this turns out to be a risky investment channel.

Big sums of money gone to corporate bonds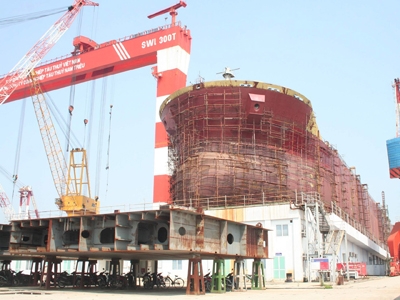 Commercial banks once rushed to buy corporate bonds because the issuers all offered high interest rates, which climbed to 22 percent per annum sometimes.
Tien phong has quoted its sources as saying that by the end of August 2012, commercial banks had spent 160 trillion dong to buy corporate bonds.
Some big guys in the banking sectors reportedly had held the volume of bonds worth 20 trillion dong. Meanwhile, other banks had bought one trillion dong worth of bonds on average. At some banks, corporate bonds account for up to 90 percent of their investment portfolios.
The biannual finance report of Eximbank showed that the bank had bought the corporate bonds of seven enterprises worth 4961 billion dong in total, the figure which represents an 800 billion dong increase in comparison with the end of 2011.
Especially, Eximbank bought 2 trillion dong worth of bonds of VID Hung Yen and 900 billion dong worth of Tan Van Hung real estate firm's bonds
The bank is now also holding 800 billion dong worth of bonds of Hoang Anh Gia Lai, the Electricity of Vietnam EVN (650 billion dong), Vinashin (262.6 billion dong), Vinacomin (150 billion odong), Saigon Trade Corporation (200 billion dong). All of them are the big guys in their business fields
These are 2-10 year term bonds, with the interest rates of between 9.6 and 17.2 percent per annum.
Meanwhile, Vietcombank's stock investments had reportedly reached 44,552 billion dong by the end of June 2012, a 50 percent increase in comparison with the end of 2011. Of this amount, 44,155 billion dong, or 99.1 percent has been poured into corporate bonds.
Vietinbank reportedly holds 21,481 billion dong worth of bonds, while Techcombank 26,768 billion dong.
On October 8, the Vietnam Electricity Construction Corporation announced it would issue 350 billion dong worth of bonds, planning to use a part of the capital to be mobilized for making debt payment, estimated at 1200 billion dong.
These would be 2-year term bonds, with the interest rate of 14 percent per annum for the first year. The bond interest rates for the next years would be calculated by the bank deposit interest rates plus 4 percent. With the high profits offered, the corporation has attracted seven buyers – commercial banks and companies.
High risks warned
Dr Nguyen Tri Hieu, a well known banking expert, has noted that issuing corporate bonds at this moment is a solution chosen by many enterprises, especially the big economic groups which need huge long term investment capital such as coal, electricity or real estate conglomerates.
Vinacomin (coal), EVN (power), Vinaconex (construction), Sudico, Vingroup have mobilized hundreds of billions of dong for each by issuing corporate bonds.
However, Hieu said, banks should anticipate risks in the investment deals. If the bond issuers go bankrupt, the corporate bonds, considered as a kind of normal debts, would become irrecoverable. In principle, banks would have to provision against the risks of the investment deals in bonds, but many of them have not done this.
Nevertheless, Trinh Hoai Giang, Chair of the Vietnam Bond Association, has noted that it is not easy to issue bonds at this moment, in the context of the economic downturn.
Tien Phong