An Giang to lure investors
The Mekong Delta province of An Giang will step up administrative reform, improve its investment climate, and enhance its competitive capacity to attract more domestic and foreign investment projects.
Director of the provincial Department of Planning and Investment Le Van Phuoc said that the province would focus on building a level playing field for both Vietnamese and foreign investors. They will receive preferences in tax and land lease and credit support, among others.
The provincial Peoples Committee has maintained its weekly "business coffee break" model to meet with local enterprises, helping to remove bottlenecks in their operations.
An Giang is now calling for investment in 60 projects, with priority given to sectors such as high-tech agriculture, eco-tourism, resort tourism, the processing industry, and the support industry. 
Kien Giang applies advanced technologies in large-scale shrimp farming
The Mekong Delta province of Kien Giang will promote the application of advanced technologies in shrimp farming on large scale until 2025. 
The Mekong Delta province of Kien Giang will promote the application of advanced technologies in shrimp farming on large scale under its master plan on shrimp development until 2025.
Accordingly, the province will shift 5,000 hectares of extensive culture of shrimp to industrial and semi-industrial shrimp farming by 2020, of which 4,700 hectares are in the Long Xuyen Quadruple and 300 hectares in U Minh Thuong.
Automatic water environment monitoring stations will be set up serving both aquaculture and environmental protection in this period.
The total area of brackish water shrimp farming is projected at 127,850 ha in 2020.
Meanwhile, the 2021-2025 period will see the formation of a high-tech shrimp industry along with the development of shrimp-rice farming model and large-scale extensive shrimp cultivation. Total shrimp farming area will be expanded to 129,450 ha.
Advanced technologies will continue to be applied on a large scale to reduce chemicals and antibiotics during the entire shrimp production. Besides, the shrimp industry will be developed into a complete value chain, helping increase added value of the local staple.
More than 20,000 hectares of rice cultivation in areas hit by saline intrusion during dry season in U Minh Thuong and Tu Giac Long Xuyen will be switched to shrimp-rice farming.
The province will invest heavily in technical infrastructure to improve breeding production.
Kien Giang earned 213 million USD from the export of aquatic products in 2018.
AirAsia operates first flight on Can Tho-Kuala Lumpur air route
First passengers on the flight from Kuala Lumpur to Can Tho 
Flight AK 575 of Malaysia's AirAsia from Kuala Lumpur to Can Tho international airport landed its first journey on April 8 morning. 
This is the first international direct flight connecting Vietnam's Mekong Delta city of Can Tho and Malaysia's capital of Kuala Lumpur.
Laddawan Meesupwatana, head of products for AirAsia's Indochinese market, said the region has much potential to develop its tourism sector, with some 8.5 million visitors in 2018.
The air route will help promote economic and tourism development of the two cities, as well as making it easy to connect people in the Mekong Delta with Southeast Asia and beyond through the airline's extensive flight network, she added.
According to Meesupwatana, besides the Can Tho-Kuala Lumpur air route, AirAsia will also open a new flight between Can Tho and the Thai capital of Bangkok in May this year.
On the occasion, AirAsia launched one-way promotional tickets starting from only 730,000 VND, including taxes and fees, for flights from April 8 to September 30, 2019.
Passengers can book tickets at airasia.com or AirAsia's mobile app from now until April 21, 2019.
The airline will conduct four flights per week between Can Tho and Kuala Lumpur on Mondays, Wednesdays, Fridays, and Sundays.
In Vietnam, AirAsia operates 16 direct air routes connecting Hanoi, Ho Chi Minh City, Da Nang, Nha Trang, Phu Quoc, and Can Tho with six destinations in Malaysia, Thailand, and the Philippines.
Can Tho is the sixth airport in Vietnam that AirAsia has served with international flights.
With the launch of the Can Tho-Kuala Lumpur air route, Can Tho airport now has international flights to Taiwan, Bangkok, and Kuala Lumpur.
Hanoi seeks to boost visitors' expenditure
Hanoi's tourism sector is seeking to increase the expenditure of tourists in the city.
According to the municipal Department of Tourism, the average daily spending of an international visitor in Hanoi is between 2.1 million VND and 2.6 million VND (91.5 USD-113.5 USD); while domestic visitors are more likely to spend an average of 1.39 million VND to 1.75 million VND (60.55 USD-75.9 USD).
Compared to other cities in the region and the world, the visitor expenditure in Hanoi remains low. The figure for Dubai (the United Arab Emirates) is 537 USD; Paris (France), 301 USD; Singapore, 286 USD; Phuket (Thailand), 239 USD; Palma de Mallorca (Spain), 220 USD; Seoul (the Republic of Korea), 181 USD; and Bangkok (Thailand), 173 USD.
Director of Hanoi's Investment, Trade, and Tourism Promotion Centre Nguyen Gia Phuong said Hanoi lacks in food and shopping outlets as well as tourist products. 
Shopping facilities serving tourism are few in number and offer limited products, mostly handicrafts which generate low added value. 
The city is also unable to keep visitors for long stay due to the absence of large-scale entertainment and resort facilities. 
To attract more visitors, Hanoi is accelerating work on several big entertainment and tourism sites, while supporting the development of products at traditional attractions such as Co Do painting village (Ba Vi district), Van Tu garment craft village (Phu Xuyen district), Van Phuc silk village (Ha Dong district), Bat Trang pottery village (Gia Lam district), Duong Lam ancient village (Son Tay town), and Thang Long imperial citadel, among others.
In 2019, Hanoi strives to welcome over 28.9 million tourists, a year-on-year rise of 10 percent, including more than 7 million foreigners, up 17 percent.
Tourism revenues are expected to reach 103.8 trillion VND, up 34 percent from 2018.
UNDP, Citi help Vietnam startups make dreams come true
The United Nations Development Programme (UNDP) and Citi Foundation have joined hands to empower and invest in youth, enabling them to master leadership, social innovation, and entrepreneurship. 
The two organizations, through Youth Co:Lab, help young people accelerate the implementation of the Sustainable Development Goals (SDGs). 
Being the largest youth-led social entrepreneurship movement, the Youth Co:Lab project, which was co-created in 2017, established partnerships with more than 100 key ecosystem players, including Vietnam. 
The project works to support young entrepreneurs, particularly young women and marginalized youth, by connecting them with businesses, incubators, accelerators, and financing mechanisms to develop their ideas into viable business models for sustainable social impact. 
Over the last two years, Youth Co:Lab has been implemented in 20 countries, including Vietnam, across the Asia-Pacific region with national dialogues, regional summits, and social innovation challenges reaching over 48,000 participants. 
The initiative has benefitted over 2,500 young social entrepreneurs and helped launch or improve nearly 500 social enterprises, a report by the UNDP showed. 
The second Asia Pacific Youth Co:Lab Summit in Hanoi ended on April 5, brings together over 500 delegates, including hundreds of youth, partners, and government officials from 20 countries.
The flagship event is aimed to exchange ideas, knowledge and experiences, and to influence policy initiatives on youth entrepreneurship and social innovation. 
The event marked the attendance of UNDP Deputy Regional Director for Asia & the Pacific Valerie Cliff; President of the Citi Foundation and Head of Corporate Citizenship at Citi Brandee McHale; and Resident Representative of UNDP Vietnam Caitlin Wiesen. 
Speaking at the event, Valerie Cliff emphasized the crucial role of youth, saying that young people really do hold the key to social change. She noted that the first generation of Youth Co:Lab social entrepreneurs flourish and carry their own initiatives forward, according to UNDP. 
"This is how we can align the grit and determination of young change makers to meet the ambition of the SDGs. Our mandate at Youth Co:Lab is to play the role of an integrator and strengthen the ecosystem connecting young people with governments and businesses to scale impact," she stressed.
Brandee McHale, president of the Citi Foundation noted that "Youth Co:Lab's approach of listening to the perspectives and ideas of young people, and empowering them to drive business solutions that address our world's most pressing issues is how real change happens."
Vice Minister of Science and Technology Tran Van Tung said that the summit will enable an exchange of ideas and help further developing the start-ups, through incubation, innovation, expanding connections and international cooperation.
Techinasia reported that the number of startups in Vietnam hit 1,500 in 2017. The ratio out of the population is higher than in Indonesia (2,100), in China (2,300), and in India (7,500). 
Techinasia quoted Khoi Nguyen, founder and CEO of WeFit, as saying that everyone is talking about startups now, and a lot of people have started something in the past year. The government is also showing some support by changing the laws, hosting some events, and opening some accelerators.
According to Reuters, the majority of Vietnam's startups work in e-commerce and e-commerce-relating fields.
Local experts said that the country's startup ecosystem must be more open and willing to improve to have more hi-tech businesses. 
South Korea's LG Chem and Vietnam's car-maker VinFast set up joint venture
The joint venture factory aims to produce lithium-ion battery packs for VinFast's electric scooters and electric cars.
South Korea's LG Chem has set up a joint venture with Vietnam's VinFast, an automobile subsidiary of Vietnam's largest privately-run conglomerate Vingroup, for battery pack production, Reuters reported.  
The plant, which covers more than 12,000 square meters, is in VinFast's Supplier Pack in the northern city of Hai Phong, aiming to manufacture lithium-ion battery packs for VinFast's electric scooters that are currently in production and electric cars to be made in the future, the South Korean battery maker said in a statement. 
Korea's leading EV battery maker said VinFast will be in charge of building warehouses and production lines, employing workers and operating the plant, while LG Chem will be responsible for supervising facilities and equipment, educating employees and offering technical advice and design knowhow. 
The plan comes as VinFast aims to become the country's first domestic car manufacturer and targets to produce 250,000 cars per year. 
​Meanwhile, LG Chem plans to boost its presence in Southeast Asian market through partnering with VinFast. 
Vingroup has earmarked US$3.5 billion for its overall car manufacturing project.
Part of the joint-venture plans include supplying lithium-ion battery cells for electric devices and other products belonging to Vingroup, the statement added.
Vo Quang Hue, deputy general director of Vingroup, said the joint venture factory is an important step to ensure VinFast's electric scooters and electric cars will have batteries with high efficiency at suitable prices. 
This would be the beginning of building a complete ecosystem for a made-in-Vietnam automobile and e-scooter manufacturing industry, Hue added at the announcement ceremony. 
City-based real estate firms shift investments due to difficulties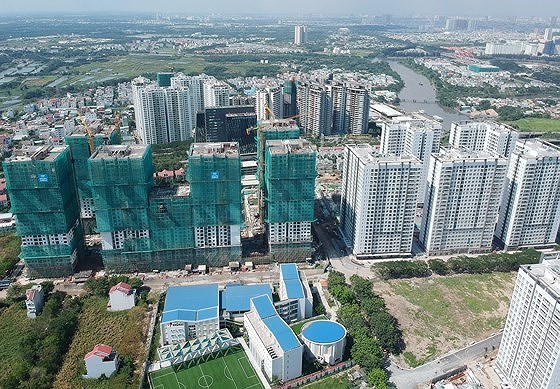 Ho Chi Minh City-based real estate enterprises have shifted their investments to other provinces as the city has limited licensing of new projects and tightened control on investment procedures along with a used-up land fund, especially in the inner city area.
Many real estate firms have moved their investments to provinces where there are potentials and developments in infrastructure such as Dong Nai, Can Tho, Long An, Binh Dinh provinces and Da Nang city. Some even expanded investments to provinces in the north.
Particularly, Nam Long Group, which used to successfully develop the affordable housing E-home projects as well as residential areas in Ho Chi Minh City, including Mizuki – Nguyen Son and Akari City, has expanded its business to the north and key economic zones in the south by buying three new land funds in Dong Nai Province and Hai Phong City this year.
Phat Dat Real Estate Company also said that developing market in Ho Chi Minh City has been facing difficulties so it has a new strategy to focus on the market in the Central of Vietnam and legally-completed projects so as to put its products on sale as soon as possible.
Similarly, last year, Novaland Group started to develop projects in neighboring provinces, including Ninh Thuan and Ba Ria – Vung Tau. Hung Thinh Corporation after developing strongly in Ho Chi Minh City has also switched to invest in three residence areas in the coastal central province of Binh Dinh.
Ho Chi Minh City Real Estate Association said that concerns raised among real estate companies in the first three months of this year as several project were stagnant. Consequently, real estate firms have faced increasing costs, loss of business opportunities, piling up difficulties and even bankruptcy. Besides, business environment has lost transparency, become harder for prediction and possibly increased risks for firms. 
Therefore, several real estate firms in Ho Chi Minh City have left the city to carry out projects in other provinces because of their great potentials and investment opportunities. In addition, in these new markets, real estate firms are welcomed and get many preferential treatments as well as high profitability potential.
At the recent meeting on real estate market in Ho Chi Minh City, Mr. Tran Trong Tuan, director of the city's Department of Construction, said that since the beginning of this year, the number of licenses for housing projects under the authority of the department has declined 63 percent. The number of projects that investors carried out legal procedures to be recognized as investors has dropped drastically. The number of projects that are qualified to be put on sale in the future has also sharply fallen.
With the current situation, not only do real estate firms encounter with difficulties but it also causes city's budget collection from real estate sector to decrease heavily. The leader of the department said that commercial housing projects are facing three entanglements. The first is selection of investor. The second is land use changing and the last is construction licensing. Thus, if there is no solution to resolve the situation, the city's real estate market is expected to experience more difficulties.
HCM City to kick off textile and garment exhibitions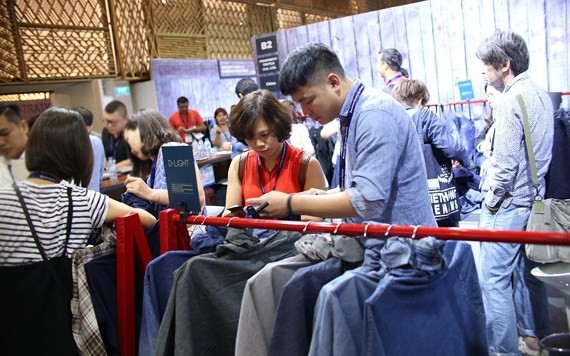 Two international exhibitions in textile, garment industry and the fabric, garment accessories are scheduled to take place at the Saigon Exhibition and Convention Center (SECC) in district 7, Ho Chi Minh City on April 10- 13.
The events aim to create opportunity for Vietnam's textile and garment companies to learn and select hi- tech equipment from modern industrial countries, show investment orientations for material resources and new technologies, support enterprises to meet demand of domestic and foreign customers, increase value of their products.
Accordingly, the Vietnam Textile, Garment Association and the Vietnam National Textile and Garment Group (VINATEX) are the organizations of the international exhibitions.  
Vietnamese goods fair to be held in April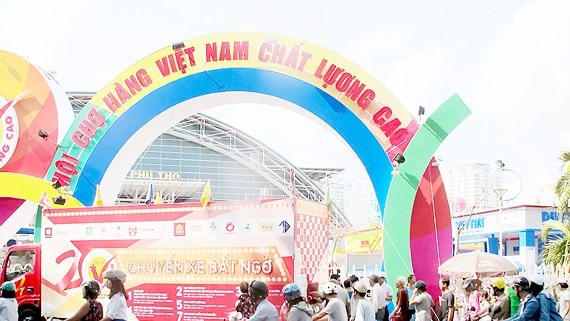 An exhibition under title "Vietnamese goods for Vietnamese consumers" will be organized at Tan Binh Center for Culture and Sports in Ho Chi Minh City on April 9-14.
The Ho Chi Minh City People's Committee, the Steering Committee of the campaign "Vietnamese people give priority to using Vietnamese goods" and the Business Association of Ho Chi Minh City (HUBA) will co- organize the fair, aiming to foster produce and raise value of Vietnamese brand-named products, goods and services.
Additionally, this is considered as a chance for Vietnamese enterprises to advertise their best products as well as connect and expand trade markets, etc.
Saigon remains nation's top tourism draw
Ho Chi Minh City was the most visited locality in Vietnam by foreign tourists in the first quarter of the year.
The southern metropolis welcomed a record high 2.25 million foreign tourists in the first three months of this year, up 10 percent from a year earlier. The city accounted for half the total number of foreign arrivals during the period, according to the city's tourism department.
Foreign arrivals in Vietnam went up seven percent year-on-year to 4.5 million in Q1, the General Statistics Office reported.
Japan, South Korea, China and the U.S. were the four biggest groups of foreigners visiting HCMC, helping it earn Q1 tourism revenues of VND39.8 trillion ($1.71 billion).
Singapore-based travel site Kayak had said earlier this year that HCMC will be a top 10 destination for international visitors in 2019.
It has also been named among the 15 fastest-growing tourist cities in the world by the Travelsupermarket website, with 10.2 million foreign arrivals by 2025.
In 2017, Price of Travel, a travel cost database, ranked Saigon the world's third cheapest city, where backpackers only need $18.33 a day for meals, beer, a place to stay, public transportation and an entrance fee to a top attraction.
The same year, a survey carried out by the city's Tourism Department and the General Statistics Office estimated hat international visitors to HCMC spent $145 a day and stayed for 5.21 days, on average.
The city, which has a vibrant nightlife, has consistently been the most popular tourist destination in Vietnam, with its modern skyscrapers, French colonial buildings and war relics.
Vietnam's exports to CPTPP countries surge
Vietnam's exports to several member countries of the Comprehensive and Progressive Agreement for Trans-Pacific Partnership (CPTPP) have surged so far this year, according to the Ministry of Industry and Trade at a recent press conference on industrial manufacturing and trade activities.
Vietnam's shipment to Japan in the reviewed period has reached US$2.9 billion while it was US$2.6 billion the same period last year, followed by Canada and Mexico. 269 certificates of origin were issued in CPTPP new form since the agreement took effect in Vietnam.
Ngo Chung Khanh, Deputy Director of the Multilateral Trade Policy Department of the Ministry of Industry and Trade, said "219 of 269 certificates of origin were issued to Canada, illustrating a fact that Vietnamese exporters are utilizing the CPTPP advantages to penetrate into Canada, one of the three countries that Vietnam hasn't signed any free trade agreements with. 14 certificates of origin were issued to Mexico and eight to Peru. In the medium and long term, Vietnam will benefit more from the CPTPP when more countries have opened possibility to join the agreement."
The Ministry of Industry and Trade is working with the World Bank and the Australian Embassy in Vietnam to build a web portal on free trade agreements, with the core being the CPTPP.
This smart search tool provides intensive information for each product and sector to seize the best opportunities created by the CPTPP.   
Japan revokes Vietnamese chili sauce over food safety, labeling violations
Japan has recalled 18,168 chili sauce bottles from Vietnam for violating food safety and food labeling laws.
The Osaka Information Portal reported Tuesday that the bottles were imported from Vietnam to Japan by the Osaka-based Javis Co., Ltd last December, and sold to the Kobe-based ISC Industrial Co., Ltd.
Javis Co., Ltd never mentioned that the imported chili sauce contained benzoic acid, which is banned from all chili sauce in Japan, before selling it to ISC Industrial Co., Ltd, the portal said.
Japanese authorities determined that the bottles contained between 0.41 to 0.45 grams of benzoic acid per kilogram of chilli sauce, after suspicions arose that ISC Industrial Co., Ltd was violating the country's laws on food safety and food labeling.
The Masan Group, which produced the chili sauce under the brand name of Chin-su, said it never exported the chili sauce to either Javis Co,. Ltd or ISC Industrial Co. Ltd. It said it only exported the product to the United States, Australia, Russia, the Czech Republic, China and Taiwan.
"As we have no [chili sauce] sample in hand right now, we have no official conclusion on the origins of the bottles. However, it is likely that they are either exclusive for the Vietnamese market, or their origins are unknown," the group stated in a press release.
Vietnam's Ministry of Health has yet to receive any official statements from Japan about the Chin-su case, Tran Viet Nga, deputy head of the Food Safety Department, said Saturday. But it is taking steps to clarify the matter, she added.
"Benzoic acid is allowed as a food preservative according to the Codex Alimentarius Commission (CAC), in which both Vietnam and Japan are members. In accordance to standards from the CAC, the levels of benzoic acid found in the chili sauce revoked by Japan were still within international standards," she said.
"Maybe Japan just has tougher requirements."
Japan bans benzoic acid in its chili sauce, but allows its presence in certain food products like syrup, margarine or soft drinks. Vietnam allows a maximum amount of one gram of benzoic acid per kilogram of chili sauce.
The World Health Organization says a person can consume five milligrams of benzoic acid per kilogram of body weight daily without adverse health effects.
Credit institutions expect better results in Q2
Local credit institutions' fund raising was predicted to surge by 13.74 per cent in 2019.
As many as 81 per cent of local credit institutions put high hopes on further improvement in their operations in the first quarter of 2019 whilst 88 per cent of them expect their business for the whole year to get better against the previous year, according to a recent insightful survey.
The survey released by the Monetary Forecasting and Statistic Department under the State Bank of Vietnam indicate that 70 per cent of the queried credit institutions (CIs) reported that their business and operations have made progress in the year's first quarter in comparison with the previous quarter.
Of these respondents, 14.3 per cent believed their business has been "much improved" against the previous quarter.
Up to 81 per cent of the surveyed CIs expected that business would be better moving into the second quarter of the year, higher than the 79.3 per cent which gave the answer in the previous survey which was released last December.
The newly-announced survey cited comments by the CIs as saying that local demands for loans, deposits, payment services, and bank cards during the first quarter of 2019 soared against the previous quarter. These demands are predicted to increase throughout the year.
Of note, demand for loans in the remaining quarters of 2019 is forecast to increase higher than those for deposits, payment services, and bank cards.
Fund raising by local CIs as well as the outstanding loans among nationwide banks were set to enjoy respective surges of 13.74 per cent and 14.51 per cent in 2019.
60 FIEs win Golden Dragon Awards 2019
The Golden Dragon Awards and the Vietnamese Excellent Brand Awards 2019 were held on April 6 in Hanoi, attended by government leaders, representatives from ministries, economic analysts, and more than 400 CEOs from foreign-invested enterprises (FIEs) and Vietnamese enterprises, many of whom also attended the Vietnam Economic Times Group's CEO Forum on the previous day.
With a theme this year of "New Prestige, New Opportunity", Vietnam Economic Times, the organizer of both awards, presented 60 FIEs with a Golden Dragon Award and 94 Vietnamese enterprises with a Vietnamese Excellent Brand Award.
Deputy Head of the Party Central Committee's Economic Commission Nguyen Huu Nghia and Vietnam Economic Times Group's Deputy Editor-in-Chief Nguyen Ha Thang present awards to winners at the ceremony.
Ten FIEs received Golden Dragon Awards 2019: Siemens Vietnam, Samsung Vina Electronics, Toyota Motor Vietnam, Prudential, Citi Vietnam, RMIT, DHL, KPMG, Gamuda Land, and Alpha King Real Estate Development.
Ten local enterprises received Vietnamese Excellent Brand Awards: Vietcombank, Viettel, BIDV, Sun Group, Vissan, TBS Group, TH Group, FLC, TVP, and Phu Long Real Estate.
The Golden Dragon Awards were first held in 2001 to recognize and encourage enterprises recording outstanding achievements in business. Awards are determined based on production and business activities, service provision, the application of technological solutions for environmental protection, full implementation of tax obligations, guaranteeing of employee rights, and actively participating in social activities.
Smart Grid Development meeting held
Vietnam's overall installed electricity generation capacity was 50.3 GW as of February, with the dominant sources for power production being hydro power (40 per cent), coal (37.6 per cent), natural gas (18.1 per cent), and imports (2.8 per cent).
The information was released at the annual meeting of the Steering Committee on Smart Grid Development held on April 4 in Hanoi to review last year's activities in the implementation of the Smart Grid Road Map and to determine plans for 2019.
Mr. Nguyen Anh Tuan, Director General of the Electricity Regulatory Authority of Vietnam (ERAV), chaired the event on behalf of the Ministry of Industry and Trade (MoIT). Participants were representatives from the Ministries of Planning and Investment, Finance, Science and Technology, and Construction, Electricity of Vietnam, and other relevant agencies.
Representatives from Deutsche Gesellschaft für Internationale Zusammenarbeit (GIZ) GmbH also attended the event, presenting an overview of its Smart Grids for Renewable Energy and Energy Efficiency (SGREEE) project and introducing feasible smart grid technologies and solutions for the integration of renewable energy sources into Vietnam's power system.
The country aims to increase its renewable energy share in power production substantially (for e.g. 800 MW of wind and 850 MW of solar by 2020), according to the national Power Development Plan (PDP VII revised, from March 2016). Due to successful incentive mechanisms for the development of wind and solar energy resources, 400 MW of wind and up to 2,000 MW of solar are expected to be connected to the grid by the end of 2019 and the figures will increase afterwards.
This transition, however, is a challenge to grid management, which has to ensure the electricity supply's reliability, long-term security, and affordability.
With substantial foresight, the government has already issued Decision No. 1670/QD-TTg on the Development of Intelligent Power Grids in Vietnam (known as the Smart Grid Road Map), on November 8, 2012. The Road Map aims to increase the quality and reliability of power supply as well as improve the effective use of electricity.
Established in 2013, the Steering Committee has responsibilities to instruct relevant agencies to develop smart grid projects, identify projects' specific targets, assign tasks to implementing agencies, and supervise the implementation of Decision No. 1670/QD-TTg. MoIT chairs the committee and ERAV is its standing agency.
The SGREEE project is supporting the Vietnamese Government in the implementation of its Smart Grid Road Map. Funded by the German Federal Ministry for Economic Cooperation and Development (BMZ), the project now works closely with ERAV to support experts in Vietnam's power sector in developing a Smart Grid, which allows the integration of an increasing share of renewable energies and supports greater energy efficiency. The project, carried out from 2017 to 2021, consists of three main Actions Areas: Legal and Regulatory Framework, Capacity Development, and Technology Cooperation.
Smart Grid is a two-way interchange where both electricity and information can be exchanged in both directions between power utilities and consumers. It uses digital technology to improve reliability, security, and efficiency in the power system and allows for especially volatile renewable energy, such as wind and solar power production, to be integrated on a large-scale into the national grid. In contrast, the current grid uses a limited one-way interaction, in which power flows from the power plant to the consumer.
Hanoi ranks first in online business registrations
Hanoi continues to rank first among the 63 cities and provinces in Vietnam in online business registrations in the first quarter of 2019, showing the city's strong efforts to improve its business climate.
The Hanoi Department of Planning and Investment on April 4 helped a conference to review online business registrations in the past three years and in the first quarter of 2019.
In the first quarter, the number of businesses registering online was 99.8 per cent of total, ranking first among the 63 cities and provinces, followed by Nghe An, Binh Duong, Gia Lai, Son La, Haiphong, and Ho Chi Minh City.
Looking back on 2016-2018, Hanoi maintained the first rank in online business registration. In particular, in 2018, Hanoi granted business registration certificates to 25,187 new businesses, up 3 per cent on-year.
With great efforts in administrative reforms, Hanoi's business climate has improved greatly. The city's Provincial Competitiveness Index (CPI) has been improving continuously since 2012, and in 2018 the city was named among the 10 cities and provinces with the highest CPI score with 65.4 points, up 0.69 points from 2017.
The city has set out several tasks to continue improving its business climate in 2019, with administrative reform being one.
Moreover, the city is considering approving a scheme on risk management in the supervision of business activities in the second quarter of 2019.
In 2018, Hanoi became Vietnam's most attractive investment destination with a total registered foreign direct investment (FDI) capital of $7.5 billion, making up 21.2 per cent of the country's total, followed by Ho Chi Minh City and Haiphong.
In the first quarter of 2019, Hanoi continued to keep the first rank when by attracting $4.15 billion worth of FDI, accounting for 38.4 per cent of the country's total.
Bamboo Airways set to fly to Japan
The FLC Group's Bamboo Airways will conduct its first flight to Ibaraki, Japan, on April 29, creating a driving force for the development of cooperation between the locality and Vietnam in areas where Ibaraki holds strengths.
In opening flights to Ibaraki, Bamboo Airways expects to create new impetus to promote cooperation between Vietnam and Ibaraki in a range of fields, especially strong areas for the prefecture such as agriculture, tourism and trade, while strengthening cooperation between Vietnam and Japan in general.
Ms. Duong Thi Mai Hoa, Vice President and Deputy General Director of Bamboo Airways, said that Ibaraki has a favorable geographical location near Tokyo. "Ibaraki is also the leading industrial production location in Japan, and is famous for its high-level agriculture and the growth of tourism thanks to its natural scenery and unique traditional culture," she added.
Mr. Kazuhiko Oigawa, Governor of Ibaraki Prefecture, said that flights from Vietnam to Ibaraki would bring major benefits to bilateral cooperation efforts, including the addition of quality human resources to Japan.
According to Bamboo Airways, the demand for transportation and travel between Vietnam and Japan is growing at an impressive rate. In the tourism sector in particular, Vietnam is the second most-favored destination in Southeast Asia for Japanese tourists. While the number of Vietnamese tourists to Japan reached nearly 390,000 in 2018, the growth rate led the way.
With the goal of serving increasing travel needs and promoting tourism, trade, and cultural exchange between the two countries, flights connecting Vietnam and Japan are part of a strategic link to connect East Asian markets, in which Japan is one of the key destinations of Bamboo Airways.
In the first phase, Bamboo Airways will coordinate with travel companies to operate charter flights to Ibaraki. This is a modern form of air transport, bringing benefits to all parties, ensuring operating capacity for airlines, and providing standard services at the best price.
After the first flight to Ibaraki on April 29, Bamboo Airways is expected to continue to expand coverage to many other Japanese destinations such as Okinawa, Fukushima, Wakayama, and Komatsu.
It is expected to open new routes to South Korea and Singapore during April. The carrier is currently operating 17 domestic routes, connecting major cities and famous tourist destinations in Vietnam.
To serve its international flight plans, Bamboo Airways has recently signed an agreement to purchase aircraft from Airbus, bringing its total number of Airbus A321neo aircraft to 50. This is part of the fleet development process towards standardizing aircraft lines, with the Airbus A321neo for narrow-bodied aircraft and the Boeing 787 Dreamliner for wide-bodied aircraft.
HCM City posts 7.64 percent GDP growth in first quarter
Ho Chi Minh City's economy remained on the growth in the first quarter of this year, said Chairman of the municipal People's Committee Nguyen Thanh Phong at a review meeting in early April.
The city's Gross Regional Domestic Product (GRDP) in Q1 reached 324.5 trillion VND (14 billion USD), an increase of 7.64 percent.
However, the services and agricultural sectors reported slower growth than in the same period last year, Phong said.
He added that the development potential of the services sector, which accounted for 63.1 percent of the city economy, remains large.
The city attracted 2.25 million foreign tourists in the period, an increase of 14.1 percent year on year.
Meanwhile, total foreign investment in the city in Q1 reached 1.55 billion USD, up 20.4 percent over the same period last year.
Specifically, 254 projects worth 288.80 million USD were newly-licensed, up 23.3 percent in volume and 4.3 percent in value. 
The real estate sector lured the most, accounting for 52.7 percent. It was followed by science and technology (19.4 percent); wholesale, retail, and repair of automobiles, motorbikes, and other motorised vehicles (14.8 percent); manufacturing and processing (8 percent); lodging and dining services (1.9 percent).  
During the period, 53 projects raised their capital with a total investment of 62 million USD, up 20.5 percent in volume and 15 times the value against last year.  
The city allowed 799 foreign investors to buy stakes in domestic firms with a registered capital of 1.2 billion USD, marking a 19.8 percent rise in volume and 19.2 percent hike in value.  
Also in Quarter 1, the total registered and additional domestic capital neared 215 trillion VND (9.34 billion USD), up 9.7 percent year-on-year.  
There were over 8,600 newly-established firms with a total registered capital of more than 147 trillion VND, up 2.4 percent in volume and 46 percent in value.  
Over 23,100 enterprises registered additional capital at a combined value of upwards of 67.8 trillion VND.
Fecon signs strategic cooperation deal with Japanese construction company
Fecon Corporation on April 4 signed a strategic cooperation agreement with Japan's Raito Kogyo Company Limited.
Accordingly, Raito Kogyo Company, one of the largest Japanese geotechnical contractors, will invest in 19 percent of Fecon, which operates in foundation engineering and underground construction, and 36 percent of Fecon's affiliate Fecon Underground Construction Joint Stock Company.
The two companies will cooperate in developing transport infrastructure projects, urban railway projects and underground drainage system projects in Hanoi and HCM City as well as land-slide prevention projects in Vietnam and other Southeast Asian countries.
In addition, Fecon and Raito will cooperate in introducing slope stabilisation technology, which has already proved successful in Japan, in Vietnam.
Fecon said that this technology will help prevent the collapse of slopes, especially of construction work in mountainous, river-side and coastal areas which are at risk of collapse due to the impact of climate change.
In September 2016, the two companies founded a joint venture, Raito – Fecon Initiative Geotechnical Engineering Joint Stock Company. Fecon and Raito started cooperation in June 2015 with an agreement to cooperate in implementing underground work for Metro Line 1 in HCM City.
Fecon with 17 member companies reported revenue of 2.8 trillion VND (120.2 million USD) and after-tax profit of 252 billion VND in 2018, representing a rise of more than 42 percent over the previous year.
In 2019, the company targets to reach 4.2 trillion VND in revenue.
Enterprises join hands to protect consumers' rights
Enterprises sign deals to protect consumers. (Credit: giaoducthoidai.vn) 
A campaign entitled "Enterprises commit to protect consumers" was launched in Hanoi on April 7, delivering the message of "Healthy business – sustainable consumption".
The campaign is held by the Vietnam Consumers Protection Association with the aim of raising the role and responsibility of enterprises to consumers and creating a healthy business environment.
More than 700 volunteers, who are members of the Consumers Club, and more than 20 food enterprises participated in a parade along the Hoan Kiem Lake, conveying the message of "Healthy business – sustainable consumption".
The "Enterprises commit to protect consumers" campaign is an open activity which is expected to attract more and more enterprises to sign deals to ensure the most basic rights of consumers, such as health safety and providing accurate and complete information about the company and their goods and services, among others.
At the launch ceremony, more than 20 booths were established to showcase products of enterprises who pledged to join in the efforts to protect consumers' rights.
The launch ceremony was also the opening event for a series of following activities to respond to the Vietnamese Consumers Rights Day 2019.
By the end of this year, activities in response to the campaign will be held in localities across the country, contributing to enhancing the responsibility of enterprises and ensuring the rights of consumers.
Toyota, An Phat Holdings Group seek to increase local sourcing by the carmaker
A plastic auto parts production line at the Ha Noi Plastic Company. 
 Toyota Viet Nam and An Phat Holdings Group are striving to increase the rate of use of local plastic parts by the carmaker by half to 45 per cent.
This information was released during a working visit by Toyota Viet Nam general director Toru Kinoshita to the Ha Noi Plastic Company (HPC), a subsidiary of An Phat, in Ha Noi on Thursday.
The visit came as part of a Toyota programme to support HPC in managing its production since 2017.
Under the programme, which seeks to help Toyota's suppliers in Viet Nam increase their supply rate, HPC made improvements to meet Toyota's global standards and cut costs.
It made a lot of investment in technologies to improve its production processes and expand its capacity by 10 per cent.
Toyota is one of its biggest customers.
Bui Minh Hai, its chairman, said his company is committed to maintaining the improvements and supporting Toyota's strategy to increase local sourcing.
Last year, the number of orders from Toyota Viet Nam to HPC was 30.
HPC supplies automobile and motorbike parts to major companies such as Toyota, Honda and Piaggio and electronic components to Panasonic and LG.
It targets becoming a leading firm in the plastic supporting industry.
An Trung Industries, another subsidiary of APH, recently signed a contract to supply mobile phone plastic parts to Elentec, a tier-1 supplier of Samsung.
It also set up the Vinfast-An Phat Plastic Auto Parts Company (VAPA) together with auto company Vinfast to produce plastic parts.