With the aim of helping local farmers achieve sustainable cocoa development, a Vietnamese-Canadian man is realising his dream to make chocolate from locally produced cacao beans.
Bùi Durassamy, 70, makes chocolate products from Vietnamese cacao beans.
Bùi Durassamy, often known as Samy, is the founder of Kimmy's Chocolate Company, based in Tiền Giang Province's Châu Thành District.
The Vietnamese-Canadian, who father was Indian and mother Vietnamese, left HCM City, his hometown, for Canada when he was 24 years old and spent about 40 years living there, working a variety of jobs and saving enough money to open his own factory that made metal products for aircraft, trains and boats.
Affectionately called "Ông già sôcola" (literal translation: old man chocolate) in Việt Nam, Durassamy is well-known for his passionate devotion to chocolate-making.
During a number of visits to the Cửu Long (Mekong) Delta province of Tiền Giang, he noticed that local farmers were cutting down cocoa trees since the beans were selling for low prices at the time.
Aware that Việt Nam's cacao beans are classified among the world's high-quality cacao groups, and that demand for cocoa had increased in the world market, Durassamy saw an untapped opportunity.
After deciding to make products from cacao (a rich source of antioxidants and magnesium, fiber, iron, zinc and potassium), he returned to Việt Nam in 2015 and settled down to realise his dream.
Thanks to his business skills, experience in chocolate processing, and his skills in metal work, he designed components for his machines and equipment and spent two years building his chocolate factory.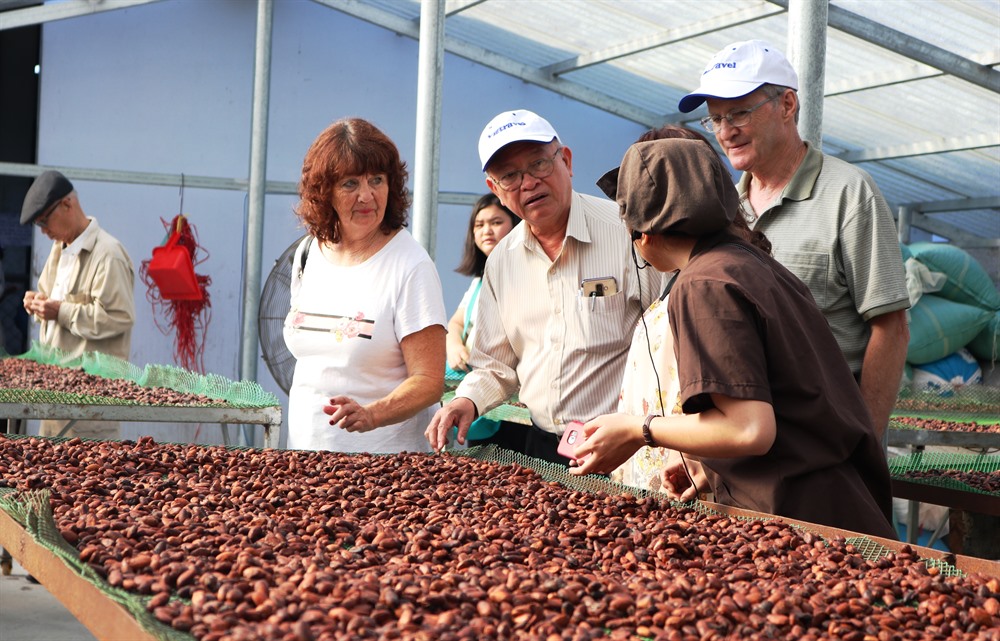 Cacao beans dry after fermentation. 

In April 2017, when Kimmy's chocolate factory opened, local cocoa farmers were the first to taste his chocolate products made in Việt Nam.
"My factory's production provides local farmers with a steady demand for their cacao crops," he told Việt Nam News.
Most of the ingredients used in the products originate from the province's Chợ Gạo and Châu Thành districts.
Farmer Lê Văn Danh, who has an 8-ha cocoa field in Châu Thành District's Long Định Commune, harvests two crops of beans each year.
Growing about 500 cacao trees in coconut orchards, he can harvest 10-12kg of cocoa pods per tree, two years after planting the trees.
Kimmy's Chocolate Company purchases all of Danh's cacao pods, based on current market prices.
"I'm really happy that all of my cacao output can be used, and I'm proud of my hometown, which has developed many products from the beans, especially the Vietnamese chocolate products made in a European style," Danh said.
Because of his success, Durassamy said he would expand his raw material supply areas to Trà Vinh Province in the near future.
Thanks to advantages in soil and weather, cacao trees that grow in the Mekong Delta produce beans that ferment easily.
"Fermentation, which plays a key role in processing, helps to make the best chocolate products," he said.
Kimmy's Chocolate products are made of high-quality fermented beans that go through a number of processing stages, including roasting, cracking and winnowing (separating defective beans from good ones). They are then ground to make chocolate products.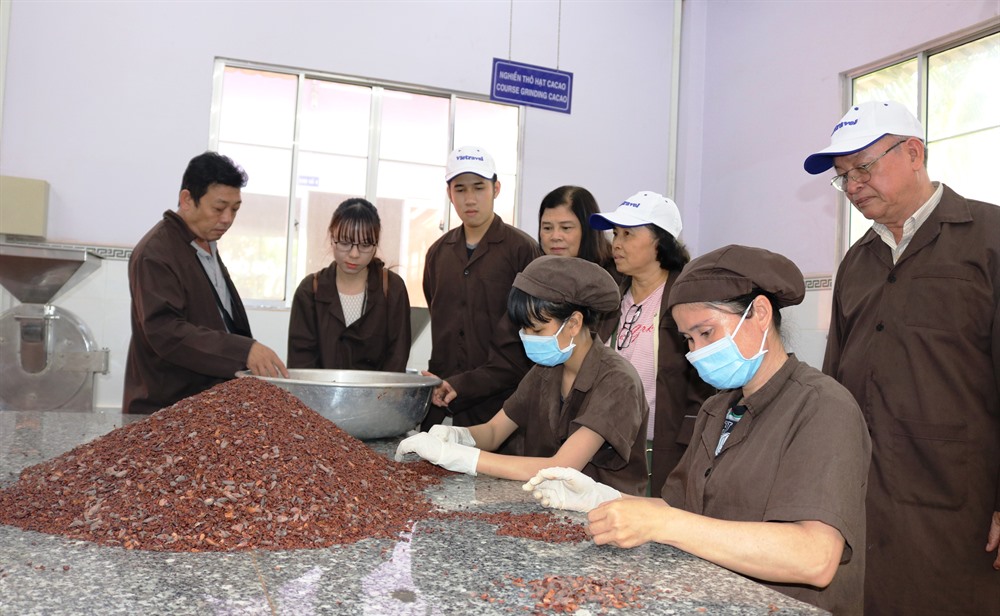 Tourists visits Kimmy's chocolate factory in Tiền Giang Province's Châu Thành District. 

Chocolate products
Chocolate-making is not difficult, but the process takes at least 21 days, starting from bean to the final product.
"We make handcrafted chocolate and use traditional European and American chocolate processing techniques," Durassamy said.
The company makes more than 20 kinds of cacao-based products, including cashew, cocoa nibs, cocoa butter, pure cocoa powder, various kinds of chocolate bars (with chia seeds, cashew, ginger, sea salt, red pepper, milk chocolate or dark chocolate), and milk and dark chocolate with nuts (ginger, cashew, macadamia or hazel).
Kimmy's Chocolate has introduced four high-quality product lines in a classic European style with cocoa content of 55, 65, 75, and 85 per cent.
The factory is open to visits from local residents and foreign visitors who want to explore the process of chocolate production and enjoy the products.
"Many foreign tourists have visited my factory and said that my Vietnamese chocolate was not inferior to other kinds of chocolate in the world," Durassamy said.
Visitors, who can sample a cup of hot cocoa, often buy chocolate and other products at the factory as gifts for their families and relatives.
David Forrest, an Australian visitor, said: "The tour of the factory was really interesting and the chocolate was delicious. I believe this company will do very well."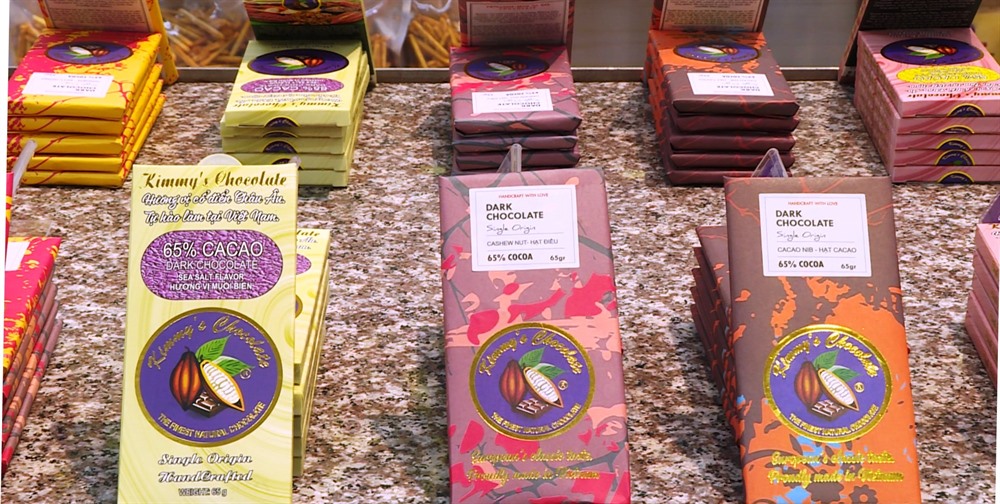 Kimmy's chocolate products are available at many stores across the country. 

To ensure consumer satisfaction and safety, Kimmy's product quality and food safety is guaranteed by the company.
"We have received several awards and certifications, including UTZ certification, one of the world's largest sustainability certifications for coffee, cocoa and tea," Durassamy said.
To better meet customer needs, the company has launched a variety of products, including matcha green-tea chocolate, which has won acclaim from customers.
"The factory is also working with universities in HCM City on research to produce lipsticks containing pure cocoa butter," he said.
Kimmy's Chocolate is available in supermarket chains, restaurants and other outlets across the country. Durasassamy has also opened a showroom to display and introduce his products in HCM City.
Pursuing his passion of making the best chocolate possible, the Vietnamese native aims to turn cacao trees into one of the key industrial trees in the Mekong Delta, and the Delta into the largest area of cacao tree production in the country. — VNS