Seminar on farming to kick off in Hau Giang
A billboard introduces a seminar themed "Helping farmers farm smartly" 
A seminar titled "Helping farmers farm smartly" will be co-organized on March 8 at 1 Vo Van Kiet Street, Ward 5, Vi Thanh City, Hau Giang Province, by the Hau Giang government, the Saigon Times Group and HGTV television station of the province.
The seminar is aimed at contributing to the adoption of Prime Minister Nguyen Xuan Phuc's directive on transforming the province's agricultural industry from a chemical-based one to an organic, smart industry and further developing services and processing and supporting industries to serve the agricultural sector.
Despite the province's efforts to restructure the agriculture sector, many farming households have had difficulty applying modern technology to their production processes and are in need of appropriate policies to produce in chains to raise their income and output.
At the seminar, several experts and enterprises will present their experience in employing advanced technology in the Fourth Industrial Revolution to help farmers enrich their farming activities.
Le Tien Chau, chairman of the provincial government, had earlier noted that the province expected farmers to gain plenty of useful information and step up investments in the smart agriculture sector through the seminar.
"The provincial government will soon issue details on preferential policies to smooth the path for farmers to access loans and expand their production," Chau said.
Speaking at a meeting held by the organizer on February 26, Truong Canh Tuyen, vice chair of the province, asked the Department of Information and Communications to work with the Hau Giang TV station (HGTV) to broadcast the seminar live to all the communes and districts of the province so that farmers in the Mekong Delta province of Hau Giang can watch it.
The province's farmers reportedly turned out 1.3 million tons of rice, over 300,000 tons of fruit and some 70,000 tons of seafood in 2018.
Vietjet Air offers 2.4 million cheap tickets
Budget airline Vietjet Air will offer 2.4 million tickets starting from 0 VND on March 6-8 to celebrate the International Women's Day (March 8).
Promotional tickets will be on sale from 12:00 to 14:00 for flights across Vietnam, Thailand and some other international ones. 
Meanwhile, low-cost tickets for some flights to Japan and Hong Kong (China) will be offered every hour of the three days. The tickets are valid for passengers travelling from May 7 to December 31 this year.
The promotional tickets are available on all sales channels, including the website www.vietjetair.com (also compatible with smartphones at https://m.vietjetair.com) or www.facebook.com/vietjetvietnam (just click the "Booking" tab).
Vietjet Air currently operates 40 domestic routes and 66 international ones.
Leading construction corporation ties up with foreign partner
Vinaconex and CPG International Pte Ltd sign a memorandum of understanding on cooperation in developing projects
The Vietnam Construction and Import-Export Joint Stock Corporation (Vinaconex) signed a memorandum of understanding on cooperation in developing projects with CPG International Pte Ltd, a subsidiary of Singapore-based CPG Group, on March 5.
This is the first time Vinaconex has joined hands with a foreign partner since it was equitised in 2008.
The two sides discussed win-win collaboration opportunities on the basis of promoting their strengths.
Vinaconex Chairman Dao Ngoc Thanh said his corporation is operating in diversified aspects, but its strongest field is construction. The partnership between the two sides will help the construction of the corporation's large-scale projects.
Vincent Loh, Chief Executive Officer of CPG International, stated that the company is one of the leading firms in Asia-Pacific in construction and infrastructure development and management.
At present, the CPG has representative offices in more than 20 nations, including Vietnam. In the Southeast Asian nation, it has proved its capacity through its participation in such major projects as Noi Bai International Airport's Terminal T2, Yen So Park in Hanoi, Golden Square Da Nang and Van Giang Ecopark urban area in Hung Yen province, and several projects of Vingroup.
Vietnam seeks to boost agricultural production, consumption
At the forum 
Vietnam needs to realise and capitalise on the advantages of each agricultural product so as to boost both production and consumption, said Minister of Agriculture and Rural Development Nguyen Xuan Cuong at a forum in Hanoi on March 5.
The participation in bilateral and multilateral free trade agreements (FTAs) has helped Vietnamese agro-forestry-fishery products avoid almost all tariff barriers. This is a great advantage for the country as it is stepping up agricultural exports to markets with which it has signed FTAs.
However, import markets are also tightening quality and quarantine requirements for imported produce, posing major challenges to Vietnam's agricultural production.
Nguyen Quoc Toan, Acting Director of the ministry's Department of Agro Processing and Market Development, said that local agriculture is still relatively small scale and as such has yet to meet international markets' mass production requirements and high quality standards.
Challenges also arise from the impacts of climate change and plant and animal diseases. The US-China trade tension, the issue of Brexit, and global geo-political risks will also affect agricultural exports.
Meanwhile, many countries – even large ones like the US, Japan, China, and EU nations – have begun boosting investment in agriculture, creating fierce competition with Vietnamese farm produce, Toan said.
Echoing this view, To Ngoc Son, Deputy Director of the Department of Asian-African Markets at the Ministry of Industry and Trade, said that China – a leading destination of Vietnamese agro-forestry-fishery products – has toughened rules on origin traceability, export registration, and product packaging. Japan, the Republic of Korea, and some ASEAN countries have also applied increasingly strict regulations related to plant and animal quarantine.
He said to make use of the signed FTAs, Vietnam's agriculture needs to change its long-standing practices. The agriculture ministry, localities, and businesses should work together to re-organise agricultural production with a focus on key products, scale expansion, and quality improvement so as to meet importers' requirements.
Prioritised products and markets also need to be specified to orientate production, he noted, asking exporting companies to actively survey markets and change their trading method from unofficial small-scale to official trading, especially with China.
Vietnam targets this year's agricultural exports at 43 billion USD.
To that end, the sector will press on with agricultural restructuring and the production of key products at national, provincial, and communal levels, according to Minister Cuong.
The work needs the joint efforts of the government, ministries and sectors, businesses, and farmers, he said, elaborating that the government needs to boost administrative reforms and remove difficulties facing businesses and farmers. Meanwhile, millions of farming households nationwide need to be connected with cooperatives and enterprises.
Only by doing so can Vietnam form strong connectivity between production and consumption, the minister added.
France's Air Liquide encouraged to expand investment in Vietnam
Deputy Prime Minister Trinh Dinh Dung
Deputy Prime Minister Trinh Dinh Dung has expressed his belief that the Air Liquide Group of France will continue closely coordinating with Vietnamese ministries, agencies and businesses to push ahead with preparations for its investment projects and improve its production capacity in Vietnam. 
The official told Air Liquide's Executive Committee at a meeting in Hanoi on March 5 that Vietnam will continue prioritising energy development, especially renewable energy. It will also focus on other sectors like processing-manufacturing; the support industry in computer, phone and auto manufacturing; and petro-chemistry, which are of the group's potential and advantages. 
Lauding the group's production and business efficiency in Vietnam, Dung said the country will work to further improve the local business environment in an effort to attract more investments. 
Vietnam always encourages investors to expand production and business in the country, he added. 
The Deputy PM highlighted the active development of the Vietnam-France strategic partnership, particularly in terms of economy, trade and investment, adding that many French firms are operating effectively in Vietnam, contributing to the country's development. 
Representatives of Air Liquide's Executive Committee spoke highly of Vietnam's favourable and attractive business environment. 
Air Liquide plans to double its investment in the Southeast Asian country to improve its industrial gas supply capacity, serving the country's demand for industrialisation, modernisation, clean energy development, and environmental protection, they said. 
Air Liquide, which began operation in Vietnam in 1996, is a world leader in industrial gas and services supply for industries such as medical, electronic and chemical manufacturers. The group is present in 80 countries with approximately 66,000 employees and serving more than 3.6 million customers and patients.
Start-up incubation programme launched in Hà Nội
Delegates pose for a photo after the launch ceremony for the programme. - Photo: tienphong.vn
 A start-up incubation programme, entitled "Start & Up – Behind the Scene", was launched in Ha Noi on Monday.
Co-hosted by the National Economics University (NEU)'s Centre for Social Innovation and Entrepreneurship, the Republic of Korea's Nextrans venture fund, and V-Startup, the programme aims to seek start-ups with potential and provide them with capital, training and market access.
The online training curriculum will feature interviews with CEOs and founders, as well as success and failure stories collected by founders of successful start-ups and corporate executives of major tech firms.
A maximum of 100 start-ups with be entered into the programme, each with the chance of receiving US$20,000 for their ideas.
On completion of achieving their original goals, they could receive an additional $200,000 and enter the second round of funding from Nextrans' global investors.
NEU Rector Tran Tho Dat said that in order to promote entrepreneurship among students and new businesses, support from investors was needed to turn their ideas into reality.
He suggested closer links between students and businesses to create products that would meet the market demand. 
Petrol and oil firms need more professional IR to attract investors
Oil tanks of PetroVietnam Oil Corporation. IR activities are important to listed oil and gas companies as they are promoting privatisation and capital divestment. — Photo pvoil.com.vn
 Petrol and oil firms should focus more on investor relation (IR) activities to improve transparency, achieve fair-valuation securities and boost corporate governance.
That was the message heard at a conference held by the Viet Nam Oil and Gas Group (PVN) in Ha Noi on Tuesday.
Dinh Van Son, from the PVN's Member Council, said the IR activities still lacked professionalism and consistency despite their significant roles in maintaining strong and transparent relationship with investors.
Son stressed that it was critical to improve the quality of IR activities with the expectation that foreign capital would flow into petrol and oil stocks when Viet Nam's securities market was upgraded to the emerging market status from its current frontier market in the 2020-22 period.
Under the PVN's comprehensive restructuring plan, member companies would have a busy period with equitisation and capital divestment.
Experts said that investing property in IR activities would create a two-way communication channel which would significantly contribute to the success of PVN's restructuring process while consolidating their image and that of member companies.
Nguyen Thi Ngoc Bich, deputy director of PetroVietnam Power Corporation, believes IR activities significantly affected securities prices.
Bich pointed out that if IR activities were efficient, firms would not catch the attention of investors and analysts, cause doubts about corporate value or cause low liquidity and underpriced securities value.
Nguyen Thanh Vinh from investment fund Dragon Capital said IR was a vital part of corporate governance to create sustainable economic value for stakeholders.
However, many firms were facing difficulties in implementing IR activities efficiently, Vinh said. He urged companies to commit to a more open culture to stakeholders, analysts and the press. PVN needed to have a consistent IR strategy, he said.
General director of brand consulting agency Le Bros Le Quoc Vinh, said IR should be a part of PVN's brand development strategy to increase the corporate value.
According to a representative from the State Securities Commission, solutions would be raised to enhance information transparency of listed companies.
The amended Law on Securities would be complete to regulate securities market operation.
The commission would also review existing regulations about information disclosure for amendments to promote transparency.
Three member companies of PVN were successfully privatised in 2018, namely PetroVietnam Power Corporation (POV), PetroVietnam Oil Corporation (OIL) and Binh Son Refining and Petrochemical Joint Stock Company (BSR).
Since 2012, PVN launched PVN Index which traced the fluctuations of 38 oil and gas stocks including PetroVietnam Gas Corporation (GAS), PetroVietnam Drilling and Well Services Corporation (PVD) and PetroVietnam Fertilizer and Chemicals Corporation (DPM), which aimed to enhance the transparency in business activities, management and information releasing of PVN and affiliates. 
Only half of domestic firms recognise importance of internal control
Chairman of the Vietnam Chamber of Commerce and Industry (VCCI) Vu Tien Loc 
Only 50-60 percent of businesses in Vietnam are aware of the significant role of internal control and codes of conduct towards sustainable development.
This was the outcome of a survey on 239 businesses that was revealed at a consultation workshop held by the Vietnam Chamber of Commerce and Industry (VCCI) and the United Nations Development Programme (UNDP) in Hanoi on March 5.
The event aims to help finalise the draft research report on "Companies' use of internal control mechanisms and codes of conduct in Vietnam: Key findings of the research and recommendations."
The report is part of activities run by the Government-Business Integrity Initiative (GBII) under Project 12 – Enhancing Integrity Initiative in Business, which is sponsored by the UNDP's regional "Promoting a Fair Business Environment in ASEAN" project and  primarily funded by the UK-based Prosperity Fund.
According to VCCI Chairman Vu Tien Loc, the judicious leadership and the appliance of anti-corruption risk control systems are important factors to enhance integrity in businesses.
Caitlin Wiesen, UNDP Vietnam Resident Representative a.i, underlined the importance of codes of conduct and internal control systems in promoting corporate integrity.
The application of these instruments is the responsibility of businesses and economic organisations, according to the law on preventing and combating corruption, she said.
The UNDP will support businesses by building a guideline on applying codes of conduct and internal control mechanisms, as well as providing them with training courses and technical assistance, she added.
UK Ambassador to Vietnam Gareth Ward said promoting business integrity will be one of the UK's top priorities in Vietnam.
Automaker introduces special car model at Geneva exhibition
The VinFast Lux V8, the special edition of VinFast's SUV Lux line, has been on display at the 2019 Geneva International Motor Show 
The VinFast Lux V8, the special edition of VinFast's SUV Lux line, has been on display at the 2019 Geneva International Motor Show (GIMS) which kicked off on March 4.
It is the second car model from Vietnam to make an appearance at a prestigious international motor show, following the SUV Lux SA2.0 which was showcased at the Paris Motor Show in October 2018.
VinFast Manufacturing and Trading Co., Ltd., is a subsidiary of the Vietnamese conglomerate Vingroup.
The presence of Vietnamese cars at important global automobile events has demonstrated VinFast's passion to conquer international markets. 
The VinFast Lux V8, with a 6.2L V8 engine, has improved on the SUV Lux SA2.0 and is expected to be available to the public for a limited time in 2020.
First held in 1950, the GISM is an auto show held each year in March in the Swiss city of Geneva. 
This year's edition will run through until March 17. The event's press days run until March 6, welcoming visitors from the following day onwards. 
Van Don EZ to develop into dynamic economic hub
The Van Don economic zone (EZ) in northern Quang Ninh Province will be developed into a dynamic economic hub with a focus on tourism development and production of high-quality products and services and an international trade centre for the region.
This is part of general adjustment tasks for the construction planning of Van Don EZ until 2040 approved by Prime Minister Nguyen Xuan Phuc.
The planning also includes building the EZ into one of the driving forces for the country's economic development and one of the most liveable cities in the Asia-Pacific region.
The planning scope will cover over 2,171sq.km, including the natural area of Vân Đồn District, of which more than 581sq.km is land and the remainder sea.
The total population is expected to reach 300,000-500,000 by 2040.
The PM asked relevant ministries and agencies to evaluate conditions such as topographic features, climate, hydrology and geology, as well as the natural and tourism resources of Van Don and its surrounding regions that would have an impact on the economic development of the EZ.
A general assessment on the socio-economic development of Quang Ninh province and Van Don EZ is also needed, including reviewing the state of development of key sectors; population statistics, occupational structure and employment rate (in the last five years) and analysing trends in population development and problems caused by urbanisation.
The PM also asked for the evaluation of technical and environmental infrastructure, including transport, water and electricity supply, waste water drainage and solid waste treatment within the plan.
Regarding socio-economic infrastructure, the plan will include industry, services, tourism, office buildings, housing, healthcare, education, culture and sports in order to meet the needs of the EZ and surrounding areas in line with different development stages.
The development of socio-economic infrastructure would provide easy access for local citizens, tourists and workers at the EZ, according to the PM.
The Van Don EZ needs around US$70.2 billion by 2050 for its investment demands, according to the provincial People's Committee. The province will mobilise investment from all economic sectors including the State budget, the private sector and foreign direct investment.
Under the socio-economic development plan for the EZ until 2030, the EZ would reach Gross Regional Domestic Product (GRDP) of $1.98 billion and GRDP per capita of $12,242 in 2030, which would be four times higher than the expected level in 2020. By 2050, the EZ's GRDP would reach more than $21.8 billion and GRDP per capita would be $43,688.
The province said the EZ could create jobs for 106,000 people by 2030, including 37,000 jobs in the tourism sector; 7,000 in service; 14,000 in production and logistics and 48,000 in other sectors. 
High-quality goods fair opens
More than 150 Vietnamese firms are displaying their products at the Vietnamese high-quality goods fair in An Giang Province from March 5 to 10. 
 A Vietnamese high-quality goods fair opened in An Giang Province on Tuesday with the participation of 150 Vietnamese enterprises.
Organised by the High Quality Vietnamese Goods Business Association and the province in the Golden City Urban Area in Long Xuyen city, the fair features 350 booths displaying a wide range of products and services.
Highlights include the Common House displaying products made by food companies that have obtained "Vietnamese High Quality Products-Global Integration Standards" certificates.
Safe farm produce from various parts of the country are also on display.
A promotional event is being held at 10-10.30am and 4-4.30pm daily in which items will sell for only VND20,000. The event also includes game shows, art performances each night with popular singers, actors and actresses, and a cooking contest.
Visitors will receive gifts, including Bidrico soft drinks, Qui Phuc plastic products, seasonings, Barona fish sauce, Hai Ha confectionery, Vinamilk milk, Ranee cooking oil and others, from a truck driving around the fair area.
Seminars on "Official Seafood Exporting to China," and "CPTPP: Opportunity Brought from High Quality - New Generation of Free Trade Agreement,"will be held on the sidelines of the fair. 
HCM City enhances ties with French development agency
Overview of the meeting
Standing Vice Chairman of Ho Chi Minh City People's Committee Le Thanh Liem discussed directions for cooperation between the city and the French Development Agency (AFD) with Director of AFD in Vietnam Fabrice Richy at a meeting on March 5. 
On the occasion, Liem thanked the AFD for providing credit for the city since 2005 to implement projects on education, healthcare, housing for middle-income earners and building capacity for local officials. He named some of the typical projects such as the construction of Hiep Phuoc port, the hospital of the University of Medicine and Pharmacy, and the waste treatment facility No.2 in northwest Cu Chi.
The official said the city is implementing its scheme on building a smart city, and it hopes for AFD's technical and financial assistance in this field.
 He welcomed the AFD's suggestion on cooperation on clean water management, flood control and handling environmental pollution. 
Fabrice Richy expressed satisfaction at the effectiveness of AFD-funded projects in HCM City and affirmed that the agency wants to enhance its partnership with the city.    
He shared that the AFD is prioritising projects on climate change and social connectivity in providing financial support in the form of long-term loans accompanied by grants. He said the agency is ready to finance projects related to water resources and sustainable urban development, such as clean water management, waste water treatment and urban transport.
Nearly one third of Vietnam's population (nearly 30 million) have benefited from projects funded by the AFD since 1994, which helped upgrade roads, supply clean water and support agricultural development.
Can Tho city boosts cooperation with Mozambique
Agriculture is Can Tho's principal strength and it has been developing rapidly in recent years thanks to the application of high technologies
Vice Chairwoman of the Can Tho People's Committee Vo Thi Hong Anh and Mozambique Ambassador to Vietnam Gamiliel S. J. Munguambe discussed the expansion of cooperation in multiple fields between Mozambique and the Mekong Delta city during their working session on March 5.
Munguambe said he wants to further promote the friendly relations and cooperation between Mozambique and Vietnam, especially Can Tho, in various fields, including agriculture, seafood, and human resources training.
He said Mozambique's economy depends heavily on agriculture. As an economic centre of the Mekong Delta that shares a lot of similarities with Mozambique in weather and the common interest in agricultural production, Can Tho will be the most appropriate partner for Mozambique to learn experience from in producing and processing rice and other farm produce. Can Tho also offers cooperation opportunities in agricultural human resources training.
Mozambique highly appreciated the efficiency and widespread application of high-tech agricultural models in Can Tho in recent years, he said, adding that the country wants to gain further knowledge in this field.
He hoped Can Tho will serve as a bridge to support Mozambique in connecting with other agriculture power nations in Asia such as Japan, Thailand, and the Republic of Korea.
In the field of education, Munguambe shared that after signing the protocol on cooperation between Vietnam's Ministry of Education and Training and Mozambique's Ministry of Education in 2014, only some 30 Mozambican students have come to study in Vietnam and all of them attended courses at the National University of Agriculture in Hanoi.
Therefore, in the time ahead, Mozambique wants to tap the bilateral cooperation potential in education and training by increasing the number of its students to Vietnam, focusing on agriculture facilities in the southern region, especially universities in Can Tho, the diplomat said.
He asked municipal authorities to consider expanding trade and investment ties with Mozambique, and setting up twin ties between the cities of Moatize and Can Tho. 
Since 2015, the Mozambique government has designated Moatize as a special economic zone for businesses operating in the field of agriculture, he said, adding that the city needs Vietnam's assistance and cooperation to develop high-tech agricultural models.
Anh said agriculture is Can Tho's principal strength and it has been developing rapidly in recent years thanks to the application of high technologies, adding that the city exports over 1 billion USD worth of agricultural and aquatic products on an annual basis.
The city is willing to share useful experience in production and processing with Mozambique in this field, she added.
In the time to come, Can Tho will organise working trips to Mozambique to discuss specific details of bilateral cooperation in agriculture and cooperation programmes with universities in Mozambique, she unveiled. 
Seafood businesses advised to boost official exports to China
Processing seafood for exports 
Domestic seafood enterprises, especially those from southern localities, will have excellent opportunities to boost official exports to China in 2019 thanks to the country's reduction of tariff and aquaculture output due to environmental and production cost issues, heard a workshop in the Mekong Delta province of An Giang on March 5.
Speaking at the event that seeks ways to boost Vietnam's agro-fishery official exports to China, Secretary-General of the Vietnam Association of Seafood Exporters and Producers (VASEP) Truong Dinh Hoe suggested businesses manage the quality of products before exporting to China.
This solution aims to protect the brand of Vietnamese seafood in the Chinese market, he said.
Vice Chairman of the Vietnam Pangasius Association Vo Hung Dung said seafood businesses must improve the quality of products to meet strict requirements from China.
Businesses proposed relevant departments urge Chinese authorised agencies to add Vietnamese products to the "list of products approved for import into China."
According to the VASEP, China has become a major seafood importer of Vietnam since 2013, and Vietnam's exports to the country achieved a growth more stable than that of other markets.
In 2018, Vietnam exported over 1.2 billion USD worth of seafood to China, 70 percent of which were official.
Property group to launch three projects in Ha Giang province
At a working session between Ha Giang authorities and FLC Group (Photo: hagiangtv.vn)
Property developer FLC Group has proposed to launch three investment projects in the northernmost province of Ha Giang, according to Vice Chairman of Board of Management, Deputy General Director of FLC Group Le Thanh Vinh.
He revealed the information during working sessions with authorities of Ha Giang on March 4-5 to discuss the implementation of the projects in the province.
The projects include a spiritual and eco-tourism complex in Mo Neo mountain, as well as an eco-friendly residential area across the three wards of Phuong Do, Nguyen Trai, and Quang Trung of Ha Giang city.
The last is the Phong Quang resort complex in Vi Xuyen district and Ha Giang city's Quang Trung ward.
Vinh voiced his hope that local authorities will pay due attention to the implementation of the projects and help address difficulties that arise for the firm, adding that the group will promptly complete the planning of those projects to hand over to the province.
For his part, Chairman of the provincial People's Committee Nguyen Van Son said that with great potential as a mountainous border province of the country, Ha Giang has gained various socio-economic achievements over the years.
The province has introduced many policies and incentives, as well as bolstered administrative reform and human resources training, thereby creating favourable conditions for investors, he affirmed. 
HCM City stops importing pigs from northern region
To cope with the complicated developments of African swine fever, HCM City Department of Agriculture and Rural Development has requested that slaughter houses stop importing pigs from northern provinces in order to stop the spread of the disease.
The information regarding the halt in imports was released by Nguyen Phuoc Trung, director of HCM City's Department of Agriculture and Rural Development, during a meeting held on March 5.
Mr Trung said African swine flu hasbeen detected in seven localities across Vietnam, with more than 4,000 pigs being culled as a result. With the price of pigs in northern localities low, pigs tend to be transported to the south for consumption, leading to a high risk of the disease spreading. HCM City is now the largest consumer of pork products in the country.
Currently, HCM City's Department of Agriculture and Rural Development has tightened control on transport routes, slaughter houses, and wholesale markets to ensure checks on the origin of imported pork products. It has also asked districts in the region to reinforce control on illegal slaughtering.
Nguyen Thanh Kien, director of HCM City's Department of Industry and Trade, said the department has prepared several sources of goods to maintain supply for residents. For example, Vissan Company plans to purchase more pork as a reserve measure and is seeking to import more from foreign countries.
Le Thanh Liem, permanent vice chairman of the HCM City People's Committee, has requested that relevant units take drastic measures to heighten control of the transportation of pigs to avoid the disease spreading further.
Vietnam attends int'l food, beverage exhibition in Japan
Vietnamese stall at the event 
As many as 20 Vietnamese firms are attending the International Food and Beverage Exhibition (FOODEX 2019) that opened in the Japanese prefecture of Chiba on March 5. 
The Vietnamese stall, covering 153 sq.m, is displaying farm produce such as fruits and vegetables, processed aquatic products, organic peppercorn, mushrooms, Phu Quoc fish sauce, fruit cakes and beverages. 
According to the Vietnamese Ministry of Industry and Trade, Vietnam's total fruit and vegetable exports to Japan surpassed 105 million USD last year, mostly from frozen farm produce.
Executive Director of the Japanese Craft Flower Association Hironori Kakou expressed his interest in bringing Vietnam's typical farm produce to Japan where they are popular, believing that Vietnamese lychee will be favoured in Japan. 
FOODEX is the largest and most important networking event for the Japanese food and beverage sector to increase trade with overseas markets. 
Participating Vietnamese firms are expected to sign new deals, seek trade partners, and promote exports to Japan. 
The four-day event has attracted nearly 3,500 enterprises from 83 countries and territories worldwide, welcoming some 72,400 visitors.
Vietnam int'l furniture, home accessories fair opens
The Vietnam International Furniture and Home Accessories Fair 2019 (VIFA-EXPO) kicked off in Ho Chi Minh City on March 6. 
Speaking at the event, Deputy Minister of Industry and Trade Do Thang Hai vowed all possible support for 514 domestic and foreign exhibitors to introduce their goods and services. 
Chairman of the Ho Chi Minh City Handicraft and Wood Industry Association (HAWA) Nguyen Quoc Khanh said VIFA-EXPO 2019 is the largest annual fair of the sector, featuring wooden furniture, handicrafts, interior décor, and support services. 
With over 2,400 stalls covering 35,000 sq.m, the event is expected to attract visitors from 80 countries and territories globally. 
Participating foreign exhibitors were mostly from Taiwan (China), Singapore, the US, Canada, China, France, India, Denmark, Hong Kong, Ireland, the Netherlands, the Republic of Korea, Luxembourg, Malaysia, Indonesia, New Zealand, Switzerland, Thailand, Brazil, and the Seychelles. 
Statistics from the Ministry of Agriculture and Rural Development showed that exports of wooden furniture and forestry products hit 9.3 billion USD last year, up 16.81 percent annually and making it the largest currency earner in the agriculture sector. 
On the occasion, the organising board presented awards to winners of the interior-exterior design competition for 2018-2019. The best eight entries are on display at the fair. 
HAWA also held several seminars to provide information about key wood and interior markets and to share business experience. 
Co-hosted by the municipal Department of Industry and Trade, HAWA, and HAWA Corp., the fair will last until March 9.
Indian-invested freeze-dried coffee plant inaugurated in Binh Duong
At the inaugural ceremony (Source: baobinhduong.vn)
Tata Coffee Vietnam, a member of India's Tata Group, on March 6 inaugurated its freeze-dried coffee plant worth 65.5 million USD in the southern province of Binh Duong after 19 months of construction. 
Covering 80,000 sq.m at the Vietnam-Singapore Industrial Park II in Bac Tan Uyen district, the plant has an annual capacity of producing 5,000 tonnes of coffee. 
Addressing the inaugural ceremony, Indian Ambassador to Vietnam Parvathaneni Harish said the plant has demonstrated cooperative ties between Vietnam and India. 
Trade turnover between the two countries increased from 7.8 billion USD in 2016 to 14 billion USD last year, of which 20 percent came from farm produce, he said. 
Tran Thanh Liem, Chairman of the provincial People's Committee, lauded the project and expressed his hope that Tata Group and Tata Coffee Vietnam will continue to invest and expand production in Binh Duong, while encouraging other firms, especially those from India, run business in the locality. 
Binh Duong will work harder to improve the local investment environment and perfect its infrastructure in order to attract more investors and spur economic development, he said.
Tata Coffee is a subsidiary of Tata Global Beverages. It is Asia's largest integrated coffee company, the second largest exporter of instant coffee and foremost producer of specialty coffee in India.
Tightened supervision needed for P2P lending services: Deputy PM
Deputy Prime Minister Vuong Dinh Hue has asked for inspections and settlement of violations related to peer-to-peer (P2P) lending model. (Photo: VOV)
Deputy Prime Minister Vuong Dinh Hue has asked competent ministries and sector to enhance inspections, supervision and settlement of violations related to peer-to-peer (P2P) lending model which has been springing up in Vietnam in recent two years.
At a meeting in Hanoi on March 6, Hue ordered evaluation of the current operations of 40 companies providing P2P lending services, and asked the State Bank of Vietnam (SBV) to outline documents covering risk management of the model as well as examination, inspection and responsibility of relevant ministries and sectors.
The Government will mete out harsh punishments to those who disguise this new business model, he said, quoting the 2010 Law on Credit Institutions' Article 8 as saying that "Individuals and organizations other than credit institutions are prohibited from conducting banking operations, except escrow, purchase and sale of securities by securities companies."
P2P lending is a method of debt financing that enables individuals to borrow and lend money without the use of an official financial institution as an intermediary but though online platforms. It has experienced a period of fast growth since it was first introduced in the UK in 2005. 
According to Deputy Director of the SBV's Monetary Policy Department Nguyen Chi Quang, if P2P lending is well managed, it will serve as a boost for inclusive finance, particularly in places where residents, household businesses, and small and medium-sized enterprises have fewer opportunities to get access to banking-finance services with low costs.
However, this kind of lending also offers a fertile land for crimes like cheating, and illegal payment intermediary, among others, said SBV Deputy Governor Nguyen Kim Anh, adding that P2P lending crash in China and several Southeast Asian countries is a typical example.
Among 40 P2P providers in Vietnam, some have violated banking and credit regulations, he said.
Currently, the P2P model in Vietnam should not include financial institutions and P2P firms should not be allowed to mobilse capital for lending, he suggested.
Anh and leaders from the Ministries of Science and Technology, Planning and Investment, and Information and Communications agreed that rational legal framework is needed for P2P management.
Vietnamese, US investors make plan for LNG project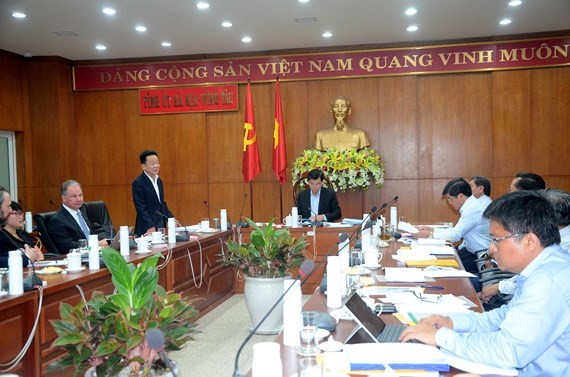 The meeting of T&T Group and Gen X Energy with leaders of Ba Ria - Vung Tau Province. (Photo: SGGP)
T&T Group and its US partner Gen X Energy on March 5 had a meeting with leaders of Ba Ria – Vung Tau Province to discuss on their plan to invest in a liquefied natural gas (LNG) project with total investment capital of nearly US$6 billion.
According to Gen X Energy, the LNG Cai Mep Ha Complex, covering an area of around 200 hectares, consists of two specialized terminals which are able to harbor 100,000 DWT ships, LNG storehouse, gasification system and gas transportation system.
The project will be carried out in three stages. The first stage is expected to be finished by 2023, the second by 2026 and the last by 2030. The project's gasification capacity is 9 million tons per annum; total LNG reserve capacity is 800,000 cubic meters; and total power generation capacity will increase by 6,000 megawatts.
Mr. Nguyen Hong Linh, Secretary of the Provincial Committee of the Party of Ba Ria – Vung Tau Province, highly appreciated the project that T&T Group and Gen X Energy have proposed. This is a large-scale project which applies advanced technology and meets criteria for investment attraction of the province. The province will ask for Prime Minister's permission and create favorable conditions for T&T Group and Gen X Energy to carry out the project as soon as possible.
T&T Group, formerly T&T Co., Ltd., was founded in 1993. After 25 years, T&T Group has become a multi-industry company, operating in the fields of finance and investment, real estate, agriculture, forestry and aquaculture, transportation infrastructure, port and logistics, industry and trade, mineral, energy and environment, health care, education and sports.
Meanwhile, Gen X Energy, a company backed by Blackstone Energy Partners, is an energy company focused on investing in sustainable energy projects in Asia. The company is seeking opportunities in development and acquisition in the field of imported LNG as well as solar energy, wind farms, hydropower plants, natural gas and coal projects.
Collectively, Gen X Energy has successfully developed, financed, constructed and operated energy and related infrastructure projects in 21 countries, representing over 27,500 MW globally, including over 8,500 MW in Vietnam, the Philippines, Taiwan, India, China, Bangladesh and Sri Lanka.
Real-estate service center project in HCMC under discussion
A residential area in HCMC's Go Vap District. A real-estate service center in HCMC is under discussion
Authorities of HCMC met on March 4 to discuss the construction of a real-estate service center for the country and the region, expected to be located in the city.
Le Hoang Chau, chairman of the HCMC Real Estate Association (HoREA), said that local residents and companies have had difficulty accessing information about property projects.
Some housing investors have provided inaccurate information or the municipal State agencies have not updated the list of mortgaged housing projects that have been released from their mortgages.
Besides this, some investors have mortgaged apartments that have already been sold or have sold a single apartment to multiple buyers, resulting in further disputes, said Chau.
Accordingly, the municipal vice chairman, Tran Vinh Tuyen, suggested the city develop the real-estate service center to offer all information on zoning, legal issues and the progress of housing projects. The information will be provided by the municipal departments and agencies.
The Trade and Investment Promotion Center of HCMC was asked to cooperate with the city's departments of Construction, Natural Resources and Environment, Planning and Investment and HoREA to study the project. Once the project is put into service, these departments will have to provide accurate information on property projects, said Tuyen.
Also, Tuyen said that the study should mention specifically both the advantages and disadvantages of the project, as well as criteria to develop the property center on a national and regional scale.