Vietnam attends South Asia's Leading Travel Show in India
Visitors at Vietnamese booths
Five Vietnamese travel companies are currently participating in the 26th edition of SATTE, South Asia's leading travel show, in India's Uttar Pradesh state from January 16-18.
They include Victoria Tour, Indochina Charm Tour, Go Indochina Tours, Hello Vietnam, and Asiana Travel.
The fair has the participation of over 1,000 enterprises from 50 countries and territories.
First launched in 2014, SATTE is one of the largest tourism and travel fairs in South Asia, run annually by India's leading exhibition organiser UBM, the Ministry of Culture, and travel associations.
The event provides a platform for countries to promote their lands, people, and traditional cultures, as well as attract foreign investment in tourism. 
It is also an occasion for policymakers and managers in tourism, along with experts and businesses, to share experience in the field and seek business cooperation opportunities. 
More than 20 discussions are being held during the fair, as well as thousands of meetings among tourism enterprises.
Vietnam Economic Forum 2019: Strategy needed for AI development
Visitors at a technology fair
Experts and business representatives all stressed the need for a strategy for the development of Artificial Intelligence (AI) in Vietnam at a thematic workshop held in the framework of the 2019 Vietnam Economic Forum in Hanoi on January 17. 
Deputy Minister of Science and Technology Bui The Duy said such a strategy needs to define Vietnam's targets and measures to realise those targets, based on an accurate assessment of the size of the domestic AI market. 
He noted that there has not yet been any official survey on the size of the AI market in Vietnam, and available reports on the world and regional AI markets contain no information on the country. At the same time, AI has not been included in the investment lists of many Vietnamese companies, and if it did, the investment is insignificant. 
According to the Deputy Minister, this means the AI market in Vietnam is small and businesses' commitment to the market is not obvious. However, this is also an opportunity for those who want to engage in this field. 
Deputy Minister Duy said in such a situation, the State, with both roles as the largest consumer and the leader of the economy, should become the strategic investor in core AI elements. The first task is to build the national AI strategy and policies to stimulate this market.   
Participants at the workshop shared experience in starting business in the field of AI and in how to ride the wave of AI, grasp opportunities and deal with challenges in building the foundation for technology sharing.
The Vietnam Economic Forum 2019 is jointly organized by the Government and the Party Central Committee's Economic Commission on January 16 and 17 in Hanoi.
State Treasury raises 474.3 million USD via G-bonds
The State Treasury of Vietnam mobilised 11 trillion (474.3 million USD) through Government bond auctions on the Hanoi Stock Exchange (HNX) on January 16 
The State Treasury of Vietnam mobilised 11 trillion (474.3 million USD) through Government bond auctions on the Hanoi Stock Exchange (HNX) on January 16.
Some 7.5 trillion VND worth of G-bonds were offered, including five-year bonds valued at 1 trillion VND; 10-year and 15-year bonds each valued at 3 trillion VND and 20-year bonds valued at 500 billion VND.
The State Treasury raised 1 trillion VND worth of five-year bonds with an average yield rate of 3.82 percent per year, down 0.38 percentage points from the previous auction on October 31, 2018.
Bonds with 10-year and 15-year terms worth 3 trillion VND each were sold at an annual interest of 4.84 percent and 5.14 percent, down 0.17 and 0.16 percentage points from the previous auctions on January 9, respectively.
Bonds with 20-year terms were sold out at an interest rate of 5.6 percent, up 0.38 percentage points against the previous session on July 4, 2018.
From the beginning of this year, the State Treasury has mobilised more than 24.2 trillion VND (1.04 billion USD) through Government bonds issued on the HNX.
PetroVietnam ranks among 500 largest Vietnamese enterprises
Representatives of PetroVietnam and its members receive the VNR500 award 
The Vietnam Oil and Gas Group (PetroVietnam) has been listed in the top 50 of the 500 largest enterprises in Vietnam (VNR500) in 2018.
The VNR500 ranking, compiled by Vietnam Report JSC in cooperation with VietNamNet newspaper, has run for 12 consecutive years to honour the achievements of the most successful enterprises in Vietnam. 
PetroVietnam reported that its total volume of oil and gas exploitation amounted to 23.98 million equivalent tonnes last year, exceeding the yearly target by 5 percent.
Meanwhile, the group posted an estimated revenue of 626.8 trillion VND (27 billion USD), up 25.9 percent from 2017. It contributed some 121.3 trillion VND (5.22 billion USD) to the State budget, an annual increase of 24.3 percent.
Member companies of the group, including Binh Son Refining and Petrochemical JSC (BSR), PetroVietnam Gas (PV GAS), PetroVietnam Oil Corporation (PV Oil), PetroVietnam Power Corporation (PV Power), were also named in the top 50.
VNR500 is based on the Fortune 500 model, which lists the top 500 US companies by revenue of the previous year. In Vietnam, the ranking of the 500 largest enterprises is based on the results of independent research and evaluation as per international standards of the Vietnam Report Company, and has been announced annually since 2007.
The VNR500 rankings give people an idea of Vietnamese businesses and let the local business community recognise its position in the context of global integration, business strategy, and corporate governance. Based on this reality, enterprises can set up plans to reach out to large businesses in the region and around the world.
Over one quarter of Can Tho firms incur losses
Workers process tra fish at a factory in Can Tho City
Of the 7,800 enterprises operating in the Mekong Delta city of Can Tho, over one quarter suffered heavy losses in 2018, proving their performance was ineffective, Thanh Nien newspaper reported, citing Can Tho Chairman Vo Thanh Thong.
Speaking at a recent workshop between the Can Tho government and Can Tho-based firms to remove bottlenecks and obstacles faced by enterprises, Thong noted that the city saw the establishment of 1,390 new firms, with combined capital of more than VND7.1 trillion, which highlights the city's potential.
However, of the 11,000 firms registering their business, only some 7,850 are operational. And, a report from the Can Tho Tax Department indicated that 2,234 firms of the total operational ones had incurred losses, Thong remarked.
A series of difficulties facing firms operating in the city were raised at the workshop, including policies on loans and labor, as well as land and customs procedures.
A representative of a fruit export and processing firm voiced concern over the difficulty in gathering large volumes of fruit in Can Tho City despite the high-quality fruits being produced in Phong Dien District of the city.
Beside this, a representative of Meko Food Processing Factory specializing in producing salted duck eggs for outbound shipments stated that discarded eggshells were classified as industrial waste, but treating such waste has proved difficult.
The factory had hired a firm from Binh Duong Province to collect the waste at a cost of VND2,500-VND3,000 per kilogram as Can Tho City had no firms to treat it. When entering its peak business season of the Mid-Autumn Festival, the factory's production activities were affected by the significant volume of untreated waste.
Speaking of the environment and tourism, Vo Xuan Thu, general director of Victoria Can Tho Resort, remarked that the water-based tourism sector was a driving force of the city's economy, but the pollution caused by plastic bags and wastewater was threatening river tourism development.
Thu proposed the municipal government take preventive action to protect the environment and utilize the endowed water resources of Can Tho City.
The chairman of Can Tho City Thong assigned the government of Ninh Kieu District and the Department of Culture, Sports and Tourism to map out a plan for collecting garbage in rivers. In addition, Thong asked the Can Tho Investment-Trade Promotion Center and the Department of Planning and Investment to sum up difficulties faced by firms and report them to the municipal government so that it can assign the relevant agencies and departments to handle the issues.
QTSC applies Smart Water solution
Quang Trung Software City (QTSC) is implementing the solution 'Smart Water' in its process to use technologies in monitoring and managing the site, a part of the project to build a smart city.
'Smart Water' is a technological method to monitor and manage water use of customers via automatically capturing the amount of water use each month, storing these data, and then issuing a monthly bill for every customer.
The bill can be integrated into the current customer management system of businesses, or directly sent to all customers through various means like SMS, email, mobile phone applications, in paper, or on websites.
This solution can help QTSC to eliminate mistakes in the process of collecting water use data; to save time, cost, and human resources; to discover water leaking at each household or area; and to improve operation effectiveness via modern, convenient customer care services.
At the moment, QTSC are supplying water for all people on the site, with nearly 100 water meters of all sizes. Therefore, it is necessary to continuously do the task of managing water use and controlling water loss 24 hours seven days.
Since 2017, QTSC has already implementing the application 'Smart Water' and is hoping to introduce this effective solution to those interested.
Vietnam has 165,300 new firms in 2018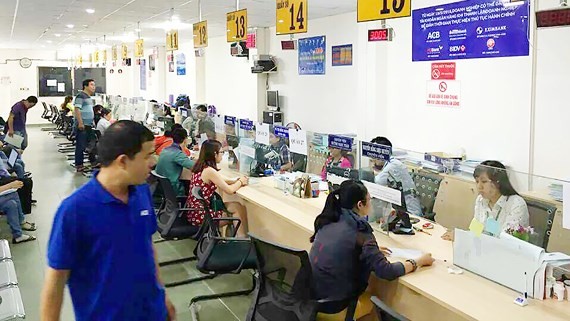 Employees at the HCMC Department of Planning and Investment solve business establishment procedures for residents
There were 131,275 newly-established firms with total registered-capital of VND1.47 quadrillion nationwide in 2018.
If an additional capital of VND2.4 quadrillion was included, total investment into the country's economy would be nearly VND3.88 quadrillion.
In addition, there were 34,000 firms having resumed operation, bringing the total number of newly registered and revived enterprises in 2018 to nearly 165,300.
Most newly-established firms are in wholesale, retail sale and vehicle repairing sector with 46,000 firms, accounting for more than 35 percent of total newly-established firms. Construction sector is the runner-up with 16,700 firms, accounting for 12.7 percent. Industrial processing and manufacturing sector accounts for 12.3 percent with 16,200 firms. Science, technology, consulting, design, advertising and others have 10,000 firms, accounting for 7.6 percent.
Standard Chartered predicts stable economic growth for Vietnam in 2019
Standard Chartered Bank has forecast that Vietnam will see a stable economic growth of 6.9% in 2019, buoyed by strong FDI-supported manufacturing industry.
The forecast was highlighted at the bank's Global Research Briefing held in Ho Chi Minh City on January 16.
The bank's Chief Executive Officer, Vietnam and ASEAN and South Asia Cluster Markets Nirukt Sapru said that most of the Vietnam's macroeconomic indices showed improvements in 2018, with bad debts kept under 3%, and stable interest rate and exchange rate despite escalating tension between the US and China and the interest rate hike from US Federal Reserve.
Those helped minimise market volatility, increase Vietnam's export competitive edge over other ASEAN economies, attract FDI projects as well as enhance public confidence towards the State Bank of Vietnam (SBV)'s management ability and policies, he stressed, expressing his belief that the Vietnamese economy will remain one of the fastest growing in both Asia and ASEAN in 2019.
According to latest macro-economic research on Vietnam, manufacturing is likely to expand in double digits in 2019 like it did in the past four years, supported by strong FDI inflows in the sector.
Construction activities are predicted to be stable this year, with growth forecast at 8.9% for the whole year. Meanwhile, the agricultural sector will continue the momentum after its growth hit a record high of 2.9% in 2018.
The bank's economists reckon FDI inflows to stay strong this year at close to US$15 billion, and most of the capital will be landed in the manufacturing sector. Particularly, the field of electronics is expected to remain high in the medium term.
In addition, they said that the SBV will maintain its flexible policy in the short term to assist economic growth. Interest rate is predicted to be stable while the price of the Vietnamese currency, the dong, will slightly increase in 2019. It is possible that the SBV will tighten its policy in the second half to cope with inflation rate rise.
US$7.6 billion spent on petrol imports in 2018
Vietnam recorded 11.43 million tons of petrol imports in 2018 with a total value of US$7.64 billion, according to the General Department of Vietnam Customs.
As a result, despite a surge in value by 8.1% on-year, the volume of petrol imports plunged by 11.4% on-year.
Last December, petrol imports reached 699,000 tons with a value of US$384 million, seeing a 7% drop in volume and 25.3% in value against the previous month. 
Malaysia was Vietnam's main supplier of petrol in 2018 as the country imported a total of 3.28 million tons with a value of US$2.05 billion, up 22.4%. Petrol imports from Malaysia accounted for 28.7% of the country's total petrol imports.
This was followed by the Republic of Korea (2.42 million tons, down 21.4%) and Singapore (2.4 million tons, down 44.2%).
2018 was the year characterised by a noticeable expansion of supply. Notably, petrol imports from Russia, the nation's 6th largest petrol supplier, skyrocketed.
Vietnam purchased 128,000 tons of petrol from Russia, valued at US$110,000 in total. These figures leaped by 255% and 402% on year, respectively.
Hong Kong (China) emerged as a new petrol supplier for the country with the provision of 102 tons in 2018, which were worth US$61,000.
Vietnam c.bank likely to raise policy rate in H2/2019: UOB
The Vietnamese economy is expected to expand 6.7% in 2019, which is a "robust" rate, says UOB.
The State Bank of Vietnam (SBV) is expected to hike the policy rate from 6.25% to 6.5% during the second half of 2019 as it would be time for the bank to normalize monetary policy gradually to prevent overheating, Singapore-based UOB has said in a note.
"As the economy would be looking in good shape and well able to handle a return to higher interest rates, the SBV could start raising its policy rate at a slow pace to reduce financial stability risks including escalating prices of real estate and other financial assets.
Moreover, gradually reducing accommodative monetary policy could help dwindle inflationary pressure and keep headline inflation to remain stable in 2019," the bank said in a note titled "Vietnam: Moving towards robust growth in 2019" released Thursday.
After growing 7.1% in 2018, the Vietnamese economy is expected to expand 6.7% in 2019, which is, UOB says, robust. High transport and energy infrastructure investments remain important growth drivers. Industrial production will be boosted by continued opening of new multinational enterprises in labor-intensive, export-oriented manufacturing and processing industries.
However, unfavorable weather conditions could undermine agricultural output and mining production, the bank noted.
UOB analysts pointed out the US-China trade dispute could also have a spill-over impact on Vietnam. The exports are likely to suffer if these two countries reduce their demand for imported goods such as steel, machine parts, telephones, mobile phones and parts, and intermediate electrical components.
A flood of cheap Chinese products may also affect local industries. Nonetheless, these can be mitigated if Chinese multinational firms relocate their manufacturing to Vietnam. Its geographical proximity to China, market access to ASEAN, favorable trade terms with the US, and young labor pool stand Vietnam in good stead.
Standard Chartered Bank on January 16 forecast Vietnam's economy to grow at a steady 6.9% in 2019, supported by FDI-driven manufacturing and stronger domestic activity. While the World Bank in December 2018 forecast the growth to decelerate to 6.6% in 2019 and 6.5% in 2020.
Brexit will not affect Vietnam-UK special partnership: British official
President of  the Vietnam - UK Network Warwick Morris  (L) and Vietnamese Deputy Minister of Industry and Trade Tran Quoc Khanh at the meeting 
The UK's exit from the European Union (Brexit) will not affect the special partnership between Vietnam and the UK, said Baroness Fairhead, Minister of State for Trade and Export Promotion at the Department for International Trade (DIT) of the UK.
Fairhead made the remark at an annual meeting of the Vietnam-UK Network at the House of Lords on January 15 (local time), during which she called on British businesses and organisations to promote cooperation with and investment in Vietnam.
The UK Government will support businesses, she said. 
She recalled her visit to Vietnam in July 2018, saying that she was impressed by Vietnam's strong economic development as well as Vietnamese people's hospitality. 
In 2018, the UK and Vietnam signed a number of cooperation agreements in the fields of clean energy, smart city and infrastructure development, and education. 
Fairhead said that the UK is interested in and learning to join the Comprehensive and Progressive Agreement for Trans-Pacific Partnership (CPTPP) that Vietnam is one of its founding members.
For his part, Vietnamese Deputy Minister of Industry and Trade Tran Quoc Khanh affirmed that the Vietnamese Government always opens doors and creates favorable conditions for British enterprises to do business in Vietnam.
He briefed participants on Vietnam's economic development achievements in 2018, and expressed his joy at the bilateral trade ties between the two countries, which has strongly grown in recent years.
On the occasion, Vietnamese Ambassador to the UK Tran Ngoc An presented the Friendship Medal to President of the Vietnam-UK Network Warwick Morris, who is former British Ambassador to Vietnam, for his contributions to promoting friendship between the two nations. 
The Vietnam-UK Network rewarded two British medical charitable organisations for their contributions to the health sector in Vietnam. They are Facing the World, who has helped Vietnam train and improve ability of Vietnamese oral and maxillofacial surgeons, and MSAVLC that has provided scientific and medical assistance for Vietnam, Laos and Cambodia.
Petrol prices kept unchanged in latest review
The retail prices of oil and petrol will be kept unchanged for the next 15 days, the ministries of Finance and Industry and Trade announced on January 16.
The two ministries reviewed fuel prices every 15 days to keep domestic prices up with swings in the global market.
Accordingly, the retail price of bio-fuel E5 RON 92 will not be higher than 16,272 VND (0.7 USD) per litre, and that of RON 95 not more than 17,603 VND (0.76 USD).
The ceiling prices of diesel and kerosene will be maintained at 14,909 VND and 14,185 VND per litre, respectively. The price of mazut is capped at 13,275 VND per kilo.
With this announcement, the falling trend in petrol price has stopped after six consecutive downward adjustments. At this level, the petrol price is still 2,500 VND lower than the price at the beginning of 2018.
According to the Ministry of Industry and Trade (MoIT), global oil and petrol prices have risen by more than 9 percent during the 15 days before January 16.
Workshop seeks ways to attract investment for infrastructure development
A workshop was held in Hanoi on January 16 to discuss international experiences in capital management and mobilisation, and infrastructure development, as well as to seek policy recommendations for Vietnam in such fields.
Opening the event, which formed part of the Vietnam Economic Forum 2019, Deputy Minister of Planning and Investment Vu Dai Thang said that the Party has defined institutions, infrastructure, and human resources as three strategic breakthroughs for Vietnam's socio-economic development during the 2011-2020 period.
He stressed the need to build a synchronous infrastructure system with a number of modern works focusing on urban transport and infrastructure. 
Thang pointed to four major areas in need of urgent investment, namely transport infrastructure; power supply infrastructure; irrigation infrastructure that is adaptable to climate change; and urban infrastructure.
He noted that over the years, Vietnam's basic infrastructure system has gradually been completed, meeting core socio-economic development requirements. 
Thang said that along with optimising State budget resources, the Government has paid great attention to mobilising private investment, especially through the public-private partnership (PPP) form.
So far, Vietnam has attracted 150 projects under the PPP model, with a total investment of about 50 billion USD, helping to improve the national infrastructure system.
However, he held that along with the achievements, Vietnam has faced a number of difficulties, including the large investment in infrastructure compared to the scale of the economy, leading to imbalances in the macro-economy and the general development of the economy, as well as added pressure in public debt.  
Vietnam is now seen as a middle-income country, therefore the need for soft loans will reduce. On the other hand, institutional and administrative reforms are still a challenge for the Government to improve the investment environment and lure more social investment for infrastructure development, Thang stated.
The deputy minister also underlined the necessity of seeking comprehensive solutions to the issue, especially in terms of mechanisms and policies for investment capital governance and mobilisation. 
At the workshop, exerts of management agencies from regional countries and international organisations shared their experiences in infrastructure reform and development, focusing especially on capital management and attraction, as well as the PPP model and restructuring the infrastructure management system.
All opportunities should be grasped: minister
Minister of Planning and Investment  Nguyen Chi Dung 
Optimising all opportunities, even the smallest, to create development breakthroughs is one of the central tasks set for the Ministry of Planning and Investment in 2019, Minister Nguyen Chi Dung has said. 
Breakthroughs are necessary to complete the 2016-2020 socio-economic development plan, the official said at a teleconference in Hanoi on January 16.
Vietnam should make thorough preparations for stronger connectivity between domestic and foreign businesses as the country has become an attractive destination for foreign investors, he suggested. 
"Vietnam must be consistent in pursuing short- and long-term targets as well as solutions towards development breakthroughs, not only in 2019 but also in the years to come, while also striving for the upper middle-income status, economic prosperity, environmental sustainability, and social equality and progress," he stressed. 
According to the official, the ministry will also focus on breakthroughs in workforce development, especially in the private economic sector, and economic restructuring in tandem with growth model reform and the improvement of growth quality, productivity, and competitiveness of the national economy. 
The ministry aims to make marked changes in the structure of each sector as well as the public investment structure, he added, stressing the need to develop the infrastructure system synchronously on the basis of the efficiency of public-private partnerships. 
Dung also called for greater efforts to promptly form national innovation centres; step up the operation of innovation networks; promote smart production models for urban areas, green growth, and clean energy; and enhance the country's resilience and adaptation to climate change. 
Localities that play the role of economic locomotives, especially Hanoi and Ho Chi Minh City, need to make breakthroughs in growth, he said, adding that economic spearheads should be developed based on the achievements of the Fourth Industrial Revolution. 
The minister said the national gross domestic product (GDP) growth rate of 7.08 percent in 2018, in addition to the stable macro economy and controlled inflation amidst the world's financial and commercial uncertainties, have reflected the resilience of the domestic economy. 
Given the opportunities and challenges ahead, Vietnam should be persistent in pursuing its aim of reform, standing ready to cope with fluctuations and consolidate the independence and self-reliance of the economy towards prosperity and sustainability, he said. 
HCM City hits 2018 revenue target
Nguyen Thanh Phong, chairman of the HCM City People's Committee, speaks at a meeting held to review financial performance in 2018 and finalise tasks for 2019. 
 HCM City's revenues last year grew by 8.6 per cent to VND378.54 trillion (US$16.3 billion), according to the Department of Finance.
The city, which gets a portion of its revenues allocated to it by the Government, spent VND72.63 trillion, up almost a fifth from the previous year, with VND30.79 trillion being spent on socio-economic infrastructure.
Huynh Thi Thanh Hien, deputy director of the city Department of Finance, told a review meeting where the figures were tabled that despite facing many challenges such as falling import tariffs due to free trade agreements and difficulties faced by local enterprises, her department and other relevant ones had managed to meet the revenue target set by the Government, which was 17.5 per cent higher than in 2017.
They would try their best to accomplish the revenue targets in 2019 too, she promised.
Her department would co-ordinate with others such as customs, tax and treasury to intensify tax inspection, strictly deal with tax payment delays and evasion, and abuse of transfer pricing, she said.
It would also help businesses resolve difficulties related to tax and other issues, she said.
Nguyen Thanh Phong, chairman of the People's Committee, appreciated the efforts made by the finance department to fulfill the city's revenue targets.
This year the city has been set a target of VND399.1 trillion ($17.17 billion), or 26.3 per cent of the country's total revenues, he said.
The target for domestic collection is VND272.32 trillion, an increase of 16.4 per cent, he said.
"These targets are too high. This means the city must collect VND1.53 trillion ($65.8 million) every day. This is a difficult task."
Therefore, relevant departments and agencies should focus on key solutions to achieve the targets, he said.
He said the finance department should strengthen measures to ensure full and timely collection in accordance with the law, enhance collection of land use rights when selling State-owned properties, strictly control spending, and speed up equitisation of Stated-owned companies.
Together with tax, customs and treasury agencies it should also focus on administrative reform and improving human resources to increase transparency to foster businesses, he suggested.
He called on it to ensure businesses scrupulously use e-invoices to avoid tax evasion and create a culture of paying taxes among household businesses. 
Mekong Delta firms look to Japan
Tra fish is processed by workers of Sao Mai An Giang Corporation in the southern province of An Giang for export to Japan and elsewhere. Japan is among Viet Nam's key export markets, with the two economies being members of the Comprehensive and Progressive Trans-Pacific Partnership (CPTPP). 
 Mekong Delta firms should make use of the Comprehensive and Progressive Agreement for Trans-Pacific Partnership (CPTPP) to do more business with Japan, experts told a conference in Can Tho City.
Japan is an important business partner for Viet Nam, especially the Mekong Delta, Nguyen Phuong Lam, director of the Viet Nam Chamber of Commerce and Industry Can Tho, said while speaking at the event on Tuesday.
Japan was one of the first countries to take part in the CPTPP along with Viet Nam, and is a partner of choice for VCCI Can Tho, he said.
Careful research of Japan markets and making use of the CPTPP would be beneficial to companies based in the delta, he added.
Doan Huu Duc, director of the Viet Nam Consulting Group, said agriculture and seafood are the delta's strengths and Japanese small and medium-sized firms are interested in them and are working with ASEAN member countries to source high-quality imports.
But Japanese companies are careful in their selection of partners, and being patient and getting to know them better is crucial, he said.
Nguyen Thi Thuong Linh, deputy director of VCCI Can Tho, said her organisation would solicit more investment in the delta to support the strategies and strengths of the provinces there, facilitate trade between local firms and Japan, and help build databases for the main local industries and research markets like Japan and Korea.
VCCI Can Tho will also help firms expand their markets, build brands and keep them informed about their markets.
More trade facilitation and networking events for Mekong Delta firms, especially with their Japanese counterparts, will be held later this year.
The CPTPP came into effect in Viet Nam on Monday, eliminating a large number of tariffs on Vietnamese exports. The conference was organised by the VCCI. 
Work on $60.5m King Crown Village project
Ground is broken for King Crown Village in Thao Dien Ward in HCM City's District 2 on January 16. 
Construction of King Crown Village, a high-end property project, began on Wednesday in HCM City's District 2.
The 9,125sq.m development, to cost VND1.4 trillion (US$60.5 million), will be done in two phases, with 17 villas built in the first and a 25-storey building with service apartments, offices and a five-star hotel in the second.
It is designed by international architecture and design firm Zone Architect in contemporary French style and built by An Phong Construction JSC.
Situated on Nguyen Van Huong Street, it is the last riverfront villa project in Thao Dien Ward, which has attracted some of the city's wealthiest.
Nguyen Ho Nam, Bamboo Capital Group (BCG) chairman, said: "King Crown Village is a solution to the situation that demand has exceeded supply in the high-end property segment. According to experts, this segment will continue to grow for the next three to five years."
The project is invested by Sao Sang Sai Gon Corporation, a subsidiary of BCG. 
Minh Phu Seafood reports positive business results despite lower prices
Workers at Minh Phu Company in Ca Mau City process seafood for export. 
 Minh Phu Seafood Corporation (MPC) reported it exported 67,646 tonnes of products last year, 107 per cent of its target for the year.
The company earned US$750.7 million, fulfilling 93 per cent of its target.
Global shrimp prices have fallen by 25 per cent but the company's output increased by 19 per cent, helping raise revenue by 7 per cent.
Minh Phu estimated its pre-tax profit at VND1.2 trillion ($51.5 million), which might exceed the planned target.
In December alone, the company exported 5,635 tonnes of products and recorded a turnover of $65.75 million. The US was its largest export market with $19.28 million, accounting for 29.3 per cent.
The company said business activities last year still saw growth in both output and profit despite the difficulties facing the Vietnamese and world shrimp industries.
Viet Nam's application of new shrimp farming technology last year and the competitive price of Vietnamese raw shrimp helped the company improve its profit margin compared with 2017. 
Dong Thap farmers harvests over 5,000 tons of Pangasius fish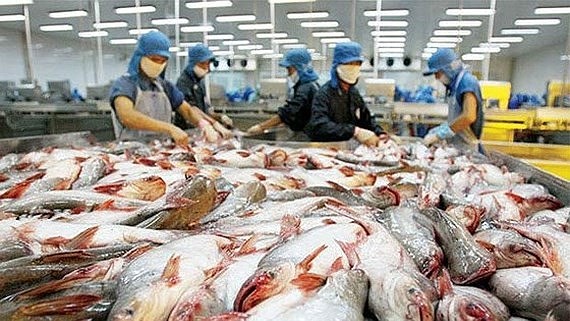 Farmers in the Mekong delta province of Dong Thap harvested more than 5,000 tons of Pangasius fish to provide materials for exports and domestic consumption in the first half of January, 2019. 
Currently,  the province has more than 1,079 hectares of alluvial area along rivers used for breeding the freshwater fish, of which are around 1,000 hectares of freshwater fish for exports and over 70 hectares for domestic consumption.
According to Nguyen Van Cong, Director of the Dong Thap province's Department of Agriculture and Rural Development, prices of Pangasius fish hit VND 26,000- 29,000 a kilogram which vary depending on weight, quality and payment method.
With the advantage, breeders could earn a profit of VND 6,000 to VND 11,000 a kilogram.
An average weight of each fish is around 0.7 to 1.2 kilogram. 
Last year, Dong Thap earned VND 8,213 billion (US$ 355 million) in profit with record output of over 470,000 tons from the fish business, up to VND 323 billion (nearly US$ 14 million) in comparison with 2017. This year, the province is expected to reach the output of 530,000 tons. 
VN's exports to Africa surge by 10%
Vietnam earned approximately US$3 billion from exports to Africa in 2018, a rise of 10% on-year, according to the Department of Asia-Africa Market under the Ministry of Industry and Trade.
Vietnamese products are shipped to 53 out of 55 African countries.
Vietnam Economic Times quoted statistics from the Department of Asia-Africa Market as showing Vietnamese exports to Africa in 2018 recorded some US$6.6 billion in value. A number of the country's products were shipped to 53 out of 55 African countries.
Whilst exports to the continent soared, imports faced a drop of 10% on-year as the country spent US$3.6 billion importing goods from Africa, This helped to cut Vietnam's trade deficit with the continent to US$0.6 billion.
 African countries are forecast to enjoy an economic growth rate of 3.6% in 2019. Vietnamese exports, especially farm produce and aquatic products, to Africa have gained the trust of African consumers, thus further boosting the access that Vietnamese goods have to the market.
Africa is a market with high import demand and less strict requirements, giving it great potential for Vietnamese enterprises. The country's exports to Africa quadrupled from US$610 million in 2006 and US$2.8 billion in 2016.
Vietnam's top five brands increase value by $2.3 billion
Vietnam's five most valuable brands were worth a combined $8.1 billion in 2018, up $2.3 billion or 39 percent against 2017, Brand Finance estimated.
The most valuable brand was military-owned mobile network Viettel at $2.8 billion last year, up 9 percent from $2.57 billion 2017, said the UK brand valuation company.
The 47th most valuable telecom brand in the world has operations in Laos, Cambodia, Haiti, Mozambique and Peru.
In second place was Vinamilk, the country's largest dairy company by far, which was worth $1.9 billion, up 39 percent. 
State-owned Vietnam Posts and Telecommunications Group (VNPT) was in third place after increasing its brand value by 84 percent to $1.34 billion.
In fourth and fifth places were Vinhomes, the real estate subsidiary of Vietnam's largest private conglomerate Vingroup, and Sabeco, Vietnam's biggest brewer, at $1.18 billion and $950 million respectively.
Samir Dixit, CEO, Asia-Pacific of Brand Finance, said: "Branding is the most critical asset of every business. It is difficult to predict the performance and behavior of customers, but the only thing that remains a constant is the brand."
Brand Finance's valuation criteria uses several metrics. The value accorded to each brand is a summary of its financial strength. Each brand also gets a brand rating, which indicates its strength, risk and future potential relative to its competitors.
Vietnam-India trade hits 10.69 billion USD in 2018
Two-way trade between Vietnam and India experienced a year-on-year rise of 40 percent to reach 10.69 billion USD in 2018, according to statistics released by the General Department of Vietnam Customs.
Vietnamese exports to India hit 6.54 billion USD in 2018, up 74.2 percent against 2017. 
The increase was mainly due to the value of Vietnamese exports hitting 6.54 billion USD, up 74.2 percent against 2017. 
Among staples, machinery, equipment and parts recorded the strongest turnover with nearly 1.7 billion USD, up close to 427 percent year-on-year.
Mobile phones and parts came next at more than 814  million USD, up 49.16 percent, followed by computers, electronics and parts at 800 million USD, up 63.04 percent, and metal and metal-made products at nearly 578 million USD, up 23.49 percent. 
Meanwhile, Vietnam imported 4.15 billion USD worth of goods from India, a year-on-year rise of 6.95 percent, mostly production materials and machinery and parts.
The two countries are working towards 15 billion USD in bilateral trade by 2020.
Vietjet offers millions of tickets from zero dong for all domestic flights
Continuing the promotion series of the biggest programme 'Love connection – Fly for love', low-cost carrier Vietjet is offering three golden days on January 16, 17 and 18 with 1.8 million super-saving tickets priced only from zero dong at website www.vietjetair.com.
The promotional tickets are applied at golden hours from 12:00 to 14:00 for all domestic routes. The flight period is from February 14, 2019 to December 12, 2019.
They are available via sales channels on website www.vietjetair.com, also compatible with smartphones at https://m.vietjetair.com or www.facebook.com/vietjetvietnam.
To celebrate the festive season in jubilant fashion, Vietjet has launched the biggest promotion in Asia with millions free air-travel opportunities across Asia up for grabs. 'Love connection – Fly for love' shares your stories about brilliant future, love, cuisine, culture and flying experience with Vietjet at https://loveconnection.vietjetair.com. Dreams of flying will come true with 17 special international flights for selected participants.
Aiming to be a consumer airline, Vietjet has continually opened many new routes, added more aircraft and invested in modern technology, while offering more add-on products and services to serve all demands of customers.
Vietjet is the first airline in Vietnam to operate as a new-age airline offering flexibly-saving ticket fares and diversified services to meet customers' demands. It provides not only transport services but also uses the latest e-commerce technologies to offer various products and services for consumers. 
It is a fully-fledged member of International Air Transport Association (IATA) with the IATA Operational Safety Audit (IOSA) certificate. Vietjet was named "Best Ultra Low-Cost Airline 2018 - 2019" and awarded the highest ranking for safety with 7-stars in 2018 by the world's only safety and product rating website AirlineRatings.com. The airline has been also listed in the world's 50 best airlines for healthy financing and operations by Airfinance Journal in 2018.
Currently, Vietjet operates 60 A320, A321 aircraft with more than 385 flights daily, carrying more than 65 million passengers to date, with 105 routes covering destinations across Vietnam and international destinations such as Japan, Hong Kong, Singapore, the Republic of Korea, Taiwan, mainland China, Thailand, Myanmar, Malaysia and Cambodia.
The airline has plans to expand its flight network across the Asia-Pacific region and has signed contracts to buy new-generation aircraft from prestigious global plane manufacturers.
Ha Nam pledges to create optimal conditions for FDI firms
Ha Nam authorities will always accompany and create all favourable conditions for foreign direct investment (FDI) enterprises to invest and expand production in the province, said a provincial leader.
Secretary of the provincial Party Committee Nguyen Dinh Khang made the statement at a meeting on January 16 with representatives of more than 200 FDI businesses operating in Ha Nam province.
Khang highly evaluated the FDI enterprises' contributions to the province's socio-economic development in the recent past, especially in restructuring the provincial economy and raising its industrial production value.
The FDI firms have also contributed greatly to the supporting, processing and manufacturing industries in Ha Nam, generating a large number of jobs for local workers, making remarkable contributions to the provincial budget and actively joining social activities, he said.
The official expressed his hope that the enterprises would always unite together, assist each other, fairly compete and strictly carry out their commitments to the province, particularly those related to environmental protection, progress and effectiveness of investment.
At the meeting, representatives of the participating businesses suggested the provincial authorities to assist them in building dormitories for workers, training personnel and ensuring traffic safety, power and clean water supply.
In 2018, Ha Nam recorded gross regional domestic product (GRDP) growth of 11.5 percent while its budget collection reached 7.9 trillion VND (400 million USD), a year-on-year rise of 26 percent.
The province attracted 126 projects last year, including 46 FDI projects with combined registered capital of 445 million USD, ranking in the top 10 provinces and cities in terms of FDI attraction.