Local credit institutions might struggle more in the second half of the year, with some even having to downsize full-year profit targets, as they are approaching the credit growth limit and the central bank refuses to allow more leeway to maintain macroeconomic stability.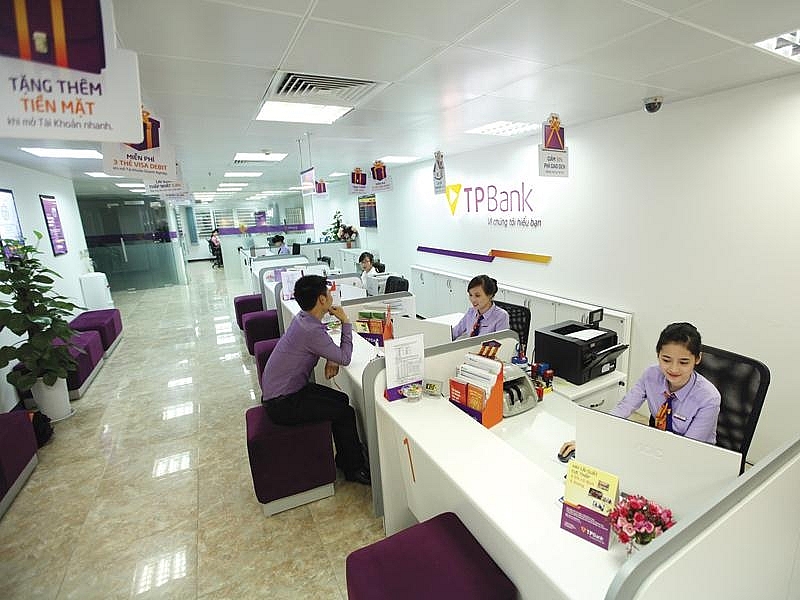 TPBank currently takes the lead in credit growth
The State Bank of Vietnam (SBV) has capped local banks' credit growth at 14 per cent for 2018, while setting a 17 per cent common growth target for the banking system.
The latest figures from the end of June, however, show that many banks are already approaching the credit growth cap. Several banks have even surpassed their full-year bounds.
Particularly, 23 banks that have thus far published financial statements for the first half reported a combined lending revenue of VND4.67 quadrillion ($206.6 billion) by the end of June 2018.
The latest figures from the end of June, however, show that many banks are already approaching the credit growth cap. Several banks have even surpassed their full-year bounds.
Eleven of these banks saw lending volume surpass 10 per cent during the period, four banks reported growth below 5 per cent, and two banks—Eximbank and PG Bank—saw negative lending revenue growth.
Privately-held TPBank took the lead with a credit growth rate surpassing 16 per cent in the first half of this year to reach VND72.9 trillion ($3.2 billion), while LienVietPostBank saw a 13 per cent hike, against the 14 per cent full-year growth target set earlier this year.
The pace of growth at a raft of banks, such as Kienlongbank and Vietcombank, was in the range of 9-12 per cent.
Banks have, therefore, been petitioning SBV for additional space for credit growth—similar to last year—but unlike then, their proposals were not accepted.
This is because amidst the current mounting inflationary pressure, keeping inflation under control has become the government's number one target.
SBV statistics show that first-half credit expansion in the banking sector was the lowest in the past three years at 7.88 per cent against 8.21 per cent and 9.06 per cent in the same periods of 2016 and 2017, respectively.
This outcome fairly fits SBV's targets set earlier this year, gunning for a 17 per cent overall credit growth in the sector for whole year, signifying a more restricted pace than last year's 18.2 per cent.
The central bank has been sending instructions reminding banks to keep tabs on the quality of credit growth, primarily via Dispatch 5321/NHNN-TTGSNH in mid-July 2018 and more recently via Directive 04/CT-NHNN on not adjusting credit growth targets, except in the special cases involving the restructuring efforts of underperforming banks.
This refusal to loosen credit growth targets has forced several banks to revise business targets.
For instance, LienVietPostBank has scaled down its full-year pre-tax profit target by 33 per cent, from VND1.8 trillion ($79.6 million) to VND1.2 trillion ($53.09 million), and its minimum payout ratio from 12 to 10 per cent.
The bank's chairman Nguyen Dinh Thang stated that the move came on account of two factors: the central bank did not accept revising the credit growth cap and network expansion has driven up operating costs.
Last year, LienVietPostBank saw a 20 per cent jump in lending volume and has set its 2018 business targets based on this growth level. SBV's decision not to loosen the credit growth cap has forced the bank to revise its respective business indices.
Banking expert Can Van Luc assumed that it is necessary for SBV to exert strict control over the quality of banks' credit growth in the face of soaring exchange rates and inflationary pressures. He added that many banks might find it tougher to do business in this year's second half with modest room for credit growth, especially at around the end of the year when firms' capital demand usually spikes.
VIR