Despite the feed-in-tariff for wind power not being as high as for solar power, numerous investors still expressed willingness to develop projects.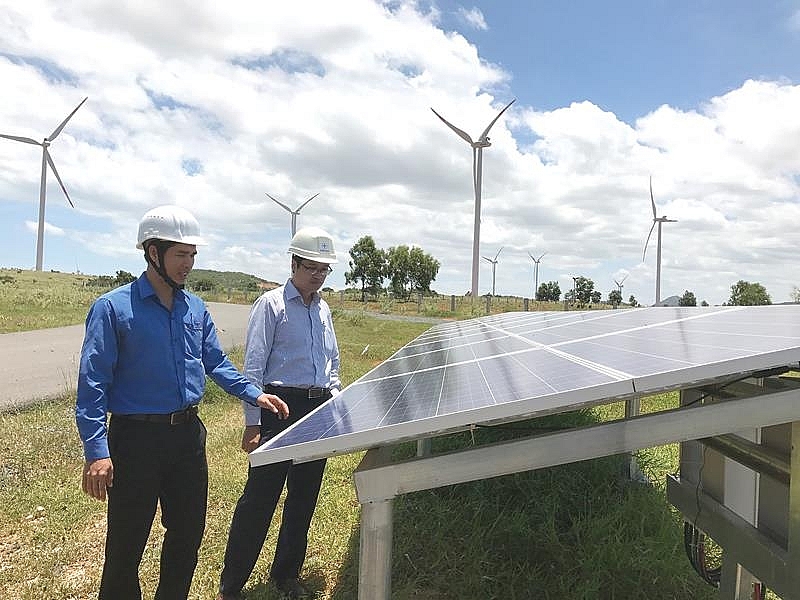 The Phu Lac wind power plant in Binh Thuan province
Wind power still lures investment
The Tra Vinh People's Committee has recently decided to approve a joint venture including three investors to develop Hiep Thanh wind power project with the total investment of nearly VND3.37 trillion ($149.1 million), which is expected to come into operation by 2020.
The project will be developed on a total area of 2,747ha on coastal alluvial ground in Hiep Thanh commune, Duyen Hai town, with the designed capacity of 78MW, comprising of 18-19 wind turbine towers.
Three investors, including Ecotech Vietnam Renewable Energy Joint Stock Company, Janakuasa Pte., Ltd., and individual investor Lam Minh—all partners with a lot of experience in the power industry, will establish Ecotech Tra Vinh Renewable Energy JSC to develop the project.
Ti Chee Liang, president of Janakuasa cum chairman of Ecotech Tra Vinh Renewables JSC, told VIR that the investors have carried out the on-site wind measurement one year ago. Ecotech Tra Vinh set the target to take the project into operation in the second quarter of 2020.
"The current feed-in-tariff (FiT) for wind power was set by the government at 7.8 cent per kWh. However, it still takes plenty of time to complete the Power Purchase Agreement (PPA) with EVN. With experiences gained from the development of Duyen Hai 2 BOT thermal power project, we expect that the negotiation of this PPA will be concluded soon," said Liang.
Liang invited Ratchaburi Electricity Generating Holding Public Company Limited to be the technical consultant for the wind power project. Peerawat, deputy CEO and chief investment officer of Ratchaburi, stated that the company has extensive experience in the wind power sector, with numerous projects in Thailand, Australia, and several other countries. Peerawat will introduce the latest technology to the Hiep Thanh wind power project.
According to Nguyen Quynh Thien, deputy head of the Tra Vinh Economic Zone Management Board, this is the fourth wind power project to be granted an investment policy in the province.
Previously, Tra Vinh granted investment certificates for three wind power projects with the total designed capacity of 192MW located in Truong Long Hoa commune (Duyen Hai town) and Dong Hai commune (Duyen Hai District).
According to the National Master Plan for Wind Power Development up to 2020 with vision to 2030 as approved by the Ministry of Industry and Trade (MoIT), Tra Vinh plans to develop six wind power projects in six coastal alluvial grounds in Duyen Hai District and Duyen Hai town, including three located in Truong Long Hoa commune, two in Hiep Thanh commune, and one in Dong Hai commune.
By 2020, the total installed capacity will be around 270MW, the wind power output will be 634 million kWh.
Waiting for better tariffs
As the investor in Duyen Hai 2 BOT thermal power project, Liang also said that the financing arrangement will not be a problem for the investors. In reality, they have developed other projects with much larger scale.
Duyen Hai 2 BOT thermal power project has the total capacity of 1,200MW and total investment capital of about $2.4 billion, out of which the loans are $1.8 billion.
"As requested for such a project, after the PPA was signed in December 2015, the project was required to complete the financing arrangement within 12 months, otherwise it will be repossessed. Although this is a very critical target, in December 2016, the project obtained the finance closure and is under construction now. Therefore, the power generation milestone in late 2020, early 2021 of Duyen Hai 2 BOT thermal power project is secure," said Liang.
However, the current tariff of 7.8 cent per kWh applicable for wind power projects from 2011 until now is not considered attractive by investors, especially when compared to 9.35 cent per kWh for solar power.
Also because of this low FiT, wind power does not encourage investors to proceed with implementation despite many projects being in the planning pipeline. The MoIT last year proposed the government to adjust regulations on a mechanism to support wind power development in Vietnam, in which it proposed increasing the onshore wind power tariff to 8.77 cents per kWh and the offshore wind power tariff to 9.97 cents per kWh.
VIR