The HCMC Real Estate Association (HoREA) has written to the Ministry of Natural Resources and Environment and the Ministry of Construction dismissing as baseless the concern of investors over legal loopholes in the condotel segment.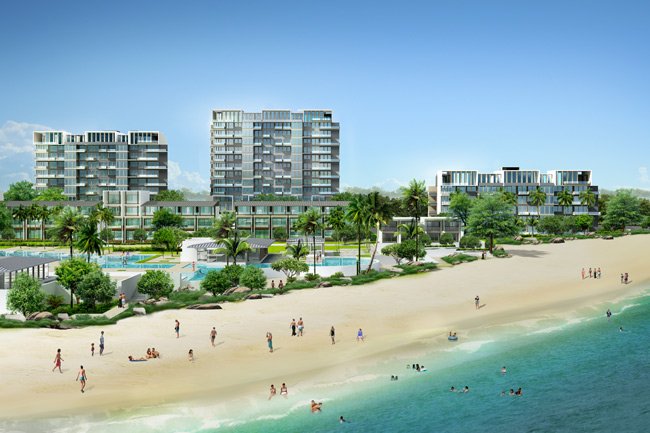 An artist's impression of a property project in the central coastal city of Danang
According to condotel investors, these projects can help generate significant profits as their prices are equivalent to those of high-end apartments, while construction costs and land use fees are lower.
Condotel developers often pledge an annual profit of 8-12% within eight to 12 years after the projects' completion. In addition, those who purchase condotels are promised long-term ownership certificates, which is not covered in the current Land Law.
Some local authorities have reportedly granted these certificates to condotel buyers, which is against the law.
Meanwhile, the mushrooming of condotels in recent years has attracted a large number of secondary investors, with a high volume of capital. However, the condotel market segment has cooled, and investors have encountered multiple obstacles in terms of business efficiency, liquidity, commitments to customers and ownership certification.
Regulations on the sale, hire, mortgage and transfer of condotels have been stipulated in the Law on Real Estate Business. However, regulations on the duties of investors in unfinished condotels toward customers have yet to be issued.
Therefore, HoREA has proposed supplementing these regulations.
According to the association, condotel investors can use land for tourism development projects and will need to pay land use fees to the State budget, in line with the market prices. HoREA also suggested allowing foreigners to buy condotels developed on nonmilitary land to improve the liquidity of these projects and mobilize more capital for the tourism sector.
The competent agencies should immediately direct the issuance of fixed-term asset ownership certificates for condotel buyers and ask the project developers to fulfill their duties, as stated in their contracts, to ensure benefits for secondary investors.
SGT