Digital transformation imperative for Viet Nam and its neighbours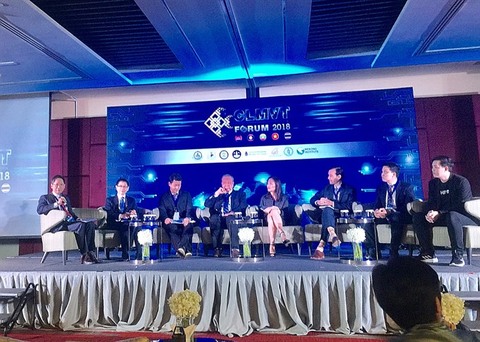 "Digital transformation or lose?" is a key message raised during the second-day of the Cambodia, Laos, Myanmar, Viet Nam, and Thailand (CLMVT) Forum 2018, held in Bangkok from August 16 to 17.
The session features senior policy makers and representatives from some of the most remarkable tech startups and successful SMEs from CLMVT and non-CLMVT countries who share their experiences on how to successfully integrate new technologies into their businesses and production networks.
Digital transformation is an inevitable trend that start-ups and small-and-medium enterprises (SMEs) in the CLMVT region have to embrace sooner rather than later to remain in the race, said Oudet Souvannavong, President of Lao National Chamber of Commerce and Industry.
"If business are not linked to technology, they will definitely lose," Souvannavong said, adding that digital transformation is the key for business to move towards the new trend.
Giving an example, he said "There are currently about 100,000 registered enterprises in Laos, 95 per cent of which are SMEs, with 91.8 per cent private enterprises.
"However, although there are many SMEs and startups, their capacity remains low. They also suffer many constraints, including a low level of knowledge and awareness about start-ups, limited access to finance and limited infrastructure. Besides, laws, regulations and incentives for start-up promotion are not in place," Souvannavong said.
He said Laos needed to put startups on the national agenda, following the example of Viet Nam, India and Thailand, to get public attention.
The country should also enact laws, regulations and incentives to support the growth of start-ups and invest in infrastructure, including internet systems, technology centres and working spaces. Education systems need improving and there should be more budget allocation to promote start-up activities and innovation initiatives.
Regarding cooperation for start-up development in CLMVT, he said the region should exchange policy and regulatory framework development for start-up promotion, enhance the existing ASEAN and the Greater Mekong Subregion (GMS) states start-up network and create a special network under CLMVT Technology Infrastructure, including soft infrastructure and projects.
Enhancing technological capabilities of SMEs and start-ups as well as embracing digital technologies to promote a creative economy must be ensured, said Nguyen Van Anh, Country Head of Grab for Business, Grab Viet Nam.
Van Anh said technology transformation brought about numerous benefits for start-ups. "Technology helps us to re-define our business model, the products we are making and the way we are serving our customers," she said.
"Digital technology helps us deliver better quality products at lower cost to clients, leverage the value of our services and enhance the access of customer to our products," she said.
For his part, Soe Naining, Director General of the Ministry of Industry in Myanmar, said to realise maximum mutual benefits and achieve sustainable shared prosperity in the era of disruptive technologies, it is critical that CLMVT countries exert more efforts to promote inclusive economies.
Moreover, as the push for more inclusive growth gains momentum around the world, it is imperative that our young entrepreneurs are encouraged to adopt inclusive business practice at the outset of their careers.
Wittawin Vidthayanon, Co-Founder of Somjai (Online) Ltd said the business environment has changed as a result of the new wave of technologies.
SMEs, startups, and young entrepreneurs, as key drivers of the CLMVT economies, are increasingly under pressure to adopt new technologies, not only to enhance competitiveness and their integration into the global market, but also to create value and better livelihoods for all stakeholders in their value chains.
However, he said, there were still factors preventing companies from digitising, including the lack of skills and resources, cyber security and growing threats and an isolated and resistant culture. 
Vinh Hoan exports jump in July     
Seafood processor Vinh Hoan Corporation has announced its July exports rose 36 per cent year on year to US$37 million.
The latest figure helped raise the firm's cumulative exports during the first seven months to $176 million, a yearly increase of 14 per cent.
The US remained the firm's largest export market, accounting for 64 per cent of the company's total exports, while its exports to the US market rose 44 per cent year on year.
The company also announced its exports to China jumped 110 per cent from a year ago and accounted for 12 per cent of the firm's total exports.
On the opposite side, exports to Canada, Australia, Hong Kong and the EU fell as demand in those markets dropped due to increasing prices.
The seafood industry recorded $1 billion worth of total exports in the first six months of 2018, a yearly increase of 20 per cent with major export markets being China, the US and ASEAN.
The company has more than 92.4 million shares listed on the HCM Stock Exchange as VHC, which closed up 0.4 per cent at VND73,600 ($3.27) on Friday. 
Vietnam, southern African countries share experience in developing MSMEs
Vietnam has plenty of experience in developing micro, small- and medium-sized enterprise (MSMEs) which Southern African Development Community (SADC) countries could learn from, said South African Ambassador to Vietnam Mpetjane Kgaogelo Lekgoro at a workshop in Hanoi on August 17.
The workshop creates a venue for African embassies in Vietnam and the Vietnam Union of Friendship Organizations (VUFO) to explore future cooperation opportunities, he added.
He pledged to support the VUFO to connect with MSMEs to implement different projects between African nations and Vietnam.
Established in 1992, the SADC now has 15 members with a combined population of nearly 300 million.
The total investment poured into Africa over the past decade was 500 billion USD, he said, adding that the potential in the southern African region, especially the MSMEs sector, is extremely huge.
Vice Chairman of the Vietnam-Africa Friendship and Cooperation Association Do Duc Dinh said MSMEs play a crucial role in the process of development in Vietnam as well as in African countries.
Such firms account for up to 95 percent of the total businesses in Vietnam, he highlighted, adding that they make significant contributions to economic development and job generation.
Vietnam is willing to be friend and reliable partner of all nations in the global community, he said, adding that the Southeast Asian country attaches great importance to developing relations with countries around the world, including African countries and those from the SADC.
The establishment of the association in November 2004 has contributed to promoting friendship, mutual understanding, and cultural exchanges between African and Vietnamese people.
He suggested stronger cooperation in the fields of people-to-people exchanges, economy-trade, culture, and tourism.
During the workshop, participants looked into preferential policies of the Vietnamese Government to develop MSMEs.
The event was jointly held by VUFO and African embassies in Vietnam on the occasion of the 38th founding anniversary of the SADC.
HCM City food, foodstuff sales rise by 13.7 percent
Retail sales of food and foodstuffs in Ho Chi Minh City were worth 66.744 trillion VND (2.9 billion USD) in the first seven months of this year, or 17.46 percent of total retail sales.
The figure represents an increase of 13.7 percent year-on-year, according to the city's Department of Industry and Trade.
In the last decade, average consumption of foods saw an annual increase of 12.98 percent.
The major food and beverage products consumed in the city include eggs, instant noodles, canned drinks, milk and sausages.
Major increases in output in the first seven months were seen in milk (6.9 percent) and canned beer (5.6 percent).
But notwithstanding the rising sales, food processing and beverage companies faced challenges such as increased value-added tax and smuggled and fake goods.
A spokesman for the city's Department of Industry and Trade said in the remaining months of the year, the department will call on city authorities to hold discussions with major enterprises and business groups in the food and foodstuff sector to resolve the problems they currently face.
It will also promote an alliance between localities and industrial parks to establish raw material zones and value chains for foods and foodstuffs.
According to Nguyen Phuong Dong, Deputy Director of the city's Department of Industry and Trade, the number of retail enterprises in the city is rising by 10.9 percent annually, significantly contributing to the development of the country's retail sector.
The city has 239 markets, 216 supermarkets, 44 business centres and 2,065 convenience shops.
They account for 2.8 percent of the country's markets, 22 percent of supermarkets and 23 percent of business centres.
Agro businesses seek to overcome barriers to Europe
Vietnamese agro-firms should increase high added value for their products by improving business production procedures in line with international practices, especially in packaging and designing, heard a workshop held in Ho Chi Minh City on August 17.
To date, Vietnam has nearly 40 products with geographical indication, an advantage for the country to boost exports to other markets.
Geographical indication is considered an effective tool that businesses should persistently pursue, experts said, suggesting the Government put forth more encouragement policies in this field.
There is a high possibility that the EU-Vietnam Free Trade Agreement (EVFTA) will be approved at the end of this year, thus opening up numerous export opportunities for the two business communities.
Despite this, the pact requires businesses to overcome a number of technical barriers such as labelling and packaging, and providing information related to the goods, especially issues related to certifying quality and animal and plant quarantine.
The deal will exert certain impact on some industries including animal husbandry, so domestic businesses should prepare soon to compete with other nations having higher technologies and quality products.
Businesses should pay due attention to the origin of products to optimise advantages from the EVFTA.
The application of the Global Good Agricultural Practice (Global GAP) will make it easier for Vietnamese firms to enter the European market, the panels suggested.
Construction ministry focuses on State capital divestment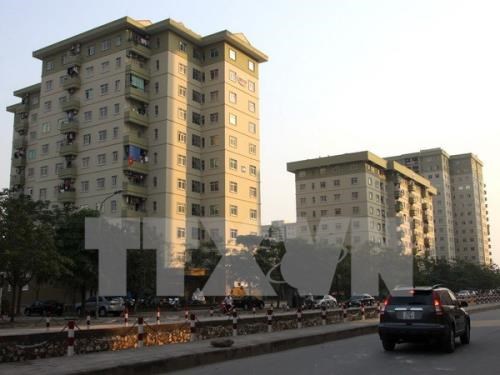 The Ministry of Construction said that speeding up the equitisation of and divestment of State capital from its State-owned businesses is one of the main focuses of the sector in 2018.
In the first two quarters of this year, the ministry completed the equitisation of the Song Da Corporation and the Vietnam Urban and Industrial Zone Development Investment (IDICO), turning them into joint stock companies.
Accordingly, over 4.6 trillion VND (197.4 million USD) was collected from the equitisation of the two businesses, with 4.08 trillion VND of which paid to the State budget.
At the same time, the ministry also finished State capital divestment at the Bach Dang Construction Corporation, paying 538 billion VND to the State budget.
Meanwhile, divestment plans have been made for remaining corporations including Viglacera, Vietnam National Construction Consultants Corporation (VNCC), the Hanoi Construction Corporation (Hancorp), FiCO Corporation, Vietnam Machinery Installation Corporation (Lilama), Construction Corporation No. 1 (CC1), Vietnam Water and Environment Investment Corporation (Viwaseen), Construction Machinery Corporation (COMA) and Song Hong Construction Corporation.
The Prime Minister had asked for the divestment of 135 SOEs in 2017 and 181 in 2018. However, only five companies completed the work in the first six months of 2018, bringing the total enterprises to have divested to 16 so far.
The reason for this slow progress was ineffective implementation of the PM's directions, while problems in finance, land and labourers also hindered the work.
 At the same time, despite the issuance of solutions for the problems, the implementation of the solutions remained inefficient, especially in land-related issues.
To promote the process of equitisation, divestment and restructuring of SOEs, in the rest of the year, agencies should review relevant laws such as the Law on Enterprises, the Law on Management and Use of State Capital Invested in Production and Business at Enterprises, the Law on Public Servants and the Law on Bankruptcy.
Meanwhile, ministries and sectors should design mechanisms and policies to submit to the Government and Prime Minister, including a decree on operations of SOEs, a decree on the rights and responsibilities of State capital owner representatives, and another on the production and supply of public products and services.
Book promotes Vietnam's geographical indication-registered products
"Geographical Indication: Natural Heritage and Vietnamese Culture", a new book collated by the National Office of Intellectual Property under the Ministry of Science and Technology, will be published later this month. 
The book, built under the framework of the "Support the Development of Geographical Indication in Vietnam" project, will offer readers an overall look into the quality, reputation, traditional values, and origin of products bearing geographical indication.
It will be also a useful reference tool for State management agencies, organisations, and individuals, contributing to the introduction and promotion of Vietnamese geographical indications to domestic and international consumers.
All over the world, developing geographical indication has become a strategy to raise consumer awareness and promote heritage values formed from natural and cultural conditions, ultimately improving the competitiveness of traditional products.
There are around 10,000 protected geographical indications around the world, with annual trade value estimated at 50 billion USD. 
In Vietnam, with the advantages of nature, diversity of traditional culture, experience, diligence, and ingenuity of the people, the country boasts many traditional agricultural products and handicrafts imbued with the variety in Vietnamese cultural identities. Among them, many products are the key items from their localities, and are already known widely in domestic and foreign markets. 
In recent times, Vietnam has built up legal corridors and regulations, as well as effective measures to support the registration and management of geographical indication. This has helped to develop and promote speciality products, increasing their value and competitiveness in the market.
By June 2018, 60 geographical indications in 39 provinces and cities were protected, helping localities gradually affirm their position in producing and trading their specialities.
The book "Geographical Indication: Natural Heritage and Vietnamese Culture" will update and introduce these 60 protected geographical indications, such as Phu Quoc fish sauce, Shan Tuyet tea in Moc Chau, Buon Ma Thuot bean coffee, Doan Hung pomelo, Binh Thuan dragon fruit, Lang Son star aniseed, Thanh Ha lychee, Phan Thiet fish sauce, and Vinh orange, among others.
Vietnam-Czech trade enjoys 14 percent growth in H1
Bilateral trade turnover between Vietnam and the Czech Republic in the first half of 2018 recorded an expansion of nearly 14 percent compared to the same period last year, marking a successively stable growth rate of over 10 percent per year since 2015. 
Vietnam's Commercial Affairs office in the Czech Republic, cited the latest data from the Czech Statistical Office, showing that the export-import turnover between the two countries reached 551.4 million USD in the first two quarters of the year, a 13.8 percent increase year-on-year. 
The Czech Republic imported goods worth 74.9 million USD from Vietnam in June, a year-on-year rise of 14.2 percent, lifting its total import turnover of the first six months to 503.7 million USD. 
Meanwhile, the European nation's exports to Vietnam during the January-June period were valued at 47.6 million USD, up 10.1 percent compared to the same period last year. 
Vietnam's key exports to the Czech Republic during the period included electronics, audiovisual equipment, footwear, rubber, leather products, clothes, mechanical equipment, wood furniture, farm produce, handicrafts, and plastic products. 
Of which, electronics earned the highest revenue with nearly 170 million USD, followed by footwear with 122.1 million USD.
At the same time, Vietnam imported from the Czech Republic energy furnaces, boilers, and mechanical equipment; video recording equipment; plastic products; military equipment; seeds; pharmaceuticals and medicinal plants; and industrial tree varieties. 
In 2017, two-way trade between the two countries exceeded 1 billion USD for the first time, a rise of 12 percent year-on-year.
However, the figure remained modest compared to the economic potential and real demand of both markets.
Bilateral trade is forecast to hit over 1 billion USD again in 2018, thus creating momentum for promoting investment cooperation between the two sides' enterprises, especially in the sphere of high technology, such as biotechnology and nanotechnology.
Compliance cost index shows taxation procedures least pricey for firms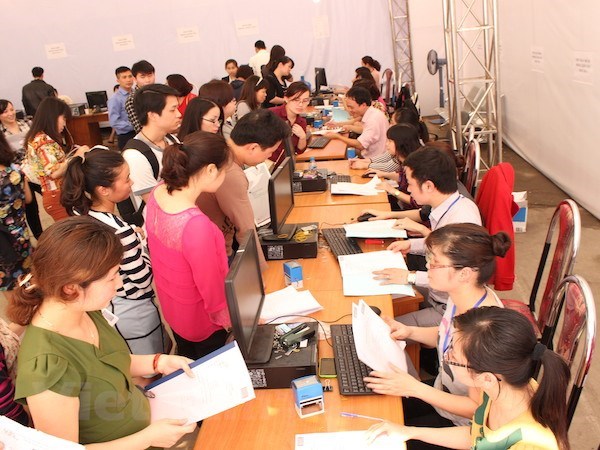 The index for administrative procedure compliance costs (APCI) was released for the first time on August 17, assessing the actual expenses businesses and organisations have to incur in order to adhere to existing administrative procedures.
The APCI report, announced by the Prime Minister's Advisory Council for Administrative Procedure Reform, marked two years since the current Government took office with the resolve of improving the business climate to attract more domestic and foreign investment, and promote Vietnam's stature in the international arena.
The report covers eight groups of important administrative procedures for companies, namely starting business and business registration, taxation, investment, licence and practicing certificate, customs, land, environment, and construction.
In total, 3,000 companies across all 63 provinces and cities were interviewed about their compliance costs during the last half of 2017.
Accordingly, taxation procedures rank first in the APCI which costs businesses only 73,750 VND (3.17 USD) to comply with. Companies also need only 2.9 hours to carry out one taxation procedure on average.
The compliance cost for taxation procedure is equivalent to 0.58 percent of the average cost of the eight surveyed groups of procedures (about 12.7 million VND or 546.6 USD) and only 0.1 percent of that of construction procedures, which was the most charged grouping.
The second place belongs to starting business and business registration procedures which cost companies 720,700 VND (31 USD) and 10.5 hours.
This group is followed by procedures relating to customs; land; licence, practicing certificate and business conditions; investment; and environment.
Meanwhile, enterprises have to spend up to 64.1 million VND (2,758 USD) on average to adhere to construction procedures, although the time needed to deal with them is not the highest (103.9 hours).
According to the report, compliance costs also vary across regions and localities. For example, compliance costs for construction procedures reaches 146.7 million VND (6,313 USD) in the northern key economic region, but only 12.6 million VND (542.2 USD) in the southern region. It is attributed to the different procedures carried out by local authorities.
Minister and Chairman of the Government's Office Mai Tien Dung said compliance costs includes expenses in terms of time and money, direct and indirect expenses, as well as official and unofficial expenses. Feedback from associations and businesses shows that these costs are very high.
He added that the Advisory Council for Administrative Procedure Reform will continue to hold dialogues with enterprises, collecting their opinions to offer alternative points of view from state agencies. He stressed that reforms must be carried out in a drastic and synchronous fashion so that all costs can be reduced.
Vietnam's beekeeping aims to generate a buzz
The rate of 'foreign' honeybee species kept in Vietnam should be raised from 75 percent at present to 80 percent in 2020 in order to increase the quality and productivity of honey, heard a conference in Hanoi on August 17. 
Dr. Dinh Quyet Tam from the Vietnam Beekeepers Association pointed out that although Vietnam exports a large quantity of honey, the price of the product stands at only 1.22 EUR (1.4 USD) per kg, the lowest worldwide, as compared with New Zealand's honey price of 23.25 EUR per kg. 
In 2017, Vietnam's honey prices dropped sharply due to the lower quality of its acacia flowers, falling global honey prices, and fiercer competition. Besides this, Vietnamese honey has yet to establish its brand name on the global market. 
It is reported that each year, Vietnam produces more than 55,000 tonnes of honey and over 1,000 tonnes of beeswax, with 85-90 percent of these products shipped abroad. 
Vietnamese honey and beeswax are mainly exported to the US, European countries, and Japan. 
According to the General Statistics Office, last year, the country had 1.2  million honeybee colonies, mainly made from Italian and local species. The country ranks sixth globally and second in Asia in terms of honey exports. 
Tran Ngoc Lan, from the Department of Livestock Production under the Ministry of Agriculture and Rural Development, said beekeeping has generated more jobs and contributed to poverty reduction for farmers, especially those in remote and mountainous areas. 
However, over the past three years, the volume and value of honey exports shrunk remarkably, causing difficulties for both beekeepers and exporters.
Food safety key to finding overseas markets
Good agricultural practices and food safety certification are the first requirements for agricultural producers who want to export or sell to international retail chains, experts have said.
They were speaking at a conference titled "Overcome the technical barriers for food and agricultural products to export to EU" in HCM City on August 17.
Vietnam is still among the countries whose exports are rejected by European markets mainly because of food safety issues.
Last year, the EU's rapid alert system for food and feed (RASFF) issued 77 notifications that Vietnamese exports had not qualified for import and 23 shipments were rejected at the border.
In the first half of this year, the figures were 36 and 11.
Marieke Van Der Pijl, legal consultant of the Food, Agri and Aqua Business Sector Committee of the European Chamber of Commerce in Vietnam, said the main reasons for rejection included detection of antibiotics, crop protection products and other harmful chemicals, cold-chain breaks during transportation which increase the chances for bacteria to develop.
Other reasons included the lack of traceability, insufficient food and farm produce testing results and failure to meet sanitary and phytosanitary requirements.
She said when an export was rejected, not only was the exporter affected but there was also a bigger consequence: harm to the reputation of Vietnamese products threatening their competitiveness on the international market.
Therefore, domestic producers should keep in mind that food safety was vital to enter the EU market and maintain customer loyalty since "once the trust is broken, it is very hard to get it back," she said.
Nguyen Huy, food manager in Vietnam for global quality certification agency Bureau Veritas, said before 2015 fishery products accounted for most food safety alerts from the RASFF about Vietnamese consignments.
But now, there was an increasing number of notifications on farm produce since exports of Vietnamese agricultural products had risen rapidly in recent years.
He said to gain access to Europe and ensure consistent quality of exports to the market, producers should adopt the EU's food safety standards.
He said one of the most popular certifications in Europe is the BRC Global Standard for Food Safety developed by food industry experts.
It provides a framework to manage product safety, integrity, legality and quality, and the operational controls for these criteria in the food and food ingredient manufacturing, processing and packing industries.
Other standards such as BAP (Best Aquaculture Practices) and especially Global GAP (Good Agricultural Practices) are also favoured in European markets, and in fact have become quite popular among Vietnamese agricultural and fisheries producers.
"If producers adopt Global GAP, they will have a better chance of gaining access to the European market as they can speak the same language with European importers."
Huy said one of the common features of these standards is the traceability of products since in demanding markets like Europe, consumers are highly aware of the products they consume, especially food.
"The tracing of product origin has to go from farm to middlemen to processors and until the packaging and labelling stage."
Pijl said rules of origin would also be a criterion if Vietnamese exporters seek tax benefits when exporting to European markets once the Việt Nam – EU Free Trade Agreement (EVFTA) comes into force.
"It's good news that many Vietnamese food products have geographical indications such as Moc Chau tea, Buon Ma Thuot coffee and Hoa Loc and Chu mangos. This will help the products be exported easily to foreign markets."
According to experts at the conference, the EVFTA, likely to be ratified by the end of this year, will also bring the pressure of competing with European companies in Vietnam.
Nguyen Kim Thanh, an expert from the High-quality Vietnamese Goods Business Association, said the livestock industry would face fierce competition as a result of the EVFTA and other free trade agreements.
She said if local producers cannot up their game by adopting food safety control systems to produce high-quality products that meet international standards, they could easily lose their market to imports.
Vietnam-Cuba joint venture licensed to produce detergents in Cuba
Suchel TBV S.A., a joint venture between Vietnam and Cuba, was approved by the Cuban Government to build a detergent plant in the Mariel Special Development Zone (ZEDM), according to the Cuban News Agency (ACN).
The agency quoted a statement of the ZEMD as saying that the joint venture was set up by Cuba's Mercantile Society Industries Nexus S.A. and Vietnam's Thai Binh Detergent JSC, with an operational period of 30 years.
The plant whose construction is scheduled to last for 24 months is designed to have an annual capacity of 50,000 tonnes of detergents for domestic and industrial use, replacing more than 90 percent of detergents Cuba has imported from foreign countries. 
The ZEMD said with an initial investment capital of some 17.6 million USD, the plant will have environmentally friendly production lines, require less energy and generate a minimum of industrial waste.
In 2016, Vietnam's Thai Binh Global Trading Corp. got a licence to produce disposable diapers and sanitary pads at the zone.  
ViMariel S.A., a subsidiary of Vietnam's Viglacera Corporation, was officially established in July 2018 to build an industrial park at the ZEDM. 
The ZEDM is located 45km west of Havana and covers 465 sq.km. It was put into operation since November 2013, aiming to spur domestic production, reduce import costs, promote growth, generate more jobs and attract foreign direct investment.
Farm produce exports to China face higher quality standards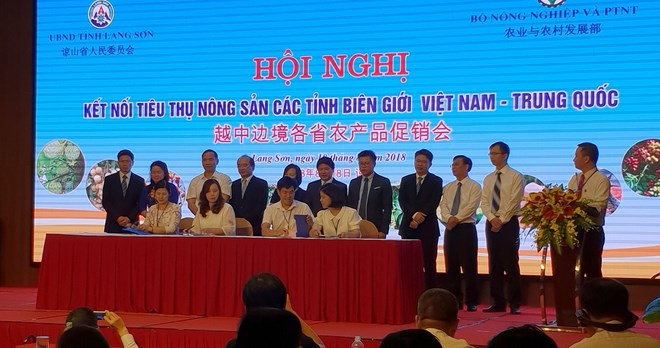 Vietnam's agricultural and aquatic exports to China are likely to face higher quality requirements and stronger competition from other ASEAN exporters although China's demand for these goods is still on the rise, heard a meeting on August 18.
The event was held by the Ministry of Agriculture and Rural Development and the People's Committee of the northern province of Lang Son with a view to connecting farm produce sellers and buyers of Vietnamese and Chinese border provinces.
Statistics show that trade between the two countries has continually increased over the past years, hitting 93.7 billion USD in 2017, up 30.2 percent year on year. It reached 46.8 billion USD in the first half of 2018, up 17.4 percent from the same period last year. The figure included 3.7 billion USD worth of Vietnamese agricultural and aquatic exports to China, rising by 6.4 percent.
Participants in the meeting shared the view that Vietnam owns many favourable conditions for farm produce trading with its neighbour, which has very big demand for these commodities.
Consumers' similar taste and the close proximity have also helped facilitate the transportation of goods, especially seasonal produce and items benefiting from preferential tariffs under the ASEAN-China Free Trade Agreement and other international commitments of China.
However, La Dinh Tuyen from the Export-Import Department of the Ministry of Industry and Trade said Vietnamese goods in China are encountering competition from similar products of Thailand, Indonesia, India, Cambodia, and even China.
Meanwhile, China hasn't permitted importing some products of Vietnam's strength such as mangosteen, durian, passion fruit, live pigs, milk products, freshwater fish and clam. Some border provinces and trading companies haven't strongly developed infrastructure, he added.
Tuyen noted China has set higher quality standards, adding that it has built large-scale testing and quarantine laboratories comparable to those of developed nations like the US, Japan and EU countries.
To enter China, agricultural and aquatic products of Vietnam will have to face higher quality barriers and stronger competition from other ASEAN countries, he said.
Echoing this, Nguyen Thi Ha, head of the Plant Quarantine Sub-department of Region 7 (consisting of Lang Son and some nearby provinces), said China is raising plant quarantine barriers and has issued stricter regulations on farm produce imports.
To maintain Vietnamese goods' prestige, businesses need to seriously adhere to Chinese regulations on products' origin and coordinate with plant quarantine units in taking samples of farm produce for testing.
Meanwhile, the agriculture ministry's Plant Protection Department will work more closely with the Chinese side to gradually remove technical barriers to Vietnamese agricultural products. It will also continue asking China to permit the official import of more fresh fruits from the country, Ha said.
At the meeting, Vietnamese and Chinese businesses signed many memoranda of understanding on farm produce trading cooperation.
Logistics must grow for e-commerce
The logistics sector is a crucial factor in Vietnam's e-commerce market succeeding and reaching its full potential, according to the latest report from JLL released on August 15.
Many foreign logistics providers and e-commerce operators are making efforts to seize the opportunity to offer e-logistics and meet rapidly growing demand.
According to an international survey by KPMG, "The Truth about Online Consumers", Vietnamese consumers are leaning towards online shopping as they can easily compare prices, find online sales, or get better deals from online retailers such as Amazon, Lazada and Tiki.
Many e-commerce enterprises are picking up the pace to stay abreast of demand. Vietnam's e-commerce market has witnessed significant events, such as Mr. Jack Ma, founder of Alibaba, cooperating with Alipay and the National Payment Corporation of Vietnam (NAPAS), and local e-commerce portal Tiki receiving $44 million in funding from JD.com - Alibaba's competitor. In 2016, the Central Group bought Zalora Vietnam and officially changed its name to Robins Vietnam.
The launch of the BW Industrial Development JSC in Vietnam, a joint venture between leading global private equity firm Warburg Pincus and the sizeable State-owned developer Becamex IDC Corp, in January 2018, demonstrates the huge potential of the market.
Compared to its regional peers, however, Vietnam's logistics market is still in its infancy, marked by low-specification premises in remote locations. The JLL report therefore also identifies the challenges for Vietnam's logistics sector.
While Vietnam's overall spending on infrastructure is relatively high compared to its neighbors, there is still a long way to go. Many infrastructure projects face delays due to land compensation, funding, and limited success with public-private partnerships (PPPs).
According to the Doing Business 2018 report from the World Bank Group, it currently takes 105 hours in Vietnam to export a product of comparative advantage and 132 hours to import auto parts. This is significantly longer than only 62 hours for export and 54 hours for import in Singapore. Although the withdrawal of the US from the Trans-Pacific Partnership (TPP) in early 2017 eliminated significant trade opportunities, the country's growth is nonetheless projected to remain robust from strong exports.
The cross-border trading cost, consisting of documentary compliance and border compliance costs, in Vietnam is less competitive than most of its regional peers. Of the total, the cost of documentary compliance accounts for more than 30 per cent compared with just 10-15 per cent in developed countries such as Singapore. The remarkable variance in the cost structure suggests more improvement is required in the documentary compliance area.
With the potential growth in the e-commerce and manufacturing sectors, Vietnam's logistics market is expected to move to the next level, evolving in the same way witnessed in other markets.
AirAsia to launch two direct flights from Vietnam
AirAsia, Asia's largest low-cost carrier, announced on August 8 that it will start two direct flights from Hanoi City to Chiang Mai City in Thailand and from Phu Quoc Island to Kuala Lumpur in Malaysia in October and November, respectively.
The Hanoi-Chiang Mai route is expected to have four flights per week on Mondays, Wednesdays, Fridays and Sundays, starting from October 28. AirAsia will operate 180-seat Airbus A320 aircraft for the new services.
Tickets for the flights connecting Hanoi City and Chiang Mai will start at VND900,000 per trip for travel between October 28 and March 29, 2019.
The Phu Quoc-Kuala Lumpur service will be opened on November 2, offering four flights per week, also on Mondays, Wednesdays, Fridays and Sundays.
Promotional air tickets for the Phu Quoc-Kuala Lumpur flights will be priced at VND680,000 for travel between November 2 and March 29, 2019.
Customers can book tickets between August 8 and August 19 at airasia.com or via the AirAsia mobile app.
AirAsia currently operates 11 direct flights connecting Vietnam with Malaysia, Thailand and the Philippines. The routes are Hanoi-Kuala Lumpur, Hanoi-Penang, HCMC-Kuala Lumpur, HCMC-Johor Bahru, HCMC-Penang, Danang-Kuala Lumpur, Nha Trang-Kuala Lumpur, Hanoi-Bangkok, Danang-Bangkok, HCMC-Bangkok and HCMC-Manila.
7M tourism revenue in HCMC up 16.6% y-o-y
Tourism revenue in Ho Chi Minh City in the first seven month has been estimated at VND75.5 trillion ($3.2 billion), up 16.6 per cent against the same period last year, which had itself risen 13.3 per cent, and representing 54.71 per cent of the annual plan, according to the Ho Chi Minh City Department of Planning and Investment.
International visitors stood at 627,125 in July, up 49.55 per cent year-on-year and bringing the total in the first seven months to an estimated 4.45 million, up 37.7 per cent year-on-year and representing 59.47 per cent of the annual plan of 7.5 million. 
The growth extended to the transport industry. Total revenue from goods and passenger transport and loading in July was estimated at VND8.9 trillion ($382.3 million), up 2.7 per cent over June and 9.3 per cent year-on-year.
The transport sector had 1,001 newly-established enterprises in the first seven months with registered capital of VND6.6 trillion ($283.5 million), up 40.24 per cent year-on-year in capital. There were also 21 new foreign projects with total investment of $11.42 million, up 58.01 per cent year-on-year in capital.
Revenue from passenger transport in July was estimated at VND2.4 trillion ($103.05 million), up 2.8 per cent against June. The non-State sector accounted for 74.3 per cent, up 16.3 per cent year-on-year, and the foreign-invested sector 24.4 per cent, up 22.9 per cent. Road transport revenue accounted for 75.6 per cent, up 16.0 per cent.
Mr. Bui Ta Hoang Vu, Director of the Ho Chi Minh City Department of Tourism, said it will focus on introducing a number of tourism events in August, such as the Ho Chi Minh City Street Show and the Ho Chi Minh City International Travel Fair, 2018 (ITE HCMC 2018).
Progress of sustainable agriculture project in Mekong Delta reviewed
The Ministry of Agriculture and Rural Development held a meeting in Tien Giang on August 17 to review the progress of the Vietnam Sustainable Agriculture Transformation (VnSAT) projects in the Mekong Delta over the last seven months, as well as discuss tasks for the remaining months of the year.
The VnSAT has been largely funded by the International Development Association (IDA) under the World Bank since 2015. It has a total investment of 301 million USD, of which, 238 million USD is financed by the IDA, while the remainder is sourced from the Vietnamese Government and private sector.
By 2020, it will be operational in five Central Highlands provinces and eight in the Mekong Delta region, aiming to foster the use of sustainable farming practices and enhance the value chains of coffee and rice production in these localities. 
In the Mekong Delta provinces – namely Kien Giang, An Giang, Hau Giang, Tien Giang, Long An, Dong Thap, Can Tho, and Soc Trang – the project aims to support a large-scale programme of improving agronomic practices and management, supporting private sector investments in upgrading rice processing technology and facilities for high value and quality rice, and improving public service delivery.
The project is expected to reach about 140,000 rice-producing households, cultivating around 200,000ha of rice in the Mekong Delta and helping to increase those rice smallholders' incomes by 30 percent.
According to the project's management board, eight Mekong Delta provinces have been allocated with 390 billion VND (16.8 million USD) in funding for 2018. As of July, 50.8 billion VND, or 13 percent, of the funding had been disbursed. Over the first seven months, more than 115,400 farmers received training on the new rice cultivation technique 'three reductions, three gains' (3R3G), while over 53,000 have learned about the 'one must, five reductions' (1M5R) method.
3R3G refers to reductions in seed, chemicals, and water; and gains in productivity, quality, and economic efficiency. 1M5R means using registered seeds and reductions in seed, chemical fertiliser, pesticide, water use, and post-harvest loss.
Speaking at the meeting, Deputy Minister of Agriculture and Rural Development Le Quoc Doanh said the remaining workload that needs to be done by the eight Mekong Delta provinces this year is heavy and as such, by the year end, the provinces must pay more heed to resolving issues to fast-track the project's progress and at the same time, make changes to the project plan according to the real situation. Monthly disbursement plans should be outlined to allow better monitoring, he added.
He also urged the eight provinces to continue training farmers on 3G3G and 1P5G, encouraging them to apply Good Agriculture Practices (VietGAP), and supporting cooperatives and credit institutions to improve capacity.
Quang Nam meeting with Japanese enterprises held
Vietnamese and Japanese enterprises discussed how to intensify Japan's investment in Vietnam in general, and the central province of Quang Nam in particular at a meeting in Hoi An ancient town on August 17.
The event, part of the Japanese Culture Days in Quang Nam taking place from August 17-19, drew the participation of Japanese Ambassador to Vietnam Umeda Kunio, representatives from Japanese cities and prefectures, international cooperation agencies, and leaders of 150 Vietnamese and Japanese businesses.
Speaking at the meeting, Le Van Thanh, Vice Chairman of the provincial People's Committee, said that since the two countries set up their diplomatic ties 45 years ago, the relations between Quang Nam and Japan's localities, organisations and enterprises have grown continuously. 
Along with development cooperation programmes, Quang Nam is one of the localities to welcome the most delegations of Japanese enterprises.
Currently, Japan runs 20 projects worth 115 million USD in Quang Nam, ranking third among over 20 nations and territories investing in the central province.
However, both Vietnamese and Japanese enterprises acknowledged that Japan's investment in Quang Nam fails to meet the two sides' potential and strengths, in comparison with the country's investment in other Vietnamese localities.
Therefore, the meeting offered a chance for them to seek new cooperative opportunities, they said.