Deutsche Bank appoints new chief country officer for Vietnam
Deutsche Bank has just announced the appointment of Hans-Dieter Holtzmann (49) as chief country officer and head of Global Transaction Banking (GTB) in Vietnam, effective from August 16, 2018.
In his capacity as chief country officer, Holtzmann will report to Werner Steinmueller, member of the Management Board and APAC Head of Deutsche Bank, and in his GTB capacity, to Kaushik Shaparia, head of Global Subsidiary Coverage, GTB Foreign Exchange and Corporate Cash Management for Asia.
Announcing the appointment, Steinmueller said, "We are pleased to have a colleague of Hans-Dieter's caliber in this role.
As one of our key markets in Southeast Asia, our Vietnamese franchise has shown profitable growth and we are excited about the country's outlook. This is why last year we significantly increased our capital base in this market, providing the bank with more resources to support our clients' activities."
Kaushik Shaparia, added that "With his extensive client management experience, Hans-Dieter is well positioned to lead and grow our GTB business in Vietnam, where we are a key player in cash management, trade finance, and securities services, servicing both global and local clients."
In Vietnam, Deutsche Bank is among the largest market access providers to global institutional and retail investors, a leading M&A and ECM advisor, as well as one of the top five USD/EUR FX trading houses by volume.
Deutsche Bank is present in Vietnam since 1992 and employs a staff of approximately 70. In April 2018, Deutsche Bank moved its office into the new Deutsches Haus in Ho Chi Minh City, a hub for German businesses in the country.
Holtzmann has been with the bank for more than 20 years. He has worked in various senior capacities across global offices with Corporate & Investment Banking, Regional Management, and Government and Regulatory Affairs, most recently as Head of Public Sector for Germany where he was responsible for covering clients at the federal, state, and municipality level.
He has also worked as economic advisor to former German Chancellor Helmut Kohl on a secondment to the German Federal Chancellery.
He holds a Ph.D. in economics from the University of Erlangen-Nuremberg and a Master of Liberal Arts from Wayne State University in Detroit, Michigan.
Imports of animal feed continue upward trend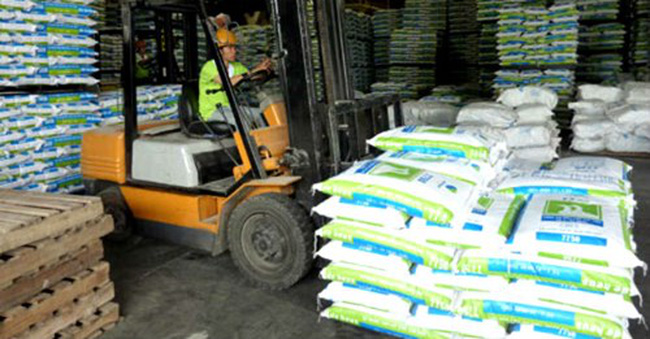 Imports of animal feed and raw materials for animal feed production hit US$232 million in July, down 37.58% compared to the previous month but up 7.11% against the same period last year, according to the General Department of Vietnam Customs.
Among major suppliers of animal feed and raw materials for Vietnam in July, Argentina ranked first with US$53 million, down 27.24% against the previous month and 55.76% over the same period last year, trailed by the US with more than US$48 million and China with more than US$22 million.
Overall, Vietnam spent more than US$2.2 billion importing animal feed and raw materials in 7 months, a year-on-year rise of 11.11%. Export markets seeing strong growth included Brazil (up 301.31% to US$294 million), Belgium (up 155.95% to US$20 million), the US (up 111.15% to more than US$369 million) and Chile (up 79.87% to nearly US$10 million).
Cement exports record strong growth
Cement exports in the first seven months of the year registered impressive growth, with 17.65 million tonnes sold for 656.3 million USD, year-on-year increases of 63.2 percent in volume and 73.4 percent in value.
According to the General Department of Customs, export prices of cement and clinker grew 6.3 percent to reach an average 37.2 USD per tonne.
Bangladesh was the largest consumer of Vietnamese cement and clinker, spending 152.8 million USD on 4.75 million tonnes of the building materials, accounting for 23.3 percent and 26.9 percent in Vietnam's total cement export quantity and value, respectively.
Notably, export revenue earned from China was 90 times higher than that gained in the same period last year, with 158.35 million USD. The market consumed 4.52 million tonnes of Vietnamese cement and clinker, an 80-fold increase, becoming the second largest purchaser of the goods.
The Philippines was the third biggest Vietnamese cement buyer at 3.49 million tonnes.
Meanwhile, strong growth in cement exports was seen in Malaysia (87.9 percent), Peru (74.7 percent) and China's Taiwan (11.9 percent).
Vietnam Airlines ties up with Sacombank, Napas for discount     
Sacombank, the National Payment Corporation of Viet Nam (Napas) and Vietnam Airlines have announced a promotion programme for Sacombank Plus debit card holders buying tickets on the airline.
People buying tickets on www.vietnamairlines.com on Tuesdays, Wednesdays and Thursdays from August 15 to September 13 will get a 15 per cent discount on all domestic routes and flights to Southeast Asia, Northeast Asia, Europe, and Australia.
"Taking off easy with Napas and Vietnam Airlines" offers an additional refund of 5 per cent of the ticket value up to a the maximum of VND200,000.
Plus debit cards are connected to customers' current accounts at Sacombank.
More information about the programme is available at khuyenmai.sacombank.com and the bank's hotline.
Overnight interest rate doubles to 4.42%     
Interest rates on the inter-bank market have surged strongly in the past week despite the central bank's net injection of VND14.4 trillion (US$612.76 million).
According to a report from the Saigon Securities Incorporation (SSI), the rate of overnight loans last week doubled from the previous week to reach 4.42 per cent, nearly equal to the 4.75 per cent rate in the open market operation (OMO). The rise has also contributed to reducing the interest rate gap between overnight and three-month loans to only 27 basis points.
Interest rates for one-week and two-week loans also surged 1.9 and 1.7 times against the previous week.
SSI analysts attributed the interest rate hike to a net withdrawal of VND60 trillion for the week ending August 3, which has reduced the liquidity in the banking system.
SSI's report also showed that the yield of the central bank's five-year bills has kept steady at 4.3 per cent in the past week.
During the week, the transaction volume of the bills increased by 27 per cent against the previous week. Foreign investors net bought VND113 billion after they net sold in the last five weeks.
India investigates countervailing duties on VN's steel     
The Directorate General of Anti-Dumping and Allied Duties (DGAD) under India's Ministry of Commerce and Industry has recently announced the initiation of an investigation into countervailing duties on certain types of steel imported from Viet Nam and China.
The investigation is based on petitions filed by Stainless Steel Pipe and Tubes Manufacturer Associations of New Delhi, Ahmedabad, South India and Haryana. The applicants alleged that the exporters have benefited from the actionable subsidies provided by various levels of the Governments of Viet Nam and China, including the governments of the provinces and municipalities in which the exporters are located.
The product under investigation is "welded stainless steel pipes and tubes". The period of investigation is from April 2017 to March 2018. The injury investigation period shall cover the period from 2014 to 2017 and the period of investigation.
DGAD will not proceed to sampling for Viet Nam but will for China due to the large number of Chinese enterprises involved in this case.
Therefore, Viet Nam exporters will be individually investigated and receive their own tax rates based on the information they provide.
Relevant units (including the Government of the investigated countries, exporters, importers and consumers of goods subject to investigation) may submit information, comments, and documents to Indian investigators.
All written information relating to the present investigation should be sent to the Indian Directorate General of Trade Remedies within 40 days from the date of publication of the initiation notice.
If no information is received within the prescribed time limit or the submitted information is incomplete, the authority may record its findings on the basis of the facts available on record in accordance with the rules.
The Trade Remedies Authority of Viet Nam, under the Ministry of Industry and Trade, recommend the Vietnamese exporters cooperate and provide full and proper information to Indian authorities throughout the entire investigation. Exporters should closely coordinate with Viet Nam Trade Remedies Authority to effectively defend the case, they added. 
Farm deal signals co-operation among VN firms     
The latest co-operative agreement between farming and agricultural firm Hoang Anh Gia Lai (HAGL) and Truong Hai Auto Corporation (Thaco) has suggested that Vietnamese firms are willing to work together to improve their competitiveness as pressure from foreign businesses mounts.
The deal, signed on August 8, allows Thaco to buy convertible bonds worth VND3.8 trillion (US$163.1 million) issued by HAGL's sub-unit HAGL Agrico, purchase VND4 trillion worth of 51 per cent ownership of HAGL Myanmar Co Ltd, and help HAGL restructure its VND14 trillion worth of debts.
According to HAGL chairman Doan Nguyen Duc, Thaco's total investment in HAGL's sub-units and Myanmar projects is estimated at more than VND22 trillion.
The deal aims to assist HAGL resolve its problems with rubber farms in Viet Nam, Laos and Cambodia, which have made the group unable to re-pay loans due to the sharp decline of rubber price.
The cost has fallen to around $1,300 per tonne compared to $5,000 per tonne when its farms were first developed.
Total loans of HAGL are estimated at VND23 trillion, leading to high annual interest rate for the company.
Despite efforts to switch its business focus to fruit and other products, the company has still encountered troubles, seeing its shares fall sharply from around VND40,000 per share in February 2011 to VND7,000 per share at the close of August 15.
Prime Minister Nguyen Xuan Phuc said at the signing ceremony of the HAGL-Thaco agreement that the deal is a good way to help large-cap companies boost their performances together, and make great contributions to the development of a high-tech agriculture sector.
"The deal also motivates Vietnamese companies to achieve a win-win situation, in which there will be not only big farms but also smart production, automated production chain and higher productivity," the PM said.
Prior to HAGL-Thaco deal, the largest dairy producer Vietnam Dairy Products Joint Stock Company (Vinamilk) and the national flag carrier Vietnam Airlines on August 6 signed a five-year strategic deal that allows Vinamilk-made products to be consumed on Vietnam Airlines' flights departing from Viet Nam.
The deal is expected to raise Vinamilk's output consumption on flights by 10 per cent per year and help promote the best Vietnamese brands to the world.
According to Vietnam Airlines general director Duong Tri Thanh, the deal will help improve the supply chain that connects Vietnamese brands to international markets.
Experts say those deals between domestic giant businesses must be spread wide among the business community to push them to co-operate given the rising pressure of foreign firms.
There should be new forms to connect local companies with each other to form allies such as co-operative, franchising and associating firms, they say.
According to Zulkifli Bin Baharudin, executive chairman of the logistics and supply chain company Indo-Trans Corporation, Vietnamese firms will remain weak if they try to go their own way to conquer other markets.
Therefore, Vietnamese firms should group together to be stronger and faster in order to participate in the global supply chain, he said. 
HCM City seeks to expand orchid market     
HCM City is working with several provinces to set up orchid supply chains and mitigate shortages there, especially during holidays when supply dwindles and prices shoot up.
According to the municipal Department of Agriculture and Rural Development, orchid was grown in the city on around 360 hectares, mostly in Hoc Mon, Cu Chi and Binh Chanh districts, and around VND615 billion worth of orchid plants and branches were supplied, with a focus on varieties such as mokara and dendrobium.
Dang Le Thi Thanh Huyen, director of Huyen Thoai Orchid Co-operative, said because of its favourable climate and application of modern technologies HCM City has better orchid output and quality than other places.
According to Vuon Mo Co Ltd, shops in many provinces sell orchid stems of poor quality as they have to rely on middlemen since they cannot regularly travel the long distance to HCM City.
Tran Truong Son of the HCM City Farmers Association said orchid farmers in the city face a similar problem and also have to rely on traders.
Tran Tan Quy, deputy director of the department, said it had been working with Can Tho City and south-western provinces to expand the orchid market and organising conferences and networking events to link farmers and co-operatives with distributors to form long-term partnerships.
The city also consulted farmers, distributors and other relevant parties to draft favourable policies.
The department is planning to organise a flower festival to promote orchids, which Le Thanh Lien, deputy chairman of the city People's Committee, said would help the city's plan to shift from rice to more profitable crops.
Son said small farmers should work together to ensure stable supply and prices, and relevant departments should organise networking events to help farmers find more partners.
Pham Thiet Hoa, director of the Investment and Trade Promotion Centre, said the centre had helped connect more than 60 businesses with farmers and co-operatives and held annual exhibitions to connect farmers directly with customers so that they did not have to rely on intermediaries.
Farmers had also improved their techniques and orchid quality over the years, he said.
The city plans to have around 600 hectares under orchids by 2030.
Regional countries discuss digital technology     
The growth of digital technology for inclusive and sustainable economic development is a top priority for Cambodia, Laos, Myanmar, Thailand and Việt Nam (CLMTV).
The statement was made in a joint declaration on technology co-operation during the CLMTV (Cambodia, Laos, Myanmar, Thailand, Việt Nam) Forum 2018, organised by the Thai Ministry of Commerce in collaboration with partner organisations with the theme "CLMVT Taking-Off Through Technology" that kicked off in Bangkok today.
The two-day forum aims to strengthen economic ties in the CLMTV region and promote regional cooperation amidst challenges in the context of current global trade, with an emphasis on the use of technology for economic development.
The forum has attracted about 1,000 participants from the public, private and academic sectors along with members of the media.
During his opening remarks, Thai Prime Minister Prayut Chan-o-cha said that the CLMTV Forum provided a unique opportunity for leading business people, senior policy makers and academics, and the younger generation of entrepreneurs to come together and exchange views on the sustainability of future cooperation.
"With shared historical, geographical, and cultural ties, the CLMTV region has great potential to develop into a thriving global hub for commerce, industry and tourism. An outstanding feature of the CLMTV region is our resilience as a preferred destination for international trade and investment," he said.
"As the region is emerging with greater creative talent and entrepreneurial ingenuity, there is an excellent opportunity to take advantage of this trend by highlighting the importance of technology and innovation towards the momentum of this regional growth," the Prime Minister said.
This will require fine-tuning our cooperation in digital technology, transport infrastructure connectivity, environmental sustainability, and human resource development, all of which would be substantial to the discussions within the 2018 CLMTV Forum, he said.
Thai Minister of Commerce Sontirat Sontijirawong said the forum created opportunities for public and private sectors from all CLMTV countries to develop a shared narrative to enhance collaboration and improve the state of economic development in the region amid rapidly evolving disruptive technology.
"It is the only international forum that connects prominent public figures, distinguished business leaders, visionary young entrepreneurs, and renowned academics from the CLMTV region and beyond to discuss the most pressing issues facing the region today," Sontijirawong said.
This year, the forum focuses on four important topics that could shape the future development of the CLMTV region – digital trade ecosystem, digital platforms and e-commerce, SMEs and startups, and creative economy.
Addressing the forum, Vietnamese Deputy Minister of Science and Technology Bùi Thế Duy said Digital transformation does not mean buying software and hardware but is about how to change the business model and adapt to technological transformation.
"Việt Nam is emerging as a country with great potential to develop digital economy, as it has more than 58 million internet users out of its 90 million people and more than 125 million mobile subscribers," Duy said.
Digitalisation is present in almost all fields in Việt Nam, replacing traditional business models, from business registration and electronic invoicing, to online retail, property and banking, he said.
"However, the country is also facing a number of challenges. For example, 86 per cent of workers in the textile and garment industry in Việt Nam would face the risk of losing jobs in the context of growing automation."
The appearance of robots would replace people in production lines, Duy said.
Houmphanh Intharath, Lao Vice Minister of Science and Technology said the spillover effects of digital technology and e-commerce are growing rapidly in Southeast Asia., stressing the need to prepare consistent, clear, and transparent policies and laws to better support businesses in the adaptation with the changes that technology brings about.
CLMTV should regularly exchange experiences on technological innovations, support businesses in connecting, learning and exchange experiences in the field of digital technology to achieve prosperous and sustainable economic development, he said.
U Tha Oo, Myanmar's Deputy Minister of Transport and Communications, said the reform of Myanmar's economy towards digital economy is being paid much attention by the government. The creative industry can leverage digital technologies to enhance its already important role as a vital growth engine of the CLMVT region.
The first day of the forum is themed "Technology to Change Trade and Investment", comprising parallel discussions, ministerial conversations and leading business people exchanging views and extending networks.
The second day, themed "Technology to Change Life and Yound Generation", emphasises the promotion of an inclusive economy by enhancing the capacity to ultilise technologies among SMEs and startups, and by applying digital technologies to support a creative economy.
The CLMTV Forum 2018 also features more than 40 exhibition booths from domestic and international organisations.
With a combine population of 240 million and GDP growth as high as 6.2 per cent in 2017 (compared to the global average of 3.6 per cent), the CLMTV region has attracted worldwide entrepreneurs to invest in manufacturing and expand their markets, resulting in unceasing economic expansion. 
New US$556m Ha Long expressway to open in early September
A new expressway connecting the world-famous Ha Long Bay with the Hanoi-Hai Phong Expressway is almost finished.
The chairman of Quang Ninh Province, where Ha Long is situated, has called on the builder to finish all remaining works before August 31 so that the expressway could open to traffic on September 2, Vietnam's Independence Day, authorities said on August 14.
As some of the supporting facilities are still being built, Quang Ninh authorities have proposed limiting the maximum speed on the highway to 80 kilometers per hour.
Once the project acceptance is complete, the speed limit would go up to the designed 100 kph.
Workers can still be seen installing traffic signs, barriers and lane dividers and painting road markings.
Built at a cost of VND13 trillion (US$556 million), the 24.6-kilometer Ha Long-Hai Phong Expressway connects National Highway 18 in Ha Long's Dai Yen Ward with the Hanoi-Hai Phong Expressway in Hai Phong's Hai An District.
Also built are a VND7.27-trillion bridge across the Bach Dang River between Quang Ninh and Hai Phong. The 5.4-km bridge, with a 3.5-km span above the river, has a width of 25 meters (82 feet) and four lanes.
Once opened, the expressway will reduce the Ha Long-Hanoi commute by 50 km to 130 km, and the Ha Long-Hai Phong route from 75 km to just 25 km.
Work on it began in September 2015 and was scheduled for completion last March, but was delayed twice.
The expressway is among a series of infrastructure projects aimed at boosting the tourism industry.
Others include an international airport in Quang Ninh's Van Don District and a new expressway between Ha Long and the proposed special economic zone in Van Don, both of which are scheduled for completion later this year.
In the first half of this year Ha Long held many events including the launch of the National Tourism Year - Ha Long - Quang Ninh and the 2018 Carnival Ha Long, both of which attracted tens of thousands of visitors.
The bay helped Quang Ninh welcome 6.6 million visitors this year as of May, including 2.17 million foreigners, according to official figures.
Tourism revenues for the period rose 32% year-on-year to VND11 trillion (US$472 million).
Danang to turn industrial zone into urban area
Manufacturing enterprises operating in An Don Industrial Zone of Danang City have been encouraged to move to other sites as the industrial zone is scheduled to be converted into an urban area.
Pham Viet Hung, a member of the management board at the central coastal city's export processing and industrial zone authority (IZA Danang), revealed that the leaders of IZA Danang will work with Hanoi Urban Architecture Development JS Company (HAAD) this week to launch the project to relocate enterprises in An Don, Son Tra District. The project proposal will be submitted to the municipal authority for approval in late 2018, and the first phase will be completed by 2020.
Hung told The Saigon Times on August 8 that various obstacles will be encountered in moving the enterprises, so it is necessary to complete the process in phases. As many as 50 firms are operational in the industrial zone, which was established in 1992, with half of them operating in the manufacturing industry, including sectors that employ a large number of laborers, such as textiles and garments, Hung noted.
"The city is in the process of encouraging these enterprises to move to two new industrial zones: Hoa Cam industrial park (IP) and Hoa Nhon IP," Hung said, adding that Danang City will spend a lot of money on compensating and supporting them.
"Enterprises that do not agree to move will be required to change their technology and follow stringent environmental regulations," Hung stressed.
Some 25 years ago, when Son Tra District was underdeveloped and the population was sparse, the opening of an industrial zone was logical. However, Hung asserted that the population is growing very quickly due to the demand for economic development, so the conversion is necessary.
This is the first time an operational industrial zone will be turned into an urban area, Hung noted.
Earlier, on April 7, 2017, the Prime Minister approved a proposal to take the An Don industrial zone, covering over 50 hectares, out of the general plan for developing industrial zones nationwide by 2020.
He also assigned the Danang government the task of managing the use of land in An Don Industrial Zone for urban area development. Based on the policy, Hung explained that new enterprises operating in industrial zones in Danang City will be offered preferential policies compared with other firms operating outside industrial zones, except for enterprises in the Hi-tech Industrial Zone, which have benefited from special policies to attract investment since 2015.
Local coffee shop chains are outmaneuvering international brands like Starbucks by catering to customers' demands.
Young customers are now choosing smaller brands like The Coffee House, Cong Ca Phe and Phuc Long as their to-go spot for affordable brews.
Local brands not only offer many beverage options but also sophisticated interiors and unlimited and fast internet access to ensure they retain customers, Nikkei Asia Review quoted market researcher Nguyen Phuong as saying.
All this has helped these brands become very popular among students and young working professionals, who can spend hours there yet feel welcome.
Phuong said having knowledge of Vietnamese culture and consumers has helped the local brands attract customers.
By changing their business models to fit customers' tastes, local brands report growing and some are even looking to expand.
Nguyen Hai Ninh, CEO of what is thought to be the fastest growing chain, The Coffee House, told Nikkei that he plans to open 700 outlets around Vietnam in the next five years, or around 10 a month.
Just one month after the brand opened its first shop in Seoul last month, Cong Ca Phe plans to add two more stores in the Korean capital.
The chain, which debuted in 2007, has more than 50 stores around Vietnam, and intends to add one or two every month until 2020.
Thuc Coffee, Urban Coffee Station and Phuc Long report 7% annual revenue growth.
In contrast, international names like Starbucks have grown slower than expected in the Vietnamese market.
Starbucks only has 38 stores after entering the market five years ago despite boasting huge numbers in neighboring countries such as Thailand (330 stores), Indonesia (320) and Malaysia (190).
Meanwhile, NYDC, Gloria Jean's Coffees, and Caffe Bene of Korea have all wound up or are close to doing so.
Singapore-based NYDC closed its last store in July 2017, Australian brand Gloria Jean's Coffee also closed its last store in April 2017 after a decade of slow growth. 
Caffe Bene now has only three outlets remaining, according to InsideRetail Asia.
Talking about the reason for the failure of international brands in the domestic market, industry insiders said that high rents on premium land have raised the cost of retail prices, making their coffee less competitive than local ones.
A local coffee shop owner told Nikkei that opening a 200-square-meter Starbucks store in Saigon requires an initial investment of US$215,000, while Coffee House only needs US$86,000.
Sean T Ngo, CEO of VF Franchise Consulting, said Vietnam, a major exporter of Robusta coffee, imposes high import tariffs on coffee beans, and international coffee chains often use imported Arabica beans that raise costs significantly. Higher costs have driven many customers to domestic brands.
Phuong said that another reason for the downfall is that old brands are slow to adjust their business models to match customers' taste.
Jan-July import-export revenue higher than 2013 full-year figure
The import and export revenue of Vietnam in the first seven months of the year surpassed that of the full year for 2013, according to the General Department of Vietnam Customs.
Preliminary customs statistics from the department showed that the total value of imports and exports in July reached a record high of US$41.2 billion, a 6.1% rise against the previous month.
Vietnam exported goods worth more than US$20.3 billion, up by 2.4% month-on-month, while the country spent over US$20.9 billion purchasing foreign goods, up by 10%.
July was the second month this year, after January, in which the total value of imports and exports was above US$20 billion.
Overall, the total import-export revenue in the year to late July had amounted to US$266.1 billion, rising by 13.5%, or US$31.7 billion, over last year. The revenue was even higher than that of the full year in 2013, at US$264.07 billion.
The respective figures for the seven-month import and export turnover were more than US$131.6 billion and US$134.5 billion, up by 11.1% and 16%, respectively, according to the customs agency.
While Vietnam recorded a trade deficit in goods in May and July, the country recorded a trade surplus in the first four months of the year. As a result, there was still a US$2.85-billion surplus in its seven-month trade balance, compared with a trade deficit of US$2.61 billion in the same period last year.
The customs agency noted that the foreign direct investment (FDI) sector had earned US$172 billion in imports and exports in the year to end-July, up by 13.3%, or US$20.2 billion, over the same period last year.
During this period, outbound sales of the FDI sector rose by 15.9% year-on-year to US$94.2 billion, while the sector imported goods worth US$77.8 billion, up by 10.4%. Therefore, the sector gained a trade surplus of US$16.4 billion.
Among the export commodities, phone and phone parts earned more than US$26.4 billion between January and July, a year-on-year increase of 17.4%. Textiles and garments came second with some US$16.5 billion (up by 16%), followed by computers, electronic products and their spare parts, earning US$15.9 billion (up by 16.2%).
Meanwhile, imports of computers, electronic products and their spare parts rose by 13.9% to more than US$23.1 billion. Machinery, equipment, tools and other accessories came second, earning some US$18.8 billion, down by 6.4%, followed by phones and phone parts, earning more than US$7.3 billion, down by a mere 0.6%.
New entrant perks up competition in Vietnam's ride-sharing market
Go-Viet's attractive perks for drivers are motivating many to shift from Grab, and the market leader is responding.
He's one of the first drivers to sign up with ride-sharing service Go-Viet, but Thanh Hung is still wearing the well-recognized green GrabBike uniform.
"Too many drivers have just signed up for Go-Viet so there are not enough jackets," Hung said.
The 40-year-old motorbike driver said he was able to make VND800,000 ($34) in a day and a half since he began driving for Go-Viet, much higher than the VND500,000 (US$21) he would get from GrabBike for the same work duration.
Hung said he is also attracted by the tax exemption Go-Viet promises for the first six months and the bonus he'll get if he finishes nine trips a day.
Go-Viet, a Vietnamese version of Indonesian service Go-Jek, entered the Vietnamese market early this month, seeking its slice of the market pie that Grab has been dominating after the departure of Uber.
Aiming to tailor its service to Vietnam with a different name and local teams, one of the first goals of Go-Jek in the country is to recruit drivers.
"The company hopes to bring a stable income to tens of thousands of drivers through technology," Nguyen Vu Duc, CEO of Go-Viet told local media in June.
The company had contacted potential drivers months before the launch, either by meeting face to face or talking to them online, its communication representative Huong Cung told VnExpress.
Grab did not comment on the ploys Go-Viet is using to attract drivers, but it's also deploying its own strategies.
The company has just launched a campaign to reward drivers with five percent of the total revenue they make in a week, said Nguyen Thu An, communication director of Grab Vietnam.
In early June, Grab also announced a plan to have over 100 stops for Grab drivers with free wifi, coffee and even vehicle washing service in Ho Chi Minh City and Hanoi.
"There is a large number of drivers who don't like Grab and want to work for Go-Viet," said Vu Hoang Tam, a mobile app expert and one of the founding members of GrabBike in Vietnam.
This creates a good supply of drivers for Go-Viet, which has learned a lot from the "previous battle," Tam said, referring to the competition between Grab and Uber earlier this year.
BIM signs for largest solar plant in Southeast Asia
One of Vietnam's leading private groups, BIM Group, will partner with Philippines-based AC Energy, Ayala Corporation's energy arm, to develop the BIM Solar power plant in Ninh Thuan province to turn it into the largest solar power plant in Southeast Asia.   
Notably, BIM Group has signed EPC and financing documents to increase the capacity of the solar power plant from 30 to 280MWp.
The joint venture plans to expand the capacity to well over 300MWp. Upon completion, the solar farm will become the largest in Southeast Asia and generate 545 million kWh of clean electricity annually.
BIM Group is the majority shareholder with a controlling interest. The corporation has completed the credit agreement with an international bank in order to secure a total loan amount of more than $200 million.
Previously in this January, BIM and AC Energy started developing BIM 1 solar power plant in Phuoc Minh commune.
The project aims to satisfy the increasing energy demand and to replace fossil energy with more sustainable and renewable alternatives, contributing to the country's economic development and improving living standards.
Recognised as one of the leading business groups in the country, BIM's operations are focused on four main business sectors, including tourism development and real estate investment, agriculture-food, commercial services, and renewable energy. The group is one of the few having the capacity to meet the strict quality requirements of international partners.
AC Energy Holdings, Inc., a subsidiary of Ayala Corp., develops and operates solar, wind, and hydro power generation facilities. It has been recognised as the fastest developing firm in the Philippines. AC Energy plans to expand its operation to Indonesia and other markets in Southeast Asia.
Co-operating with AC Energy, one of the largest groups of the Philippines, is expected to help BIM realise its long-term target to generate 1,000 MW of clean energy by 2025 through these projects.
FPT betting on M&A to go global
Local tech giant FPT Group is betting on mergers and acquisitions as the fulcrum to reach its ambitious $1 billion revenue target from global markets.
The strategic agreement between FPT and its Slovakian partner was witnessed by Prime Ministers Nguyen Xuan Phuc and Robert Fico
At the gala ceremony to honour exemplary mergers and acquisitions (M&A) in Vietnam in the past decade from 2009 to 2018 as part of the recent Vietnam M&A Forum 2018 hosted by VIR under the patronage of the Ministry of Planning and Investment, FPT was called to the stage in three award categories.
First, it was named among the 10 companies with the best M&A strategies in the past decade. Second, it carved out a spot among Vietnam's top 10 M&A deals during 2017-2018 in the acquisitions category. And third, it was honoured among Top 3 M&A deals during 2017-2018 in information disclosure.
Of the awards, the tech giant left the deepest impression with its most recent deal in which it spent about $50 million on acquiring a 90 per cent stake in Intellinet, becoming the first-ever Vietnamese tech firm to acquire a US consultancy firm.
In the deal, FPThas paid $30 million cash, while the remaining will be paid later based on Intellinet's business results in the next three years.
FPT had also chosen to unveil its first deal in the US in a special way through a direct teleconference concurrently held in Vietnam and the US in the presence of more than 30 media agencies.
At the event, FPT chairman Truong Gia Binh said, "FPT has recognised the tremendous demand for strategic consultancy and digital conversion in doing business with global firms amidst Industry 4.0. Our strategic investment into Intellinet will help the group meet this demand. We are ready to provide overall digital conversion solutions to global companies, helping to bolster Vietnam's status on the world tech map."
At the time of the acquisition, Intellinet was one of the fastest growing technology consultancy firms in the US, with about $30 million revenue in 2017. The company serves more than 200 customers, many of whom appear on the Fortune 500 List. Meanwhile FPT holds a rich customer base with about 80 customers on the Fortune 500 List and 400 major global customers.
By acquiring 90 per cent of Intellinet, FPT expects to double its revenue in the US in the next 12 months to $100 million.
By acquiring 90 per cent of Intellinet, FPT expects to double its revenue in the US in the next 12 months to $100 million.
Truong Gia Binh stated that besides the US, the group's further targets might be Japan, Singapore, France, the UK or Germany. For years, FPT has been wielding M&A as a fulcrum to materialise its global strategy.
The group's M&A approach dates back to 2013, as chairman Binh said at the group's strategic conference late that year, "One of the top means of realising FPT's global strategy will be M&A."
This orientation was once again affirmed at the group's 2014 annual general shareholders' meeting (AGM). About two months after the AGM, in June 2014, FPT Software, a member unit of FPT Group, bought an IT firm in Slovakia to set a foothold in Europe.
The deal started producing profit one year later and served as the key element driving FPT's growth in Europe.
The group posted a 117 per cent jump in revenue in Europe in 2014 and 56 per cent in 2015. Early this year, FPT Slovakia signed a $100 million contract with FPT Software on providing solutions based on SAP technology, the Internet of Things, and digital conversion platforms to InnogySE, a member of European energy company RWE.
"Overseas M&A continues to play a major role in FPT's go-global strategy, with a budget of about $50 million per year. We will continue searching for suitable partners in key markets, such as Japan and Europe in the future," said Nguyen The Phuong, FPT's deputy general director.