Vietnam Online Marketing Forum 2018 opens in Hanoi
The Vietnam Online Marketing Forum 2018, themed "Human or Robot", took place in Hanoi on August 17, following its success last year. 
Speaking at the event, Nguyen Thanh Hung, Chairman of the Vietnam E-Commerce Association (VECOM) – the organiser, said Vietnam's e-commerce annually grew by 25 percent in 2017, which is expected to keep its pace this year thanks to change in consumers' shopping habit amid the fourth industrial revolution. 
Specifically, revenue from online retail expanded by 35 percent while shipping companies posted revenue growth of 62 – 200 percent, leading to higher earnings in online payment sector. 
The forum featured four sessions featuring online marketing trends in the world and changing consumers' shopping experience, artificial intelligence in online marketing and effective exploitation of chatbox, data-driven marketing and marketing 020 from strategy to planning and tools. 
It offered participants a chance to share information and seek business opportunities in online marketing. 
Nguyen Trong Dat, a manager from Nielsen Hanoi, said Vietnam only ranks behind Singapore in terms of users' online time, adding that the number of mobile phone users in Vietnam accounts for 95 percent, with smart phone users accounting for 78 percent. 
As many as 79 percent of users view products on mobile phone applications or websites and 75 percent use smart phones to seek product information before deciding to purchase. 
Enterprises also tend to acquire data about users, which is an indispensable trend for sustainable growth. 
Speakers at the event hoped that the event would not only help firms devise proper online marketing strategies but also increase their market shares.
Growth of exports to China slows down     
Vietnamese exports to China have slowed down after two years of spectacular growth, due to changes in the strategies of foreign-invested enterprises and Chinese demand, according to Saigon Securities Incorporation (SSI).
During the first half of this year, exports from Viet Nam to mainland China and Hong Kong reached a year-on-year growth rate of 28 per cent and 9 per cent, respectively. Those figures were lower than the growth rate in the same period of last year, at 62 per cent and 24 per cent respectively.
Of out 13 goods items with an export value to China of more than US$1 billion in 2017, only textiles and footwear products maintained the same growth rate at the start of 2018.
Another 11 items had reductions in export growth. Growth was negative for machines, rubber and rice.
The product having the highest growth rate in exports during the first six months of this year was telephones at 267 per cent. However, this figure was lower than the 792 per cent growth seen in the first half of 2017.
The national exports of machines and cameras remained stable in the first six months but the growth of exports to China was slower than over the same period last year. The growth rate of camera exports decreased from 26 per cent to 16 per cent while the growth rate of machinery dropped from 34 per cent to 17 per cent. China is the fourth-largest export market for Viet Nam's machinery, after the US, India and Japan, reported ndh.vn website.
The growth rate of fruit and vegetable exports to China reached an average of over 70 per cent each year during the period of 2014-17. However, in the first six months of this year, the growth rate dropped to 18 per cent.
SSI researchers attributed the slowdown to the fact that some foreign-invested enterprises in Viet Nam changed their production strategies for telephones and electronics. Another factor behind the slowdown was the excessively high growth rate of exports to China in previous years, according to the SSI Research.
As China's economic growth slows down and the value of the renminbi falls, China's commodity demand is likely to shrink, directly affecting the exports of Vietnamese goods, said SSI Research.
Mediation over lawsuits, firms told     
Using mediation to resolve commercial disputes and conflicts would not only help enterprises save time but also help them maintain good relations with business partners, a workshop heard in HCM City on August 16.
Tran Ngoc Liem, deputy director of the Viet Nam Chamber of Commerce and Industry (VCCI)'s HCM City office, said greater economic integration brings Vietnamese enterprises both opportunities and an increasing number of commercial disputes.
With courts overburdened with a huge amount of lawsuits, enterprises should consider using mediation and arbitration to resolve commercial disputes to save time, he said.
"I think mediation is a civilised way to resolve conflicts and is used by more and more businesses around the world."
After the Government issued Decree No 22 last year, Viet Nam has become the second country in Southeast Asia after Singapore to have regulations for commercial mediation, he said.
The Viet Nam Mediation Centre (VMC) was also established under the decree. Though the number of enterprises that know about the centre is still small, a VCCI survey found enterprises receptive to and very positive about mediation, he said.
"Seventy per cent of surveyed enterprises said they would use mediation to resolve disputes and tell other enterprises about this method. This is a good sign."
Phan Trong Dat, deputy secretary general of the Viet Nam International Arbitration Centre (VIAC) and deputy director of the VMC, said mediation is appropriate for Asian culture since Asians prefer to settle disputes in a peaceful way.
"No business likes disputes as it has spent a lot of money, effort and time to find a business partner and reach a contract.
"Once there is a conflict, they tend to find a soft way to resolve it. And mediation can help with that.
"When using mediation instead of taking the case to courts, business and personal relations can be maintained or even improved as they have understood each other better.
"Mediation is simply a negotiation with the participation of an independent mediator who can help both parties discuss their matter and reach their own agreement."
He said the rate of successful mediation cases is very high in foreign countries since businesses always want to settle disputes as soon as possible.
He said with a regulatory framework for commercial mediation in place and the setting up of a mediation centre, enterprises have started looking at it.
"At the moment, there is a significant number of enterprises coming to the VMC and consulting on drafting mediation forms.
"Though we have not handled any mediation case yet, I believe this method will be preferred by enterprises in the coming time."
According to a VMC survey, cost used to be listed as one of the reasons for enterprises not choosing this method to resolve commercial disputes.
Dat said the centre charges a relatively low fee for mediation since it understands that most enterprises in Viet Nam are small or medium-sized and have financial issues.
"The centre has very carefully considered and set a fee that is affordable to most SMEs."
The VMC now has 11 mediators, who are some of the country's top experts in trade and commercial activities. 
$98.7m MDF plant comes into operation     
FSC Viet Nam JSC of Kim Tin Group on Thursday began operations at the VND2.3 trillion (US$98.7 million) medium-density fibreboard (MDF) plant in the Nam Dong Phu Industrial Zone in the southern province of Binh Phuoc's Dong Phu District.
The facility covers an area of 25ha and has an annual capacity to produce 400,000cu.m of MDF, meeting 20 per cent of Viet Nam's market demand.
The plant will create jobs for 200 high-skilled people and 3,000 labourers working on positions from forest plantation and exploitation to the processing chain.
The construction of the second facility was started in August 18th, 2016. The factory has been in the top 10 MDF plants with the most modern technology and equipment in the world. The production line was totally imported from Europe. The plant meets the strictest standards in terms of quality and environment in both local and foreign markets such as the US, Japan and European countries.
Vice chairman of the provincial People's Committee Nguyen Tien Dung said the province has advantages and potential for developing MDF plants. The operation of the plant will contribute to modernisation in the province. Especially, the locality has preferential policies for investors in the sector.
Dung committed to facilitate businesses in general and FSC Viet Nam JSC in particular in the upcoming time. 
HCM City food, foodstuff sales rise by 13.7 per cent     
Retail sales of food and foodstuffs in HCM City were worth VND66.744 trillion (US$2.9 billion) in the first seven months of this year, or 17.46 per cent of total retail sales.
The figure represents an increase of 13.7 per cent year-on-year, according to the city's Department of Industry and Trade.
In the last decade, average consumption of foods saw an annual increase of 12.98 per cent.
The major food and beverage products consumed in the city include eggs, instant noodles, canned drinks, milk and sausages.
Major increases in output in the first seven months were seen in milk (6.9 per cent) and canned beer (5.6 per cent).
But notwithstanding the rising sales, food processing and beverage companies faced challenges such as increased value-added tax and smuggled and fake goods.
A spokesman for the city's Department of Industry and Trade said in the remaining months of the year, the department would call on city authorities to hold discussions with major enterprises and business groups in the food and foodstuff sector to resolve the problems they currently face.
It would also promote an alliance between localities and industrial parks to establish raw material zones and value chains for foods and foodstuffs.
According to Nguyen Phuong Dong, deputy director of the city's Department of Industry and Trade, the number of retail enterprises in the city is rising by 10.9 per cent annually, significantly contributing to the development of the country's retail sector.
The city has 239 markets, 216 supermarkets, 44 business centres and 2,065 convenience shops.
They account for 2.8 per cent of the country's markets, 22 per cent of supermarkets and 23 per cent of business centres.
Shortage of internal audit personnel poses problem for domestic firms
Ways to build and effectively operate internal audit along with international practice in the field were introduced to listed and securities companies at a workshop in Ho Chi Minh City on August 15. 
At the event, held by the Ho Chi Minh Stock Exchange (HOSE) in collaboration with the US Institute of Internal Auditors (IIA) and Smart Train company, Deputy General Manager of HOSE Tram Tuan Vu affirmed that internal audit is an integral and indispensable part in operation of listed and securities firms. 
He said HOSE will continue assisting listed and securities companies to improve business management by helping them apply advanced management models.
According to IIA President and CEO Richard F.Chamber, internal audit should focus on constant risk evaluation, thus enabling firms to quickly identify and respond to emerging risks.
Domestic businesses, including securities companies, have encountered problems in the establishment and operation of internal audit units to meet demand of market development, and international economic integration, he said. One of the problems is an acute shortage of internal auditors.
Deputy General Director of the Accounting and Auditing Policy Department under the Ministry of Finance Le Thi Tuyet Nhung shared the view. She stressed that improving quality of human resource in internal audit sector is a formidable challenge for the companies, as there are not many experts well schooled in internal audit in accordance with international standards.
User experiences key to digital marketing

As internet users can access a vast pool of information online, one of the challenges facing digital marketing companies is how to create relevant advertising that targets the right customers, experts said at a Vietnam Online Marketing Forum held in HCM City on August 15.

Nguyen Phuong Thao, senior manager of Nielsen Vietnam, said that greater access to smart devices and massive information online could easily intimidate users as it would be difficult to filter and verify information.

"Advertisers and marketers are faced with the challenge of providing information that is relevant to customer experiences," she said.

"There are already many tools available out there to help businesses boost digital marketing. What they need to do is to make an intervention by connecting with users and providing them with relevant user experiences," she said.

For example, when users book an air ticket online, hotel booking advertisements should be sent to them immediately.

In order to make that intervention, businesses should be able to collect and process a large amount of real-time data using machine learning and artificial intelligence.

Nguyen Ba Ngoc, founder and CEO of NBN Media, a marketing consultancy firm, said to enhance the effectiveness of digital marketing, companies should adopt the most appropriate model as there is no "one-size-fits-all" model for any business.

"For example, small companies with limited human resources can use a centralised marketing system as it saves costs and is consistent. As companies grow, they can apply a decentralised brand management system, which is more suitable for managing a variety of brands," he added.

Le Hai Binh, founder and chairman of Mat Bao Corp, said that more companies have been using key opinion leaders (KOL) and influencers to boost marketing on social media platforms as every "like", "view", and "share" on their personal pages can be seen by the public.

However, companies must know how to verify "real clicks, shares and views" to measure the effectiveness of marketing via this channel, he said.

There are three companies on the market that provide a service to help companies measure the real likes, views and shares of each post on social pages by KOL and influencers, as well as the number of people who have actually been reached by the post.

Binh recommended that companies use this service in the beginning if they prefer KOL and influencer marketing.

Thao said that, when using influencers, the most important thing is the message to customers.

"All of the information posted by influencers should be personalised and should not 'sound like advertising'," she said. 

She said people follow influencers because they post content that matches their interests or hobbies. Therefore, it is important for companies to find an influencer who is more relevant to the value of their brand so they can interact and connect with the right customers.
HCM int'l conferences to promote high-tech cooperation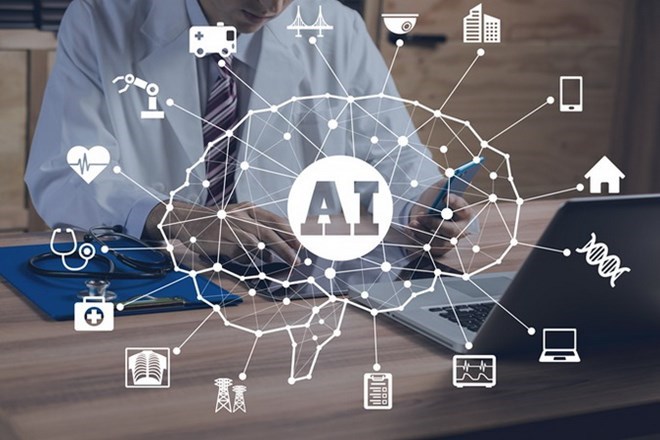 Three international high-tech conferences will be held in Ho Chi Minh City to promote cooperation in researching, developing and commercialising high-tech products, said representatives from the Saigon High-tech Park (SHTP) on August 15. 
The events will focus on issues related to the research and application of new materials, the design and manufacturing of microelectronic systems (Mems), robot technology and artificial intelligence.
They aim to connect universities, research institutes and enterprises in high-tech research and application.
A conference on nanotechnology and new materials application will begin on August 31. It is expected to see the attendance of 12 leading researchers in the field, including Professor Sumio lijima from Japan's Meijo University and Professor Munir Nayfeh from Illinois University of the US, who laid the foundation for the development of nanotechnology and nanomaterials.
Meanwhile, a forum on Mems on September 28 will provide a venue for participants to introduce Mems technology and aid the signing of technology contracts. 
The event will also discuss investment attraction policies to boost the development of Mems industry, human resources development  to meet the demand of Mems development and the role of venture capital funds in developing Mems ecosystems.
The third conference, themed "Robot and  artificial intelligence" from November 16-17, will include three sessions, discussing the interaction between robots and humans amid the 4th Industrial Revolution, robot and  artificial intelligence for the development of smart cities and Vietnam in the era of robot technology and artificial intelligence. 
Le Hoai Quoc, Director of the SHTP, said the park aims to lead in attracting investment and sci-tech development in Vietnam. 
The conferences are hoped to foster sustainable development of the park, and help optimise its potential in the context of the 4th Industrial Revolution, he added. 
So far, the SHTP has lured 7.3 billion USD of domestic and foreign investment capital. The park aims to draw about 600 million USD of foreign direct investment and its production value is estimated to hit 14 billion USD in 2018.-VNA
Vietnam enjoys 3 billion USD trade surplus with Hong Kong
Vietnam enjoyed a trade surplus of 3.03 billion USD with Hong Kong (China) in the first half of 2018, a year-on-year increase of 14.6 percent, according to the General Department of Vietnam Customs.
Two-way trade between the two sides expanded 5.6 percent to 4.59 billion USD, of which Vietnam's exports to Hong Kong were worth 3.81 billion USD, up 9 percent year on year while imports from Hong Kong approximated 781 million USD, down 8.3 percent.
Notably, Vietnam's exports of computers, electronics and parts hit 1.05 billion USD, up 28.6 percent from the same period last year. They topped the list of export items to Hong Kong in the first six months, accounting for 27.5 percent of total export revenue to this market. 
Other key items included phones and accessories, cameras and parts, machinery and equipment. 
Over the past five years, trade between Vietnam and Hong Kong has seen double-digit growth. Last year, bilateral trade reached 9.2 billion USD, up 22 percent from 2016. 
Hong Kong was one of the first foreign investors in Ho Chi Minh City. As of June 2018, Hong Kong was the sixth largest foreign investor in Vietnam with total investment of nearly 19 billion USD, with Vietnam among the 25 most attractive destinations for Hong Kong businesses.
With the ASEAN-Hong Kong free trade agreement, trade and investment between Vietnam and Hong Kong are expected to grow strongly in the near future. 
Vietnam Airlines' pre-tax profit surges 87 percent in six months

Vietnam Airlines recorded a dramatic year-on-year rise of 87 percent in its pre-tax profit in the first half of 2018, approximating 1.92 trillion VND (82.8 million USD) and double its target.

The national flag carrier said on August 15 that the domestic air transport market tended to grow slowly in the period. Rising fuel prices since the year's beginning, at about 82 USD per barrel on average, also caused difficulties.

The airline obtained positive business outcomes thanks to its flexibility, it explained. 

In the six months, Vietnam Airlines operated more than 72,800 flights with on-time performance index reaching 90 percent. It served 13.7 million passengers and transported nearly 167,000 tonnes of cargo, up 4 percent and 8.5 percent from a year earlier, respectively.

Consolidated revenue was close to 49.8 trillion VND (1.15 billion USD).

The firm said its service quality was ensured in the six months, adding that it was certified as a four-star airline by UK-based airline review and rating organisation Skytrax for the third straight year. It was also listed as one of the top airlines in Asia in 2018 by tourism website TripAdvisor.

In the last half of this year, the aviation market is forecast to grow slowly and there are no signs fuel prices will fall. Therefore, the corporation will continue fuel saving and capacity improving measures.

It will also carry out procedures for listing the stock HVN on the Ho Chi Minh Stock Exchange in the coming months. The listing aims to ensure funding for its investment projects and help reduce State ownership at the firm, Vietnam Airlines added. –VNA
Vietnam exports less, but earns more from cassava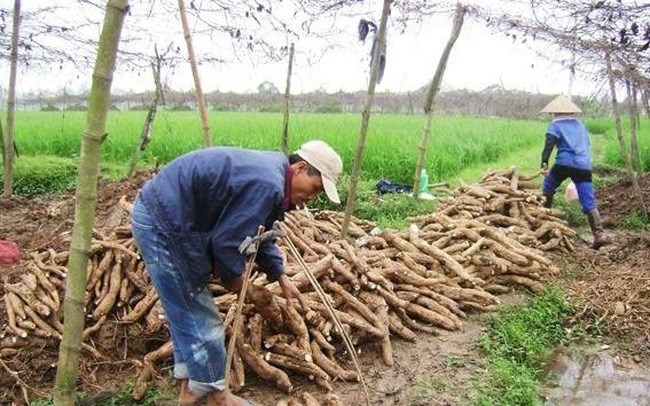 Cassava exports in the first seven months of the year reached 1.6 million tonnes with a value of 580 million USD, a year-on-year decline of 24 percent in volume but a surge of 12.5 percent in value, according to the Ministry of Agriculture and Rural Development.
China remained the largest importer of Vietnamese cassava, accounting for 87 percent of total exports.
Cassava output during the 2017-2018 crop saw a dramatic decline of 569,100 tonnes from the previous crop to 10.34 million tonnes. 
Also, cassava-growing areas have shrunk in recent years as cassava material prices were not as high as expected. Particularly in 2015 and 2016, cassava farmers were in dire straits, and decided to uproot cassavas due to a marked drop in cassava material price, which stood at only 1,200 VND per kilogramme.
However, low stockpiles of cassava in this crop pushed the price to 2,500 - 2,700 VND per kilogramme. Many cassava starch producing factories in Vietnam face material shortages and only operate when they have cassava supply.
In June, cassava starch export price hit a record high with average FOB export price of 530-535 USD per tonne. However, the Vietnamese exporters decided to decrease the value to 500 USD per tonne a month later to compete with Thai cassava, which was sold at 470-480 USD per tonne.
According to the Vietnam Cassava Association, from the beginning of August, the price of cassava starch has been falling due to less purchases from China, which was said to be triggered by the US-China trade war, and stockpile price adjustment from Vietnamese plants.
There are some 150,000 tonnes of cassava slices in stock. The cassava slice market is expected to be more vibrant when ethanol and chemical firms in China increase their capacity.
However, China has a large amount of corn stock, which will be used for ethanol production. Thus, cassava export to China is unlikely to increase in the second half of this year.
Mid-Aug auction raises 168 million USD from G-bonds
The Hanoi Stock Exchange (HNX) raised 3.91 trillion VND (168.5 million USD) at the latest auction of Government bonds (G-bonds) issued by the State Treasury earlier this week.
The auction aimed to sell 5.5 trillion VND (237 million USD) worth of G-bonds with 5-year, 7-year, 10-year, 15-year, and 20-year maturity.
The interest rates of bonds successfully sold this time continued to rise slightly from previous auctions.
Bonds with 5-year maturity raised at 100 billion VND (4.3 million USD) with the annual yield rate of 3.5 percent, up 0.05 percent against the auction on July 18.
Bonds with 7-year term fetched 10 billion VND (431,125 USD) with the annual interest rate of 3.9 percent, the same as the previous auction on August 1.
Those with 10-year maturity raised 2 trillion VND (86.22 million USD) at the annual rate of 4.57 percent, an increase of 0.04 percent from the August 8 auction.
As many as 1.8 trillion VND (77.6 million USD) was mobilised from 15-year bonds at the interest rate of 4.84 percent per year, up 0.03 percent from the August 8 auction
There were no successful bids for 20-year bonds.
From the beginning of 2018, the State Treasury mobilised over 100.16 trillion VND (over 3.96 billion USD) through G-bond auctions at the HNX.
The National Financial Supervisory Commission has predicted that the G-bond market in 2018 will see modest changes from last year thanks to economic growth of more than 6.7 percent and inflation below 4 percent. It expects the value of G-bonds issued this year to reach 180 trillion VND (7.92 billion USD).
Last year, Vietnam sold some 159.9 trillion VND, or 7.03 billion USD, worth of G-bonds with average maturity of 13.52 years and annual interest averaging 6.07 percent, down 0.2 percentage points against 2016.
The interest rates of Government bonds have risen lately, after a long period of decline throughout 2017 and the first four months of 2018.
Top Thai Brands 2018 kicks off in Hanoi
The Top Thai Brands 2018 in Hanoi opened at the Hanoi International Exhibition Centre on August 16.
The event is being organised by the Thai Ministry of Commerce's Department of International Trade Promotion, the Office of Commercial Affairs of the Thai Embassy in Vietnam and the Vietnam National Trade Fair & Advertising Company (Vinexad).
It aims to strengthen and expand cooperation between businesses of the two countries.
On showcase at 160 booths of the fair are high quality products and services of more than 130 leading firms in Thailand, including food and beverages, household products, electronic appliances and beauty products, among others.
In addition, art performances and fruit and vegetable carving demonstrations will be held at the event.
At the opening ceremony, Charge d'Affaires of the Thai Embassy in Vietnam Wanthanee Viputwongsakul said that the bilateral relations have been strengthened in many fields.
This year, Thailand will carry out many cooperation activities with Vietnam to establish a strategic partnership and deepen bilateral cooperation.
A Vietnamese goods fair will also take place in Thailand on August 22-26, with the aim of achieving the 20 billion USD bilateral trade goal in 2020, she added.
The Top Thai Brands 2018 in Hanoi runs until August 19.
PPP agri-groups called to build effective cooperation mechanism
Working groups under the public-private partnership (PPP) format for agriculture products should build an effective cooperation mechanism in order to develop the market, Deputy Minister of Agriculture and Rural Development Le Quoc Doanh said at an annual meeting of the group in Hanoi on August 16.
The establishment of groups – specifically for coffee, tea, peppercorn and other spices, fruit and vegetables, seafood, rice, and agrochemicals – under the Partnership for Sustainable Agriculture in Vietnam (PSAV) aim to attract more businesses to join the local agricultural production chain, he added.
Doanh emphasised that Vietnam has always encouraged businesses to lead in promoting the market, particularly in creating high-added value and sustainable products.
It is hoped that the groups can connect businesses with pilot localities so as to create policy and institutional breakthroughs, and consequentially draw in private investment and agricultural restructuring.
According to Le Thi Hoai Thuong, head of the department of external relations from Nestle Vietnam, the coffee group has shifted to the chain connection model to try and increase the value of Vietnamese coffee with the ambition of turning the country into a global reference point for robusta coffee.
At present, more than 80,000 farm households are involved in the coffee production chain with 97,000ha of plantations.
Meanwhile, the peppercorn and spices group has followed the global trend of forecasting import markets early on, as well as building a document guiding sustainable pepper production.
It also built data integrating software on agrochemical products for usage in pepper cultivation, in addition to training over 126,000 farmers, according to deputy general director of the Plant Protection Department under the Ministry of Agriculture and Rural Development Nguyen Quy Duong.
Bamboo Airways to operate three aircrafts in 2019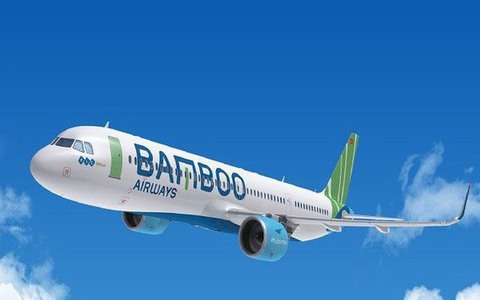 Bamboo Airways, owned by property developer FLC Group, is scheduled to operate three aircrafts by 2019 as it officially becomes operational after receiving its licence.
The Civil Authority of Viet Nam (CAAV) has submitted to the Minister of Transport a report on the appraisal results of its application for an air transportation business licence for Bamboo Airways Company Limited.
Vo Huy Cuong, CAAV's deputy director, said the company was found eligible to operating its airline.
"The Bamboo Airways application meets all requirements of capital, aircrafts, organsational structure and business strategy," the CAAV said.
Its aircrafts were granted licences from the European Aviation Safety Agency (EASA) and CAAV.
According to the application, Bamboo Airways would operate three to 20 aircrafts in the 2019-23 period. FLC Group signed an agreement with CDB Aviation Lease Finance (Hongkong) to lease three A320 aircrafts over eight years. In addition, the group also signed a memorandum of understanding (MoU) on buying 24 A321 NEO aircrafts.
The Bamboo Airways Company Limited has charter capital of VND700 billion (US$31.4 million). It was granted a business registration licence from Ha Noi's Department of Planning and Investment on May 31, 2017 for aviation passenger and goods transport.
Bamboo Airways also signed an MoU with CAAV on using landing services and security check-ups at airports of Tan Son Nhat, Noi Bai, Phu Cat, Dong Hoi, Tho Xuan and Cat Bi.
The airlines will operate direct routes connecting Ha Noi, Quang Ninh, Quy Nhon, Quang Binh and Thanh Hoa with China, South Korea, Taiwan, Macau and Japan.
FLC plans to have its first flight on October 10th and will start to sell tickets next month.
FLC said its first customers would enjoy promotion programmes with combo packages offering air tickets and the use of golf services and accommodation at its resorts.
FLC aims to make Bamboo Airways one of the leading airlines in Viet Nam, said Dang Tat Thang, Bamboo Airways' general director.
Bamboo Airways will be a hybrid airline blending aspects of traditional and budget airlines to meet the demands of every market segment. 
State Treasury deposits at banks down 28%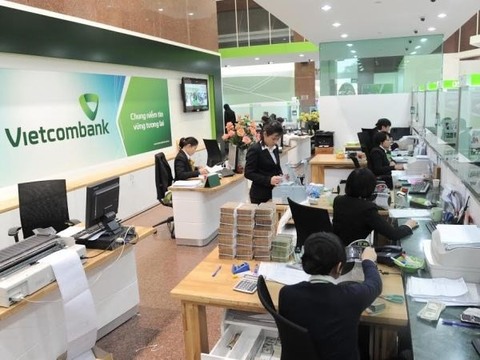 The State Treasury holds deposits of nearly VND170 trillion (US$7.23 billion) in three State-owned commercial banks - Vietcombank, BIDV and VietinBank - by the end of June, down 28 per cent against deposits held in January.
During the first six months of the year, the Treasury decreased its deposits at Vietcombank and BIDV by 59 per cent and 6 per cent, respectively, but tripled its deposits at VietinBank to VND50 trillion.
The decline of the Treasury's deposits was among reasons Vietcombank's total capital dropped under the threshold of VND1 quadrillion by the end of June despite its 7.9 per cent rise in mobilised capital from other institutional and individual depositors. It was estimated that the Treasury's deposits at Vietcombank dropped sharply from VND171 trillion at the beginning of the year to VND72 trillion by the end of June.
According to experts, the Treasury's deposit reduction at the banks was mainly due to the rising public investment disbursements. By the end of the first quarter, public investment disbursement was VND17.5 trillion, meeting only 4.4 per cent of the Government's estimates, but it surged sharply in the past four months to reach VND150 trillion as of July 20, or 37.5 per cent of the Government's estimates.
Experts said that inter-bank interest rates plunged because of difficulties in public investment disbursements and massive capital flows into the Vietnamese market, prompting the State Treasury to transfer large deposits from the State Bank of Viet Nam to commercial banks in the first quarter of this year.
According to Viet Dragon Securities Company, the withdrawal of the Treasury funds can have a negative impact on the liquidity of the market.
Earlier, Saigon Securities Incorporation also said that the good liquidity in the banking system last year was partly due to the slow disbursement of public investment, which was why a large amount of the State Treasury's capital was deposited in some commercial banks. 
Over 96 trillion VND of G-bonds mobilised
The State Treasury of Vietnam has raised a total of 96.251 trillion VND (4.13 billion USD) via auctions of Government bonds at the Hanoi Stock Exchange (HNX) since the beginning of this year.
At an auction this week, the State Treasury mobilised 3.95 trillion VND (169.5 million USD) from five-year and seven-year bonds worth 500 billion VND (21.4 million USD) each and 10-year bonds and 15-year bonds worth 2 trillion VND (85.8 million USD) each. 
The interest rate of bonds still increased slightly. 
Specifically, bonds with 10-year maturity raised 1.55 trillion VND (66.5 million USD) with an annual interest rate of 4.53 percent, up 0.03 percent from the previous auction on August 1.
Sub-session auction of 10-year bonds drew 600 billion VND (25.75 million USD) with the yearly interest rate of 4.53 percent.
Those with 15-year term attracted 1.2 trillion VND (51.5 million USD) with an annual interest rate of 4.81 percent, up 0.03 percent in comparison with the rate of the previous auction on July 25, 2018.
As many as 600 million VND was mobilised from 15-year bonds at the sub-session auction with an interest rate of 4.81 percent per year.
No bonds of five-year and seven-year terms were sold.
Ministry of Transport to soon finish connection to National and ASEAN Single Window
Vietnam has officially implemented the National Single Window (NSW) and the ASEAN Single Window (ASW), which shows that Vietnam's customs has taken the initiative in approaching modern technology to create a favorable business climate as well as modernize its management.
It is scheduled that in early November this year the Vietnamese Ministry of Transport (MoT) will complete the plan to build and provide administrative procedures to participate in the NSW and ASW. 
The MoT is one of the first agencies to connect to the NSW in 2014 with three single window management procedures for entry and exit at Hai Phong International Seaport.
By 2015, the NSW will be expanded to five international seaports in Hai Phong, Quang Ninh, Da Nang, Ho Chi Minh City and Ba Ria-Vung Tau, aiming at expansion in all seaports and international river ports for all enterprises. Almost all sectors (road, air, maritime, inland waterways, railways) have joined the NSW.
According to the ministry's Director of Information Technology Center Pham Duy Ninh, in the 2018-2020 period, the MoT plans to provide 75 administrative procedures to participate in the NSW, including six maritime procedures, 65 road procedures, four inland waterway procedures, bringing the total number of administrative procedures in the NSW, ASW to 87 procedures.
Currently, the maritime has completed building 11 administrative procedures (upgrading five procedures that have been piloted and building six new procedures). The MoT has implemented two waterway procedures and 44 road procedures, Ninh said.
It is scheduled that in August, the MoT will make pre-flight passenger data connections between the NSW and the terrorist and blacklisted alert software, Ninh added.
It is expected that by November, the MoT will complete 100% of the ministry's planned construction and administrative procedures to connect to the NSW under the prime minister's decision.
Requiring units to be more active in deploying the connection to the NSW, ASW, Vice Minister of Transport Nguyen Nhat said that the MoT is rated one of the most active ministries in this work. 
However, this work is directly related to technology, so it is easy to become obsolete and needs to be updated regularly, Nhat stressed.
Besides, special attention should be given to communication in terms of technology, processes, procedures, etc. so that it is popular to people and businesses. Only when the people and enterprises can complete and make it proficiently, it is really successful, Vice Minister Nguyen Nhat confirmed.
PetroVietnam surpasses business targets in seven months
The Vietnam Oil and Gas Group (PetroVietnam) reported rosy business operation in the first seven months of the year, exceeding its set plan and on the way to achieve annual target, despite considerable risks involved in the global economy.
During January-July, the group earned 17.8 trillion VND (765.4 million USD) in after-tax profit, exceeding 32 percent of the set plan and representing 94 percent of the yearly plan. It contributed 61.8 trillion VND (2.65 billion USD) to the state budget, 46 percent above the planned amount, and 83 percent of the yearly plan.
Total oil and gas output in the period was 14.48 million tonnes, exceeding the assigned amount by 4.6 percent and representing 63.4 percent of the whole year's goal.
Fertiliser production in the period reached 969,000 tonnes, 4.5 percent higher than the initial goal, and 63 percent of the annual target. Meanwhile, petrol production for the reviewed period reached 4.85 million tonnes, exceeding the set plan by 6 percent.
Since the three production lines of the Dinh Vu polyester plant became operation on April 20, the group has produced 640 tonnes of fibres so far, and earned 9.5 billion VND (408,500 USD) from exporting 246 tonnes of fibres.
The company generated 13.48 billion kilowatts of electricity, or 62.5 percent of the yearly plan.
VNPT and Maritime Bank sign comprehensive co-operation agreement
     
The Viet Nam Posts and Telecommunications Group (VNPT) and Maritime Commercial Joint Stock Bank (Maritime Bank) signed an agreement on deploying new technology to customers on Wednesday.

Under the deal, the two sides will promote joint venture activities and contribute capital to support each other to develop their business.

VNPT will provide telecommunications, information technology and other services at competitive prices, focusing on service quality, safety and technical assistance for Maritime Bank.

Meanwhile, Maritime Bank will work with VNPT to provide electronic payment services with VNPT Pay.

The two sides will build and deploy new technology and apply information technology and promotion programmes.

In addition, VNPT and Maritime Bank will support each other in infrastructure, services and finance to boost network development and transaction points.

The two sides will also research and invest resources, especially financial and technological resources, to work out solutions and technologies attached to the financial management system and the market.

Pham Duc Long, VNPT general director, said the group had launched digital and mobile banking services to bring competitive advantages and reduce costs and risks for customers.

Meanwhile, Huynh Buu Quang, Maritime Bank general director, said the signing opened up opportunities for the bank and VNPT to enhance their co-operation, make full use of their advantages, experiences and capabilities of each units to further develop. 
China imports nearly 91% of Vietnam's lychees
Vietnamese businesses have exported more than 92,000 tons of lychees (including fresh and dried lychee) from the 2018 crop, according to the latest statistics from the General Department of Customs.

This marked an increase of 172% in volume and 126% in value compared to 2017's crop, according to representatives from the department.
Fresh lychees make up a large proportion of lychee exports at 75,000 tons, accounting for 81.5% of the total volume, while dried lychees make up a smaller proportion at around 17,000 tons.

The 2018 crop has provided Vietnamese lychees for 27 nations and territories around the world. The vast amount of Vietnam's lychees went to China, who imported more than 83,500 tons, accounting for 90.7% of this year's total lychee exports.

The country's lychee exports to the Chinese market are valued at more than US$33.9 million, an increase of 151% in volume and 91% in value over last year. Other markets include Australia, Canada, Laos, the UK, Bahrain, Turkey, the Republic of Korea, and Japan.
ANZ: Strong GDP growth to continue

ANZ has forecast strong GDP growth this year and next as Vietnam continues to attract FDI inflows and expand its manufacturing base. According to Mr. Khoon Goh, Head of Asia Research at ANZ, GDP in Vietnam will be 6.8 per cent in 2018 and 7.0 per cent in 2019.

The positive long-term outlook is based on favorable demographics, an educated workforce, ongoing economic reforms, and the benefits from free trade agreements (the CPTPP, possibly the RCEP, and the Vietnam-EU FTA).

Mr. Goh also pointed out the near-term challenges for Vietnam as being ensuring inflation remains contained, managing credit growth so that it is not too strong above trend, and strengthening financial sector balance sheets.

Regarding monetary and foreign exchange, ANZ expects the State Bank of Vietnam (SBV) to keep the policy rate at 6.25 per cent this year but raise it to 6.75 per cent in 2019 to keep inflation in check. "We forecast USD/VND at 23,600 by end-2018 and 23,900 by end-2019," Mr. Goh said.