Titled "The Push of the Decade," the first session of Vietnam M&A Forum 2018 explores the new driving force to boost the Vietnamese M&A market.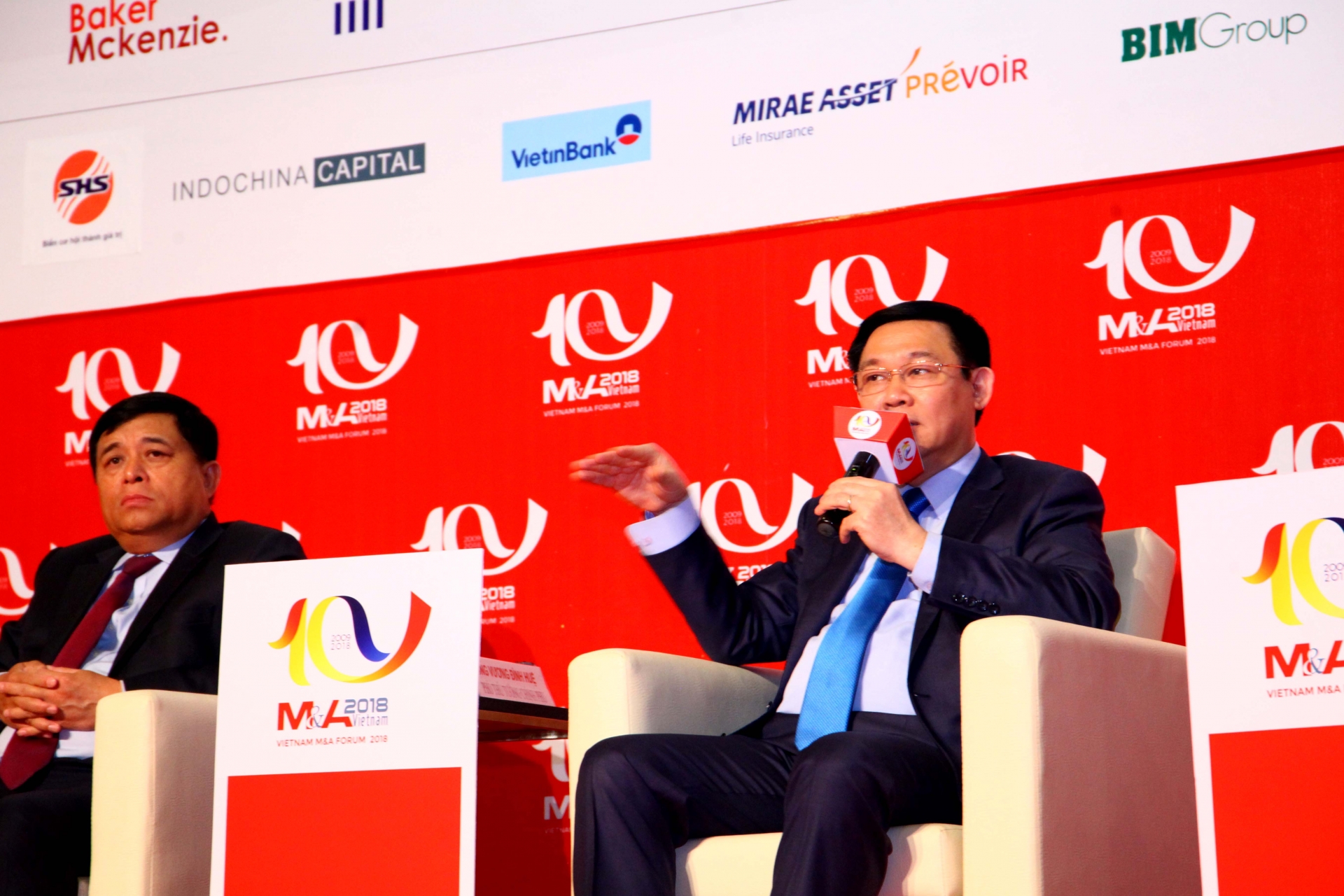 Deputy Prime Minister Vuong Dinh Hue shared his views at Vietnam M&A Forum 2018


In the session, KPMG Vietnam provided an overview of the past 10 years in the Vietnamese M&A market. Deputy Prime Minister Vuong Dinh Hue shared his thoughts on the outlook of doing M&A, as well as the Vietnamese government's efforts to push the economy forward in a sustainable manner.

The speech by Warrick Cleine, chairman and CEO of KPMG, pointed out challenges in the M&A market. He raised the question of what the government and the business community need to do to improve the M&A market in the new era.

Indeed, the Vietnamese M&A market is full of potential targets. According to Tran Vinh Tuyen, Deputy Chairman of the Ho Chi Minh City People's Committee, M&A activities remain robust in Ho Chi Minh City with around 30 deals in the recent time. Also, another 39 companies will be equitised by 2020, especially in the fields of commerce and logistics. The city is looking to select reliable partners with high-technology, which will maximise the benefits for both businesses and the government.

Le Song Lai, deputy CEO of State Capital Investment Corporation, said that around 140 companies will be equitised by 2020, including big corporations like Vinamilk and FPT. If the equitisation process is successful, SCIC is expected to collect VND100 trillion ($4.3 billion) for the government, which will ultimately contribute to the improvement of the legal framework and the growth of the M&A market.

Vuong Dinh Hue - Deputy Prime Minister

Vietnam focuses on restructuring five areas of finance-banking, public sector, public investment, budgetary revenue, and public administrative units. For banking and finance, the government continues its efforts to resolve bad debts, which reduced from 10.8 per cent at the beginning of 2016 to 6.9 per cent in the first six months of 2018. The government is also boosting M&A activities among commercial banks and credit institutions.

In 2017, the number of equitised companies has increased 6.5-times against 2016. The government has collected VND2.5 trillion ($107.5 million) in 2016-2017, which is double the figure of the previous period. The government will continue to speed up the equitisation and divestment process. On top of that, the government is committed to complete the legal framework, strengthening institutional reform as well as improving macroeconomic fundamentals with a view to facilitate M&A activities.

Nguyen Chi Dung - Minister of Planning and Investment

Vietnam is preparing to review 30 years of FDI attraction. The conference is scheduled to take place on October 4 in Hanoi with a view to summarise and evaluate the achievements after 30 years of FDI attraction as well as create a new FDI attraction strategy. Following the conference, the government will put forward solutions for sustainable and selective FDI attraction. The question is whether M&A will continue to grow in Vietnam and what should be done to drive the M&A market forward.

Indeed, M&A is shifting capital from low-efficiency sectors to more profitable fields. Investors assess and evaluate the growth of the economy, market potential, as well as relevant policies to strike deals. It is apparent that M&A deals are on the rise in Vietnam thanks to the high economic growth. M&A also offers a flexible approach for investors to expand in the market.

Warrick Cleine - Chairman and CEO, KPMG in Vietnam and Cambodia

The Vietnamese M&A market has enjoyed a compound annual growth rate of 17 per cent between 2007 and 2017. The number and value of M&A deals are on the uptrend. The largest M&A deal was the $4.9 billion deal between ThaiBev and Sabeco in 2017.

The main source of investment in the next three years is expected to come from Japan, South Korea, China, Thailand, Singapore, and Hong Kong. In particular, Chinese investors are expected to be more active due to the proposed Regional Comprehensive Economic Partnership (RCEP).

Vietnam has the highest economic growth rate in Southeast Asia, which is opening up opportunities for investors. The most promising sectors for M&A include food and beverage, pharmaceuticals, life sciences, and real estate.

However, there are some challenges during the due diligence process in Vietnam, including the quality of historical information, responsiveness, preparedness, willingness to share information, legal issues, tax issues or exposures as well as limited information flows.

Seck Yee Chung - Partner, Baker & McKenzie

Foreign investors are looking at the government's efforts and commitments to opening the economy, improving the business environment, and attracting foreign direct investment. They hope to see harmony in the legal framework, learn about regulatory changes as well as the possibility of raising the foreign ownership limit further in the future.

The changes are indeed taking place and many M&A deals are in the making. New economic models are emerging in the Industry 4.0, including e-commerce and digital transactions. Hence, the government should have measures in place to support these new business models.

Dominic Scriven - Executive chairman, Dragon Capital Group
In the past 10 years, Vietnam has witnessed significant changes in the M&A market. Moving forward, M&A will develop in line with demand. Particularly, investors will become more selective with a focus on internal forces. Investors look at the target companies, their competitiveness, scale, strategy, and successive leadership. However, there is a lack of potential targets for M&A.

At present, the scale of the Vietnamese M&A market is comparable to that of Malaysia and Indonesia, despite having a higher population than Malaysia and lower than Indonesia. The growth of M&A should be stronger.
Fear of losses keeps M&A in pharma humble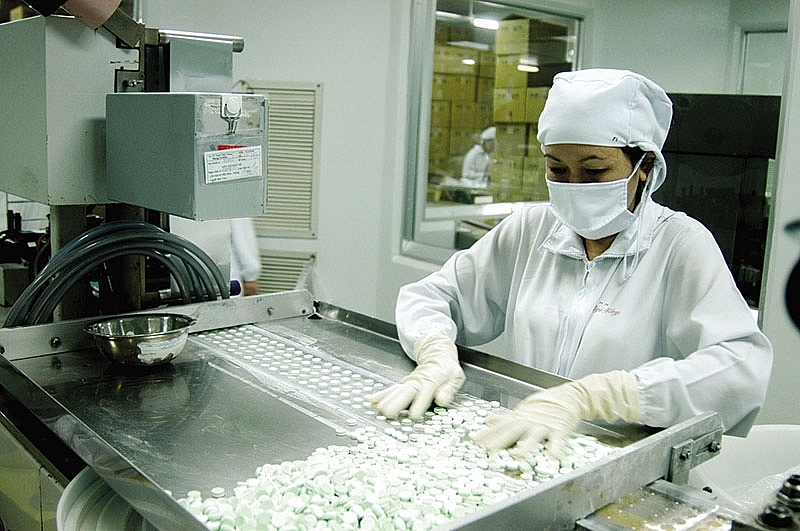 Only five of the 100 biggest M&A deals in Vietnam in the past 10 years were pharma-related






Despite a growing trend towards mergers and acquisitions in the lucrative pharmaceutical industry, few valuable transactions have been achieved so far, with gains and losses remaining unpredictable.  Bich Thuy reports.

After opening an office in Hanoi in late 2016, India's Renova Global Pte., Ltd. is looking for opportunities to co-operate with local manufacturing companies in Vietnam to transfer technology and co-invest.

"We are very actively looking for mergers and acquisitions (M&A) opportunities in leading local pharmaceutical companies. Several discussions are ongoing. Very soon, there will be some major investments from the Indian pharma industry in Vietnam," Renova Global's director Pankaj Aora told VIR.

Other multinational corporations (MNCs) have shown interest in expanding to and within Vietnam via M&A. They, however, still hesitate to invest heavily, as the sector remains a conditional business, with some restrictions for foreign investment.

Since 2009, Vietnam has seen five M&A transactions in the pharmaceutical industry in The List 100 announced recently by AVM Vietnam.

The most valuable of these deals was worth $100 million, coming from Taisho Pharmaceutical Ltd.–one of the Japanese largest companies in the field–acquiring a 24.9 per cent stake in Vietnam's biggest publicly traded drug maker, DHG Pharmaceutical JSC, in 2016. The four others included CFR International's $63 million stake acquisition in Vietnam's third-largest listed drug maker Domesco JSC (DMC); Adamed Group's $50 million deal with Davipharm, Vietnam's fastest-growing pharmaceutical company; the acquisition of Vietnamese drug manufacturer Glomed by US-based Abbott Laboratories; and Daiwa-SSI Fund's acquisition of a 20 per cent stake in CVI Pharma.

Despite slow beginnings, pharmaceuticals and healthcare are among the sectors with the greatest potential for M&A deals in the coming months, driven by the accelerated equitisation of state-owned enterprises (SOEs).

State Capital Investment Corporation (SCIC) will divest a large number of state shares in DMC and DHG in 2018-2020. SCIC holds 35 per cent of DMC and 43 per cent of DHG. DMC and DHG are expected to appeal to foreign investors, as DMC's foreign ownership limit (FOL) was scrapped in 2016 and DHG's will follow this year. Two other promising state capital divestments are the sale of 20 per cent of Vietnam Medical Equipment Corporation in 2018 and Vietnam Pharmaceutical Corporation's sale of another 30 per cent this year, after 35 per cent of it was put up for sale in 2017.

According to the Pharma Group of the European Business Chamber in Vietnam (EuroCham), which now has 26 members, lifting the FOL in the pharmaceutical industry would send a positive signal to foreign investors. A clear path in converting partnerships into majority ownership would persuade companies to invest more heavily in Vietnam.

The speed with which US-based Abbott made steps to increase its holdings in DMC demonstrates how attractive the local pharmaceutical industry is. In September 2016, when DMC removed its FOL, Abbott increased its stake in the firm to 51.7 per cent.

For DHG, the FOL removal will allow Taisho to increase its stake. The Japanese company has raised its ownership in DHG from 24.9 to 32 per cent.

The trend is now gathering momentum, as many MNCs have worked with SCIC on M&A. Japan, Singapore, India, and South Korea are among the most interested.

"South Korean companies often concentrated on green-field investments and the establishment of production bases in Vietnam. They now focus on M&A to tap into their Vietnamese partners' available assets, thus reducing costs and expediting expansion in the country," Michael DC Choi, senior deputy director of the Korea Trade-Investment Promotion Agency, told VIR., "There are some M&A deals under negotiation in Vietnam, focusing on agro-chemical, pharmaceutical, and services."

EuroCham's Legal Sector Committee predicts that the number and value of completed M&A deals in Vietnam are expected to grow further in 2018-2019, especially if the EU-Vietnam Free Trade Agreement is ratified and enters into force as anticipated.

One year after Daiwa-SSI Fund made its investment in CVI Pharma, the company showed positive business results in 2017, with an on-year rise of 60 per cent in revenue and 40 per cent in profit.

"All our operations are now more transparent, with improvements in business governance. In addition, we have funding for a high-tech factory which will be put into operation in late 2018. We might sell more stakes in the future to serve our development plans," said CVI Pharma's chairman Phan Van Hieu.

Not all M&A transactions have brought immediate positive outcomes like CVI Pharma's, and some have even resulted in reduced business targets in the short term.

As shown in its second-quarter consolidated financial statement, DHG's pre-tax profit hit VND360.7 billion ($16.03 million) in the first half of this year, fulfilling just 44 per cent of the whole-year target, while net profit touched VND310 billion ($13.77 million), down 14 per cent on-year.

Doan Dinh Duy Khuong, acting CEO of DHG, admitted that the FOL removal will force the drug maker to give up some business lines, including sales of goods manufactured by other units. Therefore, it set a target of no revenue growth in 2018. Besides, DHG has decided to reduce its annual growth targets in 2018-2020 to 13 per cent in revenue and 7 per cent in profit. DHG's previous annual revenue growth target was 15 per cent.

Vietnam M&A Forum 2018 award winners for 2017-2018 and the decade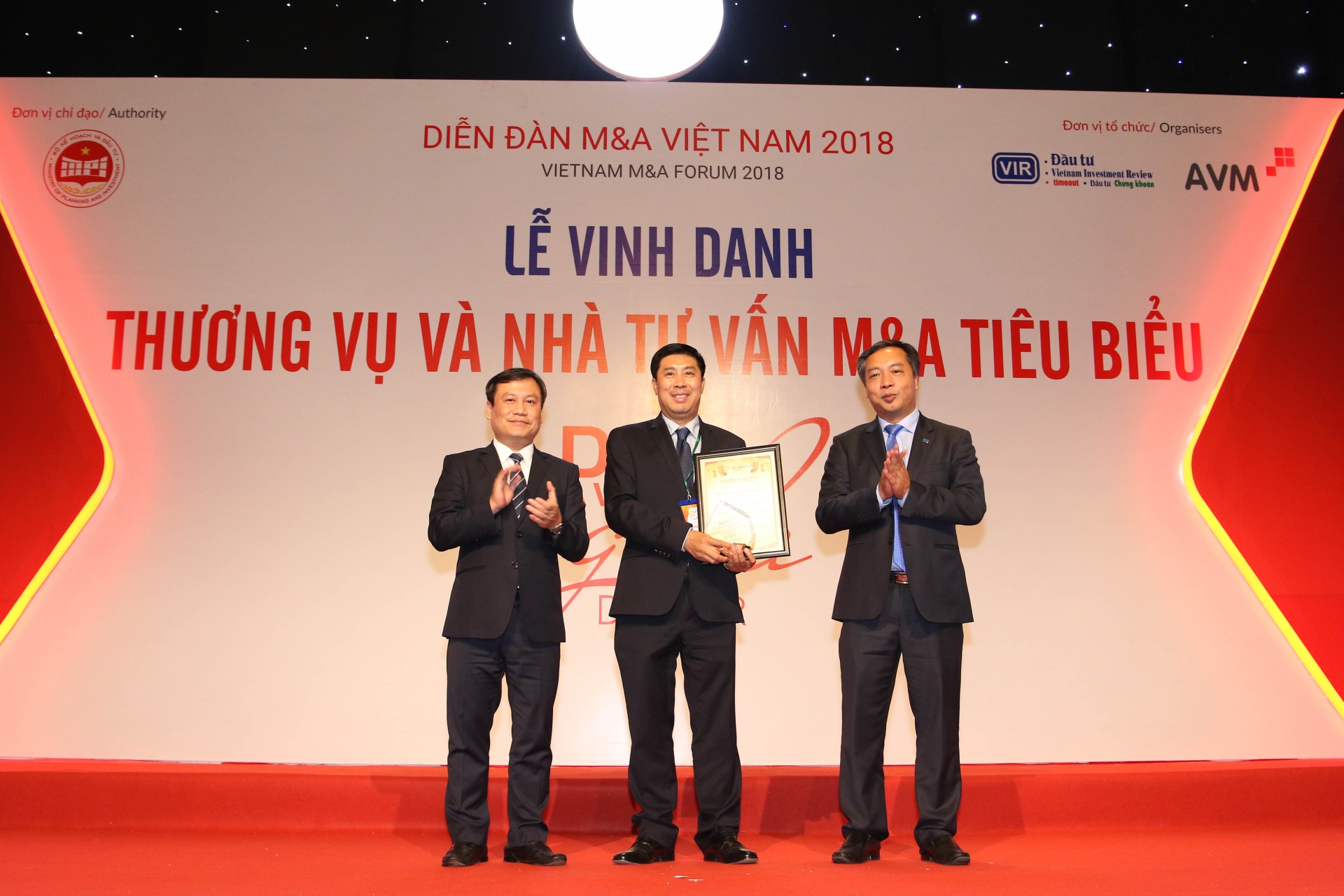 The 10th Vietnam M&A Forum today unveiled the winners of the best deals and advisory firms in 2017-2018 and the decade between 2009 and 2018.

Since the inception of Vietnam M&A Forum in 2009, the annual awards has grown into one of the most prestigious platforms to celebrate excellence in deal making and the performance of industry advisors in an effort to encourage more M&A deals with even higher values.

For the first time in its 10-year history, Vietnam M&A Forum 2018 announced the top ten M&A deals of the decade from the list of the 100 largest M&A deals, the top ten firms with the best M&A strategy, as well as the best advisors of the decade.

Le Trong Minh, editor-in-chief of Vietnam Investment Review and head of the Organising Board, said that M&A has become a powerful tool to lead capital flows from low-efficiency sectors to more profitable fields during the past 10 years.

Between 2009 and 2018, the total deal value reached $48.8 billion, with thousands of transactions. In 2017 alone, the value of M&A deals stood at $10.2 billion, setting up a new record.

"The Organising Board hopes that the awards will prompt companies to be more active in their M&A strategies, while advisory firms will come up with further diverse means of supporting equitisation activities in particular and M&A activities in general," he said.

The following list of the best deals and advisory firms will provide businesses and investors with a summary of the M&A activities that took place in Vietnam, including their quality and quantity.

THE BEST M&A DEALS AND ADVISORY FIRMS IN 2017-2018

The Best Acquisition Deal: ThaiBev and Sabeco

ThaiBev bought 53.59 per cent of Vietnam's leading brewer Sabeco. The deal is valued at nearly $5 billion and was the largest M&A deal in 2017, as well as the largest deal ever in Vietnam's history.

The Best Investment and Private Equity Deal in 2017-2018: GIC Private Limited and Vinhomes

In April 2018, Vinhomes signed a partnership agreement with Singapore's sovereign investment fund GIC. GIC invested $1.3 billion into Vinhomes, owning shares and other debt-like instruments.

The Best IPO in 2017-2018: Vinhomes

Vinhomes raised $2 billion from its historic IPO in 2018. This was the largest IPO in recent years in Vietnam.

The Deal with the Best Information Disclosure in 2017-2018: Sojitz and Saigon Paper

Both the buyer and the seller provided transparent details online, as well as providing private letters to customers and partners.

The Best M&A Advisory Firms in 2017-2018:

The Best Securities Firms for M&A advisory: Viet Capital Securities, Bao Viet Securities

The Best Securities Firm for IPO and Private Placement: Saigon Securities Incorporation

The Best M&A Advisor: KPMG Vietnam

The Best M&A Law Firm: Allen & Overy

THE BEST M&A DEALS OF THE DECADE (2009-2018)

ThaiBev and Sabeco: ThaiBev acquired 53 per cent of Saigon Beverage Company valued at $4.8 billion. This was the biggest M&A in the history of Vietnam. The deal played a key role in developing and helping the Vietnamese M&A market exceed the $10 billion milestone in 2017.
GIC and Vinhomes: At the end of April 2018, Vinhomes and another Vingroup subsidiary signed agreements with Singaporean investment fund GIC Private Limited. Accordingly, GIC invested a total of $1.3 billion into Vinhomes by acquiring stakes and extend a debt-like instrument for Vinhomes to implement its projects.
Central Group and Big C: in 2016, Central Group from Thailand has overcome heavy competition to successfully acquire Big C Vietnam for more than $1 billion. This deal reaffirmed Central Group's ambition in the Vietnamese retail market.
TCC Holdings and Metro Vietnam Cash & Carry: Also in 2016, Metro Cash & Carry Group announced transferring the Metro Cash & Carry supermarket chain in Vietnam to TCC Holdings from Thailand.
Singha and Masan: In 2015, Masan singed a strategic cooperation contract with Thailand's Singha with the value of more than $1.1 billion, including new investment capital which permits Singha to own 25 per cent of Masan Consumer Holdings and 33.3 per cent of Masan Brewery.
Tokyo-Mitsubishi UFG and Vietinbank: In December 2012, Vietnam Joint Stock Commercial Bank for Industry and Trade (Vietinbank) announced that it had raised $743 million from a 20 per cent strategic stake sale to Bank of Tokyo-Mitubishi UFJ. This was the biggest M&A deal so far in the Vietnamese banking sector.
Mondelez and Kinh Do: To realise its goal of expanding to multiple sectors, KIDO Group decided to fully transfer its entire stake in its confectionary arm to foreign investor Modelez International for $380 million and used this sum to re-invest in new acquisition deals.
Mizuho and Vietcombank: In September 2011, Vietcombank, the nation's largest listed bank by market value, has completed its four-year search for a strategic foreign investor by clinching a deal to sell a 15 per cent stake for $562 million to Japan's Mizuho Corporate Bank Ltd. Notably, Mizuho is not only the first partner of Vietcombank, but also the only foreign strategic partner of the bank.
F&N and SCIC's holdings at Vinamilk: In December 2016, through the auction of Vinamilk's stake held by SCIC, two subsidiaries of Singapore's Fraser & Neave acquired 5.4 per cent valued at $500 million, increasing its ownership to 16.35 per cent.
Merging Vinpearl and Vincom to become Vingroup: in October 2010, the Management Board of Vinpearl and Vincom merged to centre their resources in Vingroup, Vietnam's leading economic group today.

COMPANIES WITH THE BEST M&A STRATEGY OF THE DECADE

Vingroup: Creating breakthrough growth from the merger of Vinpearl and Vincom, then the group has attracted large capital investments in Vinhomes and VinRetail. It was also active in the deal of Vinfast acquiring GM Vietnam
Masan: Pioneering M&A in Vietnam with big deals to form one of the biggest multi-field business groups with a hand in finance, minerals, consumer goods, and agriculture
ThaiBev: Drawing up an M&A strategy to expand to Southeast Asia via acquiring the leading beer manufacturer in Vietnam
KIDO Group: Exemplary M&A deals, such as the acquisition of Walls, the merger of affiliates, transferring its confectionery arm to Mondelez International, and the acquisition of plant oil manufacturers to become today's KIDO Group
TTC: Running a successful M&A strategy in the sugar sector, including the acquisition of Bourbon Tay Ninh Sugar Company, HAGL, the merger of Tay Ninh Sugar and Bien Hoa Sugar, and becoming a leading corporation in the sugar industry.
PAN Group: Forming the leading food and agricultural group thanks to the acquisition of leading companies in the industry like Bibica, NSC, SSC, and Fimex
SCG: Acquiring materials, cement, and chemicals companies in Vietnam to become a leading construction materials manufacturer in Vietnam and the region
FPT: Implementing a gradual M&A strategy via a range of activities such as merging three member companies, transferring its holding in FPT Trading, acquiring a software company in Slovakia, and acquiring Intellinet from the US for $30 million
Vinamilk: Implementing an M&A strategy to support its main industry activities. Successful M&A deals include the acquisition of Khanh Hoa Sugar Company, as well as raw materials and milk processing companies in New Zealand and the US
HDBank: Implementing M&A deals in the banking industry as well as acquiring finance companies and selling shares to Saison Group to become Credit Saison, merging with PGBank

THE BEST M&A ADVISORY FIRMS OF THE DECADE

Viet Capital Securities—M&A Security Advisor of the Decade: provided M&A consultancy to various firms, especially acquisition deals in 2009-2018
Bao Viet Securities JSC—M&A Security Advisor of the Decade: one of the first securities companies in Vietnam which has the longest history in consulting equitisation, divestment, and M&A deal
Baker & McKenzie—M&A Law Firm of the Decade: an international law firm that has been operating in Vietnam for 25 years. The company is categorised as a first tier law firm by IFLR
Vilaf—M&A Law Firm of the Decade: a Vietnamese law firm that has flourished over the years. The company is ranked as a first tier law firm by IFLR
KPMG—M&A Advisor of the Decade: As an international accounting and auditing firm, KPMG has conducted a number of M&A deals to help foreign investors approach the Vietnamese market
Deloitte Vietnam—M&A Advisor of the Decade: Being an international auditing and advisory firm, Deloitte has supported many M&A transactions in the Vietnamese market through financial review and financial advisory
Recof—The organisation that has done many efforts for pushing M&A activities between Vietnam and Japan: Over the past 10 years, Recof has made tireless efforts to promote M&A activities between Vietnam and Japan. The company has been supporting Japanese investors to find business and investment opportunities in Vietnam.

Mutual goals vital for post M&A success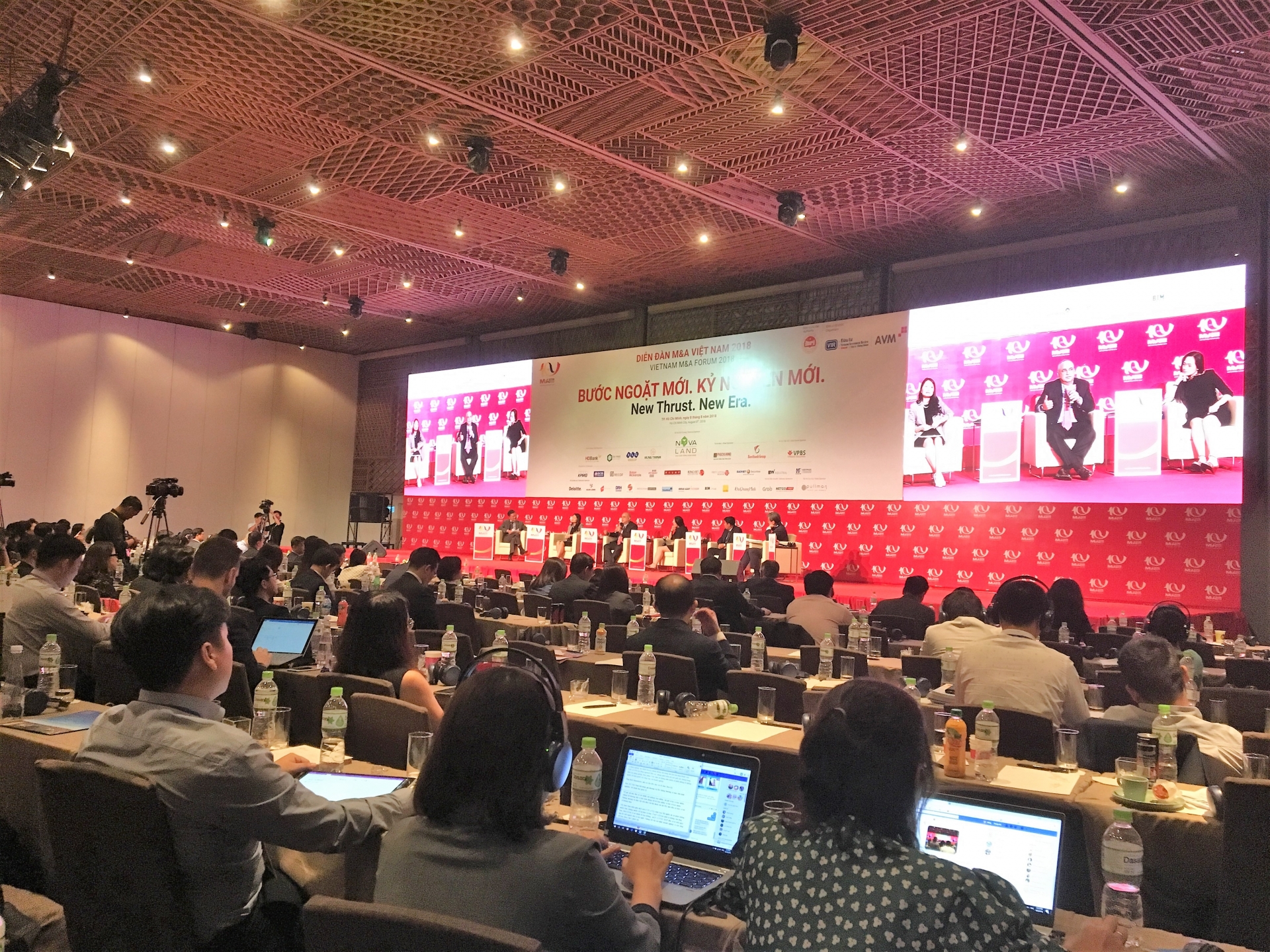 Speakers shared their thoughts on how two firms can co-exist and achieve success together after an M&A deal

The third session of Vietnam M&A Forum 2018 dealt with how buyers and sellers in a deal can find a common ground and reach long-term success together.

During the last panel discussion at Vietnam M&A Forum 2018, experts and corporate executives shared insights on the post-M&A integration process. According to the panellists, the tricky part is to seek mutual understanding, which includes the ability to compromise and work together for the long-term.

Nguyen Thi Tra My, deputy chairwoman and CEO of PAN Group, emphasised that before signing an M&A deal, the company will set out very clear goals and focus on corporate governance at the other firm. As PAN Group believes human resources can make or break a company, it always takes a good look at who runs the target firm.

"We are always careful about the human factor. After an M&A transaction, we want to make sure that employees at both firms feel valued and at ease with the new combined company," said My.

She gave an example of the merger between PAN Group and Vietnam National Seed Corporation (Vinaseed), where staff members at the latter firm are much more experienced than those at PAN. According to My, it took great efforts from both PAN and Vinaseed to retain these talented employees and provide them with job security and respect.

Another matter is creating added values for both sides after a deal gets inked. Deputy CEO of HDBank Le Thanh Trung said that in his 10 years of doing M&A, he could see that the greatest deals often start with a thorough selection process, to ensure mutual determination to triple or even quadruple the successes that each side used to have prior to the merger.

Trung referred to the takeover between HDBank and Dai A Bank, a small credit institution headquartered in Dong Nai province. According to the banker, HDBank had already looked at a few banks based in Northern Vietnam to acquire, but in the end it chose to shake hands with Dai A Bank. HDBank reckoned that Dai A, with its strong presence in the south-eastern Vietnamese economic zone, can help grow HDBank's business exponentially.

"Dai A also had a good management team and a desire to work together with us to achieve bigger success. At the end, we swapped shares on a 1:1 ratio, and both sides were happy with the merger," said Trung.

This view was shared by Dr Young-sup Joo, former Minister of Small- and Medium- Sized Enterprises and Startups in South Korea. According to Dr Joo, following a merger, South Korean companies can share technologies with their Vietnamese partners, and in return, the Vietnamese firms offer a strong brand presence in Vietnam and a dominant market share.

"Korean firms are eager to branch out to the world, and they look forward to partnering up with Vietnamese businesses and sharing hi-tech skills," said Joo.

The former politician compared post-M&A integration to a married couple, where both partners are supposed to tolerate each other's differences and lift each other to new heights.

Other experts, meanwhile, believe in the power of matchmakers, or more formally deal advisors. Rick Marchese, founder of Lores Loreno Private Capital, stressed that advisors can help the two sides find compatible partners, thus having a greater chance at post-M&A success.

"It is a red flag if any of the sides do not have an advisor, because an independent advisor can provide unbiased comments for both sides. For example, the two biggest roadblocks in an M&A are usually buying the wrong company or doing deals at the wrong price, and advisors can help with this," said Marchese.

Renee Kha, managing director at VietValues Appraisal & Consulting, gave an example in which an investor takes over a land bank only to find out later that it has not been given full land use rights. The investor may feel tricked, and this situation could have been avoided with the help of an advisor, said Kha.

Nguyen Cong Ai, partner at KPMG Vietnam and panel moderator, concluded that a clear mutual strategy is vital for post-M&A bliss.

Vietnam M&A Forum: deals driven by a 100-million market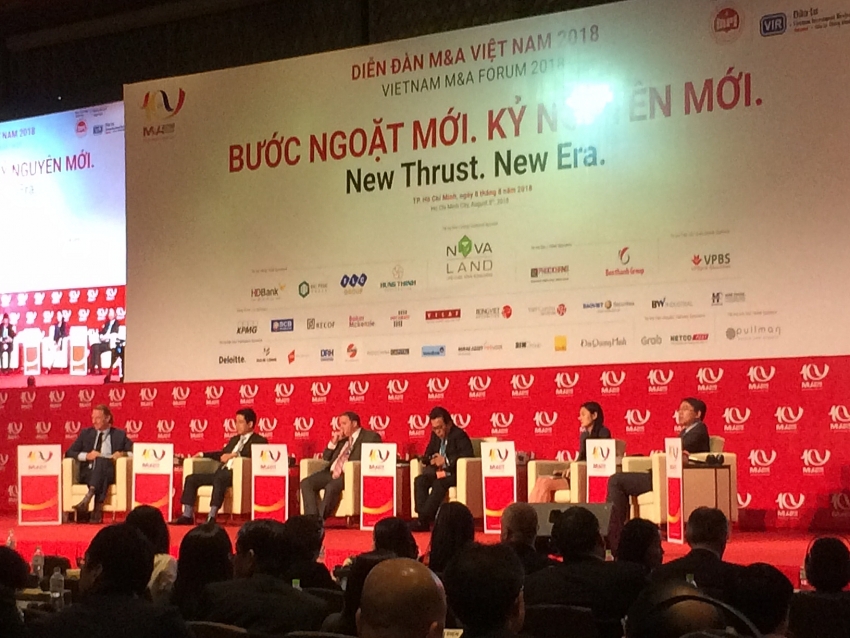 With the population of 100 million people, Vietnam is one of the main growth destinations attracting capital and future M&A deals. Countries which lead the investment wave into Vietnam, sectors that attract the strongest capital flows, chances for local startups, international investors, and local firms to do M&A in Vietnam are the main issues of the second session of Vietnam M&A Forum 2018.

Dominic Scriven - Executive chairman, Dragon Capital Group

Vietnam is the market for M&A, however, one of the most important things is setting a price tag on a transaction. In many cases, sellers offer a very high price while the buyers always want a lower price. These things make negotiations difficult, and that is why the two sides must make in-depth research and understand each other, otherwise they cannot agree on any issue.

Many M&A deals in Vietnam take place in the fast moving consumer goods segment, despite the fact that the number of successful deals in this field has been getting lower. In general, I see that we will move from FDI and FII to strategic investment in the coming time.

Masataka Sam Yoshida - Senior managing director, Recof Corporation

In the Vietnamese M&A market, Japanese investors are new arrivals compared to those from South Korea or Singapore. This is due to the lack of information. Japanese investors are very careful and conservative in their investment, which makes decision making longer. We need as much information as possible about our target partners before making a decision.

Previously, Japanese investors were very strong in M&A activities. However, successful deals are getting fewer, only one third compared to earlier times. I see that the Vietnamese M&A market is very active, even though many Vietnamese company owners are still hesitant.

Neil MacGregor - Managing director, Savills Vietnam

Vietnamese investors are very good at approaching land funds. Especially in Ho Chi Minh City, the demand for land increased five-fold compared to 2013, in both office and residential projects. M&A in the Vietnamese real estate market is attractive because it offers higher yields than other countries like Hong Kong or Singapore. However, I see that the greatest challenge for investors lies in acquiring land funds.

I think that risk management is more important than the transaction price. The buyers I see will be ready to pay a higher rate if they see lower risk in an investment. I think that the Vietnamese M&A market is now in the spotlight, however, we should think more about the possibility to approach successful deals and offer more opportunities for foreign investors.

Le Viet Anh Phong - Partner, head of Financial Advisory, Deloitte Vietnam

The Vietnamese M&A market is very challenging and in order to approach the market, companies must have many channels. Meanwhile, local companies have set up a system of channels to distribute their goods and this is a major advantage for local companies.

I think that one of the key challenges for M&A is the transaction's valuation because sellers always compare their deals to others and in many cases they do not have enough information to make a decision and are not ready to share information. Despite the inherent risks and the lingering issues with valuation, M&A is still the fastest way for companies to increase their capacity and accelerate growth.

Fan Li - Executive director, Warburg Pincus

Warburg Pincus has been present in Hong Kong since 1994. Today, Vietnam is an important market for us in the ASEAN as we are expanding operations in the country.

Warburg Pincus is also active in the Vietnamese M&A market, which provides sufficient information to evaluate target companies. Last year, we have completed a successful deal, securing profitability in the capital market. We believe that Vietnam has ample potential for growth. The country has been on the radars of foreign investors in recent years.

Jiun Park - Deputy director, Global M&A Facilitation Centre, KOTRA

South Korean investors are changing their investment strategy from labour-intensive sectors to growing domestic markets, especially in the fields of logistics, infrastructure, and pharmaceuticals. An increasing number of Korean small- and medium-sized enterprises (SMEs) are keen on the Vietnamese market.

South Korean investors are becoming more active in Vietnam's M&A market with an estimated value of $300 million last year. South Korean investors have clinched deals worth $200 million in the first half of 2018. After the deals, they have extended their reach to regional markets like Myanmar, Laos, and Cambodia. There are immense opportunities for partnerships between the two sides, especially as South Korean companies are seeking opportunities to expand in the region.

M&A to grow on after record 2017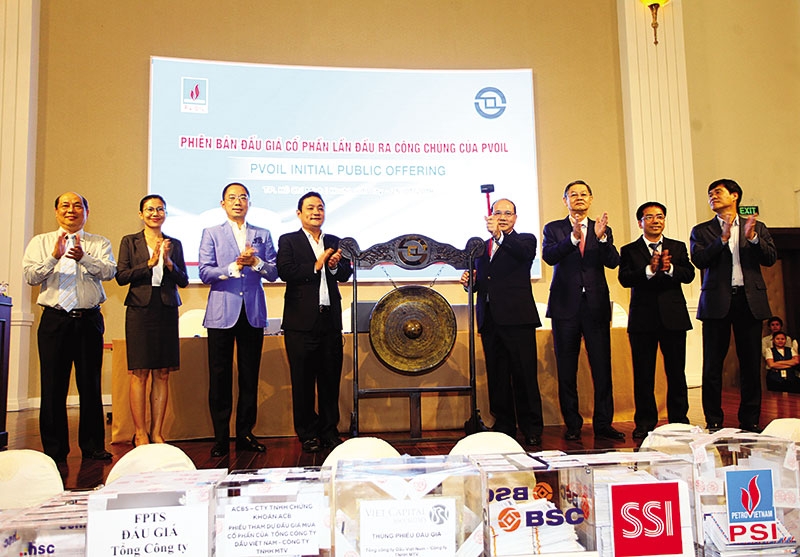 After a record-breaking 2017, mergers and acquisitions (M&A) volumes are poised for further expansion driven by growing investor confidence in Vietnam. Strong GDP growth, favourable demographics, and a robust pipeline of state-owned enterprise (SOE) equitisation are enhancing the environment for investments. While investors need to get more familiar with some of the challenges in Vietnam, they should act early to take advantage of the opportunities.
Vietnam has one of the most active M&A markets in the region, and 2017 was a record year in terms of volume, with transaction value reaching $10.2 billion, an increase of 175 per cent over 2016. Landmark deals include Thai Beverage's nearly $5 billion purchase of a 53.59-per-cent stake in Vietnam's leading brewer Sabeco, and Jardine Cycle & Carriage's acquisition of 8 per cent of Vinamilk for more than $900 million. 2018 is continuing this momentum, with the value of M&A deals in the first six months reaching $3.55 billion, a 155-per-cent increase on-year.
However, Vietnam's M&A market is not just a story of large transactions and greater volumes, it is also enjoying greater depth and breadth than ever before. Last year, the number of deals reached close to an all-time high across a range of sectors, including consumer retail, infrastructure, real estate, and industry.
So what is driving this success? The pick-up in activity has been spurred in part by Vietnam's favourable macro-economic backdrop. GDP growth reached 6.81 per cent in 2017 and we forecast 6.7 per cent growth for both this year and the next, making Vietnam one of the fastest-growing economies in the world. This strong economic performance is supported by Vietnam's rapidly increasing middle class population, which Boston Consulting Group expects to double to 33 million by 2020.
Furthermore, opportunities are emerging from the many free trade agreements signed by the government, resulting in investors growing increasingly confident in investing in Vietnam, with the outlook remaining positive for 2018 and beyond.
Of course, one of the most important contributors to the increase in transaction volumes is the government's ambitious equitisation programme of SOEs. Under the plan, the Vietnamese government is looking to sell stakes in more than 400 SOEs, both to increase fiscal revenue and to reduce government expenditure. The divestments offer the opportunity for investors to gain access to a more diverse range of sectors, such as construction and technology.
In addition to raising capital, these divestments are also accelerating the development of the M&A market and improving corporate governance in Vietnamese companies as the number of foreign investors increases. The rising foreign investment in Vietnam has likely contributed to its current place in the World Bank's annual Ease of Doing Business report, in which it ranks 68th out of 190 countries. That is a jump of 14 places compared to 2017.
One objective of the government's intention to liberalise the Vietnamese economy is to improve operational efficiencies among local corporations to meet international standards through the investments and growth plans of global companies. This has led to companies from other Southeast Asian countries offering high valuations for stakes in the Vietnamese subsidiaries of global groups, encouraging those international companies to monetise their assets. A notable outcome has been a rapid increase in the volume of Thai investment into Vietnam, with Thai companies particularly active in M&A deals in 2017.
HSBC has played a leading role in many of the biggest deals involving Thai investors. For example, we acted as the lead financial adviser to France's Groupe Casino on its sale of Big C Vietnam to leading Thai conglomerate Central Group, for an enterprise value of $1.1 billion. We were also the exclusive financial adviser to Siam City Cement when it acquired a 65-per-cent stake in Lafarge Holcim's operations in Vietnam. The deal had an enterprise value of $875 million and is the largest transaction ever conducted in Vietnam's construction materials sector.
Despite the progress, there are still a number of challenges that investors face when buying assets in Vietnam.
It is important to be aware that the government has yet to settle on a standardised sales process for divestments as it continues to learn from successful and ongoing equitisations. This is in part because the government has different strategic goals and objectives for SOEs in various industries.
Investors should also ensure they are confident about the valuation of any proposed acquisition, as transactions in Vietnam do not always have the same level of information availability as in developed markets. Fortunately, the government is aware of investors' concerns and is working to streamline the process, increase the availability of information, and reduce the regulatory burden on investors.
To facilitate local navigation and improve transaction certainty, several global investors have teamed up with local partners to pursue investments in Vietnam, a strategy which has contributed to the success of their acquisitions.
The fragmented nature of Vietnam's banking market means that investors may also want to choose a bank that is well entrenched in the domestic market and can offer a full range of services.
Our long commitment to the Vietnamese market, combined with our comprehensive suite of banking services that includes M&A advisory, acquisition financing, and cash management and custody services, means HSBC is well positioned to meet the needs of investors – from preparation to acquisition and operation.
In addition, our deep understanding of the Vietnamese market means we are in the best place to help investors grasp the regulations and navigate the process of dealing with local stakeholders.
Whatever the challenges, they do not detract from the clear opportunities available in Vietnam. The country offers one of the most dynamic and exciting markets for investments, an appeal that is recognised by investors every day.
This increasing confidence will ensure that MMA activity in Vietnam goes from strength to strength in the years to come.
VIR