HCM City to host int'l pharmaceutical, health expo
The 13th International Exhibition on Products and Supplies for Medical, Pharmaceutical, Hospital and Rehabilitation (Pharmed and Healthcare Viet Nam 2018) will be held in HCM City next month.
Covering a total display area of 10,000sq.m, Pharmed and Healthcare Vietnam will have 600 booths featuring a wide range of the latest pharmaceutical products, drug manufacturing and packaging machinery, diagnostic equipment, healthcare and rehabilitation equipment, surgical instruments, beauty care equipment and products, among others.
The expo has attracted leading Vietnamese brands such as Armepharco, Hau Giang Pharmaceutical JSC, Pymepharco, Savipharm, Tien Tuan, Vikomed, Vietmed, Tan Mai Thanh, Tai Phat, Ultrasun, Bimed and PPL.
More than 100 foreign exhibitors from 25 countries and regions such as Belgium, Germany, France, Canada, the Republic of Korea, the Czech Republic, China, Singapore and Malaysia will participate in the show.
In addition to showcasing their latest products and technologies, foreign exhibitors will seek distributors and business partners, offering great opportunities for local companies.
The exhibition also features a series of conferences and seminars chaired by national and international technology experts.
To be held at the Saigon Exhibition and Convention Centre from September 19-22, Pharmed and Healthcare Viet Nam 2018 is expected to welcome 15,000 visitors, of which over 8,000 will be trade visitors.
Longan Festival 2018 opens in Hung Yen province
The Red River delta province of Hung Yen opened the Longan Festival 2018 on August 11 to popularize the trademark and honour the provincial specialty product. 
The festival, the second of its kind, hosted over 50 pavilions which showcased the fruits harvested from various gardens in the province. Cultivators estimated that this year's output will be 30 percent higher than the last year's, but the price will remain stable thanks to the fruit's high quality and cleanness. 
Speaking at the event, Deputy Chairman of the Hung Yen People's Committee Nguyen Minh Quang said this year's festival is of a larger scale compared to that of last year and creates a chance for consumers to have more accurate information about longan originating from the province, believed to be the cradle of the fruit in Vietnam. 
Director of the provincial Department of Agriculture and Rural Development Nguyen Van Doanh said many cooperatives and production teams cultivating longan on a large scale have been established in Khoai Chau, Kim Dong and Tien Lu district and Hung Yen city, forming a specialized cultivation area. 
The trees are cultivated in a way to ensure the food safety and origin traceability so as to maintain the fame and prestige among consumers. 
As for the sale of longan, Director of the provincial Department of Industry and Trade Nguyen Van Tho said the department has held many trade promotion activities to popularize the product among the localities inside the country. 
Besides, the department has also invited businessmen from China and Republic of Korea to the province to sign contracts. So far, nearly 100 contracts have been signed for nearly 3,000 tonnes of longan to be sold at supermarkets like Big C, Hapro, Sai Gon and Fivimart. Importers from the US, China, Japan and the Republic of Korea have also agreed to buy the fruit.
Ngoc Linh ginseng gets expanded GI recognition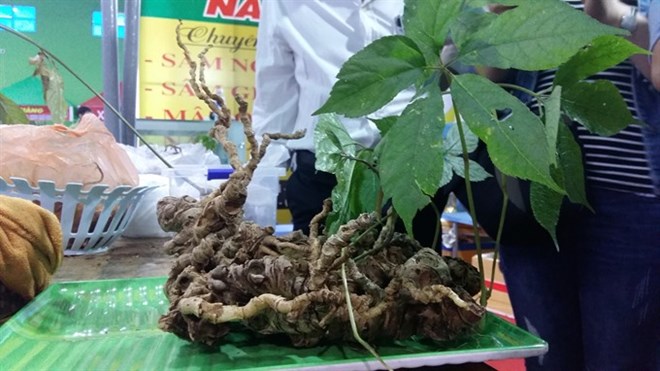 The Intellectual Property Agency of Vietnam, under the Ministry of Science and Technology, has expanded recognition of the Geographical Indication (GI) of Ngoc Linh for ginseng root products grown in 15 communes of Quang Nam and Kon Tum provinces.
The agency said that the ginseng GI, which was given to three districts of Tu Mo Rong, Dak Glei in Kon Tum and Nam Tra My in Quang Nam in 2016, now will be expanded. The expansion will support the development of ginseng growing in the cool natural conditions on mountains reaching 1,400m to 2,600m above sea level in the mountainous communes of the two provinces.
The Ngoc Linh ginseng (Panax vietnamensis, or Vietnamese ginseng) was found on Ngoc Linh Mountain on the border between the Central Highlands province of Kon Tum and central Quang Nam province in the late 1960s.
By 1979, Quang Nam province had established the Tra Linh drug materials farm on the mountain, but it suffered from low productivity. Kon Tum province had also built up a conservation centre for the Ngoc Linh ginseng in 2004.
Chairman of the People's Committee of Nam Tra My district Ho Quang Buu said the expansion of the GI for the Ngoc Linh ginseng would help the two provinces develop a strategy and win new investments to promote the Vietnamese ginseng national brand.
A master plan for development of Ngoc Linh ginseng has been created in the two provinces, including the development of infrastructure and the production of drugs, essential oils, cosmetics, tonic drinks and capsules from ginseng.
Nam Tra My district alone has developed 27 farms of Ngoc Linh ginseng on a total area of 932ha, growing 800,000 natural ginseng plants and herbs. These farms plan to produce 1,000 tonnes of the ginseng by 2025. 
Currently, raw ginseng is sold for 40 million VND (1,900 USD) per kilo, but the two provinces can only produce pharmaceutical materials and energy drinks due to poor investment in processing technology.
The Vietnamese ginseng was one of eight precious and endangered flora genes covered in Quang Nam province's conservation programme for 2014-2020, including Ba Kich (poor ginseng or codonopsis), pepper, cinnamon, large rattan and white corn.
Nam Tra My district, 100km south of Tam Ky city in Quang Nam province, has hosted the annual Ngoc Linh Ginseng Festival since 2017, while its monthly ginseng fair is organised in the first three days of a month.   
About 26 businesses in Vietnam have registered to invest 221 million USD in farming and production of the Ngoc Linh ginseng in Nam Tra My district.
Vinamilk to spend over 170 mln USD on hi-tech dairy farm in Can Tho
Vinamilk, Vietnam's largest dairy producer, will plashed out some 4 trillion VND (171.3 million USD) to develop a 6,000-ha complex of hi-tech dairy farms in the Mekong Delta city of Can Tho under a newly-inked agreement with Song Hau Farm Corporation.
The deal was signed between the two firms during Can Tho's Investment Promotion Conference 2018 which took place on August 10.
The project will include a large-scale dairy farm, capable of breeding up to 22,000 heads of cows, and a processing factory and at the same time, take advantage of Vinamilk's existing distribution system in Can Tho to build a complete supply chain.
Automated technologies and advanced management system will be used at the complex to improve competitiveness in the era of the Industry 4.0.
It expects to make a significant influence on the local economy by creating a new industry of producing beef, dairy and cattle feed. 
According to Vinamilk Executive Director Trinh Quoc Dung, once the project is operational, it will create a large-scale farm covering thousands of hectares to grow livestock feed and provide thousands of jobs for local people.
Hundreds of satellite farms will be set up to join Vinamilk's supply chain, he said.
Vinamilk built the first dairy processing plant at Tra Noc Industrial Park in Can Tho 18 years ago, which generated a total of nearly 17 trillion VND from 2015 – 2017 and contributing 1.03 trillion VND to the State budget.
Hanoi faces difficulties in renovating old apartment buildings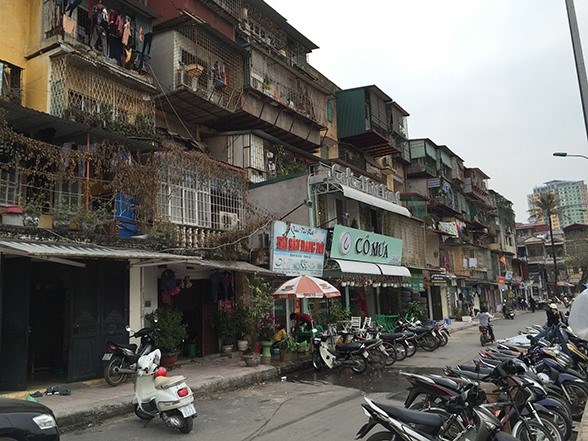 An old apartment building in Thanh Cong Street, Hanoi (Source: enternews.vn)
The important task of renovating and rebuilding dilapidated apartment buildings in Hanoi has faced several obstacles related to planning, land clearance, and profits for investors and residents, Ha Noi Moi (New Hanoi) newspaper has reported.
According to the Ministry of Construction, Hanoi has more than 1,500 old apartment buildings constructed between 1960 and 1990, most of which are located in the city's inner districts.
Ten years after beginning renovation work on old apartment buildings, the city has renovated and put into use 14 of over 1,500 old buildings.
Five buildings are being demolished. Residents of four other buildings in an extremely poor condition have been evacuated, however, there are not yet any plans to rebuild or renovate the structures.
City authorities are calling for investment from the private sector to reduce pressure on the State budget.
The city has called for private investment in 28 buildings. So far, 16 investors have registered to take part in constructing such buildings.
However, according to investors, a number of regulations are not suitable with reality.
According to Tong Thi Hanh, head of the Legal Department at the Ministry of Construction, a decree which took effect in 2015 requires that the newly-constructed building's height and number of tenants must be the same as the old one. On the other hand, investors say that the new building must have an area three times larger than the old one and be 15 to 18 floors higher in order to offset the capital they spend on construction.
Deputy Minister of Construction Le Quang Hung said that regulations must create favorable conditions to allow investors to increase the height of buildings in suitable places.
Architect Truong Van Quang from the Vietnam Urban Planning and Development Association proposed removing the regulation which requires the new building to be the same size as the previous one.
The new buildings can be multi-functional to keep up with new urban development trends, he said.
To accelerate the work of renovating and rebuilding old apartment buildings in the city, he said that mechanisms related to land compensation, investor selection and resettlement must be further completed.
The benefits for each side (investors and residents) should also be clarified, he said.
He proposed the city or province-level People's Committee be granted the right to select investors which are able to mobilise funding themselves besides State investment and projects under the Build-Transfer model.-VNS/VNA
Tech firm successfully calls for investment from Japan, RoK
JAMJA - a technology startup firm in Vietnam - has just successfully called for nearly 20 billion VND (860,000 USD) from major investment funds of the Republic of Korea (RoK) and Japan.
They include KB Investment - a division of KB Financial Group under KB Bank, the RoK's Nextrans and Bon Angles venture capital funds, and Framgia – a Japanese information technology group.
Managing director of JAMJA Le Hung Viet said the biggest obstacle that his company had overcome was persuading investors about the potential of its super discount app. 
The successful appeal will help the company focus investment on activities such as developing products and services while expanding markets and increasing the number of customers, Viet said. 
The capital was called at the Pre series A session in July 2018 after the Vietnamese firm joined the Asiabeat competition held in the RoK in late 2017 with the participation of over 100 startup companies. 
JAMJA won the investment prize from Bon Angles – a popular investment fund in the RoK. Seung-ho Chae, a representative from Nextrans, referred to the effective hour promotion in China and the RoK, which has been invested in by reputable venture capital funds. 
The ability to translate ideas into reality with obvious results is a major factor in Nextrans' decision to invest in JAMJA, he explained. 
Taihei Kobayashi, managing director at Framgia Inc, hailed the potential of JAMJA's vision and marketing strategy. 
He said his company could provide technical assistance to help JAMJA conquer the market, and believed that JAMJA could change the perception of customers thanks to its wonderful promotion platform and ability to increase the frequency of services usage. 
JAMJA aims to use the foreign capital to develop its key service of hour booking promotion, which is expected to reach 100,000 each month. 
Customers could enjoy a discount of up to 70 percent for booking at a certain time of the day besides average discounts of 30-50 percent. 
Viet said his company is ready for the next capital call at the end of 2018.
Da Nang plans to become ASEAN logistics centre

The central city of Da Nang plans to build a logistics complex to position itself as an international-standard logistics centre for Vietnam, ASEAN and the Asia Pacific region by 2030.

The complex will be located in the northwest part of the city on 312ha with total investment of 14 trillion VND (620 million USD).

The decision was announced at the city's people's council meeting in July. Da Nang's complex will include a series of logistics centres linked by a system of roads and rail lines. The major nodes in the complex will be the newly designed Lien Chieu deep-sea port, Hoa Nhon; the newly built Kim Lien railway station; an airport and hi-tech park with international-standard warehouses; an inland clearance depot railway and entry point to road connections.

Vice Chairman of the city's People's Committee Dang Viet Dung said the city intended to build the Lien Chieu port as a key entry point into logistics chains providing services for the central and central Highlands regions, as well as the import-export exchange among ASEAN partners via the East-West Economic Corridor (EWEC) that links Vietnam, Laos, Thailand and Myanmar.

"We aim to build up Da Nang as a regional logistics centre to meet import and export needs among domestic and foreign direct investment enterprises. Partners in ASEAN could boost trading with Vietnamese businesses along the EWEC transport system and via Da Nang ports," Dung said.

"The logistics complex will provide 50 percent of logistics services via the airport and sea ports and 40 percent via the railway system by 2050," he said.

He added that a single railway line will be built to connect the Kim Lien cargo railway station with the airport cargo logistics and high-tech park. A road system will link the National Highway No 1 with Lien Chieu port.

General Director of Da Nang port joint-stock company Nguyen Huu Sia said the city has potential to develop into a key logistics centre of Vietnam and ASEAN.

"The city is situated in central Vietnam and at a convenient cross-road of the railway and road system as well as the airport. It sits at the end of the EWEC and near the complexes of industrial parks and economic zones in Thua Thien-Hue, Quang Nam, Quang Ngai and Quang Tri provinces," Sia said.

'The city also has a deep-sea port system and well-invested infrastructure in connection with the newly-built Da Nang-Quang Ngai Expressway, the north-south national highway and railway system," he added.

He said the sea port system, which was designed for handling 12 million tonnes of cargo each year, currently hosts 23 cargo ships from 15 shipping agencies from Europe, the US, Hong Kong and Singapore per week.

Tien Sa port alone could allow access to 70,000DWT (deadweight tonnage) ships, 4,000TEU (twenty-foot equivalent units) container ships and 150GT (gross tonnage) cruise ships, he added.

Sia said the city's port system, including Tien Sa, Lien Chieu and Son Tra, would handle 29 million tonnes of cargo by 2030, while the port's warehouse could accommodate 500 TEU.

As planned, the city will upgrade Lien Chieu port as an integrated port to ease the overloading at Tien Sa – which will handle mainly cruise ships and fewer cargo ships. Lien Chieu is scheduled to begin operation as a cargo port in 2022.

Sia, however, said that one major challenge was the poor quality of some 1,450km of roads on the EWEC transport corridor. This meant cargo transported via the road system to the Da Nang port was limited. According to a report, only 3 percent of cargo from the EWEC is cleared via the Da Nang port, while tourism linkages between Thailand, Myanmar, Laos and Vietnam are not yet strong.

According to the Economic Research Institute for ASEAN and East Asia (ERIA), smoother traffic and procedures on the 1,450km road of EWEC will help Da Nang boost its Regional Gross Domestic Products by 2.29 percent more than current projections for 2025. 

Director of the Joint-Stock Transimex-Sai Gon Corporation's Da Nang branch, Nguyen Tan Man said Da Nang and the central region lacked completed logistics centres as well as international standard storage.

"We have not yet seen logistics providers that could supply comprehensive services from manufacturing and cargo management to forwarding to final consumers in Da Nang and the central region," Man said.

"The local logistics companies could only handle part of logistics chains such as transport, customs clearance or warehouse service only. That's the reason big investors still hesitate to pour funds into the region, or they (investors) have to use logistics service from foreign companies," he said, adding that local logistics companies operated as sub-contractors of logistics service from foreign logistics companies.

Man also pointed out that the number of international standard warehouses in Da Nang and central Vietnam is small. There are only four or five warehouses with total capacity of 60,000 tonnes (meeting just five per cent of demand).

Meanwhile, unloading services at ports in the region are seen as still poor with 10 to 15 minutes needed for unloading a container, compared to only five minutes in HCM City.

He also said logistics companies had few choices for ports in the central region as Da Nang was seen as the only key port where container ships can dock.

Man said his company had invested 80 billion VND (3.5 million USD) in building the first international standard cold/chilled storage space at Hoa Cam Industrial Zone (IZ), serving local and FDI investors in the region with a high quality warehouse for worldwide exports.

The tailor-made SOP (Standard Operating Procedure) storage also provides various logistics services of air and sea freight, bulk cargo and trucks in connection with the trading route in the East-West Economic Corridor and a system of deep sea ports at Tien Sa and Lien Chieu, as well as airports.

According to Chairman of the Vietnam Logistics Association (VLA) Le Huy Hiep, the central region has 20 deep sea ports, but the system only handles 55.5 million tonnes of cargo – 13 percent of the country's sea ports per year.

There are only 40 foreign shipping companies in Vietnam, accounting for only 5 percent of the country's total number of shipping firms, but they transport up to nearly 90 per cent of Vietnamese import and exports, mostly to Europe, the US, the Middle East and Africa.

Production capacity in industrial zones (IZs) across the region has not yet developed to supply enough cargo for logistics businesses.

According to Yoshitaka Kurihara, senior advisor to the Japan External Trade Organisation (JETRO) HCM City Office, chaotic road traffic, slow rail traffic, a shortage of warehouse space and poor condition of seaports preclude investment.

As scheduled, Da Nang has been working with Japanese consultants to develop the first stage of the Lien Chieu Port at an estimated cost of 247 million USD.

It is expected that the Lien Chieu Port, which currently handles 50,000 DWT (deadweight tonnage) container ships, will be able to handle 100,000 DWT ships with a loading capacity of 8,000 twenty-foot equivalent unit (TEUs) starting from 2025.-VNS/VNA
Dong Nai's FDI attraction surpasses yearly target
The southern province of Dong Nai has so far this year attracted over 1.14 billion USD in foreign direct investment (FDI), surpassing its yearly target by 14 percent, the province's industrial zones management board said on August 13.
Since the beginning of the year, 73 FDI projects have been licensed in local industrial zones, with a total investment capital of 551.8 million USD. Meanwhile, 64 other projects have registered additional capital of 595 million USD.
Most FDI projects in Dong Nai province are in support and clean industries.
Also in the period, the province licensed eight domestic projects worth 1.13 trillion VND and allowed one project to add 266 billion VND to its capital.
According to the provincial People's Committee, foreign investors continued to choose Dong Nai as their destination thanks to the locality's efforts in administrative reform and its improved infrastructure.
As part of the southern key economic region, Dong Nai set a target of luring 1 billion USD in FDI this year.
Kien Giang calls for investment in 64 projects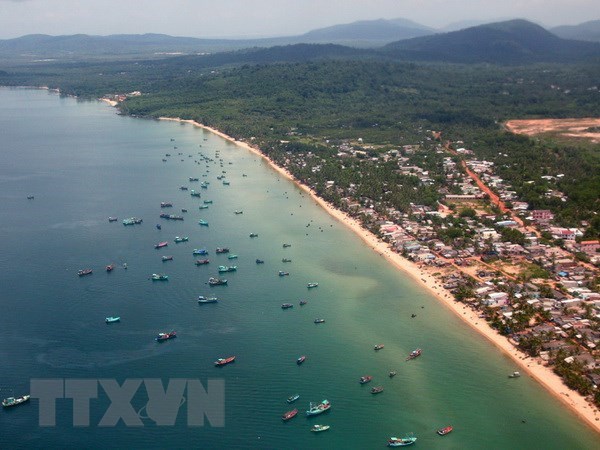 A corner of Phu Quoc island district 
The Mekong Delta province of Kien Giang introduced a list of 64 projects that call for investment in 2018 at an investment promotion forum held in Ho Chi Minh City on August 13. 
The event is hoped to help attract more domestic and foreign investment to the locality in the coming time.  
Accordingly, the locality gives priority to luring investment for projects of clean agricultural production, hi-tech agriculture development; aquaculture and aquatic product processing; offshore fishing and post-fishing preservation technology. 
Local authorities also briefed participants of many projects related to environmental protection; wastewater treatment; water supply in remote areas; tourism development; trading; industrial park technical infrastructure; and housing and urban development. 
Pham Vu Hong, Vice Secretary of the provincial Party Committee and Chairman of the provincial People's Committee, said the locality is calling for investment to projects of waste and wastewater treatment, water supply, tourism and hi-tech agriculture development in the districts of Phu Quoc, Rach Ra, Chau Thanh and Hon Dat. 
Kien Giang boasts great potential for developing maritime and ecological tourism, he stressed. 
The locality has planned five industrial parks (IP) with a total area of over 730 ha, including the two key strategic parks - the 100-ha Thanh Loc IP in Chau Thanh district with a total investment of over 1 trillion VND (42.65 million USD) and the 140-ha Thuan Yen IP in Ha Tien district, with 1.2 trillion VND (nearly 51.2 million USD). 
The Thanh Loc IP focuses on processing farm produce and food, producing consumer products; mechanical products; handicrafts for export and hi-tech industrial products. Meanwhile, the Thuan Yen IP is for projects related to electronics assembling, textiles and footwear production for export, consumer goods, construction materials, and handicrafts. 
The provincial Party Committee and People's Committee have given many incentives and accelerated administrative reform to make it easier for enterprises and investors to operate in the locality. 
Notably, it takes only half a day to complete procedures for establishing a business. Other administrative procedures can be completed from 7-15 days. 
Enterprises investing in Kien Giang are exempted from corporate income tax for the first four years after their establishment and a 50-percent reduction for the next nine years.
Kien Giang aims to mobilise 9.5 billion USD for socio-economic development by 2020 and 45 billion USD by 2030.
It also targets becoming a well-developed locality and a transportation and tourism service destination in the Mekong Delta, and a development hub of the southern key economic region. 
The province aims for an average Gross Regional Domestic Product (GRDP) of 7.5-8 percent per year by 2020.
As of June this year, the locality attracted 41 foreign investment projects from 19 countries and territories with a total registered capital of 1.44 billion USD, of which 37 percent has been disbursed.-VNA
Rubber industry faces falling export price
The average export price of Vietnamese rubber fell in tandem with the global price, affected by the escalating US-China trade war, according to the Agro Processing and Market Development Authority (AgroTrade) under the Ministry of Agriculture and Rural Development.
Rubber price in July slipped 5.9 percent from the previous month to 1,347 USD per tonne. In the first half of the year, each tonne of rubber was sold abroad at an average 1,453 USD, plunging 21.5 percent as compared to the same time last year.
From the beginning of July, natural rubber prices in the world have experienced downward trend. Trade tensions between the US and China were billed as contributing factors to a wave of declines on the world's rubber prices. In Tokyo's Tocom, rubber price fell 2 percent month-on-month to 1,486 USD per tonne as of July 20. On the Shanghai Futures Exchange, rubber price in July dropped by around 2.8 percent to 1,548 USD per tonne.
In the first seven months of the year, Vietnam earned 997 million USD from shipping 696,000 tonnes of rubber to foreign countries, declining 10.7 percent in value and up 9.9 percent in volume year on year.
China, India, and Germany were the largest rubber importers of Vietnam in the period. Meanwhile, strong growth in import of Vietnam's rubber was seen in the Indian market (35.7 percent), and Indonesia (10.8 percent).
Also, the country splashed out 608 million USD on buying 332,000 tonnes of foreign rubber, up 14.6 percent in volume but down 1.9 percent in value as compared to the same time last year.
The domestic rubber market has been gloomy. Experts said that besides increasing productivity, producers should pay due attention to improve quality of rubber latex, and diversify kinds of rubber products for exports.
The rubber industry should channel focus on the production of automobile tyres, gloves, and mattresses, they recommended.
Bac Giang province facilitates Australian investment
The northern province of Bac Giang will create favourable conditions for Australian firms who want to land investments in local agriculture.
Hosting a business delegation from Australia on August 13, Chairman of the provincial People's Committee Nguyen Van Linh pledged to prioritise investment licensing and ensure legal procedures so that Australian companies can enjoy smooth operation here.
Linh briefed the Australian guests, including representatives from HunterNet and Green Agri Groups, on the local economy and agriculture, saying that the province has 17 million head of poultry, with an output of 26,000 tonnes per year, offering great opportunities for companies who are interested in the province's poultry processing sector.
Also, he stressed that before investment, the corporations should meticulously study the market, material sources and prices to assure sustainable development.
Seeing Bac Giang province's strengths, HunterNet, with over 200 companies active in various sectors, including clean agriculture, wants to build poultry and farm produce processing plants in the locality as well as form strategic cooperation for its long-term goals.
HunterNet Managing Director Cade Anthony James hoped to receive the local authority's support in introducing suppliers and farm produce businesses in the province. 
He said this will help his corporation have precise evaluation on the province's capacity in the sector.
After the working session, the Australian delegation conducted a fact-finding tour of Yen The district's husbandry and poultry consumption.
South-central coastal localities implement Law on Fisheries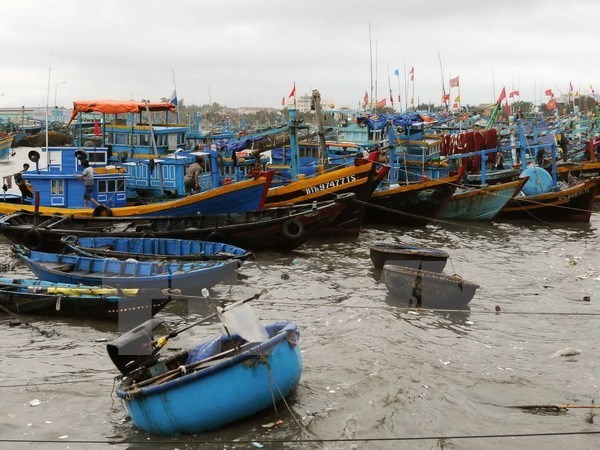 Vietnamese fishing vessels 
Minister of Agriculture and Rural Development Nguyen Xuan Cuong on August 13 urged all cities and provinces in the south-central coastal region from Quang Nam to Binh Thuan to accelerate action programmes to implement the Law on Fisheries and address the "yellow card" warning of the European Commission (EC) on Vietnamese seafood over illegal, unreported and unregulated (IUU) fishing.

At a meeting in Quy Nhon city, Binh Dinh province, the minister also stressed that provisions and regulations in the law must be carried out immediately.

He asked the provincial and municipal People's Committees to take more drastic measures to make fishermen equip their vessels with long-range position equipment, thoroughly examine the ocean tuna production chain, and establish fisheries unions without violating waters of other countries.

Vietnam has advantages in developing marine economy, Cuong said, adding that the country should make evaluation of its marine resources once in every five years to have a proper development strategy to build a modern sea-based economy.

The Government, ministries and departments have issued two decrees and nine circulars to address the "yellow card", he noted.

The ministry is coordinating with Kien Giang, Binh Dinh and Quang Ninh provinces to implement the law and finalising other relevant legal documents, the minister said.

He suggested Kien Giang and Binh Dinh, which have the biggest number of vessels with large capacity in the country, pursue responsible exploitation and chain production to accelerate the building of sustainable seafood industry.

Lying in the Gulf of Tokin and home to the world heritage site of Ha Long Bay, Quang Ninh should pay more attention to marine ecological environmental protection and sustainable tourism development, he suggested.

Binh Dinh boasts the largest number of offshore fishing vessels in the country and is one of the leading localities in implementing drastically the Law on Fisheries and deal with the "yellow card".

The province has taken a number of measures to deal with the "yellow card" such as asking ship owners and captains to sign commitments to not infringe in foreign countries' water.
Vietnam was given a "yellow card" warning by the EC in September 2017 for failing to progress in IUU fishing. It was offered an opportunity to rectify the situation within six months. 

An EC delegation visited Vietnam in May to inspect the outcomes of measures to control IUU fishing. The "yellow card" is followed by a "green card" if the problem is resolved or a "red card" if it isn't. A "red card" can lead to a trade ban on fishery products.-VNA
Qatar National Bank names Vietnam as Asia's newest 'tiger' economy
The latest 'tiger' economy in Asia is Vietnam as the country emerges as one of the world's fastest growing economies, said the Qatar National Bank (QNB) in its weekly 'economic commentary' published on thepeninsulaqatar.com.
A range of indicators recorded in the first six months of 2018 demonstrated the booming Vietnamese economy. Its gross domestic product (GDP) grew 7.1 percent year on year, the fastest since 2011. The output of Vietnam's manufacturing sector increased 13.1 percent on year.
According to QNB analysts, the manufacturing boom fueled exports to annually surge 20 percent in the period compared to the 17 percent increase posted for the entire 2017. 
The bank attributed manufacturing and export success to Vietnam's ability to attract a large volume of foreign direct investment (FDI) into sectors like garment, footwear and electronics. FDI inflows in the Southeast Asian country also boomed, with total value estimated at 13 billion USD in the first half of this year, an annual increase of 11 percent. 
The GDP figure for 2017 was about 220 billion USD, according to the latest data from the International Monetary Fund (IMF).
The QNB said Vietnam's economic success is noteworthy as it comes at a time when many developing economies are struggling to match the success of Asia's previous 'tigers' like Singapore and the Republic of Korea. It said the basis for such achievement is obvious, namely favourable demographics, low wage rates, political stability, and geographical location. 
The commentary cited recent research from the Brookings Institute think tank in the US which highlighted that the ability to build on these solid foundations via good policies is what really sets Vietnam apart. 
There are three critical factors behind the country's high growth. First, Vietnam has eagerly pursued trade liberalisation on both multilateral and bilateral basis. Trade agreements have dramatically lowered the external tariffs its exports face, helping integrate Vietnam into the global economy and further accelerating FDI investments.
Second, Vietnam's investments in human capital i.e. education have helped the country maximise its demographic potential. Vietnam was ranked 8th out of 72 participating countries in the latest Programme for International Student Assessment (PISA), which tests high school students in maths, science, and other subjects. The result surpassed several top economies of the Organisation for Economic Cooperation and Development (OECD), which conducts the PISA.
Third, investments in human capital have been supported by progress in improving the local business climate. Vietnam has steadily moved up in both the World Economic Forum's competitiveness index and the World Bank's ease of doing business survey. 
The QNB noted the success might come along with vulnerabilities and challenges. FDI in Vietnam mostly concentrates in the textiles and electronics sectors, creating jobs, which tend to be of low skills and low wage with little value added. This leaves Vietnam exposed to the crossfire of a US-China trade war in the short term. In longer term, Vietnam's competitive advantages might fade, as the country climbs the development ladder, and wage rates and living standards improve.
The bank also pointed to new economic drivers that could help Vietnam sustain its current position in a few years. Vietnam's high PISA scores suggested that the country should be able to move up the global value chain more easily than most emerging markets. 
Prospects for rapid growth in the service sector, particularly tourism, could help drive economic growth over the longer term. In the latest data, tourist arrivals in the country was up nearly 25 percent in June from 2017.-VNA
All public procurement will be taken online by 2025
With significant development and practical benefits, e-government procurement will replace direct procurement.
At Vietnam E-Government Procurement Forum held for the first time today (August 8) by the Ministry of Planning and Investment in collaboration with the Asian Development Bank (ADB) and the World Bank, Deputy Minister of Planning and Investment Vu Dai Thang shared that the number of e-bidding packages is over 9,000 in the first seven months of this year, higher than in the entire last year.
E-government procurement or e-bidding has been deployed in 2009, and the related legal framework has been completed for several years. This model has been officially applied all over the country since 2016 after a four-year trial.
There are 23,000 tenders and 72,000 contractors registered on the system. In 2017, 8,200 e-bidding packages valued at VND9 trillion ($0.4 billion) were implemented, doubling against 2016. The number of e-bidding packages in 2018 is expected to double or triple compared to 2017.
Deputy Minister Thang confirmed that the benefits of contractors using the Vietnam National E-Procurement System (VNEPS) are unlimited business opportunities, simplification and facilitation, fairness and transparency, low cost and shorter duration for procedures.
The system publishes the entire process of procurement from the planning, notice of bidding invitation, bidding documents, contributing to the prevention of negative behaviours, while the information of contractors are kept absolutely secret.
According to Decision No.1402/QD-TTg dated July 13, 2016 of the prime minister, by 2025 all bidding information will have to be announced on VNEPS, and 100 per cent of procurements will have to be implemented online, and at least 70 per cent of the bidding packages under the adjusted Law on Bidding will have to go digital.
In the coming time, the MPI will continue completing the legal framework, as well as documents on training and communicating with businesses. Vietnam E-Government Procurement Forum is a chance to share information and experiences, and improve participants' knowledge on this method.
Alexander Fox, principal procurement specialist of ADB, said that ADB encourages Vietnam to modernise VNEPS and collaborate with the World Bank to develop and promote e-bidding. If the pilot bidding packages of ADB's two banks are carried out successfully on VNEPS, ADB and the World Bank will replicate and apply the method for all packages of procurement and construction using capital from these two banks.
In order to strengthen the development of e-bidding, Circular No.04/2017/TT-BKHDT of the MPI has been in effect since March and has created numerous breakthroughs to expand the scope of e-bidding, digitalise most bidding documents, and reduce administrative procedures and paper documents.
Indian investors interested in denim production in Vietnam
Indian fabric investors have shifted their attention from China to Vietnam, which is billed as an emerging denim fabric manufacturing centre, in their search for potential suppliers of denim fabric.
The impressive growth of Vietnamese garment and textile in recent years, with 31 billion USD in export revenue last year and a target of 50 billion USD after 2020, has persuaded the choosiest customers worldwide, including Indian firms. 
Denim goods accounted for 20 percent of the sector's export revenue, according to the Vietnam Textile and Apparel Association (VITAS).
Although the sector is facing bottlenecks in its supplying chain, denim fabric production is a strong point of local producers with the localisation ratio of 55-60 percent, spurred by heavy investment in production line, and technologies.

Right after the third edition of the Denimsandjeans Vietnam Show organised in Ho Chi Minh City in June, many Indian companies expressed their wish to collaborate with Vietnamese partners in producing denim fabric.

CEO of Balaji Enterprises Sandeep Agarwal, founder of the Denimandjeans, said that the Vietnamese garment and textile, with increasing production capacity, is a magnet for foreign investors. 

Meanwhile, Marketing Director of KG Fabriks Thamarai Selvan, noted that his company is planning to move its plants from China as more benefits are expected when having production facilities in Vietnam, including larger order volumes and skillful workers. 

Anubha Industries Private and Vietnamese denim providers have reached certain agreement, and a trade cooperative deal will soon be announced, said marketing director of the firm Amit Desai.

According to Indian Consul General in Ho Chi Minh City K. Srikar Reddy, garment and textile sector is a priority in joint efforts to elevate the two-way trade to 15 billion USD by 2020.

Currently, India has registered 814 million USD in 176 projects in Vietnam, ranking 28th out of 126 countries and territories having investment in the country. Last year, India exported 429 million USD worth of garment and textile products to Vietnam, an increase of 44 percent year on year. However, the figure was only a fraction of the import need of the Vietnamese garment and textile sector.
Vietnamese start-ups seek opportunities in Malaysia
Three Vietnamese start-ups will travel to Malaysia to seek business opportunities in the country under an exchange programme for start-ups entitled "Runway to the World".
The programme is launched by the Saigon Innovation Hub (SiHub) under the Ho Chi Minh City's Department of Science-Technology. 
The three start-ups selected for the programme are EyeQ Tech (a face recognition application for smart camera), Gcalls (a speed dial solutions for businesses) and Boom Potty (a sanitation device for toddlers from eight months old to 3.5 years old).
The exchange programme was officially started in January this year with the first partner being Shinhan Future's Lab from the Republic of Korea. 
Under the cooperation, three start-ups of the RoK travelled to Vietnam to explore and enter the market, as well as connect start-up ecosystems and markets of Vietnam and the RoK and promote bilateral trade.
The "Runway to the World" aims to link local start-ups with organisations and start-up ecosystems in North America, Western Europe, North Asia and the Asia-Pacific. 
It fosters Vietnamese start-ups while selecting suitable foreign start-ups to explore, research and launch trade activities in Vietnam.