Consumer finance has ample room for growth in Vietnam, however, it is necessary to improve the policy framework to make the sector more attractive to foreign investors, experts said.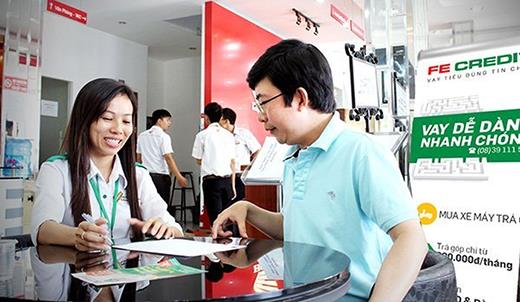 Vietnam's consumer finance market is expected to reach US$44 billion by 2019
According to the National Financial Supervisory Commission, consumer lending in Vietnam surged sharply by 65 percent in 2017 compared to 50.2 percent in 2016. The proportion of consumer credit in total outstanding loan of the entire banking system was estimated at 18 percent in 2017, up from 12.3 percent in 2016.
Economist Le Xuan Nghia said consumer lending was a global trend, citing Europe as an example where consumer credit accounted for some 71 percent of total bank loans. The proportion of consumer lending in Vietnam's economy was lower than that of other medium-income countries where the proportion stands around 30 percent.
The Vietnamese consumer lending market is projected to reach US$44 billion by 2019, largely driven by an increase in consumer spending, a rise in urbanization and the strict lending rules of domestic banks, according to Viet Capital Securities Company.
According to experts, Vietnam's consumer finance has so far lured a number of foreign investors thanks to its high potentials, however, the foreign investment inflow in local finance companies will be much higher if legal regulations are streamlined. Meanwhile, the local finance firms are in a dire need of capital to meet the domestic rising demands.
Under the context, specific legal regulations should be applied for consumer finance to help the Vietnamese financial market better mobilize foreign investments, experts suggested, adding that the capital inflows will contribute to benefiting not only local finance firms but also local customers and the entire Vietnamese economy.
According to Can Van Luc, chief economist of Bank for Investment and Development of Vietnam (BIDV), it is necessary to continuously improve the legal framework in the management of financial companies and create favorable conditions for new finance companies to develop in order to increase the competitiveness for the market.
It will help reduce lending interest rates of consumer loans, increase the variety of products and services as well as bring more benefits to consumers and the economy, Luc explained.
At the same time, Luc said, the government should direct to soon complete the National Financial Inclusion Strategies (NFIS) and put it in place to increase the ratio of people and firms having access to financial services.
Lending under fintech growth
Effective legal policies for a further development of the local consumer finance market will also contribute to luring more foreign investments in the sector, experts said.
They thus suggested that the policy framework for consumer finance needs to be improved amid rapid development of financial technology (fintech) so as to enhance access to credit, decrease the "shadow" or unofficial credit sector and develop financial inclusion.
Nguyen Quynh Lan from the financial and business information corporation StoxPlus said that fintech enabled the emergence of a disruptive business model for consumer finance companies, which would introduce opportunities to lower interest rates - the top concern of consumers – and reach wider market coverage.
The consumer finance market was also moving away fast from the offline channel, including physical point-of-sale (POS) and direct sales agents, to online and mobile, such as e-commerce website, social media (Facebook, Zalo, Wechat) and mobile apps.
Lan said Vietnam needs a clear framework for financial intermediary, fintech and peer-to-peer lending, as well as customer protection in the digital area of consumer finance, while current regulations are only applicable for finance companies.
In addition, consumer finance companies should leverage the application of Big Data and omni-channel for targeted customer offers, Lan said.
Hanoitimes