Tra fish exports see sharp upswing in seven months
Vietnam's tra fish (pangasius) exports in July soared 13.5% to US$182 million, bringing total export turnover in seven months to US$1.18 billion, up 19.5% against the same period last year, according to the Vietnam Association of Seafood Exporters and Producers (VASEP).
Major consumers of Vietnamese Tra fish include China, the US, EU, ASEAN, Mexico, Brazil, Colombia and the United Arab Emirates (UAE).
During the seven-month period,the UAE surpassed  Saudi Arabia to be among top 8 importers of Vietnamese tra fish.
Last year, the UAE was the third largest importer of Vietnamese tra fish in the Middle East market with a value of US$23 million, down 13.2% when compared to the previous year. However, Vietnam's tra fish exports to the UAE reversed with a sharp upturn in export value from 28% to 66.3% in the first two months of this year.
As of March 2018, the export value of tra fish increased sharply from 117% to 221%overthe same period last year.
The strong growth in tra fish exports to the UAE was attributed to the Saudi Food & Drug Authority (SFDA)'s issuance of a decree to temporarily suspend imports of fish, crustacean and other aquatic products from Vietnam.
The temporary suspension was based on the World Organization for Animal Health (OIE)'s "Quarterly Aquatic Animal Disease Report (Asia-Pacific Region) April - June 2017", and the outcomes of the working visit to Vietnam by SFDA in late 2017.
Vietnam records US$2.34 billion trade surplus with the UK
Bilateral trade between Vietnam and the UK reached US$3.12 billion in the first half of this year (a year-on-year rise of 14.2%), with Vietnam's exports to the European market at US$2.73 billion (up 14%) and imports at US$389.76 million (up 14.7%), according to the General Department of Vietnam Customs.
In the period, Vietnam's exports to the UK were seven times higher than imports, resulting in a surplus of US$2.34 billion.
Key export products focus on the products of the country's greatest competitive advantage such as telephones and components, garment, footwear and seafood.
Telephones and components topped the list with US$1.08 billion, accounting for 40% of the country's total exports.
Garment ranked second with nearly US$348 million, up 4.8% against the same period last year, but making up only 2.6% of the country's total garment exports.
Footwear exports to the UK reached US$325 million, down 2.4% and accounting for only 4.2% of the country's total footwear export value.
Three other groups of export products to the UK which obtained an export value of more than US$100 million each are seafood (US$127 million), wood and timber products (US$143 million) and electronics and components (US$113 million).
Vietnam Customs also said that exports to the UK last year surged 10.7% to US$5.4 billion, making it the eighth biggest market for Vietnamese products.
Meanwhile imports from the UK also inked 2.1% to US$739 million, ranking the 26th among exporters to the Southeast Asia.
Statistics showed that the UK was among 15 biggest trade partner of Vietnam in the 2013-2017 period. Bilateral trade increased from US$4.27 billion in 2013 to US$6.15 billion in 2017. 
Vietnam has always run a trade surplus with the European country over the last five years. The trade surplus jumped from US$3 billion in 2014 to US$4.68 billion in 2017.
Bakery feels over the moon after US export deal     
The Asia Bakery and Confectionery Pte.Ent, known as ABC Bakery, has wrapped up export procedures for its first container of moon cakes (60,000 moon cakes) to be shipped to the US to be sold at supermarkets there.
Speaking at a press briefing in HCM City on August 7, Kao Sieu Luc, the company's general director, said the consignment comprises mainly tiramisu and lotus seed cakes with pandan leaves.
If the demand is good, his company would increase its exports, he said.
At home it makes cakes for 22 five-star hotels and large bakeries with their names and logos, he said.
It would supply at least 2.5 million cakes (500 tonnes) for the Mid-Autumn Festival next month, including new varieties made with imported Singaporean barbecue meat, lotus and chia seeds and dried apricot, lotus seeds and cranberry, and lava-custard filling, he said.
The company sold two million last year, he said.
ABC Bakery supplies bread and cakes to major fast food chains and coffee shops, which accounts for 35 per cent of its revenues.
Its pastry exports have increased significantly, with more than 60 containers exported to Japan so far this year, he said.
After investing US$4 million in plants in HCM City, the company is building two more in Da Nang and Nha Trang cities, which are expected to be ready by the end of this year, at a cost of about VND50 billion ($2.14 million), he said.
It has 35 bakeries and plans to open 40 more next year, he said.
Last year it had revenues of $20 million, he added. 
Ba Ria - Vung Tau pulls the plug on port project     
The southern Ba Ria-Vung Tau Province has decided to scrap the proposed US$477 million My Xuan port, saying its construction has been delayed for too long.
The developer, Taiwan's Formosa International Development Corporation, received the licence in 2010.
The nearly 167ha port was to have had four wharfs and a yearly throughput of 1.1 million twenty-foot equivalent units and four million tonnes of goods.
But with Formosa finding it difficult to raise funds, it has not even acquired the required land, and has only completed the design, land survey and environmental impact assessment.
According to the provincial Department of Planning and Investment, as of June there were 94 projects running behind schedule, including 11 industrial parks and 38 housing projects.
The provincial administration has been urging local authorities to find out why projects have been delayed and what investors of the delayed projects have been doing with the lands allotted to them.
In the first half of this year, the province pulled the plug on six projects that were behind schedule or never got under way.
In May, it cancelled the licence for a 1.5ha petroleum and gas museum in Vung Tau City that had been approved in 2010.
Credit Suisse named Viet Nam's best investment bank for the 9th time     
Credit Suisse has been named Viet Nam's best investment bank in the Euromoney 2018 awards for excellence and best international investment bank in the Finance Asia 2018 Country Awards for Achievement, winning each award for the ninth time.
Euromoney also recognised Credit Suisse as Asia's Best Investment Bank for the first time.
Chris Wright, the Asia Editor of Euromoney, one of the world's leading global banking and capital markets publications, said: "Credit Suisse is a story of finding profitable niches and attacking them with commitment, innovation and smart use of the balance sheet".
Credit Suisse has been active in Viet Nam since 2001 and working with many of the leading corporations and burgeoning entrepreneurs in the country over the years, raising over US$7 billion for Vietnamese clients and advising on many landmark transactions. 
"We will continue to support the Vietnamese economy and expand our activities in the country," said Le Hoai Anh, managing director, investment banking and capital markets Asia Pacific at Credit Suisse.
Banking sector looks towards sustainable development
Deputy Governor of the State Bank of Vietnam (SBV) Nguyen Kim Anh has underscored the decisive role of banking sector in economic shifting via targeting capital flows into sustainable development goals. 
During a seminar co-hosted by the SBV and German Agency for International Cooperation (GIZ) in Hanoi on August 7, Anh urged banks to adopt social and environment risk management principles when it comes to credit supply. 
Pham Xuan Hoe from the SBV's Banking Strategy Institute said climate change, environment pollution and CO2 emission force banks to raise their sense of responsibility for the society. 
According to the GIZ, Vietnam needs at least 30.7 billion USD till 2020, or 15 percent of its gross domestic product in 2015, to fund its green growth strategy. 
It forecast that the country could reduce 85.12 million tonnes of CO2 by 2020 and 197.9 million tonnes by 2030, or 25 percent of the total. 
Head of the Department of Science, Education, Natural Resources and Environment Pham Hoang Mai suggested that the SBV issue framework policies on green finance, encourage banks to provide preferential loans for green projects, and regularly rally international green finance schemes. 
He underscored the need to establish a green financial fund to access global funding such as the Green Climate Fund, adding that financial institutions should enforce internal policies on green banking and credit, as well as risk governance policies while supporting the issuance of green bonds and attracting domestic and foreign investment in green projects. 
Michael Krakowski, Director of the Macroeconomic Reform/Green Growth Programme, hailed Vietnam's efforts and achievements in the process towards green growth. 
He pledged to continue partnering with the SBV to contribute to successfully realising national strategies on green economy, climate change response and sustainable development.
Vietnam to invest US$645 million in road and railway projects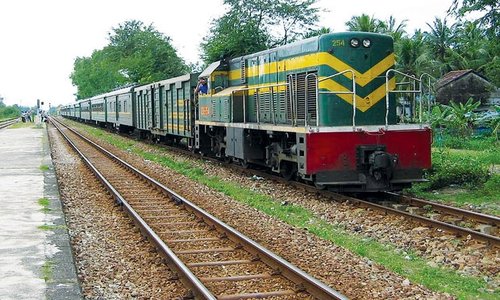 The Standing Committee of the National Assembly has approved a VND15 trillion (US$645 million) budget for four railway upgrading and 10 road projects, according to the government portal. 
The funds will be financed from the contingency budget of the Public Investment Plan for the 2016 - 2020 period.
Specifically, a total of VND7 trillion (US$300 million) will be allocated to four railway upgrading projects, including VND1.95 trillion (US$84 million) for reinforcement of 100 weak bridges on the Hanoi - Ho Chi Minh City route. 
Another VND1.8 trillion (US$77 million) will be spent on reinforcing tunnels and opening new stations on the route section between Vinh and Nha Trang cities. 
The route section from Hanoi to Vinh city, Nghe An province will be upgraded for VND1.4 trillion (US$60 million), with the aim of reinforcing the current infrastructure. Similar upgrades will be applied on the route from Nha Trang to Ho Chi Minh City at an estimated cost of VND1.85 trillion (US$79 million). 
The committee also allocated VND8 trillion (US$343 million) for 10 road projects across the country. 
The number of train passengers decreased by 15% from 11.2 million in 2010 to 9.5 million in 2017, according to Nguyen Thi Luyen, head of the Economic Institutional Department under the Central Institute for Economic Management (CIEM). 
Total freight carriage also dropped 29 percent from 7.8 million tons to 5.5 million tons in the same period, Luyen added.
In recent years, investment in railways accounts for just 2-3% of transportation sector's total budget, Vu Van Minh, chairman of Vietnam Railways informed at the National Assembly in June.
Vietnam currently has over 3,000 kilometers of railway tracks, with none of them reaching high-speed. All Vietnamese trains run on diesel, while Malaysia, Thailand, South Korea, Japan and China have electric railway systems.
Several ODA projects in Hanoi face delay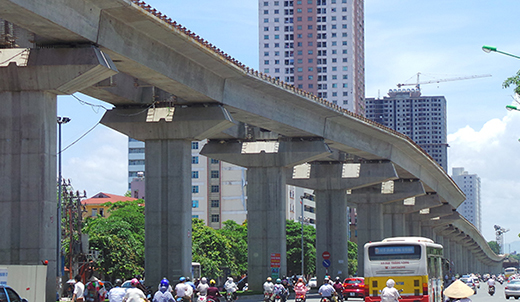 During 2011-2016, Hanoi carried out 14 programs, projects using ODA loans US$3.04 billion.
A number of ODA-funded projects in Hanoi have been delayed due to difficulties in site clearance and changes in related policies, said Chairman of the Hanoi People's Committee Nguyen Duc Chung in a working session with a supervisory delegation of the National Assembly's Standing Committee. 
"Some urban infrastructure projects, including large-scale metro lines have been constructed in Hanoi for the first time, which may easily confront with challenges", Chung said.
During 2011-2016, Hanoi carried out 14 programs, projects using ODA loans totaling VND69 trillion (US$3.04 billion).
Of the figure, the disbursed ODA stood at VND11.5 trillion (US$526 million), doubling that figure in the 2006-2010 period, according to Nguyen Doan Toan, vice chairman of the Hanoi People's Committee.
A section of the Cat Linh - Ha Dong railway route in Hanoi, which has missed the deadlines several times
ODA projects are mostly key socio-economic constructions in areas of traffic, environment, water supply-drainage, etc. During the reviewed period, capacity of clean water supply in Hanoi increased to over 500,000 cubic meters per day from the previous level of 200,000 cubic meters per day.
Besides, the ODA sources contributed remarkably to effective traffic infrastructure projects including the Nhat Tan Bridge or Bus rapid transit (BRT). Some of Hanoi's strategic metro lines are being built with ODA capital, said Toan.
Also at the meeting, Chairman Chung said Hanoi has made efforts in mobilizing social investment to carry out key projects. Yet the city still needs state funding for big projects like cleanup of polluted rivers or construction of urban railways, etc.
Chung also proposed using the money collected from the sales of state-owned firms in Hanoi to fund the metro line projects.
The supervisory delegation required the city to clarify the reasons behind the cost overruns and lateness of the ODA projects as well as take more measures to ensure their schedule and quality. 
Japan remains the leading ODA provider to Hanoi with 32 projects worth US$3 billion, equivalent for 58.8% of total ODA commitment, said Chung in a Hanoi-Japan investment conference this March.
Ascott launches serviced residence in Da Nang     
Singapore's Ascott Limited has officially launched Viet Nam's largest serviced residence, Citadines Blue Cove Da Nang by the Han River on the Son Tra peninsula.
The 548-unit Citadines Blue Cove Da Nang, which is also Ascott's first property in Da Nang city and its largest property globally, offers ideal residential apartments overlooking Da Nang Bay and easy connections to the main industrial areas and destinations of the city, including Hoi An ancient town and Hue city.
Lew Yen Ping, Ascott's Country General Manager for Viet Nam, said: "Viet Nam is Ascott's largest market in Southeast Asia, where demand for serviced residences remain high. We currently have 21 properties offering close to 4,700 units across seven cities in the country," she said.
"More than 2,000 units across nine properties are slated to open in HCM City, Ha Noi, Da Nang, Ha Long City and Binh Duong Province in the next years. We look forward to providing more accommodation choices in the fast-expanding Viet Nam market and are committed to achieving our target of 7,000 units in the country by 2020," she said.
She continued: "Citadines Blue Cove Da Nang would widen Ascott's brand offerings in Viet Nam where it had a well-established reputation built over 20-years with Somerset brand."
According to the United Nations World Tourism Organisation, international tourist arrivals for Viet Nam was 12.9 million in 2017, an increase of 29.1 per cent from 2016.
The country also attracted US$35.9 billion in foreign direct investment in 2017, an increase of 44.4 per cent from 2016.
The Ascott company has over 45,000 serviced residence units in key cities of the Americas, Asia Pacific, Europe, the Middle East and Africa, as well as about 30,000 units which are under development. 
HDBank's branch opening spree continues     
HDBank, one of Viet Nam's largest joint stock banks, opened a branch each in Lam Dong and Kien Giang provinces on August 6, taking its total number of branches to 269.
The branch in Lam Dong's Duc Trong District is the second in the province, while the one in Kien Giang's Chau Thanh District is the fourth.
Earlier, on August 3, it had opened branches in Binh Thuan's Ham Thuan Nam District and Bac Ninh's Yen Phong District.
The openings come as part of HDBank's plans to open 45 new branches this year.
Besides giving gifts to the first customers of the new branches, the bank also donated houses and health insurance cards to poor households and money to build bridges.
The bank had recently opened two branches in Soc Trang's Nga Nam town and Tran De District and one in Vinh Long Province's Vung Liem District.
VPBank appoints two executive managing directors     
VPBank has appointed two members of its management team to the positions of executive managing directors and deputy CEOs.
Sanjeev Nanavati and Luu Thi Thao, in charge of generating revenue and supporting business units respectively.
Prior to this appointment, Nanavati has more than thirty years of global and Asian banking experience at Citibank, Standard Chartered Bank, and Bank of America.
He has served as Citibank's longest-serving CEO in Malaysia, and has also served as senior advisor to McKinsey regarding Asian banks. He is also a thought leader and contributor on business and management issues to the Times Business in Singapore.
Joining VPBank's board of management since the end of 2011, Thao has played a leading role in a comprehensive transformation program for VPBank.
She has provided VPBank with a wealth of knowledge and insights on the local environment with more than 20 years of experience working at big four audit firms (PWC, KPMG) and big global banks like such as ABN AMRO, ANZ.
Welcoming the two executives, Ngo Chi Dung, VPBank's Chairman said: "VPBank is on its way to become a world-class bank to serve the needs of the Vietnamese market.
"The Board of Directors recognises that in order to achieve our ambitious vision, we need to combine top international talent with native human resources in an effective organisational structure."
Nanavati added: "VPBank has built a unique platform and position to take advantage of the many opportunities that present themselves in the market.
"The focus going forward will be capitalising on growth opportunities built on a foundation of disciplined customer segmentation, strong credit quality, differentiated value propositions for both customers and employees, and prudent cost management."
"As a transformation leader over the past five years, I strongly believe that VPBank has a solid foundation and advantages to become 'Home of Talents' from all over the world. We respect diversity and inclusion, as well as embrace individual differences. Being a local-international bank will surely differentiate us from other banks in the market."
HCM City wants safe farm produce     
HCM City is seeking to improve the traceability of agricultural produce sold through both modern and traditional retail channels to improve food safety.
By the end of this year it aims to have all goods sold through modern distribution channels meet VietGap standards, have proper packaging and brands and be traceable through mobile phones, according to the Department of Industry and Trade.
The city has been trialling ways to improve produce traceability since January last year.
Cu Chi District's Phu Loc Agricultural Co-Operative has for instance been using QR code stamps, which allow customers to see the entire farming and transportation process.
The Department of Agriculture and Rural Development has been organising training classes for farmers and providing them with equipment to upload data about product origin.
Binh Chanh Province's Phuoc An Agricultural Co-Operative said ever since it began to affix the QR stamps the reputation of its products had been rising.
However, Phu Loc has to cope with many challenges: The wide variety of its produce means it requires skilled and meticulous supervisors, while maintaining the systems and restocking stamps are costly.
Data entry is not too efficient, with officials having to meet each farmer to collect data while traceable produce is not a priority for many retailers and distributors.
The Ministry of Industry and Trade said most traditional markets, which account for most of the food distributed in the country, sell goods whose origins are not traceable and do not keep records or receipts.
Phuoc An said many farmers were still struggling to enter data using modern technology, and unstable internet connections in remote areas meant that uploading data could take a long time.
Dao Ha Trung, chairman of the HCM City High Technology Association, said developing a comprehensive database for various vegetables and medicinal herbs and contacting all the provinces that supply produce to HCM City were extremely difficult tasks.
The association was working on using affordable technologies to help co-operatives improve their products' traceability.
A representative of GS1 Viet Nam, a barcode organisation, said many businesses in HCM City's wholesale markets used barcodes to keep track of goods sold.
However, they did not have a consistent standard for product tracing and it planned to create one, it said.
Nguyen Van Hoi of the ministry said all stages of supply chains involving wholesale markets had to be closely monitored with proper certifications.
According to a survey by the association, the city's wholesale markets receive around 2.5 million tonnes of vegetables and fruits from other provinces.
After agricultural goods, the city will shift its focus to other foods.
Bamboo Capital sign condotel and villa deal     
Indochina Hoi An Beach Villas Company Limited, a subsidiary of Bamboo Capital JSC, has signed agreements with local and international companies for designing, building, construction supervision, financing, distribution, and others at its Malibu MGM Hoi An condotel and villas in Quang Nam Province.
They include the US's BAKH Architecture, Signature Architect Viet Nam, Transport and Industry Development Investment Joint Stock Company, Nam A Bank, Vietcombank, ERA Real Estate, Hai Phat Land, and Oceanus Glass.
Located on Ha My Beach in the so-called "five-star boulevard" along with many other luxury resorts, Malibu MGM Hoi An will be managed by MGM Resorts International, an S&P 500 global entertainment company.
The project will cost nearly VND2 trillion (US$85.68 million) and spread over nearly 11ha with 93 villas and 690 condotel units.
Construction is expected to start next month, and the handover is scheduled for 2020.
The project will open for sales in mid-September.
Nguyen Ho Nam, chairman of BCG, said the partners are major companies with a good reputation.
BCG also signed deals with leading Vietnamese construction companies including Hoa Binh Corporation, Central Construction Company and Dinco Engineering and Construction Corporation.
After Malibu MGM Hoi An, BCG plans a similar project in southern Hoi An on an area of 200ha, two one-hectare projects in HCM City's District 2 and three others ranging from 60 hectares to 200ha in Long An Province.
M&A boom offers big chance for Vietnam's consulting firms
Being among the most attractive destinations in ASEAN for mergers and acquisitions (M&As), Vietnam has been also a fruitful land for M&A consulting service providers.
Data showed that the total numbers of M&A deals and value in Vietnam surged sharply by 22 percent and 15 percent annually, respectively, in the 2007-2017 period.
The country's M&A market hit over the US$10-billion landmark for the first time last year, up 78 percent against the previous year. M&A value in the country continued to rise 55 percent year-on-year to reach US$3.55 billion in the first six months of this year. 
Under the steady growth market, local consulting firms, mainly securities companies, have embraced great opportunities in providing M&A consulting services, mainly for the sellers.
Bao Viet Securities Co (BVSC) has so far successfully consulted on big M&A deals, such as the divestment of state-owned Saigon Beer Alcohol and Beverage Corporation (Sabeco) with the offering value of VND109.97 trillion (US$4.78 billion), or the merger of Bien Hoa Sugar Joint Stock Company (BHS) and Thanh Thanh Cong Tay Ninh Sugar Joint Stock Company (SBT) with a value of VND9.87 trillion (US$429 million).
Tran Hai Ha, director of Military Bank Securities Co (MBS), tipped that his company had consulted M&A deals in oil and gas, transportation, seaport, hospital, food and beverage, basic materials, energy, finance and insurance.
Not only provides consultancy for local companies has MBS also conducted M&A consultancy contracts for foreign groups and investment funds in their search for investment opportunities and cooperation with Vietnamese businesses.
Khong Phan Duc, general director of VietinBank Securities Co, said that his company has implemented hundreds of consulting contracts per year for firms under the umbrella of the Ministries of Industry and Trade, Construction and Transport.
Among the deals, VietinBank Securities has consulted for a domestic investor to acquire a port project valued at over US$16 million besides a M&A deal in a real estate project worth US$100 million for a foreign investors. The company is also arranging the sale of a mineral processing plant worth over US$50 million.
Other securities companies such as Viet Capital Securities and VPBank Securities (VPBS) have also gained significantly from the M&A consulting services.
VPBS, for example, reported a revenue of over VND280 billion (US$12.17 million) from financial consulting services last year, up 79 percent over the previous year.
According to Tong Minh Tuan, director of Vietcombank Securities Company (VCBS)'s Ho Chi Minh City branch, the opportunities for securities companies in the M&A consulting segment are very promising.
Accounting for only 0.1 percent of global M&A transactions, Vietnam has an ample room for more M&A deals to take place in future. However, the country and local enterprises should make efforts to overcome the current obstacles, which include the quality of business, the foreign ownership limit, financial transparency, and value appraisal.
The global law firm Baker McKenzie projects a total volume of M&A transactions at 331 deals for Vietnam in 2018, with 263 domestic and 68 cross-border inbound deals. In the following years, Vietnam could expect slightly more deals, at 338 in 2019, but in 2020, the figure is expected to drop to 204 transactions.
Tuan suggested that opportunities will be more open for local consulting firms if they actively cooperate with domestic and foreign financial institutions to participate in M&A consultancy.
Expecting about the rising trend of M&A market in the country, Nhu Dinh Hoa, BVSC General Director, said his company aims to promote consulting services, targeting a year-on-year 30 percent increase in revenue from the segment in 2018.
Seven-month State budget collection up 13.4 percent
Revenue to the State budget totaled 775 trillion VND (over 32.2 billion USD) in the first seven months of this year, equivalent to 58.7 percent of the yearly estimate and up 13.4 percent year-on-year, said the Ministry of Finance on August 7.
Domestic revenue is estimated at 621.5 trillion VND (nearly 26.9 billion USD), an increase of 14.3 percent from the same period last year. The figure was equal to 56.5 percent of the projection for the whole year.
Revenue from crude oil surged 34.3 percent year on year to 35.4 trillion VND (over 1.5 billion USD), accounting for 98.5 percent of the yearly projection, while import-export activities brought in 172.5 trillion VND (over 7.4 billion USD), representing a year-on-year rise of 3.4 percent.
The export-import activities in the period under review maintained stable growth, with total value up 12.7 percent against the same period last year.
According to the ministry, State budget spending was at 759.7 trillion VND (over 32.6 billion USD), equal to 49.9 percent of the yearly projection and up 9.8 percent compared to the same period last year.
Of this, development investment spending, debt payment, and regular spending  were 150.45 trillion VND ( nearly 6.46 billion USD), 68.8 trillion VND (2.95 billion USD), and 534 trillion VND (22.9 billion USD), up 26 percent, 10.4 percent, and 5.1 percent compared to the figures of the same period last  year, respectively.
The ministry said tax authorities have carried out over 30,000 inspections and collected nearly 5.8 trillion VND (nearly 249 million USD) for the State budget. They also worked to prevent transfer pricing and reduce losses with a total value of over 9 trillion VND (386.3 million USD) and retrieved 18 trillion VND (772.6 million USD) in tax debt.
In addition, customs agencies have conducted 4.400 post-clearance inspections, collecting 1.48 trillion (63.5 million USD) for the State budget.
More organic products needed to boost agro exports to EU

Experts have recommended Vietnamese firms develop organic products for export to the EU, considering it a measure to boost the shipment of farm produce to this demanding market.

At a workshop held in Hanoi on August 7, participants called on businesses to increase the export of organic products since more and more consumers in the EU have preferred food produced and processed through natural methods.

Do Kim Lang, Deputy Director of the Vietnam Trade Promotion Agency under the Ministry of Industry and Trade (MoIT), said with tropical agriculture advantages and strong integration into the world economy, Vietnam is able to produce a diversity of agricultural products with high nutritional and commercial value.

As of the end of June 2018, Vietnam had had more than 10 key farm produce for export. These products have been present in over 160 countries and territories, including major markets like the US, the EU and Japan.

Some products have brought home over 1 billion USD in export revenue, including coffee, rice, cashew nut, fruit and vegetables, and pepper. In the world rankings, Vietnam respectively ranks first, second and third in exporting pepper, coffee and rice, Lang noted.

However, because of limited processing capacity and a lack of strong brand names, the export turnover of agricultural and food products has yet to match export volume, he said, adding that export profit has also been reduced due to many intermediary steps.

He said the integration process also poses big challenges to businesses when they have to face protection measures in the form of technical barriers, including stricter safety and quality standards and tightened examination procedures, in import markets.

Tran Ngoc Quan, Deputy Director of the MoIT's Department of European and American Markets, said European markets have high demand for agricultural products, especially tropical ones, but they also impose strict requirements for product quality and food safety.

He asked Vietnamese exporters to have a good grasp of Vietnam and partner countries' commitments in trade deals, actively seek chances for cooperation with foreign partners, join global supply chains, and improve their workers' skills and productivity.

They should overhaul production processes so that fruit and vegetables satisfy HACCP or GlobalGAP standards and are eligible for export to the EU. It is also necessary to develop concentrated farming areas and apply advanced preservation and processing technologies to meet importers' requirements, experts said. 
Nam Dinh Vu deep-water port records high productivity

After three months in operation, the Nam Dinh Vu container terminal (the first stage) has received 35 ships and handled 25,000 TEU in total, with an average crane productivity amounting to 50 moves per hour, a high productivity in the region.  
Located in Nam Dinh Vu industrial park in the northern port city of Hai Phong, it is the seventh among ports operated by Gemadept Corporation, a leading Vietnamese firm in port operation and logistics. 
Costing a total of 6 trillion VND (257.95 million USD), the 65-ha port will have 1,500m of wharf and will be capable of accommodating vessels of up to 40,000 DWT. 
After the first stage, built with an investment of 1.7 trillion VND (73.07 million USD), the facility now has a 450m-long wharf and can handle 500,000 TEU per year.
The second stage of the project is expected to begin in the third quarter this year. By 2020, it will become the largest deep-water port in Dinh Vu, Hai Phong. 
General Director of Gemadept Vietnam Do Van Minh said the volume of containers handled via ports in Hai Phong has grown by 15 percent annually over the past five years. It is forecast to reach 100 million tonnes of cargo this year.  
Therefore, the construction of Nam Dinh Vu port and Lach Huyen international port in Hai Phong will ease pressure on inland ports and traffic, and improve the capacity of cargo handling. 
Nam Dinh Vu is the nearest to the sea compared to other ports in Hai Phong. It is easily accessible with linkage to the Hanoi – Hai Phong and Hai Phong – Ha Long highways, making it an ideal transit in the global logistics chain.
Tien Giang to expand dragon fruit growing area     
The Cuu Long (Mekong) Delta province of Tien Giang is expanding its specialised growing zone for dragon fruit, a fruit that has helped several local farmers grow rich.
According to Huynh Van Buon, head of the agricultural and rural development bureau of Tan Phuoc District, the district has been growing the fruit for only a few years, but has nearly 600ha under the fruit, mainly red-flesh dragon fruit.
Around 350ha of the latest crop have been harvested, yielding 7,000 tonnes, he said.
The communes with the largest areas planned now are Tan Lap I with 172ha, Thanh Tan (120ha), Thanh My (60ha), and Tan Hoa Dong (40ha).
Nguyen Van Ro, chairman of the Thanh People's Committee, said the fruit has become his once sleepy commune's key economic product thanks to its economic value and demand in foreign markets.
Farmers growing the fruit can now rely on it for their main income, he added.
One such farmer is Phan Van Khanh, who owns a 1.5ha red-flesh dragon fruit orchard. It produces 30 tonnes of the fruit per hectare per season.
Thus, this year he has earned around VND1 billion (US$43,000) from selling 30 tonnes of the fruit at an average price of VND30,000 per kilogramme.
He has become rich thanks to the fruit.
Vo Van Dung of Thanh Hoa Commune, Tan Phuoc District, also has a 1.5ha orchard.
Last year, he harvested 40 tonnes and earned VND1.2 billion as the fruit's price soared to VND46,000.
He said the fruit can help locals become rich.
Cat Tuong Company, an agricultural processing firm in Tan Phuoc, grows red-flesh dragon fruit to global good agricultural practices (GAP) standards on 100ha due to the high yields and export demand.
Buon said the soil of the Plain of Reeds region (which spans Long An, Tien Giang and Dong Thap provinces) is extremely suitable for growing dragon fruit.
He said to increase productivity and quality for export, the district would send technical staff to train farmers in the application of global GAP standards.
Besides, the district has helped farmers establish co-operatives and farmers groups to build a value chain for dragon fruit, he said.
The fruit has dominated Vietnamese fruit exports this year with shipments being worth $427 million in the first four months, a year-on-year increase of 9 per cent and accounting for 32 per cent of all vegetable and fruit exports.
The value was nearly four times that of the next two below it – longan ($121 million) and mango ($104 million).
Binh Thuan Province is dubbed the "dragon fruit capital" but it is also grown in several other southern provinces.
Tackling credit shortage for SMEs     
State authorities, financial institutions and enterprises must sit together to tackle credit shortages for small- and medium-sized enterprises.
Chairman of the Viet Nam Chamber of Commerce and Industry (VCCI) Vu Tien Loc made the statement at the forum titled 'Solutions to improve capital access for SMEs' held on Tuesday in Ha Noi.
Viet Nam's business climate has improved substantially over 30 years of renovation and development, but capital shortage remains the biggest obstacle hindering the growth of SMEs, Loc said.
Loans provided to SMEs account for only 21 per cent of total outstanding loans. Although the State authorities and banks have been more open to lending to SMEs, up to 60 per cent of these businesses are still unable to access or use bank capital.
At the same time, not all enterprises have the capacity to raise capital from other channels such as issuing shares or bonds. Meanwhile, SME development funds do not work effectively, Loc said.
The SME Development Fund, set up in 2014 with total capital of VND2 trillion (US$87 million), has so far lent VND145 billion to 19 businesses, the forum heard.
According to Loc, the credit crunch for SMEs is blamed on three parties.
"The first is the State whose representatives are the State Bank of Viet Nam and other relevant ministries and agencies. The second is banks and financial institutions, and the third is the micro, small and medium-sized enterprises," Loc emphasised.
On the State side, there are still many legal regulations that do not encourage investment and creative businesses, according to Loc. He said State management has yet to accept risks while regulations on land-use rights do not create favourable conditions for businesses to access bank capital.
Meanwhile, banks and other financial institutions are still in favour of State-owned enterprises and enterprises having asset collateral.
However, Loc said the digital economy and startup and agricultural businesses do not have a lot of assets. Thus, he suggested that banks consider accepting mortgages in the form of ideas, business and production plans which will stimulate startups and creativity.
On the business side, about 670,000 enterprises are doing business in Viet Nam, of these SMEs make up 98 per cent. If including over five million household businesses, the number of micro, small and medium-sized enterprises is about six million units. Many of them have low transparency and weak governance that make it hard to build trust among banks.
"Three parties need to sit together. The parties need to improve relations, not just the ask-give mechanism but the symbiotic relationship between banks and enterprises, and funds and enterprises," the VCCI's chairman said.
According to VCCI, banks should introduce new lending methods including investment-oriented lending packages for startup and agricultural businesses based on ideas and business plans.
"The current mode of bank lending should be tailor-made, not ready-made, and encourage value-chain lending," Loc said.
Nguyen Quoc Hung, head of the central bank's Credit Department, admitted that SMEs still faced difficulties in accessing bank loans, not only because they lack collateral but also many do not attach much importance to updating their business activities and preparing financial statements. Their financial data is often slowly updated, inaccurate and not reviewed by independent audit.
According to Hung, enterprises must prove their business plan to be able to pay debts. As the risk is huge if providing loans without collateral, Hung suggested building a mechanism to tackle risks associated with loans for SMEs.
According to financial expert Can Van Luc, the State authority needs to quickly implement an effective legal framework for supporting SMEs, at the same time strengthening the role of business associations and co-operation among financial institutions and credit guarantee funds.
Meanwhile, small businesses should also improve transparency, disclosure and willingness to work with credit institutions to prove their corporate governance and strategic and financial capacity.