VinaCapital terminates investment in Ba Huan
VinaCapital Group on August 7 announced plans to suspend its investment in Vietnam's leading poultry egg and meat producer Ba Huan, following the producer's recent request to the Prime Minister to help with the termination of the deal.
According to a press release from VinaCapital, the two sides are now working together to revoke the deal while complying with the relevant laws and ensuring mutual benefits.
VinaCapital claimed the agreement was signed in line with market practices and Vietnamese law and was similar to previous successful agreements between VinaCapital and other partners. The agreement also included articles to protect VinaCapital's benefits, in line with current market practices.
These articles would only be applicable if the poultry egg producer failed to reach its business targets. In addition, the agreed-upon investment amount was much higher than the market valuation based on the price-to-earnings ratio.
According to VinaCapital, the contract was drafted in English and was signed in February. The contract and other important documents were later translated accurately into Vietnamese.
In October last year, the two sides inked the term sheet, listed in both Vietnamese and English.
The negotiation and signing process lasted over six months. During the period, Ba Huan consulted with some professional consulting firms to clearly understand its obligations.
VinaCapital also stressed that it has no intention to acquire Ba Huan, as this is not part of its business strategy. Ba Huan was expected to use the investment funds to achieve its future production and business targets, according to the press release.
Ba Huan and VinaCapital Vietnam Opportunity Fund (VOF) of VinaCapital Group announced their partnership on February 27, acknowledging that VOF would invest US$32.5 million in Ba Huan. The money was supposed to be used within three to five years to expand Ba Huan's factories and farms in its closed system, ranging from farming to processing to ensure food safety and hygiene, which Ba Huan had developed over the past few years.
The investment was expected to be disbursed within a year, following which VOF planned to invest further. With the investment, VOF was likely to own a stake in Ba Huan, but the specific percentage remains unknown.
After the deal was signed, the ownership of the shareholders changed. The foreign shareholder, Hawke Investment Pte., Ltd, which is VOF's subsidiary, owned more than 9.47 million shares, or 33.77% of the company's charter capital, double the rate on February 13 when Hawke Investment Pte., Ltd. joined Ba Huan and held a 16.39% stake in the company.
VOF also appointed its representative as a member of Ba Huan's board.
However, early last month, Ba Huan wrote to the Prime Minister asking for help to terminate its agreement with VOF as Ba Huan claimed that some articles in the agreement stated in Vietnamese were different from those in the English version that was initially signed, which might put it at a disadvantage.
Under the deal, Ba Huan is required to ensure an internal rate of return of 22%. The partnership also restricted the poultry egg processor from engaging in business operations other than chicken and eggs.
If the firm could not meet its targets within three years of signing the agreement, it would have to return the investment capital, along with the 22% interest, or transfer a stake of at least 51% to VOF.
SCG inks $3.2 bn loan agreement for petrochemical complex
On August 6, SCG announced that it has pushed forward Long Son Petrochemicals Company Limited (LSP), Vietnam's first fully integrated petrochemical complex project, by recently signing loan agreements worth over $3.2 billion with six leading financial institutions.
The project will begin construction in Q3/2018 and is expected to start commercial operations in the first half of 2023 to meet Vietnam's soaring demand which can be as high as 2.3 million tons per year. This demand is projected to expand continuously thanks to Vietnam's strong economic growth.
"Long Son Petrochemicals project or LSP is a world-scale petrochemical complex with an investment of approximately $5.4 billion," said Mr. Roongrote Rangsiyopash, President and CEO of SCG. 
"It's currently SCG's flagship investment. This venture will increase the competitive advantages of SCG's Chemicals Business in Southeast Asia. The project is equipped with world-class advanced technology that's flexible enough to utilize raw materials resulting in an increased competitive advantage. The project also leverages digital technology to create innovations for better products, services, and solutions for its customers."
The loan agreements were made in U.S. dollars and were signed with six leading financial institutions: Sumitomo Mitsui Banking Corporation, Mizuho Bank, Bangkok Bank, Krungthai Bank, Siam Commercial Bank, and Export-Import Bank of Thailand. The total credit facilities are worth over $3.2 billion with a tenor of approximately 14 years. Sumitomo Mitsui Banking Corporation is the project's financial advisor.
LSP is located in Ba Ria – Vung Tau province which is 100 km from Ho Chi Minh City. Its olefins production capacity is 1.6 million tons per year for manufacturing High-Density Polyethylene (HDPE), Linear Low-Density Polyethylene (LLDPE), and Polypropylene (PP). 
The project has been maintained and operated with strict procedures to achieve world-class safety standards and environmentally-friendly practices to sustain activities and support a peaceful coexistence with Vietnam's communities and society.
Early this year, Thailand's largest cement maker held a breaking ground ceremony for its flagship project, Long Son Petrochemicals, in southern Ba Ria - Vung Tau province. It's expected that the project will advance the local industry and provide better living conditions for people by creating competitiveness in the petrochemicals value chain.
Conference to discuss breakthrough measures to boost forestry exports
A conference seeking solutions to boost rapid and sustainable growth of the wood and forestry processing and export industries will be held in Ho Chi Minh City on August 8.
Over the past years, the wood processing and export industries have expanded significantly, making Vietnam the fifth largest wood exporter in the world, the second in Asia and the biggest in Southeast Asia.
In the 2013-2017 period, wood exports grew 10.6 percent per year with average revenue of 6.6 billion USD per year, becoming a major product in agro-forestry-fisheries group. Exports of wooden products and processed wood expanded 11 percent per year with average revenue of 4.7 billion USD per year.
According to the Vietnam Administration of Forestry under the Ministry of Agriculture and Rural Development, in the first seven months of 2018, forestry products' export value increased 14 percent year on year to 5.025 billion USD, 56 percent of the yearly target and 22.6 percent of total export revenue of the agricultural sector.
Trade surplus of wood and wooden products in the period hit 3.52 billion USD. Wood imports in the first seven months hit 1.24 billion USD, up 0.4 percent year on year.
At the same time, export markets of Vietnamese forestry products have changed significantly. Instead of shipping the products to Asian countries such as China's Taiwan, Singapore and the Republic of Korea for export on to a third country, Vietnam now directly exports products to 120 countries and territories. The US, China, Japan and the Republic of Korea combined consumed 78.5 percent of products.
Growth was also seen in the Malaysian, French and Australian markets.
Recently, Vietnam has exported machinery for wood processing rather than importing it as three years ago. At the same time, the wood and wooden furniture sector of Vietnam has improved in terms of quality and quantity.
Experts forecast that the domestic wood market will continue to rise for the rest of the year due to consumers' habit, while orders are often finished at the end of the year, bringing bright prospects for the industry for the whole year.
The US's application of high taxes on Chinese wooden products is also an opportunity for Vietnamese firms.
In the upcoming conference, representative of more than 500 wood processing enterprises, State agencies as well as domestic and international organisations will work together to find solutions to problems and plan for the development of the sector.
At the event, the Ministry of Industry and Trade will put forth measures to boost wood processing and export sector, with a focus on expanding markets and increasing trade promotion to take advantage of free trade agreements. The ministry will suggest solutions to ensure materials for the industry.
Particularly, amidst stricter regulations of importing countries on the legacy of wood origin, the ministry will continue tightening the management over imported wood, ensuring the implementation of Vietnam's international commitments.
Measures to foster links between businesses and forest planters in major material regions for more stable material supply will also be discussed.
Meanwhile, the ministry will give recommendations to enterprises on activities to cooperate with each other to form production chains, strengthen the application of advanced technology to reduce cost, optimise advantages from free trade agreements with major markets and seek new promising ones.
Firms seek support from Vietnamese diplomats abroad
Enterprises and business associations have called on Vietnamese ambassadors and trade counsellors abroad to help them promote exports.
According to Tran Viet Anh, deputy chairman of the HCM City Union of Business Associations, the city has 320,000 companies, which account for a large share of the country's exports.
The city's business community needs regular support in promoting trade. Besides, in the era of Industry 4.0, businesses have faced trade disputes.
Many businesses buy goods from foreign suppliers outside Cambodia but are asked to transfer money to accounts in Cambodia, and need the Vietnamese embassy to verify the companies' antecedents.
Besides exports, firms also invest abroad, and need support in carrying out the formalities, verifying information and other.
Anh was speaking at a meeting on August 6 between businesses and 19 ambassadors and consuls general who will soon be stationed in Japan, India, Germany, Rumania, Denmark, Russia, China, Laos, and Bulgaria, among other countries.
The meeting was meant to help the diplomats understand businesses' requirements and how they can help promote Vietnamese investment and trade abroad.
Nguyen Van Tuan from the Vietnam Cotton and Spinning Association said the country's garment and textile products were exported mainly to the US, EU, Japan, and the Republic of Korea, with sales to other markets being modest.
So the industry needed greater support from Vietnamese trade offices in other markets, he said.
Many businesses have been buying cotton from foreign companies, but when cotton prices rose sharply, many suppliers did not make delivery or delivered goods of inferior quality, causing difficulties, he said.
A 400ha textile and garment zone was being built, and trade counsellors and ambassadors should apprise foreign investors so that they could invest in it, he said.
Nguyen Van Khanh, General Secretary of the Leather and Footwear Association of HCM City, wanted diplomatic agencies to help find outlets for crocodile leather-based products to boost crocodile breeding in the city.
Pham Sanh Chau, Vietnamese Ambassador Designate to India, said trade counsellors and ambassadors understand businesses' requirements and promised support, but said diplomatic missions could not meet all their requirements.
Many businesses emailed embassies asking for information they themselves could easily find on the internet, delegates explained.
According to Pham Truong Giang, Vietnamese Consul General in Germany, embassies have very few people but a lot of tasks, and so businesses should ask for specific information and not general information.
But ambassadors and trade counsellors would always assist businesses, he promised.
Vietnamese commodities enter foreign distribution networks
The direct exports to foreign distribution systems are considered to be an efficient and sustainable method, which many Vietnamese exporters are pursuing.
This year, the Ministry of Industry and Trade has implemented a project to help Vietnamese enterprises join foreign distribution system until 2020. The project aims to promote trade, advertise Vietnamese brands, and expand market for Vietnamese goods.  
In early 2000, foreign investors began to show interest in Vietnam's distribution market. First were European companies such as Metro supermarket of Germany and then Bourdon Group's Big C of France. Since then, Vietnamese exporters could directly access foreign distributors in Vietnam.
In the past, Vietnamese goods were sold worldwide, mainly via mediators or importers.
Dang Hoang Hai, Director of the European Department of the Ministry of Industry and Trade, said, "Vietnamese enterprises will face many disadvantages when they have to export through intermediary agents.
The first drawback is that Vietnamese exporters will not know consumers' demands. Secondly they will not understand the management capacity of major distribution chains around the world.
Third is when exporting products through the third parties, Vietnam cannot develop its brands. Vietnamese goods will be packed in the names of foreign companies. Even the "Made in Vietnam" printed on products will be lost."
During the first Vietnam Goods Week held at the Big C supermarket chain in 2011, Vietnamese businesses received direct training from procurement personnel of the distribution system.
With the initial results, from 2012 to 2014, the Ministry continued to organize Vietnamese Goods Weeks in Metro supermarkets and BigC stores. In June 2016, the model was expanded to supermarkets of the Republic of Korea and Japan.
During the Vietnamese Goods Week in Japan's Aeon shopping mall, seminars, forums, and training programs were held through which Vietnamese enterprises could connect with foreign distributors.
Nguyen The Tan, Director of Tam Lan Tea Company, said, "Thanks to the introduction of the European Market Department, we have easily accessed the market there and our products have entered France through the Thanh Binh supermarket system."
There are approximately 170 foreign retailers in Vietnam. The dominant names included Big C, Lotte Mart, and Aeon Mall, which mainly sell Vietnamese products. But it requires stronger measures to have Vietnamese goods sold in major shopping malls outside Vietnam.
The Prime Minister has approved a project entitled "Developing Direct Participation of Vietnamese Enterprises in Foreign Distribution System until 2020".
Under the project, the Ministry of Industry and Trade will organize Vietnamese goods weeks abroad and seminars involving major foreign distributors in Vietnam, who will help sell Vietnamese products in their respective distribution chains.
The project aims that by 2020 Vietnamese goods will be available in big shopping malls in Europe, North America, Southeast Asia, Northeast Asia, and in the countries Vietnam has signed FTAs.
Exports set for a challenging run into year's end
Many countries are intensifying their safeguard measures and imposing new food safety regulations and environmental protection criteria, creating difficulties for Vietnam's exports of domestic products.
Looking at the export situation in the first half of this year, Duong Duy Hung, head of the Planning Department under the Ministry of Industry and Trade, pointed to positive signs behind the domestic sector's higher growth than the foreign direct investment (FDI) sector.
Mr Hung said that from now to the end of the year exports will continue to encounter numerous obstacles and challenges as countries have stepped up the application of safeguard measures and stringent regulations on food hygiene and safety and environmental protection criteria.
The EU's issuance of a yellow card warning on Vietnam's seafood, the US' anti-dumping duties on tra fish, and issuance of new regulations on certificates of origin are a typical case in point. There is also the case of some countries using smear campaigns to cast Vietnamese export products in a bad light, such as with tra fish in the EU and cashew nuts in India.
Monthly exports reached US$19.5 billion during the first half of 2018. To achieve the set target for the year, the second half export value is required to rise to US$20.45 billion, posing a great challenge to Vietnam, especially in the context of unpredictable fluctuations in the world market, said Mr Hung.
Vietnam Textile and Apparel Association (VITAS) Vice President and Secretary General Truong Van Cam said the garment and textile sector is already facing a lot of challenges from both inside and outside the industry. One challenge from within the industry is that Vietnam still has to imports a huge amount of fibre while its annual fibre output hit more than 1.4 million tons of fibre. In addition, more than 80% of imported fabric is used to produce garments for export.
Most of external challenges presented by free trade agreements (FTAs), are requirements for certificates of origin, which is problematic when Vietnamese garment manufacturers have to import 80% of their materials, Cam noted.
In other industries, seafood has also encountered certain difficulties in its processing and export. According to the Vietnam Association of Seafood Exporters and Producers (VASEP), factors which have had a negative impact on seafood exports this year include the US inspection of tra fish and their levying of anti-dumping duties on shrimp and tra fish, and the EC's issuance of a "yellow card" warning on seafood. Meanwhile, some internal problems are still being resolved, such as material shortages, residual antibiotics, and production costs.
Truong Dinh Hoe, VASEP Vice President cum Secretary General , said if appropriate solutions to these problems are not found, all efforts to implement the bilateral and multilateral FTAs, build reputation and quality of products, promote trade, develop added value products and improve the business environment will be in vain.
Tran Thanh Hai, Deputy Head of the Import-Export Department under the Ministry of Industry and Trade, said there have not been necessary improvements to the food hygiene and safety of agricultural products and seafood, resulting in rejected export products such as seafood, pepper and rice, which has adversely affected the image and brand name of Vietnamese goods.
Regarding its market development work, import tariffs have been cut as a result of negotiating, signing and implementing bilateral and multilateral FTAs, however, negotiations on mutual recognition of quality management system and food hygiene and safety are limited. Consequently, many agricultural and aquatic products with highly advantageous import duties of zero have been unable to access overseas markets as they fail to meet the required standards.
In order to boost exports in later months of the year, Phan Van Chinh, Head of the MOIT's Import-Export Department, proposed three key tasks of developing products, ensuring supplies for export, developing markets and organizing exports for efficient performance.
At a time when ever more jobs are being handed over to more sophisticated robotic machinery, it is increasingly necessary to improve the quality of workforce, said Vu Duc Giang, Vitas President, adding that in the robot era, there will be no place for low cost labour force but now is time for smart labour.
 Additionally, businesses need to restructure their production based on domestic material sources, and develop their own design so as to take full advantage of FTAs.  It is imperative for enterprises to establish cooperative networks, effectively implement projects and adopt advanced technologies in order to meet the strict requirements of demanding markets.
According to Le Quoc Phuong, former director of the MOIT's Industry and Trade Information Centre, industrial products have been the dominant export products over recent years. With its products making up roughly 80% of the country's total export value, the processing and manufacturing sector represent a dramatic shift to industry. Following this trend, the current export structure is likely to remain stable from now to the end of the year, he said.
T&T Group to import raw cashews from Guinea Bissau
T&T Group of Vietnam pledged to import raw cashew nuts from Guinea Bissau with an annual volume of 150,000-200,000 tons in 2018 and the following years under a memorandum of understanding on agribusiness signed in Hanoi on August 6.
The Guinea-Bissau government is committed to ensuring output, quality, delivery deadlines and payment channels.
Guinea Bissau is currently the fifth largest raw cashew nut producer in the world.
During the working session the same day, the two sides also discussed the possibility of exporting Vietnamese rice to this African nation's market in the years to come.  T&T Group vowed to provide training in the field of agriculture, and technology transfer to Guinea Bissau.
Addressing the signing ceremony, Minister Vicente Fernandes said that Guinea Bissau and Vietnam have many similarities as they are both agricultural countries. Guinea Bissau has a relatively high demand or rice imports while Vietnam is one of the world's top rice exporters.
In the opposite direction, Vietnam has a great demand for imported raw cashew nuts while Guinea Bissau is a large exporter of the farm produce, thereby affording the two countries huge opportunities for broader agricultural cooperation in future.
The partnership between the Government of Guinea Bissau and the T&T Group of Vietnam marks a new step of development in bilateral cooperation. Apart from agriculture, both sides also have plentiful opportunities for stronger cooperation on other areas such as infrastructure development, seaports, and human resource training, said Minister Vicente Fernandes.
The Guinea Bissau Minister said he believes that with T&T Group experience in finance-banking, investment, insurance, import-export, the cooperation between the two sides would be successful, yielding good results.
In his remarks, Deputy Minister of Industry and Trade Do Thang Hai highlighted the great potential for rice and cashew exports between both sides, adding that T&T Group is a large reliable private economic group operating in multiple sectors in Vietnam.
EVN to divest from five joint stock companies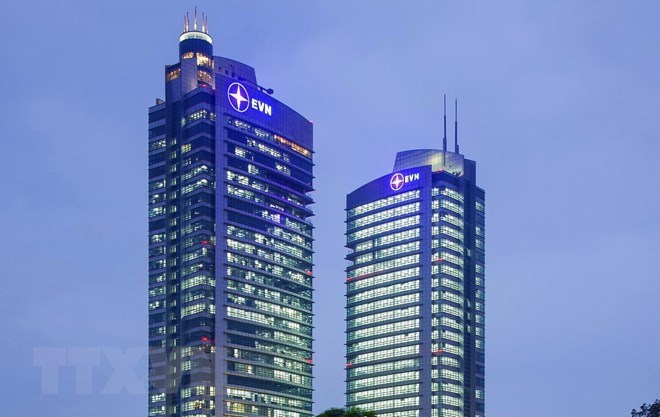 The Electricity of Vietnam (EVN) has said that the group is completing procedures to withdraw its capital from five joint stock companies.
The companies are the EVNFinance JSC, the Power Engineering Consulting Joint Stock Companies 3 and 4, the Thuan Binh Wind Power JSC, and the Power Engineering JSC. 
This month, the EVN will step up capital divestment and complete procedures in preparation for the first congress of shareholders and the equitisation of the Power Generation Corporation 3 (EVNGENCO 3), while continuing with the equitisation of the EVNGENCO1 and 2, the group said on August 3. 
At the same time, it will work to put some projects into operation, including the Quang Ngai-Quy Nhon 220kV transmission lines (second phase), and Long Phu-Soc Trang line. 
In July, the EVN ensured electricity supply for socio-economic development and daily activities of residents, especially during the long and severe heatwave in the northern and central regions. 
The group produced and imported 19.57 billion kWh last month, raising the total electricity output in the first seven months of this year to 125.5 billion kWh, up 11.7 percent against the same period last year. 
Its commercial electricity output in the month was estimated at 17.15 billion kWh, a year-on-year rise of 13.37 percent. The amount recorded during the January-July period was around 108.92 billion kWh, up 11.02 percent over the corresponding time last year. 
The group and relevant units launched five projects and put into operation 15 projects of 110-500kV in July. In the first seven months, it began construction of 62 projects and put into service 96 others.
The EVN is now ready for the trial run of turbines of the expanded Vinh Tan 4 thermal power plant.
Complete infrastructure system crucial for e-commerce growth: experts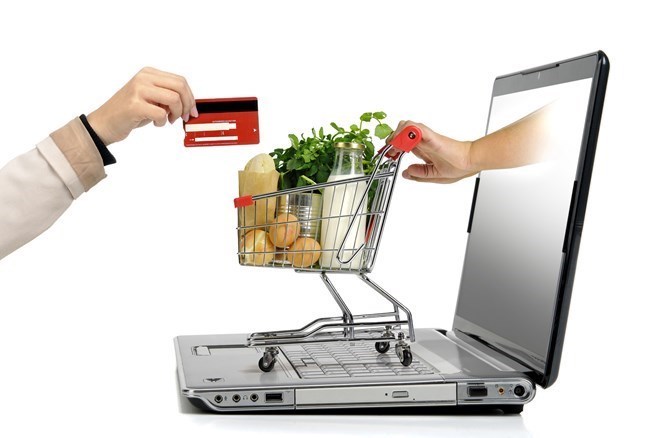 E-commerce and online shopping are forecast to become a key trend in the world, accounting for 25 percent of the global retail revenue, experts said, suggesting Vietnam promptly complete infrastructure system to boost the growth of trade.
According to the Vietnam E-Commerce and Digital Economy Agency under the Ministry of Industry and Trade, a person spends an average of nearly 25 hours online every week, or over 3 hours per day.
At the same time, nearly one third of Internet users conduct online shopping with expenditure of about 160 USD per person each year.
It is estimated that in 2020, as many as 30 percent of the Vietnamese population will involve in online shopping with spending of 350 USD each per year.
The most popular goods of online deals are garments, footwear (64 percent); books, music, stationeries (51 percent); cosmetics and personal caring products (40 percent), information technology and house appliances (40 percent), furniture (29 percent); and foods (20 percent).
Many big retailers such as Lotte Vietnam and Aeon Vietnam have stepped up their online trading channels to compete with popular names such as Adayroi, Alibaba, The gioi di dong, Lazada, Vat gia and En bac.
Nguyen Huu Tuan, head of the E-Commerce Management Office under the Vietnam E-Commerce and Digital Economy Agency, said that e-commerce has seen strong growth, which is suitable to the development of the modern economy thanks to its strength in convenience, especially for busy people. About half of the Vietnamese population have accessed the Internet, and Vietnam is now one of the leading countries in people's spending time online, he said.
Currently, a Vietnamese owns 1.3 cell phones averagely, 70 percent of which are smartphones, he noted, adding that a firm infrastructure is a foundation for e-commerce sector of Vietnam to earn 4 billion USD last year.
Dang Hoang Hai, Director of the Vietnam E-Commerce and Digital Economy Agency, said that over the past years, online distribution channels have grown diversely with major forms of websites, online trading floors, social networks on both web and online base.
Therefore, about 46 percent of enterprises have built and operated their own websites, while 13 percent of them have joined online trading floors, he noted.
In the 2012-2016 period, the ratio of firms receiving orders and making orders through websites grew 30 percent. Notably, as many as 76 percent of the websites have national coverage, while 24 percent covers localities or regions.
Meanwhile, the development of online payment methods has also effectively supported e-commerce.
However, Hai admitted that infrastructure supporting e-commerce such as e-receipts, e-payment and logistics have developed at different levels without synchronization and connections. This is also a reason why 40 percent of customers complained about stagnation in e-commerce.
Vu Hoang Lien, President of the Vietnam Internet Association, stressed that retailers should focus more on marketing and online sale, while enhancing the quality of delivery services as well as the online payment in their websites and keeping a close watch on new e-commerce trends to ensure their competitiveness.
Lien also pointed to the need to build reputation and prestige of trademarks to improve competitiveness, initially through the choosing of a good domain name.
Experts also highlighted the need to rapidly and comprehensively expand the infrastructure serving e-commerce, as well as the settlement of shortcomings in packing, designs, quality and logistics.
They stressed the need for reinforcement of e-commerce safety and security as well as the formation of management and supervising system over online trading activities.
Hai revealed that the Ministry of Industry and Trade has coordinated with relevant agencies to launch the Keypay e-payment system with suitable features for Vietnamese businesses.
The ministry has also concentrated on building a system for managing e-receipts that is widely applicable in the market as well as solutions for e-receipt matters, thus creating a firm foundation for the growth of e-commerce in the future, added Hai.
Vietnam Airlines, Vinamilk shake hands to provide 4-star service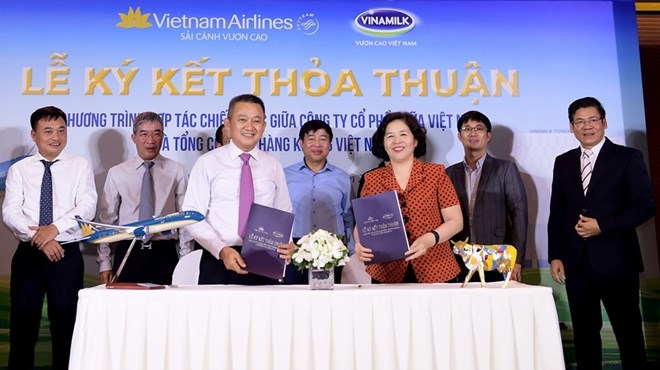 Vinamilk products, served on Vietnam Airlines flights departing from Vietnam, will have specially designed packing to promote the quality of the country's single four-star airline.
This is part of a five-year strategic deal inked between the national flag carrier and the Vietnam Dairy Products Joint Stock Company (Vinamilk) on August 6.
Total value of Vinamilk's products on board is expected to increase 10 percent every year.
Under the cooperation programme, which is valid until 2023, both sides also cooperate in other sectors such as co-branding in some events, marketing campaigns, sharing experience in management and operation of supply chain, warehouse system, and relevant information on consumption market, and branding reports.
Vietnam Airlines General Director Duong Tri Thanh said that the strategic agreement between the two leading firms in Vietnam will inspire the development of value chain, which connects Vietnamese brands during the global integration.
"Vinamilk has been a partner of Vietnam Airlines for years. We understand each other's strengths in the development of Vietnamese values. Clean agricultural ecosystem, nutritious products, and food safety are what we need to popularise worldwide", he noticed.
Meanwhile, Vinamilk General Director Mai Kieu Lien underlined that the co-branding will not only help the two corporations develop trade but also promote the two brands in the international arena.
The cost for advertising in Vietnam is too low compared to other countries
The cost of advertising in Vietnam is too low compared to other countries around the world according to Mr. Nguyen Dung, Vice President of Vietnam E-commercial Association (VECOM) at the press conference on August 1.
"For example, an American brand pays $2 for an advertisement, but in Vietnam, it only pays $0.2 to $ 0.5. One of the reasons for this is that the viewer of the ad and the audience is not accurate, which leads to distrust. Currently, images of Vietnam's online advertising in the eyes of the world aren't beautiful, and the cost of advertising in the Vietnamese market is too low," Nguyen Dung said.
Another remarkable piece of information that was shared by Nguyen Dung is that Vietnam was listed as one of the top three non-transparent online advertisers. "Con Cung" is a typical example of products that are not what they're advertised.
In order to contribute to limiting the current status quo, the content of the solution for online marketing transparency will be addressed at the first session of the 2018 Online Marketing Forum.
In addition, Online Marketing Forum 2018 will focus on exploring the latest trends as well as the potential to help expand the online marketing sector to increase the market share of Vietnamese businesses.
According to Tran Van Trong, Head of VECOM's Office, the main parts of the 2018 Online Marketing Forum are four sessions: "Marketing Market Overview", discussing the trends of online marketing in the world, the experience of modern consumers; "Human or Robot," sharing information on artificial intelligence applications (AI) in online marketing and effectively exploiting the chatbox; "Data-driven Marketing" with data-driven marketing experience to retain customers and integrating voice recognition to attract customers; and finally "Marketing O2O - from strategy to planning" which discusses smart advertising and multi-channel marketing shifts.
"This is an opportunity to exchange information and drive business solutions and opportunities in the field of online marketing to support e-commerce businesses and identify online marketing strategies. In addition, it helps increase the efficiency of online marketing, but also contributes to expanding the market of online marketing and improving the market share of enterprises, "said Tran Van Trong.
In the afternoon of August 1, in Vietnam, VECOM held a press conference and announced that Online Marketing Forum 2018 will take place on August 15 in Ho Chi Minh City and August 17 in Hanoi with the theme "Human or Robot. Me" It's expected that each event will attract more than 1,000 participants.
The growth rate of Vietnam's e-commerce in 2017 is 25 per cent higher than the previous year. This growth is expected to continue in 2018.
The market also recorded impressive growth over the past year. In the online retail sector, the sales growth rate of 2017 reached 35 per cent. Some large-scale delivery enterprises even saw revenue growths of 62 to 200 per cent.
Vietnam exports 1.8 million tonnes of petroleum in first seven months
Vietnam shipped 200,000 tonnes of petroleum in July, raising the total volume of exported petrol in the first seven months of 2018 to 1.8 million tonnes, bringing in US$1.14 billion.
The figures are an increase of 11.7% in volume and 41.1% in value compared with the same period of last year, according to the Ministry of Industry and Trade (MOIT).
Data compiled by the MOIT's Industry and Trade Information Centre shows that Vietnam's petroleum exports to other Southeast Asian countries accounted for more than one third of its total petroleum exports.
In the first half of 2018, Vietnam shipped 370,600 tonnes worth US$243.7 million to Cambodia, while the volume exported to China was 221,600 tonnes, bringing in US$153.5 million.
During the same period, Vietnam exported 77,000 tonnes to Laos, 65,800 tonnes to Malaysia and 59,700 tonnes to the Republic of Korea.
On the other hand, Vietnam spent US$4.66 billion on importing 7.07 million tonnes of petroleum in the first six months of 2018, up 11.5% annually.
Malaysia was the largest provider of petroleum products to Vietnam with 28.5% of the total imported volume.
HCM City to equitise Sai Gon Jewelry and many public service firms in 2019     
HCM City People's Committee will equitise Sai Gon Jewelry Co Ltd (SJC), Viet Nam's largest gold and gold jewelry production and distribution company, in 2019.
Together with SJC, seven public utility companies are also set to be equitised next year.
The municipal committee assigned the city's board for State-owned enterprise (SOE) management reform to perfect the plan for SOE re-organisation and reform in the 2018-20 period.
SJC, formed in 1988, is a State-owned enterprise under the HCM City People's Committee operating under the parent-subsidiary company model with production and trading gold and jewelry as its main business. It accounts for 90 per cent of the gold bullion market share in the domestic market.
In May 2011, the State Bank of Viet Nam (SBV) appointed SJC as the sole entity authorised to produce gold bars in Viet Nam.
In 2017, SJC recorded VND22.95 trillion (US$998 million) in revenue and VND85.4 billion in pre-tax profit.
Apart from JSC, other businesses subject to equitisation next year are the public service companies of districts of 7, 8, 9, Binh Thanh, Go Vap and Nha Be, along with the Liksin Industry – Printing – Packaging Corporation.
Meanwhile, the city asked the Government to exclude HCM City Irrigation Management Company from equitisation.
At the proposal of the board for SOE management reform, the municipal People's Committee also agreed to keep 100 per cent of State capital at the Sai Gon Water Corporation.
The southern city is accelerating procedures and approval of plans on equitisation and divestment of State capital from 39 businesses.
It added that the businesses had completed asset assessment pending approval of equitisation plans, and on receiving approval, they expected to complete equitisation within 2018 and 2019. 
Viet Capital Bank opens 1st branch in Bac Ninh     
Viet Capital Bank has opened its first branch in the northern city of Bac Ninh, and the 55th in the country, as part of its strategy to target retail customers and small and medium-sized enterprises.
To mark is opening, the branch is offering attractive gifts to customers and launching promotions like free money transfer and the Happy Friday programme with incentives for customers transacting on Friday.
Bac Ninh is one of eight provinces in the northern key economic region, and has modern infrastructure and business-friendly policies.
In recent years it has achieved strong economic growth.
Viet Capital Bank plans to open a branch each this month in Soc Trang, Binh Duong, Long An, and Vung Tau. 
G-bonds worth US$671 million raised in July     
The Ha Noi Stock Exchange organised 33 Government-bond auctions last month, raising VND15.77 trillion (US$671 million), down 6.9 per cent against the previous month.
Interest rates of the bonds rose for all terms compared with June, of which five-year bonds were up 0.35 percentage points to 3.45-4.10 per cent per year, 10-year bonds were up 0.13 percentage points to 4.40-4.48 per cent, 15-year bonds were up 0.08 percentage points to 4.70-4.78 per cent and 20-year bonds were up 0.02 percentage points to 5.22 per cent.
On the secondary market, the total volume of Government bonds sold by the outright method in the month reached over 554.6 million worth VND62.4 trillion, down 42.3 per cent in value from June.
Of the total, foreign investors made outright purchases of over VND2.18 trillion and outright sale transactions of more than VND6.42 trillion ($176 million).
Trading volume through repurchase agreements (repos) was more than 902 million bonds valued at VND92.5 trillion, decreasing 39.7 per cent in value against the previous month.
Foreign investors made no repo trading during the month.
According to the Ministry of Finance, the value of G-bonds issued in 2018 is estimated at some VND180 trillion ($7.93 billion), with the focus being on long term maturity and keeping the interest rate at low levels. 
VR launches recall campaign for Mercedes GLC     
More than 760 luxury Mercedes GLC vehicles are being recalled in Viet Nam over faulty airbags after reports that they may be prematurely deploying in several certain conditions.
According to Vietnam Register (VR), the recall campaign applies for models GLC 250 4MATIC and GLC 300 4MATIC manufactured between June 2017 and September 2017.
The affected vehicles will be checked and fixed for free at all dealers of Mercedes-Benz Company Ltd nationwide.
The recall started from July 16 to December 31, 2020.
This is the 10th Mercedes-Benz recall of vehicles related to airbags in Viet Nam. Most recently in May this year, the Vietnam Register issued a notice recalling 284 Mercedes-Benz vehicles due to a mass error that led to the automatic airbag activation. 
Int'l food-beverage, packing expos open in Ho Chi Minh City
Around 22,000 domestic and foreign visitors are expected to come to the international exhibitions on food-beverage and on food processing and packing, which kicked off in Ho Chi Minh City on August 8.
The 22nd International Exhibition on Food and Beverage and the 22nd International Exhibition on Food Processing, Packing Technology and Equipment (VietFood & Beverage – ProPack) draw the participation of 550 enterprises from 20 nations and territories showcasing their products in 600 pavilions, including seven national ones of India, Poland, the Republic of Korea, Thailand, China and Vietnam.
Vietnam's national booth gathers the country's giants in the food-beverage field, such as Sabeco, Habeco, Dr. Thanh, and Sagota.
Nguyen Khac Luan, General Director of the Vietnam National Trade Fair & Advertising Joint Stock Company (Vinexad), said that Made-in-Thailand consumer products, food and beverages have been long popular in Vietnam.
However, Thai firms still choose to take part in the VietFood & Beverage – ProPack annually as a way to promote their products to foreign buyers, including supermarkets and leading retailers.
Pham Thanh Kien, Director of Ho Chi Minh City's Department of Industry and Trade, stressed that foreign businesses' presence in Vietnam has opened up more cooperation opportunities for investment and production in export processing and industrial zones, creating jobs for labourers and boosting technology transfer and production and business.
It has also fostered competitiveness and made domestic firms to reform to attract consumers, Kien added.
The two exhibitions will run through August 11.
Vietnam Manufacturing Expo 2018 underway in Hanoi
The Vietnam Manufacturing Expo 2018 is taking place in Hanoi from August 8-10, displaying the latest machinery and technologies for the manufacturing and supporting industries by 200 brands from 20 countries.
Hundreds of leading experts from Japan, Singapore, Thailand, and China's Taiwan have participated in the event, providing solutions and know-how about smart factories to support Vietnamese manufacturers.
Suttisak Wilanan, deputy managing director of Reed Tradex, the host of the event, said 76 percent of manufacturing plants are constructing or starting to invest in transforming themselves into smart ones. However, only 14 percent of them were satisfied with what they had achieved, he added.
He suggested Vietnam take step-by-step moves to build smart factories.
New robots, machinery and technologies for Vietnam's manufacturing and supporting industries are introduced at the event, allowing small- and medium-sized enterprises to apply production automation.
Business Development Manager at Creatz3D Vietnam Hoang Van Tan shared that with the 3D printing technology, businesses could create high-quality products in a short span of time.
The expo includes a technology presentation on new product by TOYO Automation Co., Ltd., and a forum on developing the brand name of supporting electronics industry products held by the Vietnam Electronic Industries Association, Vietnam Industry and Trade Information Centre, and Red Tradex Co., Ltd.
Special activities with a wealth of knowledge and skill trainings will be made available for Vietnamese manufacturers such as a show on creating industrial networks beyond with four international pavilions, a showcase on industrial robots, a battle amongst Vietnamese welders to find the best of the best welders, and a guided tour namely "Shows in Show" which will impress all participants with state-of-the-art technologies and machinery.
Latest advertising technologies on display at VietAd 2018
The 9th Vietnam International Advertising Equipment and Technology Exhibition (VietAd) opened at Phu Tho Indoor Sports Stadium in Ho Chi Minh City on August 8.
This year's event features 350 booths of nearly 150 domestic and foreign businesses, showcasing printing machinery, advertising materials and gifts, LED technology and advertising services, according to head of the organising board Nguyen Thanh Dao.
It also includes a conference themed VietAd Business Matching 2018 with a view to helping ad companies of Vietnam meet with those from other countries like Japan, the Republic of Korea, China and Myanmar to share experience and seek partnerships.
As part of the exhibition, a workshop will also be held to look into Vietnam's advertising market in the first half of this year.
Nguyen Truong Son, Standing Vice Chairman and Secretary General of the Vietnam Advertising Association, said first held in 2010, VietAd has established itself in the region and become the biggest advertising equipment and technology in Vietnam.
It is growing into a prestigious, practical and effective event for domestic and foreign firms to update the latest advertising equipment and technologies, thereby helping to promote the development of the advertising sector in the country.
VietAd 2018, scheduled to last through August 11, expects to welcome more than 10,000 visitors, including industry insiders from other countries. 
The annual event is organised by the Vietnam Advertising Association, the HCM City Advertising Association and the Dong Nam Advertising and Commercial Promotion JSC.