PM to chair meeting on wood exports     
Prime Minister Nguyen Xuan Phuc will chair a meeting on wood processing industry and forestry exports in HCM City on August 8, the Ministry of Agriculture and Rural Development's Viet Nam Administration of Forestry has announced.
The forthcoming event will attract the participation of more than 500 enterprises operating in wood and representatives from foreign and domestic agencies. They will discuss measures for the fast and sustainable development of timber industry in the time to come.
Statistics from the administration revealed that the country earned US$5 billion from forestry exports in the first seven months of this year, up 14 per cent year-on-year.
The exports fulfilled nearly 56 per cent of the yearly target and made up 22.6 per cent of the total turnover of the agriculture sector.
The US, China, Japan and South Korea were the largest forestry importers of Vietnamese timber goods. Other markets with strong growth included Malaysia, France and Australia.
During the period, the forestry industry ran a trade surplus of $3.77 billion, with imports of those products standing at $1.24 billion, a slight increase of 0.4 per cent over the same period last year.
Experts predicted that the export turnover of wood and timber products is expected to increase in the remaining months of this year in line with consumption habits. In addition, Viet Nam and the EU are completing legal procedures to approve the signing of the voluntary partnership agreement (VPA) on Forest Law Enforcement, Governance and Trade (FLEGT).
By mid-July 2018, the European Commission (EC) approved the content of the agreement and agreed to submit it to the EU Council of Ministers for official signing. The Vietnamese Ministry of Agriculture and Rural Development has submitted the document to the Government for signing.
Vietnam's 1,000 biggest tax payers announced
The 1,000 biggest tax payers in Vietnam in 2017 contributed more than 110 trillion VND (4.72 billion USD) to the State budget, increasing 8.45 percent from the previous year, and accounting for 63 percent of total tax contributions.
The information was released by Nguyen Dai Tri, Deputy General Director of the General Department of Taxation under the Ministry of Finance, at the ceremony to announce the list of the 1,000 biggest tax payers in Vietnam held in Hanoi on August 3.
Tri said this was the second year that the ranking had been announced. The list this year includes 703 firms from the rankings of 2016, and 297 new companies. 
The processing and manufacturing sector continued to top the list of biggest tax payers, accounting for 36 percent of total tax payment among the 1,000 companies. It was followed by the finance, banking and insurance industry with 14.8 percent; and telecommunications with 9.3 percent.
The capital city of Hanoi and the southern largest economic hub of Ho Chi Minh City continued to take the lead in terms of the number of businesses and tax contribution in the ranking, with 36 percent and 32.5 percent respectively. Southern Dong Nai and Binh Duong provinces, with high numbers of enterprises each, followed with 5.8 percent and 4.4 percent respectively.
The ranking this year included 117 State-owned enterprises, contributing 27.7 percent of the total tax payment.
Notably, the private sector made up 45.8 percent of the total number of businesses on the list with 458 firms, and contributing 34.1 percent of the total tax payment. This demonstrates that private companies have performed their key role in the economy.
Foreign direct investment (FDI) companies accounted for 40.4 percent in term of number of businesses, with 404, and contributing 36.7 percent on the list.
Bui Van Nam, General Director of the General Department of Taxation, said the department had taken drastic measures to facilitate businesses' operation, thus improving the economy's competitiveness in recent years. The reduction of administrative procedures had received a positive response from the business community, society and international organisations.
Nam said corporate income tax had been an important part of the tax policy system as it accounted for a big portion of total State budget collection.  
The ranking aims to honour businesses which have striven to overcome difficulties, developing their production and contributing to the State budget.
The information of the top 1,000 biggest tax payers has also helped the Government review businesses' operation, thus developing more effective tax policies.
Vu Tien Loc, Chairman of Vietnam Chamber of Commerce and Industry (VCCI), said last year, there were 26,000 newly established firms. However, around 60,000 companies closed down so far this year.
This had shown that the economy faces difficulties. This was also a reason to honour businesses which had made a profit and contributed to the State budget, Loc said.
"Vietnam had more than 250,000 out of 600,000 businesses paying corporate income tax in 2017. The top 1,000 biggest taxpayers contributed 63 percent of the total. This is a meaningful figure," he added.
The top 10 biggest tax payers are Viettel Group; Honda Vietnam; PetroVietnam Gas JSC (PV Gas), Vietnam Dairy Products Joint Stock Company (Vinamilk); Heineken Vietnam Brewery Limited Company; Samsung Electronics Vietnam; Joint Stock Commercial Bank for Foreign Trade of Vietnam (Vietcombank); Vietnam Joint Stock Commercial Bank for Industry and Trade (Vietinbank), the Bank for Investment and Development of Vietnam (BIDV) and Siam City Cement Vietnam Company Limited.-VNA
HDBank wins top US award for annual report
The Ho Chi Minh City Development Joint Stock Commercial Bank (HDBank) has won the Platinum Award, the highest recognition, at the 2017 Vision Awards Annual Report Competition organised by the League of American Communications Professionals.
HDBank also won several other awards including for Top 10 reports worldwide, Top 4 reports in Asia Pacific, Top 5 Vietnamese reports, and best in-house report in the Asia Pacific region and Worldwide.
The bank's 2017 annual report, highlighting the theme "Set Sail", got the highest scores in most categories.
It scored 30/30 in First Impression, 10/10 in Report Cover, 10/10 in Letter to Shareholders, 10/10 in Report Narrative, 10/10 in Report Financials, 10/10 in Creativity, 9/10 in Message Clarity, and 10/10 in Information Accessibility for a total score of 99/100.
The contest received applications from around 1,000 companies in various sectors around the world.
Among the big winners were global brands such as Abbott, IBM, Intel, Kumho Petrochemical, The Nielsen Company, and Union Asset Management Holding AG.
By overcoming tough competition from big lenders and financial institutions around the world to win the Platinum Award, HDBank has proved its annual report is attractive both in terms of content and presentation.
The report fully complies with regulations, providing detailed and transparent information to the bank's shareholders and investors about its business performance in 2017 and plans for the upcoming years.
It describes in detail all the activities of each and every department and unit of the bank to showcase the desire of the bank's management and more than 13,000 staff to conquer new horizons.
HDBank won the Gold Award in this competition in 2011, 2012 and 2016.
The bank reported a solid performance in 2017, including a pre-tax profit of 2,417 billion VND (106.5 million USD), a year-on-year increase of 110 percent and nearly double its target. Post-tax profit was worth 1,954 billion VND (86 million USD), up 2.2 times from 2016.
In the first six months of this year, it reported a pre-tax profit of 2,063 billion VND (90.1 million USD), a 2.3-fold jump from the same period last year.
The bank's return on assets and return on equity were 1.74 percent and 21.11 percent, among the highest in the sector.
It also had the lowest non-performing loans ratio in the industry of just 0.93 percent.
HDBank has won numerous awards and been highly rated by international institutions.
The bank was rated as the "Best Bank in Vietnam" by Asiamoney in 2017, the "Best Managed Business in Asia" by Euromoney for two years (2015, 2016), and among the Top 500 Banks in Asia and Top 8 Commercial Banks by The Asian Banker. Moody's credit rating has given it a B2.
Earlier this year it was presented with a Labour Order, second class, from the Vietnamese President.-
ID numbers for tra fish allow for trace of origin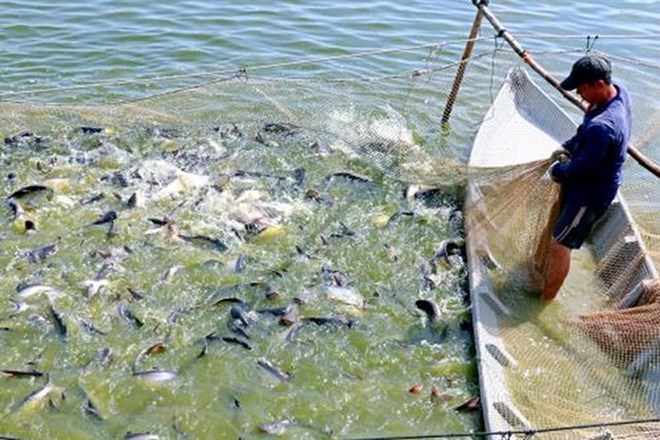 A tra fish farm owned by Hung Ca Limited Liability Company in Dong Thap province.
The Cuu Long (Mekong) Delta province of Dong Thap has issued identification numbers to ponds that breed tra fish under a government decree on aquaculture management that went into effect last July.
The ponds owned by 349 tra fish breeders in the province account for a 1,500-ha area that breeds tra fish.
The identification numbers are compulsory for tra fish growers as they ensure traceability of the fish used for processing and export.
To ensure traceability, individual breeders and commercial tra fish enterprises are required to store information about the fish for at least 24 months from the date of harvest or sale to processing companies.
With the new regulations, tra fish breeders can save time and money as they do not have to go to the sub-department to register every new batch of fish, according to the province Fisheries Sub-Department.
Under the decree, breeders of commercial tra fish are encouraged to use good agricultural practices such as VietGAP and Global GAP, as well as Best Aquaculture Practices (BAP) and Aquaculture Stewardship Council (ASC) standards.
Thanks to these certifications, tra fish from the province is now exported to around 100 foreign markets, including the US and EU.
The province has 24 seafood processing and export companies with a total production capacity of more than 429,000 tonnes of seafood a year.
Most of the facilities have been granted food safety certificates such as the HACCP and ISO.
Hanoi firms to attend Asia Fruit Logistica 2018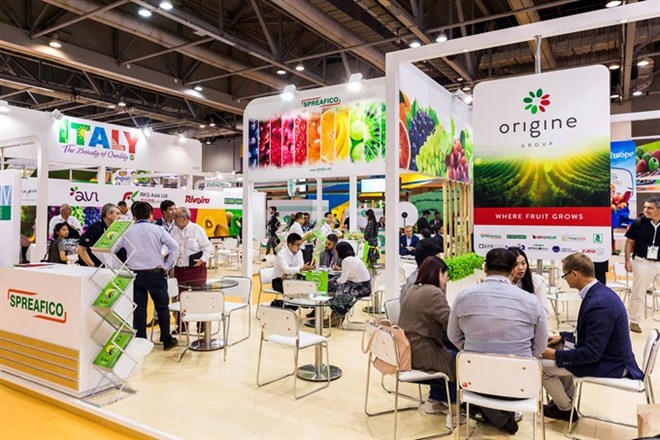 Fruit and vegetable enterprises representing Hanoi will attend the "Asia Fruit Logistica 2018" at the AsiaWorld-Expo in Hong Kong on September 5-7.
The enterprises will be aiming to introduce fresh fruit and vegetables to promote exports of agricultural products to the world.
The city will also work with the Consulate General of Vietnam in Hong Kong to study the market, mechanisms and policies to import and export goods, and look at cooperation in investment and trade promotions between Hanoi and Hong Kong.
A representative from the Hanoi Promotion Agency said the event was part of an investment, trade and tourism programme being run by the city in 2018 in part to boost exports of agricultural products combined with researching and learning new technologies from other countries.
The Asia Fruit Logistica 2017, also held in Hong Kong, attracted 813 participants from 43 countries and territories and more than 13,000 visitors.
Seafood exports fetch $4.63 USD in seven months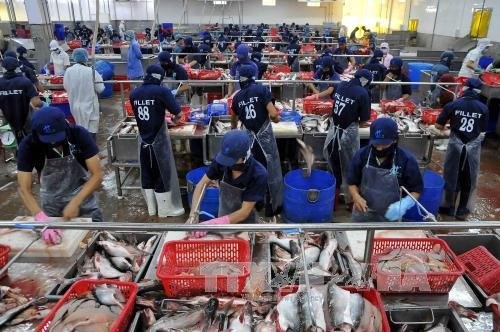 Vietnam's seafood export value in the first seven months of 2018 was estimated at 4.63 billion USD, up 6.3 percent over the same period last year, according to the Ministry of Agriculture and Rural Development (MARD).
The US, Japan, China and the Republic of Korea were the largest importers of Vietnamese seafood in the first half of this year, accounting for 53.5 percent of the total value.
Seafood exports also saw strong growth in the Netherlands (56 percent), Germany (27.2 percent) and China's Hong Kong (23.9 percent).
During the January-July period, Vietnam imported 984 million USD worth of seafood, a year-on-year increase of 27.8 percent.
According to the MARD's Department of Produce Processing and Market Development, the upcoming imposition of a 10 percent tariff on all Chinese seafood exports by the US and China's plan to levy a 25 percent tariff on US aquatic products will provide an opportunity for Vietnam to boost its exports to these two markets.
Vietnam had a total seafood output of more than 7.2 million tonnes in 2017, including roughly 3.4 million tonnes coming from catching, and over 3.8 million tonnes from aquaculture, according to the ministry.
PM approves planning on mineral exploration, exploitation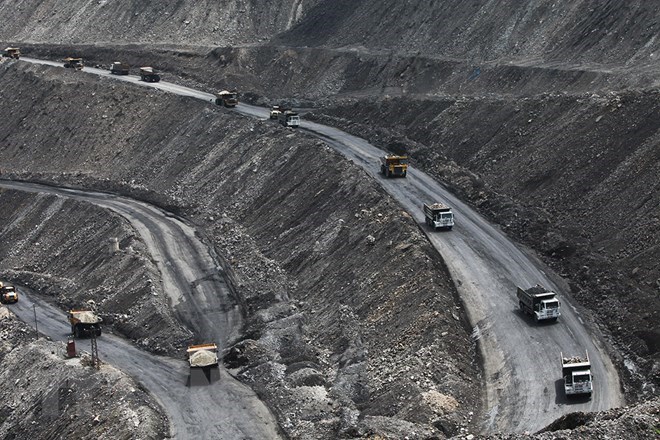 Prime Minister Nguyen Xuan Phuc has approved a planning scheme on exploring, exploiting, processing and using tin, wolfram and antimony by 2025 with a vision towards 2035. 
The scheme looks towards the sustainable and effective use of the natural resources. 
Accordingly, Vietnam is expected to complete exploration projects and exploit 3,203 tonnes of tin, 5,610 tonnes of wolfram and 819 tonnes of antimony by 2025. 
The mining activities are projected to cost some 2.52 trillion VND (108.36 million USD) by 2035 with about 1.1 trillion VND (47.3 million USD) for tin, 1.22 trillion VND (52.46 million USD) for wolfram and 191 billion VND (8,213 million USD) for antimony. 
The State has restructured small-sized enterprises that use outdated technologies as well as cause losses of natural resources and environmental pollution.
In the time ahead, the State will finalise and supplement relevant policies and laws in an effort to facilitate tin, wolfram and antimony projects, in tandem with monitoring mining activities.
Imported Ford Ranger recalled for fixing faulty     
The Vietnam Register (VR) has announced a large-scale recall of more than 2,500 imported Ford Rangers to check and fix faulty gearshift cables.
All Ford Rangers manufactured by Thailand's Auto Alliance Co., Ltd with 2.2l engines and MT gearboxes produced in 2015 are being recalled.
VR said that on some affected cars, the gear shift cable could move out of position and hit the propeller shaft which damaged the cables, resulting in a hard gear shift or loss of drive.
Customers should bring their cars to Ford dealerships to check and fix the error. The free repair work would take an estimated two hours.
Ford Rangers used to be the best selling pick-ups in the country, but are now facing import difficulties due to requirements of the Government's Decree 116/2017/ND-CP, that stipulates the conditions for production, assembly, import and business of automobile warranty and maintenance services issued on October 17 last year.
In the second half of this year, only a small number of the vehicles are expected to be put on the Vietnamese market. The Ranger 2.0 will be released at the end of this year. 
Novaland reports 29 per cent sales growth
     
Housing developer Novaland Group has reported revenues of nearly VND4.3 trillion ($188.5 million) in the first half of this year, a 29 per cent increase year-on-year.

Profit after tax was VND723 billion ($31.2 million).

NVL said the revenues were mostly from Lakeview City, Rivergate Residence, The Tresor Residence, Golden Mansion, Wilton Tower, Kingston Residence, and Lucky Palace.

They would remain the mainstay in the second half too, it said.

In the period the company had mobilised $310 million from a bond issue.

NVL, established in 1992, has developed 40 housing projects so far, most of them in HCM City. 

EVN Finance to debut 250 million shares on UPCoM, valued at $133 million
     
EVN Finance Joint Stock Company will debut 250 million shares on the Unlisted Public Company Market (UPCoM) on August 7, coded EVG, with a reference price of VND12,200 (US$0.53) per share.

At this price, the company is valued at VND3.05 trillion ($132.6 million).

The financial arm of the Viet Nam Electricity (EVN) was formed in September 2008 with charter capital of VND2.5 trillion. It is the second largest financial institutions (apart from banks) in the market after FE Credit, the consumer finance arm of VPBank.

EVN Finance operates in capital mobilization, credit and investment, inter-bank market trading and services.

An Binh Commercial Joint Stock Bank is the largest stakeholder with 8.4 per cent, followed by EVN with a holding of 7.5 per cent. Foreign investors hold only 0.03 per cent.

The firm's net profit has been rising since 2013, and it posted post-tax profit of VND180.4 billion in 2017, a 9-per-cent year-on-year increase.

In the first six months of 2018, it announced a pre-tax profit of VND102.6 billion, down 19 per cent against the same period of last year. The earning per share (EPS) ratio was VND331.

As of June 2018, its total assets were worth VND18.7 trillion, including VND3.9 trillion in deposits at other financial institutions, VND8.7 trillion in loans to customers and VND4.95 trillion in securities investments. — VNS
MoF draft law gives taxpayer interests a nod     
Taxpayers will have the right to know the time limit for tax refunds and non-refundable tax amount with legal grounds, according to a draft revision for the Law on Tax Management.
This is one of many provisions to support taxpayers proposed by the Ministry of Finance in the draft law, aiming to enhance the tax sector's efficiency with clear tax policies, simple tax procedures, quality human resources and modern information technology as well as bringing the sector in line with international practices.
According to the draft law, the taxpayers will be assisted and guided through tax payments as well as being provided with information and documents relevant to taxation.
The taxpayers will be compensated for damage caused by the tax administration agency under the provisions of the law. Late payment will not incur penalties in cases taxpayers complied with the documents of tax administration agencies.
At the same time, they will be consulted to see and print all taxpayers' electronic invoices sent to the e-portal of the tax administration agency according to the provisions of this law and regulations on e-transactions. They are allowed to use electronic invoices in transactions with tax administration agencies and relevant agencies and organisations.
According to a draft report by Minister of Finance Dinh Tien Dung, administrative reforms in State management activities, including tax management procedures, has achieved positive results.
He said the reform in tax management procedures had contributed to saving time and procedure costs, raising competitiveness for businesses as well as attracting foreign investment in Viet Nam.
The ministry has reviewed and cut 63 tax procedures and simplified 262 administrative procedures, reducing the tax payment time to 420 hours from 537 hours, equivalent to reducing costs by more than VND7 trillion (US$300 million) per year for taxpayers.
According to a report by the World Bank published in October 2017, Viet Nam's 2018 Doing Business ranking is 68th out of 190 countries and territories, an increase of 14 places compared to the previous year (ASEAN 5 Group). In terms of paying taxes, the country's ranking is 86th out of 190 countries and territories, up 81 positions over the previous year.
The positive results in tax management need to be strengthened and developed by law, Dung said in the report. 
Agribank, Tata International ink cooperation agreement

The Bank for Agriculture and Rural Development of Viet Nam (Agribank) and Tata International Viet Nam on Wednesday signed a co-operation agreement on supporting farmers to purchase equipment via Agribank's financial services.
Accordingly, farmers who buy agricultural machinery from Tata International Viet Nam will be supported by Agribank to borrow up to 75 per cent of the machine's value, depending on the case, without collateral. Equipment is guaranteed by Tata International Viet Nam during the loan period as well.
In addition, customers will be provided a package of equipment insurance from Agriculture Bank Insurance Joint Stock Corporation (ABIC) throughout the loan process.
Pham Toan Vuong, deputy general director of Agribank, said the cooperation agreement between Agribank and Tata International Viet Nam will provide Vietnamese farmers with access to hi-tech agricultural machinery, along with financial assistance from Agribank.
According to Len J. Brand, executive director and head of distribution vertical at Tata International, ensuring credit support to farmers helps to increase productivity and agricultural growth, improving the livelihoods of farmers.
Tata International Viet Nam commits to providing the best farming solutions through its partners to help farmers improve productivity and maximise the operational longevity of their machines through a dedicated team of services and distribution networks.
By signing a cooperation agreement with Tata International Viet Nam, Agribank is actively contributing to the realisation of the Government's policy on industrialisation and modernisation of agriculture and rural areas, attaching importance to the development of mechanical agricultural promotion, hi-tech agricultural investment and clean agriculture. — VNS
Tra Vinh supports SMEs with loans     
Authorities in the Cuu Long (Mekong) Delta province of Tra Vinh have pledged to provide enterprises, mostly small- and medium-sized, better access to preferential loans.
Under the guidance of the provincial People's Committee, leaders of State agencies in the province on August 2 held a dialogue with local businesses in order to resolve their difficulties.
As many as 2,071 enterprises are operating in the province with a total investment of nearly VND25.6 trillion (US$1.1 billion), creating jobs for more than 87,000 people, according to a report of Tra Vinh Province's Business Association.
The businesses have difficulties in accessing preferential loans, applying science and technology in production, as well as marketing and expanding markets in the province and abroad.
Most businesses want the province to help them access preferential loans to invest in modern equipment.
Le Van Hai, deputy director of the State Bank of Viet Nam's Tra Vinh Province branch, said that SMEs would be given priority to loans for production from credit institutions.
Accordingly, SMEs are entitled to preferential interest rates under Decision No 1425/QD-NHNN of the Governor of the State Bank of Viet Nam.
Businesses can contact branches or transaction offices of credit institutions in the area for guidance about procedures for loan access, he said.
In addition, credit institutions may provide loans to businesses through a credit guarantee from the Tra Vinh Development Investment Fund.
According to the policy of the central bank, credit institutions will give priority to SMEs in the fields of agriculture and rural areas, production and trade of exports, and to support industries as well as for businesses that apply high-tech in their production.
Credit institutions have simplified loan procedures, and publicised information and procedures related to loans and interest rates to ensure transparency, according to Hai.
In addition, representatives of Hong Viet Garment Co Ltd in Chau Thanh District, recommended that the province support the company in labour recruitment and training to ensure high quality human resource of the enterprise.
Duong Quang Ngoc, deputy director of the province's Department of Labour, Invalids and Social Affairs, said the company could contact the department's Employment Service Centre for help in recruitment of highly skilled labour.
The meeting was attended by leaders of departments of Planning and Investment, Industry and Trade, Natural Resources and Environment, and the Taxation Department. The aim was to answer questions related to procedures and conditions of preferential policies in the province. — VNS
Hanoi takes lead in FDI attraction
Hanoi lured more than 6.17 billion USD in foreign direct investment (FDI) in the first seven months of 2018, making it the leading FDI attractor of the country, accounting for 26.9 percent of total FDI commitments in the period.
According to the Foreign Investment Agency (FIA) under the Ministry of Planning and Investment, Hanoi was followed by Ho Chi Minh City with 4.69 billion USD and the southern province of Ba Ria - Vung Tau with 2.15 billion USD in FDI, which make up 17.9 percent and 9.4 percent of the country's total FDI attraction, respectively.
Several large projects helped lift Hanoi to the top position.
Among them are the 4.1-billion-USD smart-city project invested by Japan's Sumitomo Corporation in Dong Anh district and Lotte Mall Hanoi with a total registered capital of 600 million USD invested by the giant Lotte Group of the Republic of Korea (RoK) which aims to build a complex comprising of a shopping mall, hotel, offices and apartments.
At the conference "Hanoi 2018 - Investment cooperation and Development", municipal authorities also handed over investment licences to 71 projects worth a total 400 trillion VND (nearly 20 billion USD), including 11 FDI projects worth 130 trillion VND (5.43 billion USD). 
The municipal Statistics Department said during the period, the foreign invested sector maintained its growth momentum with revenues hitting nearly 14.8 trillion VND, or 48.3 percent of the yearly target, up 3.6 percent year-on-year. 
Statistics from the Foreign Investment Agency said foreign investors poured capital into 17 sectors during the last seven months, with the processing and manufacturing industry attracting the most at 9.63 billion USD, 41.95 percent of total registered capital. 
Real estate was the second largest attractor with 5.6 billion USD, or 24.4 percent of the total investment, followed by the retail and wholesale sector with 1.69 billion USD, 7.4 percent of the total. 
As many as 96 countries and territories had investment projects in Vietnam in the period. Japan led with 6.88 billion USD worth of investment, accounting for nearly 30 percent of the total investment poured into the country. 
The RoK came second with total registered capital of 5.46 billion USD and third  was Singapore with 2.73 billion USD, making up 23.8 percent and 11.9 percent of total investment, respectively.
Vietnam's tea exports fall 6.9 percent in revenue

Vietnam's tea exports as of mid-July dropped 11 percent year on year in volume to 61,530 tonnes, and 6.9 percent in value to 99.94 million USD, according to statistics from the General Department of Vietnam Customs.
Pakistan was the largest consumption market of Vietnamese tea as it bought 13,400 tonnes worth 29.94 million USD, up 10.8 percent in quantity and 22.3 percent in value compared to the same time last year.
Exports to the US, Saudi Arabia, Malaysia, Germany and the Philippines also rose.
Notably, Vietnamese tea export growth in the US was higher than that of other exporters like China, Argentina, Japan, India and Canada.
Vietnamese tea only occupied 2 percent in the US's total tea imports, up from the market share of 1.6 percent recorded last year.
A fall in tea exports in recent times has put pressure on the tea industry to enhance product quality amid rapid international integration and fierce competition. 
To increase Vietnamese tea value, producers and exporters must work to develop a value chain and pay attention to food hygiene and safety, said a representative from the Ministry of Agriculture and Rural Development's Processing and Market Development Authority. -VNA
CIC accrues credit information on 36.8 million borrowers
Viet Nam's National Credit Information Centre (CIC) had compiled credit information on more than 36.8 million borrowers by the end of June, rising nearly two million against the end of last year, CIC's director Do Hoang Phong said.
Besides data from credit institutions, the CIC had expanded its sources to using data from the Ministry of Planning and Investment, Phong said.
By the end of June, CIC also had automatic credit ratings on over 700,000 small- and medium-sized enterprises and over 2,000 large-sized enterprises and corporations.
The centre provided more than 15.7 million credit reports to credit institutions in the first half of this year, up 41 per cent on-year, and credit information on more than 4,000 borrowers.
The improvement had helped Viet Nam's credit registry coverage reach over 51 per cent, according to the World Bank's 2018 assessment.
According to the World Bank's Doing Business 2018 report, Viet Nam's Access to Credit Index in 2018 also ranked 29 out of 190 economies surveyed, reaching 75 points on a scale of 100. In terms of both score and ranking, Viet Nam's index was well above the average of the Organisation for Economic Cooperation and Development and East Asia-Pacific countries.
Compared to the 2017 report, the 2018 index rose five points and three levels, and is the second-highest index of the 10 indicators used. Together with five other high-ranking indexes, the Getting Credit Index has helped lift Viet Nam's position in terms of the business environment by 14 places compared to 2017, standing at 68 out of 190 countries. 
Vietnam's industrial property attractive to FDI enterprises
Vietnam's industrial real estate market has been becoming a magnet for foreign direct investment (FDI) enterprises thanks to robust growth of macro-economy.
Growing FDI coupled with a move up in the value chain has shaped a promising future for Vietnamese industrial property, according to Troy Griffiths, deputy managing director at property consultant Savills Vietnam.
"We see a lot of FDI into manufacturing from Japan, the Republic of Korea, Singapore, and Thailand", he said.
The country secured up to 35.6 billion USD in FDI in 2017, a year-on-year surge of 44.4 percent, with Japan the biggest contributor with 9.11 billion USD. Manufacturing and processing FDI made up 44.2 percent of the total.
The Vietnamese Government wants to move beyond a low-wage economy and is targeting growth in high-tech manufacturing, renewable energy, and smart city projects, he said.
In that context, the industrial property market will continue to be thriving; however, improvements in business climate should be put in place to lure more foreign investors. Besides, skilled labourers serving the purpose of expanding logistics and production sectors will ensure better productivity and competitive capacity in the years to come.
Real estate experts said that there was a radical change in the logistics segment. Involvement of more foreign firms means a shift in approaching methods in a more strategic manner. In addition, international third party logistics companies are becoming more active in Vietnam, and will drive demand for larger modern facilities.
The Government has invested heavily in the infrastructure; however, more works need to be done, said Griffiths.
Furthermore, the rise in e-commerce means that "last mile" fulfillment has significant potential, and demands will increase for well-located warehouses on central business district boundaries, and near major city arterial routes.
Warburg Pincus, which has announced a partnership with Vietnamese state-owned builder Becamex IDC, is seen as one of the pioneers in the Vietnam's logistics sector. The company will invest 200 million USD in BW Industrial Development Joint Stock Company to develop modern logistics facilities, and industrial property across the nation.
Jeffy Perlman, managing director, and head of the Southeast Asia of Warburg Pincus, stressed that with the transformative shift of the manufacturing base from markets like China to Vietnam as well as with the rapid rise of domestic consumption, the logistics and industrial real estate market in Vietnam is at an inflection point for outsized growth.
Thua Thien-Hue: Tourism revenue surges 32 percent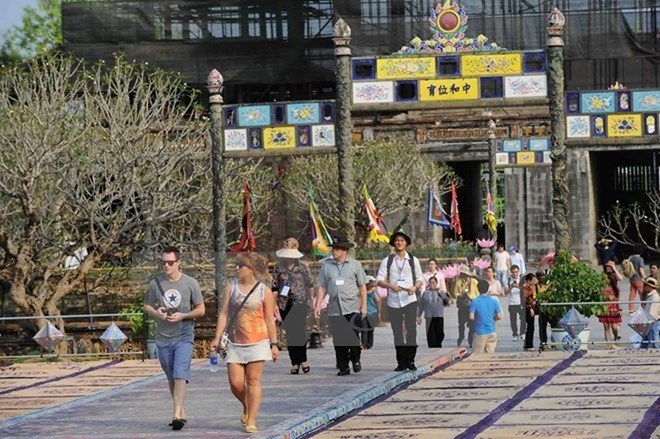 The central coastal province of Thua Thien-Hue earned 2.66 trillion VND (114.38 million USD) from tourism in the first seven months of the year, a year-on-year surge of over 32 percent.
During the period, the province welcomed 2.79 million arrivals, including more than 1.15 million foreigners, up 9.35 percent and 41.02 percent respectively.
Accounting for one third of the foreign holiday-makers to Thua Thien-Hue, the Republic of Korea topped the list of the province's tourist sources. Meanwhile, stable growth was seen in French, British and German markets.
According to Le Huu Minh, Vice Director of the provincial Department of Tourism, Chan May port welcomed 96,300 foreign visitors, most of whom were from China, Spain, Britain, the US, and Canada.
From the outset of the year, the province has organised a string of activities like cultural festivals, art performances, and cuisine festivals to lure more tourists to the locality.
The Hue Monuments Conservation Centre said that the "Hue-One Destination, Five World Heritages" tour continues showing efficiency. The Complex of Hue Monuments, royal court music, woodblocks, the imperial archives of the Nguyen Dynasty, and poetry on Hue royal architectures have drawn great attention from visitors.
Particularly, the art programme "Royal Inspiration" has been held at the Hue imperial city by night since July 1. It has been carried out on the main axis Ngo Mon-Thai Hoa-Duyet Thi Duong. After the change of guards (le doi gac) at Ngo Mon Gate, tourists have chance to explore the splendid light arranged from Ngo Mon to Thai Hoa Palace, then move to Duyet Thi Duong theatre to enjoy the art performance.
Various beach tourism spots also attract a large crowd of visitors, including Lang Co, one of the world's most beautiful bays, which is heavily invested in terms of urban infrastructure, and tourism services, with six tourism complexes, and 50 hotels and hostels. The number of tourists to Lang Co bay surges 25 percent annually on average after it was named in the list of the Most Beautiful Bays in the World Club.
Other tourist attractions in the province are Bach Ma National Park, Thanh Toan Bridge, garden houses of Hue, and Tam Giang lagoon.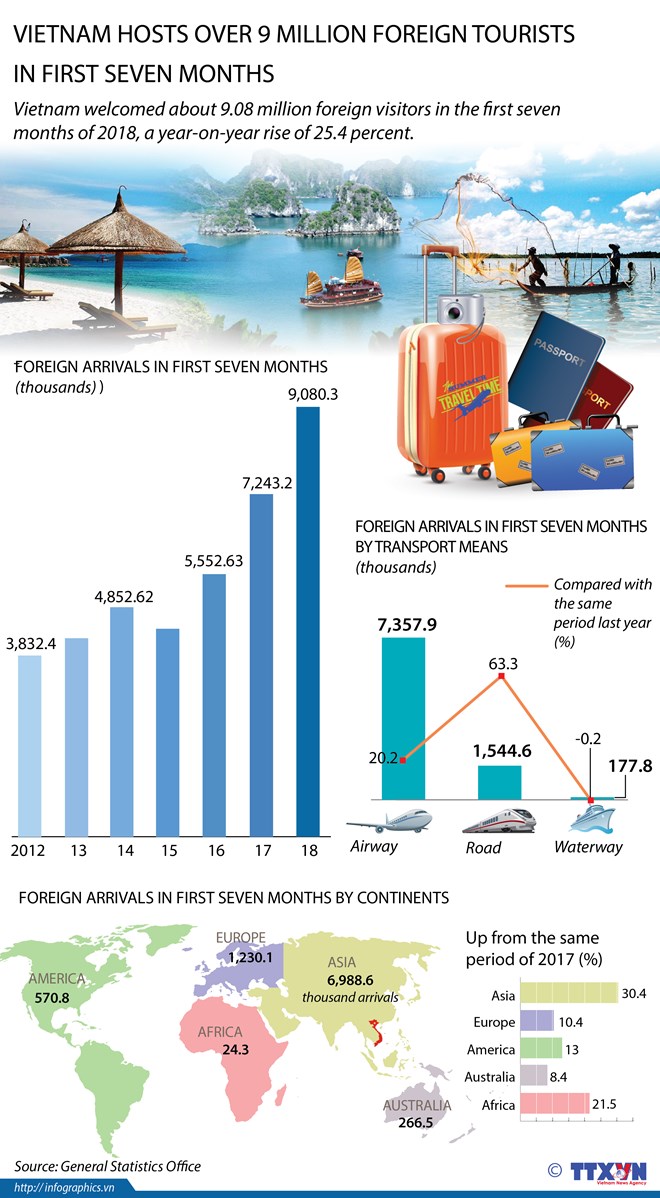 Experts talk trade in Ho Chi Minh City

Ho Chi Minh City's Department of Industry and Trade met with more than 50 experts, researchers and business leaders at a meeting on August 3 to discuss solutions to develop the city's main products in the trading and services sector.

Speaking at the meeting, Nguyen Phuong Dong, the department's deputy director, said the sector had the highest growth rate among the city's economic sectors for a number of years.

In 2016, the sector contributed 63.2 percent to the city's gross regional domestic product (GRDP).

Under the city's plan, modern trade channels will account for at least 40 percent of the city's total retail sales by 2020 and 20 percent by 2025, compared to 25 percent now.

This will require great effort from enterprises and city authorities to expand the scale of goods exchange and meet demand of residents in their choice of shopping channels.

"The city plans to develop a list of key products in the trade and services sector and identify the most suitable support policies to exploit potential and advantages, as well as meet local demand and enhance exports," he said.

A representative of Saigon Co.op said a key product of the city's trading and services sector is "modern trade". Many consumers have shifted to modern trade channels and the trend will continue.

He suggested criteria for selecting enterprises with "the best developed key products", including annual revenue, profit-to-sales ratio, distribution networks, the number of customers a year, number of labourers, diversification of business models, amenities for customers, application of 4.0 technology, brand ranking, and others.

He said the city should help local retailers access reasonable capital sources, untie difficulties faced by the latter in land clearance and taxes, and help them improve their competitiveness amid stiff competition with foreign players.

Nguyen Phuc Khoa, Vice Chairman of the Saigon Trading Group, said "selecting modern retail as a "key product" is necessary, and that the city should focus on developing logistics services for the retail sector.

Regarding logistics, Pham Thi Thuy Van, Marketing Deputy Director of Saigon Newport Corporation, said the amount of import-export goods via Tan Cang –Sai Gon port system had increased by 10-12 percent per year.

Most foreign firms use Cat Lai port to ship goods to Vietnam thanks to its good services and inland container depot systems along Hanoi Highway.

However, according to the city's plan until 2020, ports along the Sai Gon River must be moved to the south of the city.

Saigon port has already been moved to Hiep Phuoc, while Khanh Hoi and Tan Thuan ports will be moved soon.

However, there is a lack of logistics services and infrastructure connection in the south of the city, despite the existence of a zoning plan for the southern area to develop port clusters.

If the city does not improve the situation soon, the city will lose its competitiveness in this sector because Long An and Binh Duong are focusing on developing international port systems, according to Van.

In addition, in order to develop the port system and warehouses, the city needs to allocate land to investors, because the land price has been increasing strongly in the city.

Delegates at the meeting also suggested choosing logistic services, tourism (especially tourism combined with agriculture), and medical and education services as the city's key products in the trading and services sector.
Vietnam, India eye high cooperation potential in pharmaceuticals: diplomat
Vietnam and India share high potential of cooperation in pharmaceuticals, medical equipment and services, stated Parvathaneni Harish, Indian Ambassador to Vietnam during a Vietnam-India conference and business exchange in HCM City on August 3.
The diplomat said that since Vietnam and India elevated their ties to comprehensive strategic partnership in 2016, bilateral collaboration in trade and investment has been strengthened considerably. 
In the coming time, the two governments will prioritise the development of cooperation in pharmaceuticals, he said.
The ambassador highlighted that India is the world's biggest generic medicine suppliers, meeting over 50 percent of the demands for vaccines of different kinds. In 2017, Indian medical sector's value was 33 billion USD, he said, adding that this will reach 55 billion USD, with an export revenue of 20 billion USD.
India is now the world's third largest medicine producer as the country provides about 10 percent of tje total medicine in the world. At the same time, the country has a large number of scientists and researchers in the pharmaceutical sector, said the diplomat, adding that strong growth of the health care sector has also led to the development of supporting services and medical equipment in the country.
Raghuveer Kini, Executive Director of the Pharmaceuticals Export Promotion Council of India, said that medical equipment has become an emerging sector of India. The sector's market is estimated to reach 11 billion USD in 2022. Made-in-India equipment has been exported to over 150 countries, including Vietnam.
He said that Vietnam is an important market of India's pharmaceuticals, medical equipment and health care in the ASEAN. The Pharmaceuticals Export Promotion Council of India has encouraged Indian enterprises to strengthen investment in Vietnam as well as trade with the country, he added.
Truong Hung, Vice President of the Ho Chi Minh City Medical Equipment Association, held that the current demand for pharmaceuticals and medical equipment in Vietnam is high.
Vietnam has to import 95 percent of its medical equipment, he noted, pointing out that the country spent 816 million USD on the products in 2017, and the figure expands 15 percent every year.
The Vietnamese Government aims to ensure the supply of 60 percent of domestic demand in the future, which is a good chance for foreign investors, including those from India, he said.
Hung noted that Vietnam's pharmaceutical sector is now worth 3.5 billion USD, becoming a promising industry. 
India is now the second largest pharmaceuticals suppliers of Vietnam, a country that imported 70 million USD worth of medicine from India in 2017 and 80 million USD in 2018 approximately.
Vietnam's rice exports on the rise
Vietnam's rice exports in the first seven months of this year brought home 2 billion USD, rising 32 percent against the same period last year.
From January to July, the country sold 3.86 million tonnes of the grain abroad, a year-on-year increase of 12.8 percent.
In the first six months of the year, China remained the largest importer of Vietnamese rice with 1.13 million tonnes, followed by African market with 537,000 tonnes, the Philippines with 429,000 tonnes, Indonesia with 776,000 tonnes, and Malaysia with 305,000 tonnes.
Vietnamese exporters have paid due attention to the Chinese market, which accounts for 40 percent of country's total rice exports. However, China's import policies and technical barriers pose considerable challenges for Vietnamese firms, said Nguyen Trung Kien, Chairman and General Director of the Gentraco Feed Joint Stock Company.
"China is a choosy market. If Vietnamese products, from pork to vegetables and fruits, do not meet quality requirements, they will be rejected", he said.
Kien recommended that the Government support exporters in terms of policies and the agricultural sector should give guidance to farmers to produce high-quality products, meeting market's demand. 
Experts said that demands for rice will grow in the last quarter of the year. Five traditional importers of Cuba, Iraq, Indonesia, the Philippines and Malaysia possibly purchase 3-4 million tonnes of rice. However, the Philippines may prefer Thai rice due to its competitive price as the country is importing rice under the minimum access volume (MAV) scheme.
Meanwhile, Bangladesh intends to buy 400,000 tonnes of rice from Vietnam among 700,000 tonnes it will import in August. 
Vietnamese firms are sending 60,000 tonnes of rice to Cuban market, and 30,000 tonnes to Iraq every month.