Can Tho invites investors to investment promotion conference
The Mekong Delta city of Can Tho will hold an investment promotion conference on August 10, inviting investors for 54 projects worth nearly 124 trillion VND (5.44 billion USD). 
At a press conference on the conference on August 1, Chairman of the municipal People's Committee Vo Thanh Thong said investors have already expressed interest in 44 out of the 54 projects on offer, and some are ready to start work immediately on 22 projects. 
He added that some projects attracted two or more investors, so the city will set criteria to select the best among them. 
Among the 54 projects, 21 are in real estate, 9 in culture-sports and tourism, 9 in agricultural and industrial infrastructure, 8 in transport, 4 in logistics and power, 2 in cultural-sport and health care infrastructure and 1 in information technology. 
Prime Minister Nguyen Xuan Phuc is expected to deliver a keynote speech and chair the conference, which will include three discussions on a logistics service centre, hi-tech agriculture and the development of science-technology. 
Chairman Thong said the city wants to use the event to introduce to investors its potential and favourable conditions along with opportunities in the context of the new specific mechanism for the city already approved by the National Assembly Standing Committee.
Can Tho also hopes to invite investors to other projects and fields besides those announced at the conference, he said. 
At the conference's closing session, the city will honour 11 companies which have made contributions to Can Tho's development, and present investment licences and decisions approving investment proposal to 10 investors. 
On the occasion, the municipal People's Committee will sign cooperative deals with around 20 foreign and domestic corporations.
PVN signs trade agreements on gas field exploitation     
Viet Nam National Oil and Gas Group (PetroVietnam) on July 31 signed a number of trade agreements on exploiting the Sao Vang - Dai Nguyet project.
The agreements included gas sales purchase agreement; an agreement on connection and services; and gas sales agreement of the Sao Vang - Dai Nguyet gas project, blocks 05-1B and 05-1C.
The stakeholder participation in the Petroleum Sharing Contract (PSC) includes Idemitsu Kosan Co Ltd with 43.08 per cent and the operator; Teikoku Oil (Con Son) Co Ltd, 36.92 per cent; and PetroVietnam, 20 per cent.
Speaking at the signing ceremony, PVN's general director Nguyen Vu Truong Son said the signing of trade agreements to exploit oil and gas fields is very significant. The production of oil and gas from Sao Vang - Dai Nguyet field will contribute to the supply of gas for the country's economic development, especially the socio-economic development of the southeast region.
Sao Vang - Dai Nguyet gas field is located in Nam Con Son Basin, approximately 300km south-east offshore Vung Tau City at about 110-130m water depth.
The success of the Sao Vang - Dai Nguyet gas project will compensate for the shortage of gas as the other gas fields have reduced production; and play an important part in securing the country's energy, Son emphasised.
Prior to this, on August 4, 2016, the Prime Minister issued Decision No 1550/QD-TTg approving petroleum reserves of Sao Vang - Dai Nguyet field, as the basis for the development of the field.
On March 7, 2017, the Ministry of Industry and Trade issued Decision No.706/QD-BCT approving the outline development plan.
Nine months later, the Prime Minister issued Decision No 1996/QD-TTg approving the field development plan. Accordingly, Sao Vang - Dai Nguyet field is expected to start exploiting the first oil and gas line for trade in the third quarter of 2020 with an estimated output of 1.5 billion cu.m of gas per year and 2.8 million barrels of crude oil and condensate per year. 
Dong Nai's export surplus half of country's total     
Dong Nai's export surplus in the first seven months of the year was US$1.6 billion, which made up half of the country's total.
Dong Nai is among the country's top five exporting cities and provinces, with a consistently high export surplus, according to the province's Department of Industry and Trade.
The province has around 50 products with high export turnover, including textiles and garments, footwear, wooden products, and steel, exported to around 170 countries and territories. The products are highly regarded by foreign businesses.
According to the Statistics Office of Dong Nai, it exported around $9.2 billion worth of goods in the first seven months, 14 per cent higher year-on-year and its highest in four years.
Eighty per cent of Dong Nai's export turnover is from foreign-direct invested companies in the province.
According to the General Statistics Office (GSO), Viet Nam gained a trade surplus of $3.1 billion in the first seven months of this year.
This is because its total export value during the first seven months rose 15.3 per cent year-on-year to $133.7 billion.
Of which, the domestic economic sector's export value increased 18.7 per cent to $39.3 billion over the same period of last year while that of foreign invested enterprises had a growth of 14 per cent to $94.7 billion, accounting for 70.8 per cent of the total export value.
Meanwhile, the nation saw slower growth in imports with the total import value in the first seven months of this year rising 10.2 per cent to $130.6 billion against the same period of last year.
The import value rose 12.7 per cent to $54.2 billion for the domestic economic sector and 8.5 per cent to $76.5 billion for the foreign invested enterprises.
However, GSO experts said from May to July, the nation had trade deficit in each month. The trade deficit was $500 million in May, $100 million in June and $300 million in July.
Viet Nam had large trade deficit with China and South Korea. In the first seven months of this year, the trade deficit was at $16.3 billion with China, up 1.6 per cent year-on-year, and at $16.3 billion with South Korea, which was down 13 per cent.
The GSO reported major export products continued to achieve strong increases, in particular telephone and parts with a growth of 15.8 per cent to $26.1 billion; textile and garment, up 16.2 per cent to $16.5 billion; and electronic products, computer and parts, up 14.8 per cent to $15.7 billion.
They also included footwear, up 8.9 per cent to $9.1 billion; machine, equipment and parts, up 27.1 per cent to $9 billion; wood and wooden products, up 13.4 per cent to $4.8 billion; and transport means and parts, up 15.2 per cent to $6.4 billion.
The nation saw growth in export value for some agro and seafood products (up 8.1 per cent to $4.7 billion), vegetables and fruits (up 14.6 per cent to $2.3 billion), and rice (up 31.5 per cent to $2 billion).
However, reduction in the global export prices drove export value down for some farming products of Viet Nam, such as coffee (down 4.5 per cent to $2.2 billion), and rubber (down 9.7 per cent to $1 billion).
Crude oil export dropped in both volume and value by 46.4 per cent and 25.3 per cent to $1.3 billion, respectively.
Economic growth reduces dependence on bank loans     
Though credit growth has declined recently, Viet Nam's GDP has continued to rise in the past one and a half years thanks to the improvement of credit quality and the contribution of foreign direct investment (FDI) firms.
A few years ago, Viet Nam's economic growth was mainly based on capital and labour due to modest total factor productivity (TFP). This meant that the nation's high GDP growth required high investment, and loans had a domino effect on the country's growth.
There was time when credit growth was even used to estimate the country's economic growth. For example, bank loans often increased by 1.5 times or two times over GDP growth.
However, dependence has reduced significantly recently and credit is no longer the decisive factor for the country's economic growth.
According to the National Financial Supervisory Commission, GDP in the first half of 2018 grew at 7.08 per cent against the same period last year, the highest rate in eight years, while credit growth in the period expanded only about 6.5 per cent, much lower than the same period last year of 8.7 per cent.
The same trend was also seen last year when credit grew at only 18.17 per cent, lower than the increase of 18.71 per cent in 2016, while GDP growth was 6.81 per cent, higher than the growth of the years from 2011 to 2016.
Experts attributed the positive change to the improvement of credit quality.
According to the State Bank of Viet Nam (SBV), credit structure in the first six months of 2018 focused mainly on manufacturing (up 7.7 per cent), agriculture (up 7.2 per cent), small- and medium-sized enterprises (up over 3 per cent).
Meanwhile, credit for risky areas such as securities and real estate industries was small. Credit flowed mainly to manufacturing sectors to contribute to GDP growth rather than focusing on speculative sectors like real estate or stock markets as years ago.
Besides, the dependence of GDP growth on credit has been declining due to the contribution of the FDI sector to the economy.
In the first six months of 2018, the industrial sector was the best performer with an increase of 9.28 per cent, of which processing and manufacturing had a growth rate of up to 13.02 per cent, the highest rate in seven years. Meanwhile, most FDI firms didn't borrow or borrow overseas loans, hence, though production and business grew, the country's credit growth was not directly affected.
SCG announces 20 per cent surge in sales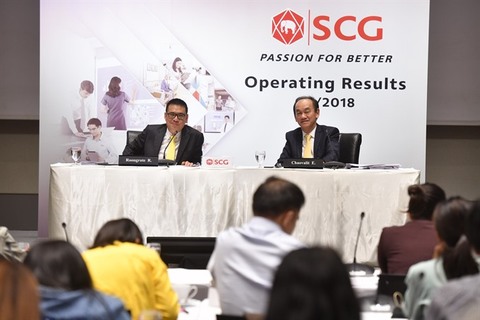 Thai company SCG has reported a jump in first half revenues to $639 million. 
SCG Vietnam has reported revenues of US$639 million in the first half of this year, a 20 per cent year-on-year jump.
In the second quarter, revenues had risen by an even more impressive 28 per cent to $371 million, the Thai company said.
SCG has a presence around Southeast Asia, with its three core businesses being cement and building materials, chemicals and packaging.
It has more than 200 companies in its group and approximately 57,000 employees.
It came to Viet Nam in 1992 as a trading business and has gradually diversified into cement, building materials, petrochemicals, and packaging.
It recently bought Vietnam Oil and Gas Group (Petro Vietnam)'s 29 per cent stake in Long Son Petrochemicals, in which it holds the remaining 71 per cent, and is scheduled to sign a $3.2 billion loan deal with local and international financial institutions in August.
The project's engineering, procurement, and construction phase will start this quarter, and it is scheduled to go on stream by the first quarter of 2023. 
VinFast to open offices in Europe, Asia     
VinFast Trading and Production Limited Liability Company, a member of the property developer Vingroup, has just finished procedures to open an office in Frankfurt, Germany.
According to VinFast, the business registration office of Frankfurt has issued a certificate of establishment of VinFast GmbH (Limited Liability Company) operating in the field of purchasing, selling, distributing and performing commercial transactions (including but not limited to import and export) on spare parts, components and materials for the automotive and related services industries.
After cooperation with a number of German partners such as BMW, Siemens, Bosch, Durr AG, Schuler AG, Eisenmann, FFT and EBZ, the establishment of VinFast GmbH in Frankfurt reaffirms VinFast's commitment to producing world class and high quality vehicles.
In addition to Germany, VinFast is also completing final procedures to establish subsidiaries in Shanghai, China and the Republic of Korea.
VinFast's establishment of subsidiaries in major automobile manufacturing and consumption centres in Europe and Asia is the next step to enter the world's automotive market, expressing the global vision of the Vietnamese car brand.
Technically, this step will allow VinFast to easily access the most modern automotive manufacturing technologies and leading suppliers through partners in these countries.
In terms of product research and development, establishing a presence in Germany, the Republic of Korea and China will create favourable conditions for VinFast to keep up with the latest trends in the global automobile industry.
As regards to the market, VinFast's offices will play a significant role in understanding consumer tastes in different regions of both continents, to export VinFast cars outside of the country. 
Registered capital of new firms up 11.6 percent
Nearly 75,800 new enterprises were established nationwide in the first seven months of the year, with a total registered capital of 771 trillion VND (33.34 billion USD), a year-on-year rise of 3.9 percent in the number of firms, and a 11.6-percent rise in terms of capital, according to the General Statistics Office (GSO) of Vietnam.
At the same time, more than 1,460 trillion VND (62.78 billion USD) was injected into operating firms, raising the total registered capital pumped into the economy to over 2,231 trillion VND (95.83 billion USD).
The office said of the newly-established firms, 25,700 are in the wholesale and retail, and automobile and motorbike maintenance and repair industries, accounting for 33.9 percent of the total. This was followed by the construction sector with 10,000 firms (13.3 percent of the total), and processing and manufacturing with 9,400 companies (12.4 percent of the total). There are 5,700 firms operating in science-technology, consultancy, design, advertisement and others (7.6 percent).
Regions nationwide witnessed an increase in the number of newly-established firms, with the Red River Delta host to 22,600 new companies (up 1.2 percent year-on-year), the midland and northern mountainous regions with 3,200 firms (2.8 percent), the north central and central coastal regions with 10,700 firms (7.4 percent), southeast regions with 32,100 firms (5 percent), and the Mekong Delta region with 5,400 firms (4.4 percent).
The total number of workers at new companies was 623,000, down 13.5 percent against last year's January-July period.
During the reviewed period, 18,696 companies resumed their operations, up 6.5 percent from the same time last year.
In addition, the number of businesses that ceased operations rose by 38.4 percent to 59,910 enterprises. 
Meanwhile, there were 7,714 firms who completed dissolving procedures, up 16.7 percent year on year. Most of them were operating in wholesale and retail, automobile and motorbike repairing industries (3,000 firms), processing and manufacturing (1,100 firms), and construction (792 firms).
According to GSO General Director Nguyen Bich Lam, a flexible monetary policy, with a focus on prioritised sectors for small- and medium-sized enterprises (SMEs) and export firms, is a must in order to improve the operating efficiency of firms.
In addition, the Government should continue to create a favourable business climate for companies, paying due attention to developing the processing and manufacturing sectors, supportive industry, and production of consumption goods, he added. 
Agro-forestry-fishery exports hit 22.2 billion USD in first seven months
The export turnover of agro-forestry-fishery products in July was estimated at 2.85 billion USD, bringing the total value in the first seven months of 2018 to 22.2 billion USD, a year-on-year rise of 7.8 percent.
According to the Processing and Market Development Authority (AgroTrade) under the Ministry of Agriculture and Rural Development, Vietnam exported 11.6 billion USD worth of farm produce from January to July, up 3.6 percent against the same period last year.
Markets seeing strong export growth included Indonesia in rice, coffee, and rubber; Russia in coffee and cashew nuts; Germany in tea, cashew nuts, pepper, and rubber; Malaysia in rice, tea, wood, vegetables and fruit; the Philippines in rice and coffee; Saudi Arabia in tea; Iraq and Hong Kong in rice; the US in tea, cashew nuts, and pepper; India in rubber and pepper; and Thailand in vegetables and fruit, and aquatic products.
Rice remained one of the biggest hard currency earners. Vietnam earned 1.96 billion USD from selling 3.87 million tonnes of rice abroad, up 29.2 percent in value and 12.2 percent in volume. China continued to be the largest rice importer of Vietnam with 26.8 percent of the market share.
In the seven-month period, Vietnam earned 2.3 billion USD from exporting fruits and vegetables, mainly to China, up 12.6 percent.
The country exported 1.16 million tonnes of coffee worth 2.22 billion USD, up 10.8 percent in volume but down 5.7 percent in value. Germany and the US remained the two biggest consumers of Vietnamese coffee.
Vietnam sold 153,000 tonnes of pepper worth 517 million USD to overseas markets during the January-July period, up 3.7 percent in volume but down 36.1 percent in value.
As many as 696,000 tonnes of rubber were exported in the period, bringing home 997 million USD, up 9.9 percent in volume and down 10.7 percent in value. 
Vietnam posts trade surplus of US$3.1 billion in first seven months
Vietnam registered a trade surplus of US$3.1 billion in the first seven months of 2018, according to the General Statistics Office (GSO).
Exports during the period were estimated at US$133.69 billion, up 15.3% annually, while imports were valued at US$130.63 billion, up 12.7% over the same period of 2017.
The first seven months of 2018 saw domestic enterprises record a trade deficit of US$15.1 billion, while the foreign-invested sector, including crude oil revenues, ran a surplus of US$18.2 billion.
Foreign enterprises remained the main export driver of the Vietnamese economy, accounting for 70.8% of the country's total export revenues during the January-July period.
A breakdown of the export markets shows that the US was the largest buyer of Vietnamese goods with US$25.5 billion, up 8.9%, followed by the EU and China, with their imports from Vietnam worth US$24.2 billion and US$19.5 billion respectively.
Exports to the ASEAN market also recorded strong growth at 16.2% to US$14.2 billion, while exports to the Republic of Korea surged by 32% to reach US$10.2 billion.
On the other side, China remained the largest source of Vietnam's imports with US$35.8 billion. The Republic of Korea came second with US$26.5 billion and ASEAN third with US$18.1 billion.
Medical expo next month in HCMC     
The 18th International Medical, Hospital & Pharmaceutical Exhibition (Vietnam Medi Pharm Expo) slated to take place in HCM City from August 2 to 4 promises to showcase new products and technologies.
This year the expo has attracted 350 companies from 20 countries and territories, 20 per cent more than last year.
The major exhibitors will be from India, South Korea, Malaysia, Japan, China, Iran, Ukraine, Russia, the US, Italy, Germany, and Singapore.
They will display consumables; equipment for laboratories, dentistry, ophthalmology measurement and testing, endoscopy, operating rooms, and homes; pharmaceutical machinery; and drugs and food supplements.
At the event, the Private Medical Practice Group of HCM City, the Family Physicians Association of HCM City and the Diabetes and Endocrinology Association of HCM City will organise seminars on diabetes.
The expo, to be held at the Sai Gon Exhibition & Convention Centre in District 7 by the Viet Nam National Trade Fair and Advertising JSC (Vinexad) and the HCM City Medical Equipment Association.
Provinces to host farm produce fairs     
A fair showcasing products of communes as well as hi-tech farm produce in the northern midland and mountainous region will be held this month in the northern province of Thai Nguyen.
The 'One commune one product (OCOP)' fair aims to honour Viet Nam's high-quality agro-forestry-fisheries products which are well-known in domestic and foreign markets, organisers said a press conference in Ha Noi on Tuesday.
Nguyen Quoc Huy, Deputy Director of Thai Nguyen Department of Industry and Trade, described the forthcoming event as a good chance for cities and provinces in the region to advertise their potential and strengths in agriculture and green tourism.
The fair, organised annually by Thai Nguyen province since 2016, will also offer a venue for businesses, farms and processors to exchange experience and set up partnerships, he said. The event will run from August 31 to September 6.
Also at the press conference, the People's Committee of Binh Dinh Province announced that it will host a fair displaying farm produce, seafood and timber goods from the south central coastal region from August 1-6.
The upcoming event will contribute to promoting trade, as well as supporting and boosting agricultural production in a comprehensive, modern and sustainable manner, said Dao Van Ho, Director of the Trade Promotion Centre for Agriculture under the Ministry of Agriculture and Rural Development (MARD).
In particular, advanced technologies in agricultural production, aquaculture and offshore fishing, preservation, processing and environmental treatment will be showcased, he added.
Statistics from MARD revealed that the national export value of agriculture, forestry and seafood products in the first half this year marked an increase of 12 per cent over the same period last year, reaching US$19.4 billion.
Of this, the export value rose by 9.7 per cent for agricultural products to reach $10.3 billion, by 10.5 per cent for seafood products to $3.94 billion and by 12.7 per cent for main forestry products to $4.33 billion compared to the same period last year. 
Cloud software provider Nutanix enters Vietnamese market     
US-based cloud computing company, Nutanix, is now present in Viet Nam to support business growth with its leading hyper-converged infrastructure solutions, including 100 per cent software-based and multi-cloud management technologies.
Hyper-converged infrastructure streamlines the deployment, management and scaling of datacentre resources by combining server and storage resources with intelligent software. Separate servers, storage networks and storage arrays can be replaced with a single hyper-converged solution.
The Nutanix Enterprise Cloud OS enables enterprises to simplify infrastructure for a better focus on delivering business values and innovation. Integrated data protection, non-disruptive upgrades and self-healing systems ensure predictable performance, reliable disaster recovery and efficient operations at lower cost.
Some of the world's most advanced datacentres rely on Nutanix Enterprise Cloud OS software to power their applications and services. In Viet Nam, tens of leading enterprises across different industries have chosen Nutanix.
According to Gartner, an advisory firm, hyper-converged integrated systems will be the fastest-growing segment of the integrated systems market, reaching almost US$5 billion, which is 24 per cent of the market, by 2019. 
PVTex, APH sign contract to process yarn     
The Petrovietnam Petrochemical and Textile Fiber Joint-Stock Company (PVTex) with An Phat Holdings JSC (APH) and An Son Textile Fiber JSC on Tuesday signed a contract to process drawn textured yarn (DTY) made by Dinh Vu polyester fibre plant.
This signing event was held to launch the DTY spinning lines for the filament factory at the Dinh Vu polyester fibre plant. The goal is to have all of these lines operating by the end of the fourth quarter.
PVTex and APH signed a memorandum of co-operation on producing and trading Dinh Vu polyester fibre on April 27.
This is one of 12 loss-making projects under the Ministry of Industry and Trade.
The operation of the DTY spinning line resumed in April this year. After three months, the production lines are now operating well and have produced more than 500 tonnes of commercial DTY, which has been selling well. 
Ford Ranger remains best-selling pickup in Asia Pacific     
Pickup truck Ford Ranger has continued its success in the Asia Pacific in 2018 with sales increasing in the first six months by almost 9 per cent year-on-year to 69,103 units, Ford said.
For the third year in a row Ranger was the best-selling vehicle overall in New Zealand, and remained the best-selling pickup truck in Taiwan and Viet Nam, the US company reported.
It also continued with impressive share gains in Thailand's pickup dominated industry, the company added.
In Viet Nam, Ranger led the pickup truck segment for a fifth consecutive year with nearly 50 per cent of the market.
Ford said it would roll out the new Ranger in markets across the Asia Pacific during the second half of the year.
The company recently kicked off production of the first-ever Ranger Raptor at its Ford Thailand plant for export across the region.
The vehicle will be sold beginning in August in Thailand and later this year in other markets. 
HCM City Computer Association, TAITRA ink deal     
The Taiwan External Trade Development Council (TAITRA) and HCM City Computer Association ( HCA) has signed a memorandum of understanding to foster trade and economic co-operation.
Under the MOU, the two sides will exchange trade, market and economic information on goods and services and pursue partnership possibilities.
As part of the agreement, they will notify and assist each other in trade exhibitions, fairs and similar events promoting products of both sides, and promote visits of trade and industrial missions between the two parties.
In addition, they will organise meetings and seminars on both sides to inform business communities about investment, joint ventures and advantageous trade opportunities, and undertake together market studies on sectors of interest of both sides.
HCA and members of HCA have been invited to send delegations to future editions of COMPUTEX, an international information technology show.
The two parties agreed to hold joint meetings when necessary during the course of implementing the MoU and review achievements related to their cooperation once a year. 
SSC warns securities firms on cryptocurrency     
The State Securities Commission has recommended that public companies, securities companies and fund managers as well as securities investment funds not carry out issuance, trading and brokerage activities related to virtual currency.
This is the second announcement by the market watchdog regarding Bitcoin and other cryptocurrencies since the first one on January 29 this year.
The announcement is in line with the Prime Minister's direction in April on strengthening the management of Bitcoin and similar forms of cryptocurrency in the country.
In the prior notice, SSC warned investors and companies of potential risks related to cryptocurrency trading after an increasing number of companies are doing business in financial technology services (fintech) or raising capital through initial coin offerings (ICO), crowdfunding, peer-to-peer lending or blockchain, which are new products and technologies that have not been legally regulated.
The SSC advised investors to be cautious when investing in new products to limit possible losses. For companies, while awaiting a legal framework for these products, the watchdog requested securities firms not participate in issuing, advising and trading virtual money and other financial technology products and comply with anti-money laundering laws.
Also regarding the management of cryptocurrency transactions, in mid-July, the State Bank of Viet Nam said that it agreed with the proposal of the Ministry of Industry and Trade to suspend the import of cryptocurrency mining machines.
Vietjet ranked among best listed companies     
Vietjet Aviation Joint Stock Company (HOSE code: VJC) has been honored by Forbes Magazine as one of Viet Nam's 50 best listed companies in 2018.
With revenue of over VND42.3 trillion (US$1.86 billion) in 2017, and market capitalisation of VND88.9 trillion ($3.9 billion), Vietjet was listed by Forbes for the second year in a row.
The 50 companies honored by Forbes this year were evaluated for industry categories, rated on the basis of compound annual growth rate, profit, return on equity, earnings per share growth for the period of 2013–17, branding, quality of corporate management, source of profit and the prospect of sustainable development.
According to Forbes' statistics, the 50 best listed companies accounted for 70.8 per cent of total market capitalisation on the HCM and Ha Noi stock exchanges.
After officially listing in February 2017, Vietjet quickly attracted investors' attention thanks to impressive business results and joined the VN30 index in its first year on the stock exchange.
In 2018, the company forecasts VND50.97 trillion in revenue and over VND5.8 trillion in profit, increases of 20.5 per cent and 10 per cent respectively compared to those of 2017.
Vietjet has been one of the highest dividend payers in the market with 60 per cent in 2017, and is expected to pay dividend at a rate of 50 per cent in 2018.
At the recent Farnborough Airshow 2018 in the UK, Vietjet signed order contracts for 100 Boeing 737MAX and 50 Airbus A321 increasing the total backlog of orders for Boeing to 200 aircraft and 171 for Airbus to serve its plans of expansion and alliance strategies in the region and the world. 
Vingroup to list 554 million more shares
The HCM Stock Exchange has approved the additional listing of nearly 554 million shares, worth VND5.54 trillion (US$241 million), of private conglomerate Vingroup (VIC).
At the current market price of VND106,000 per share, the company is valued at VND338.3 trillion ($14.7 billion) and is the largest company on the stock market. — Photo investnet.global
These shares were from the issue in June to pay dividends for 2017's business result.
The total number of Vingroup shares will increase to 3.19 billion units after the decision. At the current market price of VND106,000 per share, the company is valued at VND338.3 trillion ($14.7 billion) and is the largest company on the stock market.
The second biggest company is its real estate arm, Vinhomes (VHM), with market value of over VND284 trillion ($12.3 billion).
The new shares are expected to start trading in early August.
VIC share value climbed over 37 per cent since the beginning of this year. The company has yet to release its second-quarter earnings. It posted an after-tax profit of over VND1 trillion in the first three months of this year, a growth of 70 per cent against the same period last year. 
New co-working space opens in HCM City     
A new co-working space called Youth Five – Y5 Office opened on 135 Hai Ba Trung Street in HCM City's District 1 on Tuesday.
The space is located in the Business Startup Support Centre (BSSC), which has been a destination for the startup community in the city for six years.
Covering an area of 500 sq.m, it includes 12 office studios which will be rented by startups and newly established businesses, and other common rooms and spaces for workshops and events.
Truong Ly Hoang Phi, director of BSSC, said the space not only offers studio rentals at an affordable price, but is also a place for business meet-ups and a platform for entrepreneurs and experts to exchange ideas.
At least half of the studios have been rented.
As the number of studios is limited, the management team is using certain criteria to select startups that can lease a studio.
The startups must have at least one co-founder under 35-years-old, and must address social issues or help foster a start-up ecosystem.
Due to demand for affordable studios and space for startups, Phi said she was looking for funds from the private sector to set up similar co-working spaces in the city.
The new co-working space is under the management of BSSC.
Since its establishment in 2011, the BSSC has supported 4,000 businesses, provided training to 15,000 young entrepreneurs, and funded 1,000 projects with a total investment of VND100 billion (US$4.34 million). 
New property brand Alpha King launches     
Alpha King, a foreign-owned property developer and consultancy, officially launched in HCM City on Wednesday nearly two years after first coming to the country.
It is owned by a foreign fund whose shareholders are from Shanghai, Hong Kong and Australia. But the company declined to name the fund or its size.
It said it would focus on HCM City with developments in many segments like office space, luxury apartments and commercial space.
It will also provide architecture and technical consultancy and assets management services.
It is currently developing at least two projects in HCM City, Alpha Town and Alpha City.
Alpha Town is a 72,000sq.m A-grade office building with 35 floors on Tran Hung Dao Street in District 1.
Alpha City is a mixed-use development with a shopping mall and luxury apartments also in District 1.
It will have two buildings, 49 floors, 40 for condos and eight floors for the mall.
The two projects will be launched in the market in September.
Jimmy Chan, CEO of Alpha King, laid out the company's vision: "We believe we can redefine luxury living in Sai Gon and lay the foundation for a world class city.
"Our mission is to constantly challenge ourselves to push boundaries, create unique landmark developments that last for generations. What we build is more than some high-rise buildings or shopping centres.
"We want to introduce new lifestyle possibilities to different generations and elevate the quality of Vietnamese real estate projects to meet international standards."
The company said it uses cutting-edge technology in its projects such as BIM and smart living solutions to provide the best quality of light, water and air, and ensure fire safety systems meet international standards with its evacuation room having fire-proof walls and staircase designed perfectly for emergency exit in case of a fire. 
Consumption of E5 RON92 bio-fuel up 31.18% in H1     
In the first half of 2018, total domestic petrol consumption in Vietnam reached about 4.43 million cubic metres, of which consumption of E5 RON92 reached about 1.78 million cubic metres, accounting for 40.18 per cent, a year-on-year increase of 31.18 per cent.
Consumption of RON95 gasoline reached about 2.65 million cubic metres, accounting for about 59.82 per cent of total consumption, according to statistics from the Ministry of Industry and Trade (MoIT).
The growth in the consumption of E5 RON92 gasoline in the reviewed period is due to its deployment for mass commercial operations nationwide, said Nguyen Loc An, deputy head of MoIT's Domestic Market Department.
In the reviewed period, the supply of petroleum has always met the demands of production and business, as well as personal consumption. There were no shortages of gasoline in any situation and national energy security was ensured.
Retail prices of petroleum products are generally determined by wholesale traders and petrol distributors, however, the retail prices are not higher than the base price of petrol and oil announced by the MoIT and Ministry of Finance. 
Dong Thap seeks HCM City expertise to build agricultural supply chains     
HCM City will help Dong Thap build high-quality supply chains for agricultural products to improve their quality, officials told a conference held by the province People's Committee on July 26.
Nguyen Ngoc Hoa, deputy director of the city's Department of Industry and Trade, said building supply chains with clear sources of origins and connecting manufacturers, distributors and customers are crucial to ensuring food safety and building customer trust.
HCM City distribution networks will provide market information to manufacturers in the province so that they can tweak their production plans, and only buy high-quality products with clear origins from them.
The city would also assist with branding and promotion, Hoa said.
Nguyen Thanh Hung, deputy chairman of the Dong Thap People's Committee, said since more and more high-quality foreign goods are entering the market and the demand for food safety is constantly on the rise, technology 4.0 has to be adopted in supply chains and by local manufacturers to be able to compete.
Dr Dang Kim Son, director of the Ha Noi-based Institute of Policy and Strategy for Agriculture and Rural Development, said Dong Thap should improve its rice farming models and apply stricter quality standards for the rice supply chain.
Nguyen Van Cong, director of the province Department of Agriculture and Rural Development, said five main local product groups -- rice, mango, flowers, duck, and shark catfish – are being developed, but after four years of facilitating their supply chains, only duck eggs and catfish meet international standards.
The creation of high-quality supply chains still faces hurdles such as traders and distributors buying from unclear sources or unskilled co-operative groups, businesses and farmers, he said.
Hùng said the province aims to create more high-quality agricultural areas for the province's major produce and help businesses, farmers and co-operatives improve product quality and ensure food safety to set up supply chains and satisfy HCM City's demand for high-quality goods.
Hoa said HCM City is from where goods are shipped to other provinces or overseas.
Real estate firms with social insurance debts named     
Many real estate companies in HCM City have failed to pay social insurance premiums for their employees in the first half of this year, according to HCM City Social Insurance.
The companies were included on a list of 834 enterprises that have failed to pay social insurance premiums for their employees by June 30, 2018 that the agency recently published.
There were a number of reasons for the prolonged debts of those enterprises, including difficulties in production and business, meaning the companies were unable to afford the premiums.
They included Hoang Quan Group with a social insurance debt of VND6.6 billion; Khang Thong Group with VND4.4 billion; and No8 Investment and Construction Joint Stock Company with VND6.7 billion.
Other real estate firms with social insurance debts were Cotec Investment and Land House Development JSC; Thai Son Viet Nam Building and Trade JSC; Tan Vu Minh Co, Ltd; Phu Khang Gia JSC; Phu Hung Construction and Trading Investment Co, Ltd; Thang Long Real Estate Trading Floor JSC; Nha Vui Architecture and Construction JSC; and Saigon Real Estate Development JSC, reported the Phap luat Thanh pho HCM (HCM City Law) newspaper online.
Recently, Viet Nam Social Insurance has focused on directing social insurance in provinces and cities to strengthen specialised inspections on enterprises with large outstanding social insurance and health insurance debts.
Then, it would transfer any cases in which an enterprise has deliberately delayed paying the debt to the investigating police agency. 
Ports to handle 200m tonnes of cargo by 2020
Viet Nam's seaports are expected to handle more than 200 million tonnes of cargo by 2020, equivalent to 19.5 million tonnes TEUs (20-foot equivalent units) of freight containers, according to Transport Development and Strategy Institute.
The amount would increase to 406-467 million tonnes (35.3 to 40.6 million TEU) by 2030.
Statistics from the Viet Nam Maritime Administration (VMA) also show that over the past 20 years, the total amount of goods transported through the country's seaports rose 30 times, from 3.4 million tonnes (532,000 TEUs) in 1995 to 165.7 million tonnes (14.3 million TEUs) in 2017.
The first half of this year saw an amount of 8.7 million TEUs (20-foot equivalent units) of freight containers, up 28 per cent against the same period last year, and fulfilling 57 per cent of the target set for 2018.
However, the institute said container transportation in the north has not met expectations. For example, container transport by road accounted for 72 per cent, railway 27 per cent and seaway less than 1 per cent, meaning that transport costs were still high.
The institute added that transport by river was also limited.
Meanwhile, the Viet Nam Logistics Association said container transport in the south had higher effectiveness as up to 35-40 per cent of goods were shipped to HCM City's main seaports by sea.
The association said authorities should study and develop an inland container depot (IDC) network and modern logistics centres to improve logistics quality, creating favourable conditions for container transport. 
Vietnam, Israel seek cooperation in cyber security
Representatives of Vietnamese and Israeli businesses shared their experiences in cyber security at a workshop in Ho Chi Minh City on July 30. 
In Vietnam, around 27 percent of recent cyber attacks targeted the country's key sectors, namely telecommunications and banking. Vietnam is also among those countries worldwide suffering from a high number of attacks on industrial infrastructure, with over 735,000 computers infected with malicious codes during the first five months of 2018, heard the workshop. 
According to Ngo Vi Dong, Vice President of the Vietnam Information Security Association, information security and safety in Vietnam has been improved, however, potential risks remain, especially for small-and medium-sized enterprises. 
Yaniv Tessel, head of the Economic and Trade Mission at the Israeli Embassy in Vietnam, said businesses, particularly larger ones, need to be ahead of the game with cyber security and information safety. 
Participating Israeli firms are ready to cooperate with Vietnam in cyber security activities, he said. 
Israel is the world's second largest exporter of cyber security technologies, following the US. The country now has 300 companies operating in the field of cyber security. 
Ruth Shoham, Executive Director of the Capacity Building Division at the Israel National Cyber Directorate, said Israel and Israeli businesses have paid close attention to cyber security development.
At the workshop, Vietnamese and Israel's leading IT firms – namely CyberArk, Beyond Security, Claroty, Cyberbit, Ericom, and Skybox Security – sought ways to cooperate in this sphere for the time to come.