VietNamNet Bridge - Vietnam welcomes foreign investors, hoping that their capital and technology will help improve the country's industry, but technology transfer has been disappointing.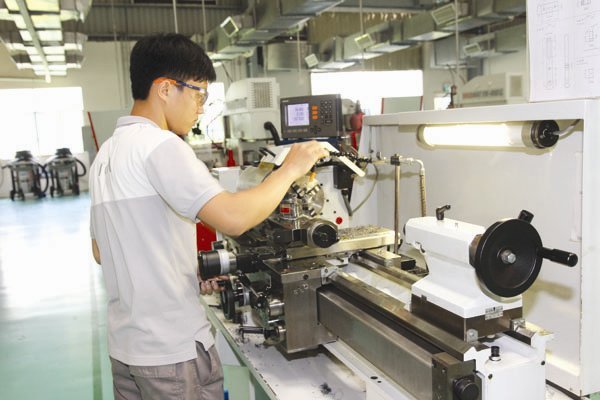 FDI technology transfer remains low
The World Economic Forum 2016 report showed the lack of effect of technology transfer from FIEs. In 2009, Vietnam ranked 57th in the world in this criterion. Five years later, it fell to 103rd. Meanwhile, Malaysia was in the 13th position, Thailand 36th, Indonesia 39th and Cambodia 44th. 

A report of the Ministry of Planning and Investment (MPI) shows that over 80 percent of FIEs in Vietnam use medium level technology, 14 percent use outdated tech, and only 5-6 percent use high tech.

Vietnamese enterprises are weak at R&D activities with 80 percent of enterprises having no R&D facilities. Vietnam's capability of absorbing technologies is low, which makes it difficult for them to cooperate with foreign enterprises when opportunities arise.
80 percent of FIEs in Vietnam use medium level technology, 14 percent use outdated tech, and only 5-6 percent use high tech.
Of Samsung's 200 component suppliers, only several Vietnamese companies provide simple products.

Meanwhile, the report released by VCCI in mid-2016 showed that Vietnamese enterprises, especially small and medium sized, could not get rid of old machines and technologies. The report pointed out that 76 percent of imported machines and equipment were made in the 1960-1970s, while 75 percent of equipment had fully depreciated and 50 percent had been refurbished.

China, which is considered the master in taking full advantage of waste products, has shifted to a higher level production. It understands Vietnam's machine and equipment market. 

Experts have warned that Vietnam may become the dumping ground for Chinese technology.

The domino effect occurs in receiving technology transferred through FIEs' projects in Vietnam. Vietnam finds it difficult to set up technological barriers for foreign invested projects, accepting to use old technologies, not only from Europe, but from China as well.

The Ministry of Science & Technology (MST) once attempted to tighten control over technology imports by setting a regulation which said used equipment older than 10 years must not be imported. 

However, the ministry later had to amend the regulation, partially because of pressure from FIEs.

With outdated technologies, Vietnamese enterprises can only undertake simple jobs in Samsung's global production chain.

Nhip Cau Dau Tu quoted an expert as saying that Vietnamese enterprises' opportunities to join global production chains have shrunk because the country welcomes foreign investors in supporting industries as well.

Asked about solutions to the problem, Pham Tat Thang from the Trade Research Institute, put forward an 'active approach'. 

He said Vietnam needs to fully exploit the FTAs it has signed with Europe and Japan, which have source technologies. Vietnam needs to import technologies to satisfy market demand.
RELATED NEWS
Technology transfer in the last 30 years disappointing
New law will help develop technology in VN
Chi Mai