Up to 57 percent of surveyed small- and medium-sized enterprises (SMEs) in Vietnam believe they will continue to enjoy growing export, according to a research recently conducted by market research company Harris Interactive on behalf of FedEx Express.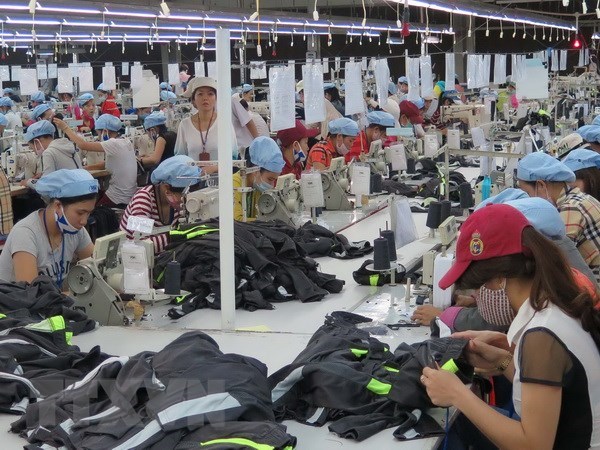 Up to 57 percent of surveyed small- and medium-sized enterprises (SMEs) in Vietnam believe they will continue to enjoy growing export.
Entitled "Global is the New Local: The Changing International Trade Patterns of Small Businesses in Asia Pacific", the research showed the businesses were optimistic and believed they will see further increase in exports to markets beyond Asia-Pacific in the year ahead such as the US, India, and Germany. 
The enterprises were also bullish on exports within the Asia-Pacific, with almost two-thirds or 62 percent anticipating increased revenue growth in the coming time.
About 58 percent of Vietnamese SMEs export to the Asia-Pacific, focusing on China, Japan and the Republic of Korea. 
Eight out of ten SMEs in the country (80 percent) were exporting to markets outside the Asia-Pacific region, higher than the average level of APEC members of 71 percent.
The research revealed that 87 percent of the Vietnamese SMEs had stable or increased shipments over the past year, generating an average of 23.65 trillion VND (1.04 billion USD) in revenue. 
Earnings from export accounted for 48 percent of total revenues of Vietnamese SMEs, with top exports being completed products, raw materials, and spare parts.
Half of Vietnamese SMEs were importing from other markets. Great product variety and superior product quality are two of the most cited benefits of importing goods. Although raw materials and components top the list of imports, professional services and designs are closely follow-up, which illustrates an increasingly prevalent borderless online marketplace today.
Average import value was estimated at 467 million USD, and major import markets of Vietnamese SMEs included the Europe (30 percent), North America (18 percent), Asia (17 percent), and Latin America (10 percent). 
"As shown in the research, the strong optimism from small and medium-sized businesses in Vietnam demonstrates that they are looking to drive further growth of exports and imports within the local and global economies.", said Hardy Diec, managing director at FedEx Express, Indochina.
The independent research also stated that the thriving digital economy is a driving force for business growth among SMEs in the region. 73 percent of the Vietnamese respondents said that they were optimistic about the benefits that digital economy would bring about. Nine out of ten SMEs in Vietnam were using e-commerce, mobile and social network commerce, and 76 percent expect the channels would further grow in the next few years.
New technology is another key business motive. SMEs in the Asia-Pacific were harnessing advanced technologies in the era of Industry 4.0 to expand their business. They believed that adoption of such technologies as mobile payments, big data, advanced analytics, and software automation would increase in the next 12 months.
43 percent of the Vietnamese SMEs indicated that their main motivation to use those technologies is to improve efficiency in supply chain and distribution channels, thus promoting business growth.
Hardy Diec said that problems in customs clearance, foreign currency exchange, and logistics i are the main obstacles to SMEs in Vietnam in expanding their business globally. 
SMEs in Vietnam reported that they are looking for different shipping options, including deferred shipments travelling over ocean (83 percent) or by road (17 percent) in addition to express shipments by air (71 percent). 
The research was conducted based on interviews with 4,543 senior executives of SMEs held online and by telephone in nine markets in Asia Pacific between March and April 2018. 
The markets included in the research were: Mainland China, Hong Kong, Japan, Malaysia, Philippines, Singapore, the Republic of Korea, Taiwan, Thailand and Vietnam.
Interviews were split equally by market with a representative mix of company sizes: micro (1-9 full-time employees), small (10-49 full-time employees) and medium (50-249 full-time employees). The sample size was approximately 500 respondents per market.-VNA