Military Bank's six-month profit exceeds 2017 annual result

 Military Bank (MBBank) has reported consolidated profits of about VND3.8 trillion (US$165.2 million) in the first half of this year, beating its yearly profit of VND3.6 trillion registered in 2017.
According to the bank, the impressive result comes thanks to success in its bancassurance (selling insurance product through banks) and consumer finance businesses.
MBBank has six subsidiaries: MB Asset Management Company, MB Securities, MB Capital, two insurance companies MB Ageas Life and Military Insurance Corporation and MCredit operating in consumer lending.
In the first half of this year, MB's bancassurance rose to the top of the market in terms of new revenue growth.
The bank's traditional business of lending rose 11 per cent year-on-year in the first six months with total outstanding loans reaching VND200 trillion ($8.7 billion). This number is quite close to its annual credit target growth of 15 per cent set for this year.
Earlier this year, it set a consolidated pre-tax profit target of VND6.8 trillion for the whole year, of which the bank is expected to earn VND6.5 trillion. With the six-month result, the bank said it would exceed this plan.
The bank's shares, being traded on the HCM Stock Exchange under the code MBB, rose 2.9 per cent on Monday to VND21,400 ($0.93) per share. However, the share value has lost over 19 per cent since the beginning of this year. 
Domestic steel production growth to reach 20 per cent this year     
The domestic steel production is expected to gain year-on-year growth of about 20 per cent this year, according to the Ministry of Industry and Trade.
Of which, production will increase by 10 per cent for construction steel, 5 per cent for cold rolled steel sheet, 15 per cent for welding steel and 12 per cent for galvanised steel.
Especially, hot rolled steel production is expected to increase the most at 154 per cent against last year. This is because Formosa Ha Tinh plans to double its production capacity when the second blast furnace, with a capacity of 4 million tonnes per year, will come into operation in the second half of the year. That will push the total capacity of Fomosa Ha Tinh up to 7-8 million tonnes per year.
In addition, some other projects are planned to be put into operation this year, such as Hoa Phat Group's rolled steel project with capacity of 600,000 tonnes, starting operation in August and Hoa Sen Group's production line with a capacity of 350,000 tonnes. Meanwhile, Tung Ho Company will put a production line of construction steel into operation with a total capacity of 600,000 tonnes, reports tinnhanhchungkhoan.vn.
According to Nguyen Van Sua, vice chairman of the Viet Nam Steel Association, with such favourable factors, Viet Nam's steel industry this year will maintain growth to gain a surge of 20 per cent in production over last year.
However, the steel industry still faces many difficulties and challenges, including trade protectionism, which means countries implement tariff barriers to reduce imports of goods from other countries, including Viet Nam.
Viet Nam's export steel products face lawsuits in the US, Australia, Indonesia, Malaysia, Thailand and India.
This is a challenge requiring enterprises to meet sustainable production growth to reach the export target of 5 million tonnes this year.
According to the ministry, iron and steel output in the first six months of the year was about 4.69 million tonnes, a year-on-year increase of 7 per cent.
The cause for the positive trend in this period was the continued growth of the domestic economy. Many infrastructure and real estate projects have started construction in the first half of this year.
At the same time, disbursement of public investment capital by the Government in the first months of the year also created good conditions for the growth of the steel industry.
Delayed Da Nang projects lose licences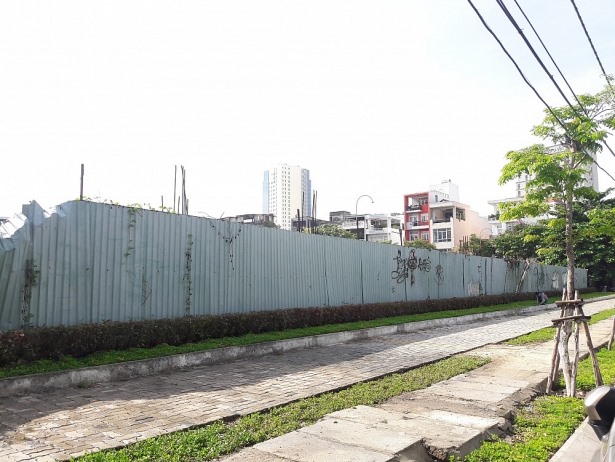 Danang Centre complex in central Da Nang City was one of 40 projects to have its licence revoked due to slow implementation.
The People's Committee of Da Nang City has approved a resolution on key projects in the 2016-20 period and solutions to mobilise resources for their development.
Accordingly, Danang Centre, which covers an area of around 8,000sq.m had its licence withdrawn as the project was still not complete after 10 years.
The complex was planned to include a commercial centre, a five-star hotel and a 35-storey luxury apartment building invested by Vu Chau Long Real Estate Company with total investment of US$125 million.
Construction started in March, 2008.
The city now plans to build a 4-storey car park on the site.
The People's Council proposed issuing bonds of some VND3 trillion for construction after withdrawing the licence of the 40 projects. 
Taisho offers to purchase DHG shares     
Japanese pharmaceutical firm Taisho has offered to buy more than 9.23 million shares of DHG Pharmaceutical JSC (DHG), 7.06 per cent of DHG's total shares.
The deal is expected to be completed between July 19 and August 17.
Taisho will buy DHG shares for VND120,000 (US$5.33) per share, raising the value of the deal to more than VND1.1 trillion ($48.9 million).
DHG is trading more than 130.7 million shares on the HCM Stock Exchange coded DHG, gaining 2.1 per cent to end Monday at VND101,800 per share.
Taisho Pharmaceutical Co Ltd is among the largest shareholders of DHG, holding more than 32.6 million shares or nearly 25 per cent of the Vietnamese firm's total shares.
The deal would raise Taisho's ownership in DHG to more than 32 per cent.
In early July, DHG gained approval from the State Securities Commission to lift ownership limit from 49 per cent to 100 per cent.
In the first quarter of 2018, DHG recorded VND908.4 billion in net revenue and VND171.5 billion in net profit, accounting for 25.7 per cent and 22.3 per cent of its full-year earnings targets.
Sai Gon Ground Services leaves UPCoM     
Sai Gon Ground Services JSC (SAGS) will cancel trading of its 24 million shares on the Unlisted Public Company Market (UPCoM) on July 23, according to the Ha Noi Stock Exchange.
SAGS will move to the HCM Stock Exchange (HOSE) after its UPCoM cancellation as the company has gained approval from the HOSE to list its shares on the southern exchange.
HOSE's decision was made on July 4. SAGS trades on the UPCoM under the code SGN and fell 3.6 per cent on Monday to VND142,000 (US$6.31).
As of April 27, the company's largest shareholder was the Airports Corporation of Viet Nam (ACV) with a 48 per cent stake. Saigon Securities Inc (SSI) has a nearly 15 per cent stake.
In the first quarter of 2018, SAGS recorded VND318 billion ($14.1 million) in combined revenue, an increase of 20 per cent on-year, and its post-tax profit jumped 40 per cent to VND84.8 billion. 
SMEs optimistic about export prospects

Exports of around 87% of businesses in Asia-Pacific region were stable or grew last year, which generated revenue for them, according to a research conducted by market research company, Harris Interactive, a representative of FedEx Express, and a subsidiary of FedEx Corp.

Entitled "Global is the New Local: The Changing International Trade Patterns of Small Businesses  in Asia Pacific", the research shows that 8 out of 10 small Vietnamese businesses (80%) have exported products to markets beyond the Asia-Pacific region, higher than the average level of 71% of the Asia-Pacific Economic Cooperation (APEC).

Approximately 57% of 4,543 surveyed senior executives of small-and medium-sized enterprises (SMEs) of Vietnam in nine Asia-Pacific markets believed that exports of their businesses will continue to grow in markets outside the Asia-Pacific region such as the US, India and Germany.

According to an independent report made by Harris Interactive, the strong development of the digital economy is one of important factors driving business growth of SMEs in the region.

In reality, some 73% of Vietnamese SMEs are optimistic about the benefits brought about by the digital economy. The rate is higher than that of the general businesses (roughly 57%). Nine out of ten Vietnamese SMEs are applying e-commerce, e-mobile and commercial social networks. 76% businesses hope that these channels will continue upward trend in the coming time.

The report also gave a brighter outlook in the not so distant future for the Vietnamese SMEs community, which have forecast their higher export turnover from outside the Asia Pacific region.
Bac Giang develops modern distribution network

The northern province of Bac Giang will implement some policies to stimulate trade and services with the aim of raising total retail and service revenues to VND34.8 trillion (over US$1.5 bilion) in 2020.
Director of the provincial Department of Industry and Trade Tran Quang Tan said the province will focus on developing a modern distribution network in combination with traditional retail models depending on the characteristics of each area.
Accordingly, Bac Giang will call for investment into several key projects to assist with the distribution of local farm produce including a wholesale market and an international logistics centre in Bac Giang city. 
Incentives will be offered to attract investment from foreign investors and big corporations into the building of modern retail facilities. The move is also aimed at expanding consumption markets for local products and services. 
The province will pay attention to promoting production and sale chains for key products and expanding commercial services through offering support to firms in the form of consultation in building business strategies, application of scientific and technological advances and brand building.  
In particular, Bac Giang city, which is the province's economic-political-cultural hub, will be turned into a logistics centre and a gate for foreign trade, serving trade between the Hanoi capital region and China through the Huu Nghi international border gate in Lang Son province. 
Besides, Bac Giang plans to develop new and upscale services to attract more investors and tourists not only from adjacent localities but also from abroad. 
At present, the province has 133 operational markets, along with 7 shopping centres and 8 supermarkets, not to mention over 36,000 wholesale and retail facilities of smaller scale. In general, the trade infrastructure in the province is weak, with few modern retail facilities. The existing ones are mostly of small scales.
Total retail and service revenue in the province reached almost VND12 trillion (nearly US$521 million) in the first six months of this year, up 12.5% from the same period in 2017. The figure for the entire year is estimated at VND25.5 trillion, up 15% year on year.
Hai Phong works to develop value chain for agro-fisheries products

The northern port city of Hai Phong has rolled out several measures to support and form value chains for its agro-fisheries products.
According to Dinh Cong Toan, Vice Director of the municipal Department of Agriculture and Rural Development, the department plans to work with relevant agencies to expand markets for major products and those with strong trademarks and origin certificates.
The city will strengthen links among producers, enterprises, supermarkets, shops and consumers, he said.
Toan revealed that Hai Phong will work to lure investors to agriculture, especially high-tech agriculture, while developing the product information and traceability system for farm produce.
He said the department will also expand satellite farmer households in cultivation, breeding and aquaculture to serve the demand of enterprises, individuals and organisations in fostering connectivity in production and selling of farm produce.
The locality will allocate capital from agricultural and rural development programmes and projects to good farming models in concentrated production regions as well as to the building of goods' trademarks, he added.
A report by the Hai Phong Department of Agriculture and Rural Development showed that in the first half of 2018, the city's agricultural and aquatic production expanded 2.81% from the same period in 2017.
To form goods value chains, the city has developed 385 concentrated production regions covering more than 7,800 hectares, including 277 regions for cultivation, 27 for breeding and 78 for aquatic farming.
The sector has built more than 100 high-tech agricultural models, along with more than 10 agriculture-tourism models.
In the first six months of 2018, Hai Phong formed 47 close production-selling chains, built the Hai Phong Agricultural Produce to support the selling and promotion of local products and received certificates of origin for 51 products.
However, the department also pointed to weaknesses in seeking markets for its products, along with inefficient activities to connect producers, enterprises, supermarkets, shops and consumers, high production costs and difficulties in storing fresh products.
Vietnam enhances competitiveness to realize SDGs

The Vietnamese Government and business community have adopted policies and strategies to aid their competitive goal - to catch up with the rest of the world, especially in ensuring sustainable national development.

Improving competitiveness and realizing sustainable development goals amidst the Fourth Industrial Revolution are obvious trends in the world. 

In 2015, Vietnam and 192 UN member states committed to 17 sustainable development goals (SDGs) under the 2030 Agenda. Last May the Vietnamese Prime Minister signed a National Action Plan to implement the 2030 Agenda on Sustainable Development which encourages businesses to integrate SDGs into their business strategies.

President of the Vietnam Chamber of Commerce and Industry Vu Tien Loc said that the Vietnamese Government and the World Bank released the Vietnam Report 2035 with hopes of turning Vietnam into a mid-income country with an average income of over US$10,000 by 2035.

The report identified six major economic transformations which are almost equal to major targets of the 2030 agenda. They include national innovation and competitiveness, private sector development, efficient urbanization and sustainable development for the environment, capacity improvement to adapt to climate change, and economic modernization.

Loc said the Vietnamese government considered sustainable growth the exclusive pathway for development.      

"The Vietnamese government has issued a resolution on improving the business environment and enhancing national competitiveness, to place Vietnam in the top 4 ASEAN countries in terms of competitiveness and institutional quality. The Prime Minister has issued a directive on increasing Vietnam's access to the Fourth Industrial Revolution. The 17 UN sustainable development goals are considered the foundation for the national development program," Loc said.

Vietnam's position has been enhanced in the international arena after it became a UN member 41 years ago and resumed relations with the World Bank in 1993.

Vietnam has developed an incorruptible, transparent, and innovative government with great efforts to renovate its economic governance to accelerate the international integration process.

Vietnam also has a dynamic business community which is ready to apply the latest technologies, take advantages of the 4.0 revolutionary industry's achievements, and change ways of thinking about doing business to match new economic models.

Nguyen The Phuong, Deputy Minister of Planning and Investment, said that in recent years, Vietnam has gained many achievements in socio-economic development.

Last year the Vietnamese economy's size reached more than US$220 billion and ranked 134th in the world, with an income per capita of more than US$2,300. The economic growth rate was 6.81%, the highest in the last decade.

In 2016, Vietnam advanced 2 positions on the Global Human Development Index (HDI), a marked improvement from its place on the rankings two years prior, to be now situated at 115th out of 188 countries and territories.

Its rankings in competitiveness capacity, innovation capacity, and e-government have remarkably improved.

"Vietnam's efforts to improve the business environment over the past years have been justified by the results. During the four year period the government resolution has been implemented, Vietnam's business environment and competitiveness capacity in 2017 were internationally praised," Phuong said.

The set of three index targets was moved up. In particular, the competitiveness capacity stood at 55 out of 137 countries, up 5 positions; the business environment ranked 68 out of 190 countries, rising 14 positions; and innovation and creativeness moved up 12 positions in comparison with its ranking in 2016," he added.

Vietnam is positioning itself in the race of global competition in which the business community plays an important role as the center of the sustainable development goal and the enhancement of the national competitiveness.
Vietnam imports largest volume of cattle feed from Argentina

Vietnam spent more than US$1.96 billion importing cattle feed from foreign markets in the first half of the year, with shipments from Argentina rising 10.7% compared to last year's corresponding period.

The import of cattle feed continued to increase in June as the value reached US$350 million. Major foreign markets providing animal feed and materials to Vietnam in June were Argentina, Brazil, the US, China and India.

During the six-month period, the country had to import cattle feed and material worth more than US$651 million from the Argentine market.

Notably, Vietnam also spent about US$67 million in importing these products from the US market, up 16.76% over the previous month, bringing the total import turnover for the first half of 2018 to more than US$321 million, an increase of 90.77% against the same period last year.

In addition, Vietnam spent US$287 million on cattle feed from Brazil, US$18 million on imports from Belgium and US$24 million on the Republic of Korea's in the reviewed period, up 51.21% on last year's corresponding period.
App connects house-owners, plasterers     
Construction solutions provider Saint-Gobain has launched a mobile application called Ket Noi 3S (3S Connection) to link house owners with professional installers of plaster solutions.
The app is available in both Android and iOS, the company said.
Using it, a house owner can register their information and requirement and will receive suggestions from five different installers.
The parties can then negotiate.
The app also supports nearly 20 plaster ceiling solutions developed by experts at Saint-Gobain Vietnam.
The launch aims to create a professional, competitive plaster market, Nguyen Thi Hong Ngoc, marketing director of the company, said.
The company opened two plants in Viet Nam two years ago and plans on another two each this year and next at a cost of nearly US$100 million.
Saint-Gobain is an industrial company. It designs, manufactures and distributes materials and solutions for buildings, transportation, infrastructure and industry.
In Viet Nam, it has eight brands including Gyproc, DURAflex and NORTON. 
Dutch Lady named among top ten Vietnamese brands

FrieslandCampina's Dutch Lady brand has been voted among the Top 10 Vietnamese Brands this year in a poll conducted by the Vietnam Intellectual Property Association.

The annual awards aim to honour enterprises with trusted brand names and efficient operations, and offer consumers information about trusted brands with high-quality products.

FrieslandCampina Vietnam was the first company in Vietnam to obtain four international quality certificates: ISO 9000:2008 for quality, ISO 14000:2004 for the environment; ISO 22000:2005 for food safety and hygiene, and OHSAS 18001: 2007 for safety and occupational health from Bureau Veritas, the global leader in testing, inspections and certification.

The company was ranked among the 100 most sustainable businesses of 2017 for its contributions to the sustainable development of the country.

Its programme for the milk industry development, Den Dom Dom, which builds new schools in disadvantaged areas, provides nutrition education and does research, bring benefits to the community. For instance, it has collaborated with the Red Cross for a campaign called Drinking Milk- Exercising- Healthy that benefits 75,000 children at 112 schools nation-wide.

It also is working with Agriterra, a Dutch agriculture agency founded in 1997, to promote, facilitate and support lasting cooperation between rural organisations in the Netherlands and in developing countries, to train Vietnamese farmers in best practices.
Over 254 million tonnes of cargo handled via ports in H1
Up to 254.8 million tonnes of cargo were handled via seaports during the first half of this year, up 17 percent year on year, the Vietnam Maritime Administration (VMA) has reported. 
This includes 8.7 million TEUs (20-foot equivalent units) of freight containers, up 28 percent against the same period last year, and fulfilling 57 percent of the target set for 2018.
During the period, 38 Vietnamese container ships carried about 69.9 million tonnes of cargo, representing a year-on-year rise of 9 percent, according to the administration. 
The VMA coordinated with relevant agencies to conduct 11 administrative procedures in all the 25 maritime administrations, while proposing streamlining 31 out of the 101 administrative procedures. 
However, the agency said transportation businesses still face numerous difficulties due to the low volume of cargo and low transportation fees, plus stagnant projects on dredging navigation lines. 
The VMA will invest more in building and upgrading navigation infrastructure and lines in the time ahead. 
Vietnam has a total of 42 public navigation lines stretching 935.9km and 10 specialised navigation lines.
Vinacomin produces over 20 mln tonnes of raw coal from year's start
The Vietnam National Coal and Mineral Industries Group (Vinacomin) has produced over 20 million tonnes of raw coal and 19.3 million of clean coal from the beginning of 2018.
It has sold nearly 22 million tonnes of coal, up 3.8 million tonnes from the same period last year.
The group generated about 66 trillion VND in revenue during the period and estimated to have 6.53 million tonnes of coal in inventory, a decrease of 2.47 million tonnes from the year's start. The firm's production of alumina stood at 654,000 tonnes.
The positive result was attributed to Vinacomin's good market research which allowed the group to sell its products at the right time when the prices went up.
The local demand for coal for production of electricity, cement, fertiliser and others is forecast to remain high in the time ahead so Vinacomin will manage to balance the coal production and sales to reduce inventory and meet the demand at the same time.
This year, Vinacomin sets to sell from 38.5 – 39 tonnes of coal, including 34.2 million tonnes of clean coal, up 1.32 million tonnes year on year.
Vietnam, India boost cooperation in apparel industry
Boosting cooperation between Vietnam and India in the garment and textile sector will be one of the priorities in efforts to raise bilateral trade value to 15 billion USD by 2020, said Parvathaneni Harish, Indian Ambassador to Vietnam.
Speaking at an event to introduce the exhibition Source India 2018 in Ho Chi Minh City on July 17, the Ambassador held that garment-textiles is one of the traditional industries that play an important role in socio-economic development of both Vietnam and India.
It is also the industry the Government of Vietnam and India have prioritised to developing and cooperating with an aim of enhancing bilateral trade and building a supply chain for the sector in the future, he added.
Currently, India owns a strong fibre and yarn production industry that is able to produce almost all kinds of fabric and supporting materials available in the market, making is one of the three largest textile products providers in the world.
Meanwhile, Vietnam is in the top five garment exporters in the world with export turnover reaching 31 billion USD in 2017. However, Vietnam has had to import a large volume of materials for the sector, with 19 billion USD in import value in 2017, he noted. Vietnam is a promising market for Indian firms, he affirmed.
Anil Rajvanshi, Chairman of the Synthetic and Rayon Textiles Export Promotion Council of India, said that India is strong in producing and exporting textile products from synthetic yarn, a material fabric that is being used widely in the world garment industry with high expansion prospects in the future.
He asserted that although India and Vietnam can supplement each other in the supply chain of the garment sector, the two-way trade in the area remains modest. In 2017, India's garment exports to Vietnam reached 429 million USD, up 44 percent over 2016, while Vietnam shipped only 178 million USD worth of garment products to India.
In order to promote cooperation and improve trade in the sector, India has set a target of exporting 1 billion USD in materials to Vietnam in the coming time, he revealed, while calling for Vietnamese firms' active engagement in trade promotion and business exchange activities to set up closer and more effective partnership.
Nguyen Thi Tuyet Mai, Deputy General Secretary of the Vietnam Textile and Apparel Association, said that despite being one of the five largest apparel exporters in the world, Vietnam is also one of the countries that import the highest amount of garment and textile materials in the world. 
Vietnam's garment and textile export is potential for growth with estimated revenue of 34 billion USD in 2018. Therefore, demands for materials and equipment for the sector will also rise considerably, she said.
Mai lauded the quality and diversity of India's material fabric as well as textile equipment and technology.
She held that the promotion of cooperation in the garment and textile sector between Vietnam and India will pave the way for enterprises of both sides to optimise their strengths and advantages. Vietnam will benefit from more materials, technology and equipment for production, while India can expand its market, stated Mai.
Vietnamese businesses proposed that the governments of the two countries consider negotiations on and the signing of a bilateral free trade agreement to lay foundation for the reduction of tariff for goods of each other.-VNA
Investors ready to invest in 22 projects in Can Tho
Investors have expressed readiness to invest in 22 projects worth roughly 82 trillion VND (3.64 billion USD) on a combined area of 2,756.3ha in the Mekong Delta city of Can Tho. 
It was revealed during a meeting between the municipal People's Committee and departments, agencies on July 17 to review preparations for an investment promotion conference scheduled for August 9-10.
Chairman of the municipal People's Committee Vo Thanh Thong said the city has so far made a portfolio of 54 projects in need of nearly 124 trillion VND in total capital.
Of them, 44 projects worth an estimated capital of over 112.9 trillion VND have attracted investors' interest. Some investors said they are ready to implement 22 projects immediately after the conference.
In order to achieve better results in the conference, Thong asked departments and agencies to complete details of projects calling for investment. 
As scheduled, Prime Minister Nguyen Xuan Phuc will deliver a speech at the event which will attract 550 delegates as leaders of ministries, localities, international organisations, domestic and foreign experts. 
The conference will discuss developing service centres, high-tech agriculture and science-technology. 
On the occasion, the city will present insignias and investment licences to enterprises, sign memoranda of understanding on cooperation between the municipal People's Committee and investors, and launch several key projects in the locality.
Vietnam posts record trade surplus in first half
Vietnam enjoyed a trade surplus of 3.37 billion USD in the first two quarters of 2018, the highest level over the last five years. 
According to the General Department of Customs, the country's export turnover increased by 16.3 percent year-on-year to 114.2 billion USD in the reviewed period. 
Twenty commodities have posted export revenue of over 1 billion USD so far. They included phones and components (22.5 billion USD); computers, electronic products and components (13.45 billion USD); textile-garment (13.42 billion USD); machinery, equipment, tools and spare parts (7.8 billion USD); and footwear (7.79 billion USD).
In terms of imports, the country spent 110.83 billion USD on importing goods from January to June, up by 9.6 percent. 
According to the Ministry of Industry and Trade (MoIT), domestic businesses reported a 19.9-percent rise in their exports by shipping 33.07 billion USD worth of goods abroad over the first half. Meanwhile, FDI enterprises earned 80.86 billion USD from exports, up 14.5 percent in the corresponding period last year.
The ministry said there are many favourable conditions for export throughout the rest of the year.
Agricultural and fishery exports often increase in the middle and peak at the end of each year. Industrial products with big export revenues, like textile-garment, footwear, and wood products, have entered their export season since the second quarter, it noted. 
Additionally, the Comprehensive and Progressive Agreement for Trans-Pacific Partnership and the EU-Vietnam Free Trade Agreement, expected to take effect in 2019, have been already been catalysts for foreign direct investment that could help Vietnam further boost its production capacity, it added. 
The ministry forecast this year's exports at 236.6 billion USD, up 10 percent against 2017.
Vietnam-Malaysia trade up 21.15 pct in first half of 2018
Two-way trade value of Vietnam and Malaysia in the January-June period this year expanded 21.15 percent on a yearly basis to more than 5.84 billion USD, according to statistics of the Vietnamese trade office in Malaysia. 
Of the volume, Vietnam's imports from Malaysia were worth nearly 3.84 billion USD, up more than 42 percent compared to the same period last year, while exports dropped 5.46 percent to 2 billion USD. As such, Vietnam ran a trade deficit of 1.83 billion USD with Malaysia in the first half of this year. 
It is noteworthy that Vietnam is importing more materials, fuels and machinery for production from Malaysia, and buying less consumer goods. 
Major imports include petrol and oil (1.23 billion USD), computers, electronics goods and parts (more than 620 million USD), machinery, equipment and tools (380 million USD), and metals (172.5 million USD).
Five groups of products earned Vietnam more than 100 million USD in revenue each, including phones and parts (308.5 million USD), computers, electronics goods and parts (300 million USD), steel products (228 million USD) and rice (138.2 million USD).
Some export lines saw strong rises in the period, such as rice (112.7 percent), wood and wood products (109.41 percent), steel products (106.29 percent), glass and glass products (56.39 percent), and coffee (37.67 percent).
However, earnings of computers, electronics goods and parts dropped 56.33 percent. 
Regarding investment, this year to June 20, Malaysia had 13 new investment projects in Vietnam worth a combined 59.83 million USD, while six valid projects added 12.09 million USD in total to their capital. Malaysian investors also spent 105.95 million USD to buy stakes in Vietnamese companies. In total, Malaysia ranked 11th among foreign investors in Vietnam in the first half of the year with a total 177.88 million USD. 
Malaysia's accumulated investment in Vietnam as of June 20, 2018, reached 12.4 billion USD in 577 projects, ranking 8th among 128 countries and territories investing in the country.
Domestic steel consumption drops strongly from May

Domestic consumption of steel in June dropped 14.9 percent compared to May to 1,794,193 tonnes and production output also fell 1.25 percent month on month to 2,058,445 tonnes, according to the Vietnam Steel Association. 
However, the figures showed increases if compared to the same period last year, at 28.6 percent for sale of steel products and 28.4 percent in terms of output. 
In particular, sale of construction steel reduced by 25.6 percent on a monthly basis with 778,146 tonnes sold. Production of the product also decreased by 5.13 percent from May to 806,252 tonnes. 
Explaining the drop, Nguyen Van Sua, Vice Chairman of the Vietnam Steel Association, said the May sale of construction steel was the highest in the past five years. In addition, it is normal that sale of construction steel decreases in June as construction activities usually slow down in the rainy season. 
He added that despite the monthly fall, the figures still showed increases from the same period last year.  
At the same time, Sua warned that the world steel market contains many potential risks due to the dispute related to the US's tariff on imported steel. 
Vietnam's steel products are also facing some trade protection measures in other countries. 
Besides, an appreciating US dollar and sluggish stock market are likely to affect the steel sector's growth. 
The Ministry of Industry and Trade forecast that the steel industry can maintain a growth rate of 20 percent this year, but urged vigilance against the impacts of the US-China trade war and rising trade protectionism.  
Director of the ministry's Planning Department Duong Duy Hung said it is necessary to take legal trade defence measures to protect the domestic steel industry.
Huge cost hikes at Hai Phong city's projects

Most construction projects in the northern port city of Hải Phòng are running well above their initial cost estimates, with the cost hikes in some cases reaching thousands of billions of VND, according to a recent inspection by the Government Inspectorate.
The findings were announced by the Government Inspectorate after it completed an inspection on the implementation of construction investment management regulations in Hai Phong for the 2017-2020 period.
The cost of a project to upgrade Road 356 in the city, which was approved in 2010 with total investment of 315 billion VND (13.7 million USD), increased to almost 1.3 trillion VND (49 million USD).
Another project, Dinh Vu Sea Dyke, approved in 2010 with investment of 998 billion VND (43.9 million USD), saw a cost hike of more than 3.2 trillion VND (140.9 million USD). This project is still waiting for capital at the moment.
The southeastern ring road of Hai An district was approved in 2009 at a cost of 886 billion VND (39 million USD), but was adjusted to more than 2 trillion (88 million USD) in 2012.
Several other projects were also on the list, including the Cat Ba Fishing Boat Wharf project, Tran Phu High School construction project, a student apartment building project and the Khue Bridge project.
According to the Government Inspectorate, all of these projects' costs were adjusted from time to time and their construction time lengthened from four to seven years.
Examination of contractors' competence revealed that many selected contractors were not capable of implementing the projects, namely CP Construction Company, IMICO – Phuc Loc joint venture and ACC - IMICO - Phuc Loc Joint Venture.
While Hai Phong city's authorities had made efforts to conduct State management over construction quality, the recent inspection discovered a number of quality and progress problems.
Land clearance delays caused tardiness in many projects. The Dinh Vu Industrial Zone main road project was 25 months behind schedule and the Khue Bridge construction project was 15 months delayed. For the Tran Phu High School project, land clearance took almost five years.
Meanwhile, many projects were approved without an evaluation report on environmental impact, such as the construction of the main road in Dinh Vu Industrial Zone, the Dinh Vu Sea Dyke Project and the Ngo Quyen district resettlement project.
Investors in some projects reportedly portrayed their projects as urgent in order to shorten all biddings and contractor selection procedures. However, the inspection team found out that these projects turned out otherwise.
The Government Inspectorate therefore proposed that investment capital for many projects be reduced. It is also suggested that relevant Hai Phong city's authorities be disciplined for the violations and problems mentioned.
Vietcombank receives Mobile Banking Initiative of the Year award
The Joint Stock Commercial Bank for Foreign Trade of Vietnam (Vietcombank) has been awarded the "Mobile Banking Initiative of the Year" title by the Asian Banking & Finance (ABF) magazine.
The bank received the title at the ABF Retail Awards 2018 held in Singapore on July 12.
Vietcombank's app has all necessary functions meeting consumers' demand for financial transactions, and connects with partners in different fields, including entertainment, shopping, aviation and securities.
Vietcombank has used modern methods of payment such as payment using QR code in more than 10,000 shops, restaurants and websites in various services.
It has also applied modern technology in identifying and authenticating transactions to serve users.
Currently, Vietcombank is rated one of the best Vietnamese banks in terms of asset quality and profitability.
In 2017, the bank became the first in Vietnam to report pre-tax profit of 11.341 trillion VND (499 million USD). Its bad debts fell to only 1.1 percent, the lowest rate among major credit institutions.
Vietcombank aims to become the first bank in Vietnam to join the 300 largest banks and financial companies in the world by 2020.
Recently, the bank was named the best bank of Vietnam in 2018 by FinanceAsia.
Vietnam eyes stronger export of aquatic products to Brazil
Vietnam has become one of the three largest white-fleshed fish suppliers for Brazil, with the export value of Tra fish to the market reaching 104.7 million USD in 2017, up 54 percent against 2016. 
According to the Vietnam Association of Seafood Exporters and Producers (VASEP), Brazil - which has annually imported more than 1 billion USD in the value of aquatic products since 2012, is now one of the largest markets of Vietnam's Tra fish. 
This is a potential market in South America for Vietnam's aquatic products, especially Tra fish, the association said. 
Statistics from the International Trade Centre showed Brazil ranked 21st globally in importing aquatic products in 2016. 
Vietnam's exports of aquatic products to Brazil have risen over the past few years but its market share remains limited. 
The situation is attributable to the fact that Vietnamese exporters are meeting difficulties in selling their aquatic products in Vietnam's traditional markets such as the US and EU. 
In the first months of 2018, Brazil was still one of the most important markets of Vietnam's Tra fish. 
However, processors and exporters said their exports of aquatic products to the country still face difficulties and risks because the market applies strict regulations on quality standards and technical barriers to protect Brazilian producers. 
The Ministry of Agriculture and Rural Development (MARD) has paid attention to promoting negotiations with the Brazilian side, towards making it easier for Vietnamese aquatic products to enter the market. 
MARD's Department of Animal Health recently asked VASEP to point out difficulties facing Vietnamese enterprises in exporting aquatic products to Brazil. 
VASEP Vice General Secretary To Thi Tuong Lan said the department should help aquatic firms update Brazil's import information and regulations as quickly as possible, as well as identify risks related to trade protection. 
It is necessary to have measures to prove that shrimps from Vietnam do not pose infection risk to shrimps in importing countries, she stressed. 
Recently, during his visit to Brazil, Deputy Prime Minister Vuong Dinh Hue also asked the Brazilian government to create favorable conditions for Vietnamese aquatic businesses to export their products such as Tra and basa fish and shrimps to the country.
Vietnam's seafood exports reached a value of nearly 4 billion USD in the first half of 2018, up 12.3 percent year-on-year, according to VASEP. 
In June, basa fish brought home more than 200 million USD, up nearly 33 percent annually, bringing the six-month figure to about 1 billion USD, up 21 percent. 
Firms predicted that seafood exports will keep growing over the last half of the year thanks to an increase in demand. Several domestic processing enterprises have signed contracts for major holidays later this year. 
The country's export of aquatic products is forecast to continue growing strongly for the rest of the year.