Vietnam's IT group FPT has inaugurated its 7th representative office in Japan at Yokohama, Kanagawa Prefecture.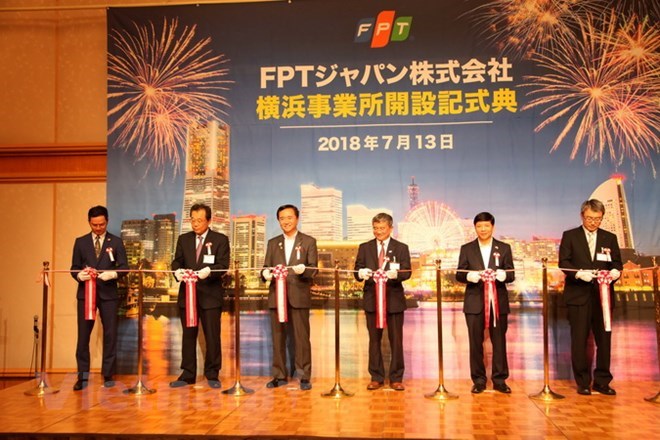 At the inauguration ceremony 
Addressing the office's inaugural on July 13, Vietnamese Ambassador to Japan Nguyen Quoc Cuong said besides the FPT office, there are six other Vietnamese firms operating in the prefecture, which is one of the most dynamic localities in Japan. 
He expressed his belief that investment by Vietnamese businesses in Kanagawa will expand in the context of the bilateral relationship at its best ever, and rising number of Vietnamese living in the prefecture. 
Kanagawa Governor Kuroiwa Yuji affirmed that the prefecture will create favourable conditions for Vietnamese businesses. 
He said the ties between Kanagawa and Vietnam are growing, highlighting the annual Vietnam Festival in the locality. 
The Governor went on to say that investment of Vietnamese firms such as FPT will help further strengthen the relations. 
According to FPT Director General Bui Quang Ngoc, the group first made its presence in Japan in 2001. So far the group has opened offices in Tokyo, Osaka, Nagoya, Fukuoka, Shizuoka, Okinawa and Yokohama, with around 1,000 staff members. 
Along with the growing Vietnam-Japan relations, there is a rising trend of Vietnamese investment in Japan, especially in the IT field. This is a positive sign that the gap in bilateral investment ties might be narrowed in the future.
In the first six months of this year, Japan overcame 86 countries and territories to become the largest foreign investor in Vietnam, with 6.47 billion USD, or 31.8 percent of the total registered capital.-VNA