New enterprises up 5.3% in H1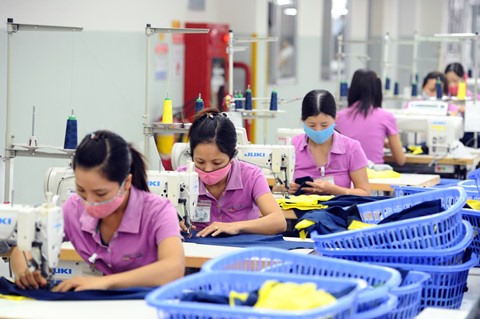 More than 64,350 new enterprises were formed in the first half of this year with a total registered capital of VND648.9 trillion (US$22.95 billion).
These figures, marked year-on-year increases of 5.3 per cent in the number of businesses and 9 per cent at the level of capital, the Business Registration Management Agency, operating under the Ministry of Planning and Investment reported.
Experts at the agency attributed the period's positive performance to the improving business conditions and registration procedure.
According to experts, the newly-established firms have a tendency to rise since the beginning of this year. Notably, the second quarter of this year saw the highest number of new firms and level of registered capital over the past five years with 37,750 units, registering $11.8 billion in capital, up 41 per cent and 33 per cent, respectively.
In the first six months, the average capital for an enterprise reached VND10.1 billion, surging 3.4 per cent over the same period last year.
New enterprises have mainly focused on sectors such as wholesale and retail, repair of cars and motorcycles, accounting for one third of the total capital.
The firms also concentrated on processing and manufacturing, making up 13.5 per cent, and the construction sector, equivalent to 13 per cent.
Meanwhile, the real estate trading sector saw the highest level of registered capital in the six-month period, accounting for 30 per cent of the total capital, the agency noted.
Opposite to the 5 per cent rise of new enterprises, nearly 18,000 firms stopped operations from January to June, up 25 per cent year-on-year, while 6,630 completed dissolution procedures, up 22 per cent. Most of these businesses were small-scale and located in the Red River and south-eastern regions.
Earlier this year, the Prime Minister Nguyen Xuan Phuc signed to issue a decree on cutting 675 of the 1,216 business conditions (or 55.5 per cent), managed by the Ministry of Industry and Trade (MoIT).
In September, 2017, MoIT Minister Tran Tuan Anh approved a plan to abolish 675 business conditions under the management of the ministry, showing the ministry's pioneering role in reforming business conditions.
According to Tuan Anh, besides the reduction of 675 business conditions, the MoIT also decided to eradicate 420 of the 720 goods codes, subject to pre-clearance inspection, which made up 58.3 per cent of the total number of tariff codes. — VNS
Fresh FDI surges through capital contribution, share acquisition
Fresh FDI surges over 80 percent through capital contribution and share acquisition in the first six months of year, said the Foreign Investment Agency under the Ministry of Planning and Investment.
As per statistics of the Agency, in the first six months of the year, foreign investors have made 2,749 transactions to contribute capital and buy shares worth US$4.1 billion, a year-on-year rise of 82.4 percent.
In all, new FDI capital in the month totals $20.33 billion, up 5.7 percent against the same period a year earlier.
Of which, 1,366 fresh FDI projects issued business licenses with total registered capital of $11.8 billion, equal to 99.7 percent compared to same period last year. Additionally, 507 operational projects had the nod to inject an extra $4.43 billion, up 86.2 percent against the year-ago period.
New FDI capital is mainly poured into 17 sectors. The processing-manufacturing sector caught investors' eyes making up the biggest proportion of capital contributions and share acquisitions with $7.91 billion, which accounts for 38.9 percent of the total registered capital.
The realty estate followed the second rank with investment of $5.54 billion accounting for 27.3 percent of total registered capital. The retail sector ranked third with $1.5 billion accounting for 7.4 percent of total.
Among 86 countries and territories with fresh investment projects in Vietnam in half of the year, Japan took the lead with $6.47 billion (accounting for 31.8 percent of total registered capital), followed by South Korea with $5.06 billion (24.9 percent); and Singapore with $2.39 billion (11.8 percent).
The FDI projects approved this month are in 55 provinces and cities. Among these, Hanoi has the highest volume of $5.87 billion (28.9 percent of total registered capital), followed by Ho Chi Minh City with $3.68 billion (18.1 percent), Ba Ria – Vung Tau province with $1.93 billion (9.5 percent).
Vietnam spends nearly $1 bil animal feed corn in six months
Vietnamese enterprises spent US$989 million importing 4.9 million tons of corns as animal feed, up 35 percent on volume and value in the first six months of the year
According to the Department of Crop Production under the Ministry of Agriculture and Rural Development, for the period 1995-2005, thanks to planting new variety of corn, farmland for growing corn increased across the country leading to surge in production of corn from one million tons to over four million tons a year
However, lately, it has plummeted below five percent because of diseases and wild grass, Vietnamese farmers have no choice but import corn.
Corn animal feed is the agricultural product Vietnam has imported most in ten recent years. For instance, in 2017, the Southeast Asian country imported 7.7 million tons costing $1.4 billion.
Whereas, in the first six months of 2018, the country spent nearly $1 billion to buy 4.9 million tons of corn, up 35 percent against the same period last year.
The Department said that after four years, new corn variety planted in Vietnam brings high-yield than cross-bred kinds because it can eliminate worms and wild grass resulting in decreased production cost as farmers use little pesticide and labor cost.
Over 125,000 farmers growing new corn have improved productivity and income; accordingly, farmland for new corn variety leaped from 12,500 hectare in 2015 to 28,100 hectare in 2017 to one million hectare nationwide.
As per CropLife Vietnam, by 2017, 24 nations permitted growing genetically modified trees in the area of 189.8 million hectare, an increase of 3 percent compared to 2016), leading to profit surge of $102 per hectare.
Additionally, 43 nations use genetically modified trees as animal feed and food.
Vietjet set to open Hanoi-Osaka air link in Nov
Vietnam's budget carrier Vietjet will launch a direct air service connecting Hanoi City and Osaka (Japan) on November 8 to further boost tourism and trade between the two countries and across the region.
The Hanoi-Osaka (Japan) route will operate a daily return flight from November 8, with a flying time of over 4 hours per leg. The flight will depart Hanoi at 01:40 and arrive in Osaka at 07:50 local time. The return flight takes off at 09:20 local time in Osaka and lands in Hanoi at 13:05.
Vietjet continues this year's promotional series, "Free up your summer with Vietjet," over three days (July 4-6) with 700,000 tickets priced from VND0 on its website, www.vietjetair.com.
The promotional tickets are applicable to all international and domestic routes to Osaka (Japan)/Seoul, Busan, Daegu (South Korea)/Hong Kong/Kaohsiung, Taipei, Taichung, Tainan (Taiwan)/Singapore/Bangkok, Phuket, Chiang Mai (Thailand)/Kuala Lumpur (Malaysia)/Yangon (Myanmar)/Phnom Penh, Siem Reap (Campuchia), with a travel period from August 14 to December 31. Exceptions apply to the NhaTrang–Siem Reap (Cambodia) route, open from September 21, and the Hanoi–Osaka (Japan) route, open from November 8.
The promotional tickets are available through all sales channels, including from 12:00 to 14:00 every day on www.vietjetair.com. Payment can be made with debit or credit cards of Visa/MasterCard/AMEX/JCB/KCP or any ATM card issued by 34 Vietnamese banks that have registered for internet banking.
Currently, Vietjet operates 60 aircraft with more than 385 flights daily. It has transported more than 60 million passengers to date on 93 routes covering destinations in Vietnam as well as international destinations such as Hong Kong, Singapore, Korea, Taiwan, China, Thailand, Indonesia, Myanmar, Malaysia and Cambodia.
Rice export surges
June's rice exports amounted to 604,000 tons, worth US$317 million, taking the respective figures in the January-June period to 3.56 million tons and US$1.81 billion, up 25% in volume and 42% in value year-on-year, according to the Ministry of Agriculture and Rural Development.
According to the ministry, farm produce exports are soaring. Vietnam's price for 5% broken rice for export has reached US$450 per ton, whereas the price of the same type of rice from India is US$410 per ton and from Thailand is US$435 per ton.
According to the Vietnam Food Association and the Ministry of Industry and Trade, as Sai Gon Giai Phong reported, the export price of 5% broken rice from Vietnam rose to US$458-462 per ton in mid-May, the highest in four years.
The falling prices of India and Thailand are attributed to the declining import demands of these exporters' traditional markets, the agriculture ministry said.
The rice price in Thailand has dropped to a bottom low this year due to reduced demand and a potentially abundant supply. As for India, the rice price is low as a result of weak consumption in Africa and Bangladesh.
According to experts, Vietnam's rice export price is improving thanks to the rising exports of high-grade and jasmine rice, accounting for over 80% of total rice exports. As of last May, China was still the largest importer of Vietnam's rice, with a 30% share, followed by Indonesia with 18.7%. Although exports to the Chinese market dropped by 21.3% against the same period a year earlier, exports to other markets picked up, such as Indonesia with 596,000 tons, Iraq with 150,000 tons, Malaysia with 273,000 tons, and the United States with 26,200 tons.
Deputy Minister of Agriculture and Rural Development Ha Cong Tuan noted that this year's rice export target is 6.5 million tons, with high-quality rice.
According to the Department of Farm Produce Processing and Market Development, the growth of major farm produce in the year's first half was considerable. The value of the U.S. dollar is on the rise, offering a good chance for Vietnamese enterprises to increase exports.
Nonetheless, Minister of Agriculture and Rural Development Nguyen Xuan Cuong voiced his concern over the return of trade protectionism in major markets such as the United States, the European Union and China. In addition, the high export value in last year's final months posed challenges to efforts to promote farm produce exports toward the year-end.
According to the agriculture ministry, it is not easy to get the rice price as high as it was early this year because of the global increase in rice production.
This concern was shared by Minister of Industry and Trade Tran Tuan Anh at a recent online meeting on ways to boost exports among enterprises and business associations. Trade protectionism is on its way back, as reflected by the United States introducing trade self-defense measures.
To cope with trade protection efforts, a sensible solution could be assisting enterprises to produce quality products for export, increasing the added value of products, connecting supply with demand and making products for chain retailers. In addition, there need to be measures to maintain export markets, enhance the provision of market information and strengthen administrative procedures. Legal corridors for export activities should also be improved.
Vu Ba Phu, head of the Vietnam Trade Promotion Agency, said that in a bid to support enterprises in overcoming difficulties with this level of protection, the industry-trade ministry needs to frequently update its market information and deal with problems as they arise, as well as provide early warnings to help prevent enterprises from getting involved in trade defense lawsuits. There needs to be coordination between the agriculture ministry and the industry-trade ministry in working with the United States on disputes and to protect the interests of Vietnam's seafood products, which face technical barriers and trade defense measures in the U.S. market.
Besides rice, other agricultural products with good export results in the January-June period are fruits and vegetables, with an estimated US$2 billion (up 20%); cashew, US$1.71 billion (up 16.4%); and seafood, US$3.94 billion (up 10.5%), according to the agriculture ministry. Markets posting strong growth in the six-month period are Indonesia, China, Germany, Malaysia, the United States and India.
According to the Department of Crop Production, there are three rice harvests toward the year-end. If there are no abnormal weather conditions, rice production may reach 23.3 million tons. The year's rice yields will then be brought to 43.9 million tons, up at least 1.2 million tons against last year.
Second thought needed for price hikes
There are good reasons for concern, when the average price consumer index (CPI) in the first half of this year reached 3.29%, compared to the annual target of below 4% pledged by the Government and endorsed by the National Assembly.
Such a point was highlighted by the General Statistics Office (GSO) at a press briefing last week. Head of the GSO Nguyen Bich Lam while stressing a robust economic growth rate at 7.08% in the first half, called attention to the increasing inflation pressure. Lam said June's CPI of 0.61% was the highest in seven years.
Since early this year, the Government has reiterated the top-priority goal of macro-economic stability, highlighting the target to keep inflation below 4%. Such a commitment, however, is facing challenges, and serious ones at that.
High inflation, as agreed by economists, is driven by five primary causes, namely increasing money supply, big national debt, demand-pull effect, cost-push effect, and finally foreign exchange rates. Worryingly enough, almost all such constituents are emerging more visibly now.
Data from the GSO shows money supply as of June 20 had increased by 7.96% against end-2017, way above 5.69% in the year-ago period; while the national debt remained high, prompting the Government to spend VND55.9 trillion to service the debt. The cost-push effect has also been strong, as enterprises saw input costs rising 4.78% year-on-year due to multiple factors. The rising exchange rate, seen in the devaluation of Vietnam dong against the greenback these days, is also a menacing factor for inflation.
In fact, efforts are being taken to harness inflation, including pledges by the central bank to tightly control credit growth in the second half and its move to withdraw excess capital from the economy, having earlier injected a big sum to buy U.S. dollars to buoy foreign reserves.
But such efforts will not suffice against the backdrop of strong primary factors mentioned earlier, especially at a time when a stronger cost-push effect is looming. Education and healthcare services are poised to continue their uptrend, and fuel prices will also rise further, as the Government has got the nod to increase the environment tax on fuels by an average of VND1,000 per liter.
In its report on socio-economic performance for June 2018, the GSO recommends that the Government carefully weigh its roadmaps in hiking State-controlled prices of commodities, and apply flexible but prudent monetary policy in harmony with fiscal measures. The Government should also have solutions at hand to absorb major capital inflows, and at the same time prepare itself for external shocks, especially the rate hike by the U.S. Federal Reserve so as to stabilize exchange and interest rates.
The State budget is facing constraints, but given the top-priority goal of harnessing inflation for macroeconomic stability, given the high CPI in the first half, and given signs of inflation spiraling out of control, any move to further chase up prices on the part of the State should need a second thought.
AirAsia launches two new international air routes
Low-cost airline AirAsia on July 1 launched two new international air routes to Malaysia's Penang, from Vietnam's Hanoi and Thailand's island of Phuket.
The Hanoi-Penang flights are operated on Mondays, Wednesdays, Fridays and Sundays. Flights from Penang depart at 6:15 a.m. and land at 8:20 a.m., whereas flights from Hanoi are scheduled to leave at 8:50 a.m. and arrive at 12:50 p.m.
On the occasion, AirAsia is offering promotional Hanoi-Penang fares, from VND1.2 million per ticket, which are up for grabs on July 2-8 and are applicable to travels between July 2, 2018, and January 31, 2019. Promotional tickets can be purchased via the airline's website airasia.com and the AirAsia mobile application.
According to the commercial head at AirAsia Malaysia, Spencer Lee, the airline is pleased to strengthen its flight network in Southeast Asia. Hanoi is the second city in Vietnam that has direct flights to Penang, after HCMC.
AirAsia wants to continue promoting tourism between the two countries and connecting Hanoi with more international destinations within its network, he said in a statement.
AirAsia is currently operating daily flights between HCMC and Penang.
Farm produce prices plunge
Domestic farmers have suffered sharp declines in the prices of agricultural products such as pepper, rubber, coffee and shrimp, despite farm export growth of 12%, according to Thanh Nien newspaper.
The price of pepper exports has dropped nearly 41% on average to some US$3,500 per ton. As a result, the product's export revenue has decreased by 36% in spite of its 5% rise in export volume.
In addition, the rubber price has dropped by 25%, leading to an 8.6% decline in export value despite a 16% increase in the volume of rubber shipped abroad.
The same fate was also suffered by coffee, as its price has dipped by 14%. The country has exported more than one million tons of coffee worth US$2 billion, up 11.1% in volume but down 4.7% in value.
As for shrimp, prices have plunged by 20-30%.
These price falls were attributed to the oversupply of the products.
Other products are facing technical obstacles in importing markets. For instance, the European Commission (EC) has decided to extend its yellow card issued for Vietnam's seafood until January next year, causing difficulties in exporting seafood to the market. The EC is also considering the enhancement of inspections of Vietnam's fresh dragon fruit.
Besides this, Vietnamese shrimp and tra fish are subject to antidumping tariffs in the U.S. market. In March, the market also raised the import duty on tra fish to a record high of US$3.87 per kilogram.
Many locally made agricultural products, which cannot be shipped to selective markets, have been exported to China. The northern neighbor has overtaken the European Union and the United States to become Vietnam's largest tra fish importer.
Another problem is that local cashew enterprises have fouled each other, and many firms have had to shut down due to heavy losses.
Vingroup enters budget-apartment segment
Vietnam's largest property developer, Vingroup, has announced its entry into the affordable housing segment with the 'Happy Town' brand, whose apartments are to be priced at some VND200 million (US$8,700) each, local media reported.
In a statement on June 29, the group said it will plan housing projects under their brand at industrial parks in a number of provinces and cities throughout the country, except for Hanoi City and HCMC. Each Happy Town condo will have a minimum area of 30 square meters.
In the short run, such apartments are expected to become available in the northern province of Bac Ninh, and the southern provinces of Binh Duong and Dong Nai, where large numbers of migrant workers are employed at major industrial zones.
As such, Vingroup covers three main housing segments, including the mid- and high-end segment with the Vinhomes brand, the mid-end VinCity, and the brand-new affordable Happy Town.
Nguyen Viet Quang, vice president and general director of Vingroup, said in the statement that Vingroup does not set profit as its priority target for the Happy Town brand, but wishes to join with other social stakeholders to address urgent housing problems for workers and low-income earners.
"We will make every effort to successfully build civilized and safe urban areas (whose apartments) are priced as low as possible, so that an increasing number of workers will have their own places to live and work," he noted.
According to property experts, workers at industrial parks have a great demand for housing, but it seems there has been no major business investing in this segment.
The country has some 2.8 million workers employed at industrial and export processing zones, 1.7 million of whom are in need of housing.
However, the market has only met 8-10% of the demand, so most workers have to rent accommodations that ensure very low standards of living, affecting their health and labor productivity.
Therefore, the development of housing for workers and low-income earners has been high on the Government's list of priorities in its national strategy for housing development until 2020, with a vision to 2030.
SVB enhances capacity to intervene
The recent increase in the VND/USD exchange rate was due to inside and outside impacts such as some poor sessions in the domestic stock market and the USD price rise globally, according to Pham Thanh Ha, head of the State Bank of Vietnam (SBV)'s Monetary Policy Department.
Ha added that the USD interest rate in the interbank market rose in line with the world trend, while the VND interest rate remained low, resulting in a minus difference in VND-USD interest rate.
Commenting on the exchange rate and foreign currency market so far this year, Ha said both were stable in the first five months thanks to factors like trade surplus, high disbursement of foreign direct investment, big deals with high foreign indirect investment and the stable USD Index.
Amidst abundant foreign currency supply, the SBV purchased a large amount of foreign currency to increase reserves, contributing to increasing national monetary security and the capacity to intervene in the foreign currency market if necessary.
Since late May, market liquidity has been ensured, while foreign currency transactions were smooth, stated Ha.
Ha affirmed that the SBV will continue monitoring domestic and world markets, with consideration of the roadmap and impacts of the increase in interest rate of the US Federal Reserve Bank and its impacts, as well as US-China relations, moves of Eropean Central Banks and Japan's central bank and domestic foreign currency supply.
The SBV will also continue applying measures and currency policy tools, while staying ready to sell foreign currency to intervene in the market.
"If necessary, the SBV will sell foreign currency with lower price than the current price to stabilise the market, contributing to keeping the macro-economy steady," stated Ha.
Tien Giang sees significant growth in export turnover     
Total export turnover of the Cuu Long (Mekong) River Delta Province of Tien Giang reached US$1.27 billion in the first six months, a year-on-year increase of 6.8 percent, according to Ngo Van Tuan, chairman of the provincial Department of Industry and Trade.
The province's main export products, copper pipes (US$244 million), footwear products (US$230.8), textile fibres (US$210.5 million), and rice (US$93.2 million), recorded significant growth.
In the last six months, the province's exports to the US, EU and Asia rose by 6.7 per cent, 10.8 per cent and 3.8 per cent, respectively.
To raise prices in the market, rice exporters are reorganising their exports by reducing the export of low- and medium-quality rice and increasing high-quality rice exports
According to the province's enterprises, the price of rice exports this year has risen 17 to 20 per cent compared to last year.
Local enterprises are also expanding their exports to new markets, especially those that have free trade agreements (FTA) with Viet Nam. This will increase production and prevent dependency on one market, Tuan said.
The province aims to reach export value of US$1.37 billion in the next six months, and an estimated US$2.65 billion for the whole year, an increase of 6.3 per cent compared to last year. 
Local, foreign companies find Thai Nguyen attractive     
With its geographical advantages and favourable investment environment, the northern province of Thai Nguyen has become an attractive investment destination for many local and international corporations.
At the province's 2018 Conference for Business Promotion held recently, the province said it is home to 6,318 enterprises with a comined investment of VND79.5 trillion and 130 FDI projects worth $7.3 billion.
Many businesses have enjoyed great success in the province, including Masan Group and Samsung Electronics, which have made significant contributions to Thai Nguyen's socio-economic development.
Masan Group, one of Viet Nam's leading private enterprises, has invested almost a billion dollars since 2010 in a tungsten mining and processing project in Nui Phao in Dai Tu District in the northern province of Thai Nguyen through its subsidiary, Masan Resources.
Masan Resources' revenues are expected to reach VND8 trillion this year, backed by a 36 per cent global tungsten market share ex-China, Nguyen Dang Quang, the chairman and CEO of Masan Group, said at the event.
It contributed about VND3.2 trillion in taxes in 2015-17, Quang said.
The Nui Phao project employs hundreds of international experts in mining, processing and refining besides over 2,000 Vietnamese, and has set a new standard in the mining industry.
Masan bought the Nui Phao mine in June 2010 from a foreign owner and in the beginning only had a few dozen employees. Doubts shrouded the project as many people questioned Masan's execution capability and the project's success.
But the company beat all the odds, proving to the world it could turn it around and ramping up Nui Phao's operational capability.
In Thai Nguyen Province, South Korea's Samsung Electronics put into operation a hi-tech complex in the Yen Binh industrial complex in 2014.
It was worth $6.23 billion, and employs 70,000 people.
According to General Director of Samsung Vietnam Shim Won Hwan, Samsung Electronics Vietnam Thai Nguyen has set itself an export target of $22 billion this year.
The company had become one of largest businesses not only in Thai Nguyen but also the whole country, he said.
Samsung and Masan chose Thai Nguyen as the base for one of their largest investments since the province has advantages including being close to Ha Noi and Noi Bai Airport and having direct transport links with the port city of Hai Phong, facilitating easy travel by their employees and transportation of goods.
Besides, Thai Nguyen is among the 15 most competitive provinces in Viet Nam and the top 2 in the north.
It is also one of the two provinces with a large number of profitable enterprises among the 14 in the northern mountains. This is a showcase of a quality environment for investment, according to the Viet Nam Chamber of Commerce and Industry (VCCI).
Nguyen Dang Quang, the chairman and CEO of Masan Group,made a speech at Thai Nguyen's2018 Conference for Business Promotion held on 3 July. — Photo by Masan courtesy.
The business environment in Thai Nguyen is generally considered to be competitive and friendly, with companies enjoying many incentives, which improve the province's image as an attractive investment location for both Vietnamese and international corporations.
Samsung Electronics Vietnam Thai Nguyen has attributed its success to the province's highly skilled workforce, good infrastructure and favourable business environment among others.
Their success has made huge contributions to the Vietnamese economy, especially Thai Nguyen's.
In a way, large investments in Thai Nguyen by world-class companies has changed it for the better and brought positive social and economic impacts to local people's lives.
As a result of Samsung and Masan's investments, Thai Nguyen has joined the ranks of Viet Nam's provinces with the largest investments and exports.
A highlight of Thai Nguyen's economy is its fast-changing composition. Industrial production grew the most in the past four years.
Last year industry and construction accounted for a 55.4 per cent share of the province's economy, services for 32 per cent and agriculture, forestry and fishery for 12.6 per cent.
Income per capita has risen significantly in recent years, from around $700 in 2008 to $2,300 last year.
At Thai Nguyen's 2018 Conference for Business Promotion, Quang said: "We are proud to have Nui Phao as a beacon of the 'Vietnam Can Do' spirit as we are becoming a fully integrated downstream industrial chemical and metals business of global scale, with a 36 per cent market share ex-China.
"We are committed to fighting for Viet Nam's faith and pride and preserving and amplifying 'Vietnam Can Do' as we take on global competition."
He urged the Government to continue with its administrative reform, easing administrative formalities for companies in the province, to boost economic gains and contribute to Thai Nguyen's economic and social growth.
The CEO of Samsung Vietnam also urged all levels of Government to expedite regulatory and administrative processes, quickly address enterprises' concerns since these factors bear the most risks to the operation of any enterprise.
He praised Thai Nguyen officials for their continuous understanding and support for all investment activities in the province.
Manufacturing firms perform better in second quarter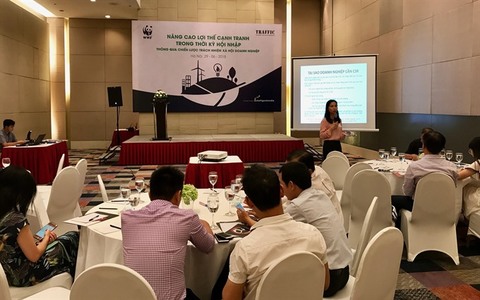 A large number of enterprises reported stable and better production and business in the second quarter of this year and are hopeful of an even better third quarter.
This was said by the General Statistics Office (GSO).
Some 82.6 per cent of the processing and manufacturing enterprises said they enjoyed stable business in the second quarter of this year. Meanwhile, 17.4 per cent of the firms said they had to struggle more than in the previous quarter.
Foreign direct investment (FDI) firms had the highest business confidence, with 85.7 per cent believing that their business improved and stabilised during April-June. The percentage of State-owned and private companies was 80.8 per cent and 81.6 per cent, respectively.
According to GSO, enterprises maintained a positive outlook for their business prospects in the third quarter, with 88.5 per cent of the firms upbeat about their performance. However, some 11.5 per cent of the firms said they would face more difficulties in doing business than in the previous quarter.
FDI firms have the highest business confidence for the third quarter, with 91.3 per cent believing that their business will improve and stabilise. Private companies too are fairly optimistic, with 87.6 per cent optimistic of positive business results, while State-owned companies havethe lowest confidence at 86.1 per cent.
GSO said competitiveness was touted as the dominant factor during the second quarter, which had enormous impacts on production and business activities. Some 59.4 per cent of the firms said that they were affected by a competitive edge, while 46.2 per cent believed that underperformed business was spurred by low demands in the domestic market.
Financial issues, shortage of qualified labourers, high deposit rate, lack of materials and out-of-date technology and equipment were the other factors challenging local businesses in the second quarter.
Regarding the volume of orders in the second quarter, 82.8 per cent of the firms reckoned that the number was higher than the previous quarter while 17.2 per cent said that they faced less orders than the first quarter. Some 84.8 per cent of the enterprises affirmed that they had received more orders from overseas markets.
Product inventory in the second quarter was reported to decrease or remain stable among 81.7 per cent of the domestic companies.
The statistics were compiled based on the latest survey of the quarterly business performance trend in 6,500 industrial processing and manufacturing companies across 63 provinces and State-run cities. 
SHB wins Business Excellence Award 2018     
Sai Gon-Ha Noi Commercial Joint Stock Bank (SHB) has been selected by the World Confederation of Business as the only representative of Viet Nam to receive Bizz-Business Excellence Award 2018.
The Bizz honours outstanding businesses and entrepreneurs in 120 countries around the world.
To win the award, businesses must meet many strict requirements pertaining to leadership, management systems, quality of products and services, innovation and creativity, corporate social responsibility and results obtained.
The annual award ceremony is held in European, Asian and American cities.
SHB general director Nguyen Van Le said the Bizz award recognised SHB's efforts over the past years to bring the best products and services to customers, partners and shareholders.
At the same time, it affirms the firm position of SHB in Viet Nam's financial market and its reach in the global arena, he added.
Established in 1993, SHB is one of the five largest private banks in Viet Nam. In the first quarter of 2018, its total assets exceeded VND286.9 trillion (US$12.6 billion), including more than VND12 trillion ($527.4 million) of charter capital and VND18.8 trillion ($826.2 million) of equity capital.
The bank mobilised VND264 trillion ($11.6 billion) of capital in January-April.
The outstanding loan balance reached VND202.5 trillion ($8.9 billion), a year-on-year increase of 2 per cent.
SHB posted a pre-tax profit of more than VND500 billion ($21.9 million), up by 63.5 per cent against the same period last year. 
CMC Telecom among top 25 Managed Service Providers
     
CMC Telecom was voted one of the top 25 Managed Service Providers in the Asia Pacific by APAC CIO Outlook magazine. It is the only Vietnamese telecommunications company in the list.

The Top 25 Managed Service Providers 2018 award is selected and assessed by a team of senior executives such as CIO, CEO, CMO and the editorial staff of APAC CIO Outlook.

It is designed for enterprises that have high-quality solutions and network-managed services and are managed in an effective, secure and reliable manner. Some huge names in telecommunications and information technology (IT) in the region, such as Accenture (Republic of Ireland), AhnLab (South Korea), Blaze Clan Technologies (India) and Data Solution Groups (Australia), also figure in the list.

CMC Telecom offers diversified integrated telecommunications and IT services in the form of "one-stop-shop" ICT (information and communications technology) for enterprises. The competitiveness of CMC Telecom is evident in the advanced international technology application, high-quality services and dynamic steps in the development process.

In 2016, it was recognised as the "Pioneering ICT Services in Viet Nam" by CIO Outlook. Being the first Vietnamese telecommunications company to be connected directly to Facebook, CMC Telecom was chosen by the world's No 1 content provider, Akamai, to place the server in and was selected to become a Managed Security Services provider exclusively for IBM in Viet Nam.

CMC Telecom's customers are mainly large enterprises and organisations as well as small and medium enterprises in Viet Nam and international markets such as finance-banking-insurance, services, retail chains, education, hospitals, manufacturing enterprises and high-class office buildings. 

Thaco to export fuel tanks to Republic of Korea

Truong Hai Automobile Joint Stock Company (Thaco) has completed the procedures to export 30 fuel tanks of 3,000 liter capacity to JMK Co. Ltd of Republic of Korea.
The lot will be transferred by Thacovia APL N028 and will be shipped directly from Chu Lai port in Quang Nam Province to Busan port in Republic of Korea to be handed over to JMK.
JMK specialises in the production and distribution of specialised car components, fuel tank components and industrial machinery.
Since the beginning of 2018, Thaco has produced and handed over three shipments to JMK, comprising more than 200 barrels of 2.5 tonnes and a 3,000 liter fuel tank.
Under the cooperation plan of the two parties, in the third and fourth quarter of 2018, Thaco will continue to export 100 barrels of 2.5 tonnes and another 3,000 liter fuel tank to JMK, completing the year's export plan.
To meet the technical standards as well as strict quality requirements of JMK, Thaco has actively researched, manufactured and applied modern technology to production lines in the factory.
Thaco also operates international maritime routes directly from the Chu Lai port to the Busan port and vice versa.
The Chu Lai port was built by Thaco in 2012. After four years of operation, Thaco launched and operated the international maritime Chu Lai-Kwangyang and Chu Lai-Incheon routes (in Republic of Korea).
The opening of a new direct freight service from the Chu Lai port to the Busan port, along with the expansion of the Chu Lai port, has contributed to enhancing the capacity of Thaco's logistics services and promoting the development of the port into the regional logistics centre of the key economic region, the Central Highlands. 
VinFast, GM sign strategic partnership agreement

VinFast and General Motors (GM) announced Thursday a landmark strategic partnership agreement aimed at driving long-term growth and expansion for GM's Chevrolet brand and VinFast in Viet Nam.
As part of the alliance, VinFast, a subsidiary of Vingroup, will become the exclusive distributor for the Chevrolet brand in Viet Nam. Using Vingroup's unmatched domestic retail presence and the existing Chevrolet dealer network, VinFast will drive the Chevrolet brand forward while rapidly expanding its own local operations and leading the Vietnamese automotive industry into a new era.
VinFast will assume ownership of GM's Ha Noi factory, and will implement a significant investment programme to build an all-new, global small car licensed from GM which will be manufactured and sold under the VinFast brand. Production of this vehicle will begin in 2019, greatly increasing capacity and output at the Ha Noi plant and growing the manufacturing base of the dynamic VinFast operations.
GM will become a preferred automotive technology provider to VinFast, opening potential pathways for future product sharing and technology transfer, and providing opportunities to drive both brands forward.
"We are incredibly excited about the opportunities presented by this landmark announcement," VinFast CEO Jim DeLuca said.
"VinFast is pleased to be driving the rapid expansion of Viet Nam's domestic automobile industry."
"Our vision is to build an automobile manufacturing ecosystem that will include assembly plants, local automotive suppliers and dealers, and a string of supporting industries," he said. "Our plan is to launch a portfolio of five VinFast vehicles in 2019 and this strategic partnership is integral to that. This partnership will act as a catalyst as we work tirelessly to bring our VinFast vision to life."
Meanwhile, GM International Executive Vice-President and President Barry Engle cited VinFast as the best choice for his company to partner with.
"The automotive industry in Viet Nam is set to become a key growth engine for economic development and we now have the strongest possible local partner in VinFast to grow Chevrolet and drive our brand forward," Engle said.
Chevrolet's extensive national dealer network will continue to serve customers around the country and GM is actively working to expand its Chevrolet vehicle portfolio in Viet Nam.
"We are very excited about the opportunity to play a key role in developing the automotive industry in Viet Nam," Engle said. "The GM-VinFast strategic partnership will best position the Chevrolet brand and dealer network for long-term growth in Viet Nam by leveraging GM's global scale and expertise, married with VinFast's domestic strength and insight."
VinFast and GM will work together closely to ensure a smooth transition for customers, employees, and suppliers, as well as dealers and other stakeholders. The transfer for the GM Viet Nam operation – including the Ha Noi plant, dealer network and employee base – is expected to happen by the end of 2018.
Chevrolet customers will continue to receive service, parts, and warranty support from their local Chevrolet dealers. During the handover period, GM Viet Nam employees will continue to be employed under VinFast.