Two hacked customers lose VND200 million in DongA Bank overnight
Two DongA Bank cardholders confirmed that they are still holding their ATM cards and have never given them to anyone, but VND201 million ($8,855) was stolen from their accounts in the middle of the night.
Nguyen Thi Phuong Thuy (District 12, Ho Chi Minh City) is a client of DongA Bank who had VND86 million ($3,790) withdrawn from her account through an ATM early on June 26.
Thuy said at around 3.30 AM on June 27, DongA Bank sent her several messages informing her that VND60 million ($2,640) has been transferred from her account to three others. A few minutes later, she was informed that another VND20 million ($880) was withdrawn in cash while she was still sleeping.
At 4 AM, another message showed that another VND5 million ($220) was withdrawn from her account. She woke up and found her ATM card in her bag. "I called DongA Bank's hotline to freeze the account, but it was too late, only VND900,000 ($40) was left on it," Thuy said.
In the morning, she went to DongA Bank to report the incident that lost her altogether VND85 million ($3,750). The bank told her that money was withdrawn at an ATM machine in Tan Phu district, Ho Chi Minh City, and that they will find out more within the next five days.
Thuy confirmed that she did not share her password with anybody. "A day before, I withdrew VND2 million ($88) from an ATM in Quang Trung Street. And I cannot tell for sure whether any device has been used to copy my information," she added.
In another case, Doan Thi Ngoc Duyen (District 12) reported to VnExpress.net that she also had money withdrawn from her account at around 3.55 AM on June 27. DongA Bank sent five messages to inform that VND96 million ($4,230) had been transferred (in five installments) to other accounts.
A few minutes later, Duyen received another messages about withdrawing an additional VND20 million ($880) in cash from her account. As a result, she lost a total of VND116 million ($5,110).
She was very worried and made sure that her card was still in her wallet. She called the hotline of DongA Bank to freeze the account, but she was too late as only VND320,000 ($14) was left on the account.
In the morning, she went to DongA Bank to report the incident. The bank identified that the same ATM was used at the same time to withdraw her and Thuy's money.
The representative of DongA Bank told VnExpress.net that this bank is investigating the incident and is going to respond to the client as soon as possible. Against the trend of high technology crime increasing rapidly in Vietnam, the safety of cardholders is the priority, and the bank would do their utmost to strengthen security for them.
He said that in addition to using skimming devices to copy and forge fake cards, another leading cause of losing money is revealing card information to family members or friends. DongA Bank's representative recommended customers to keep the PIN codes secret from everyone.
The Ministry of Public Security's Department of Hi-Tech Crime (C50) showed several methods criminals use to hack bank accounts. The most popular measure is to steal data at ATMs. A set of skimming devices includes an ultra-small camera set up with a sighting on the ATM's keypad, a card skimmer inserted into the card slot, and a keypad skimmer placed over the ATM's keypad.
This equipment is used to appropriate the PIN code and card number of anyone using the ATM. Then the criminals create fake cards and will start stealing money via ATM withdrawals.
Another way is when criminals create websites and inform victims via Facebook, Zalo, Viber, and SMS that they won a valuable prize, asking them to sign in on the website and get their prize. Criminals may also act as bank officer to contact cardholders to ask them to provide information (PIN code, card number, OTP code). Thereby, customer should improve their knowledge and be vary of suspicious signs of hi-tech fraud.
MobiFone to sell its shares in TPBank
Việt Nam Mobile Telecom Services Corporation (MobiFone) plans to sell its total of more than 5.5 million shares in Tiên Phong Commercial Joint Stock Bank (TPBank).
The minimum bid price will not be lower than VNĐ29,510 (US$1.28) per share. The reference price is the average over 30 trading days on the stock market.
The transaction method is matching order via HCM Stock Exchange.
MobiFone expects to collect at least VNĐ163.7 billion from this divestment.
MobiFone is currently a State shareholder at TPBank, owning 5,549,914 TPBank shares and is expected to transfer all of these shares to ensure compliance with the regulations of the State and add to the firm's mobile fund serving business and production. 
Bac Giang earns 5.4 trillion VND from lychees
The northern province of Bac Giang has so far sold 191,000 tonnes of lychees for over 5.4 trillion VND (236.8 million USD), according to the provincial Department of Industry and Trade.
Of the figure, about 3.26 trillion VND was from lychee sales and the remaining from support services.
The province exported 72,250 tonnes of lychees, earning 126.8 million USD. Bac Giang's lychees were mainly shipped to China, with 71,250 tonnes and 125 million USD.
The remaining 1,000 tonnes, worth 1.8 million USD, were exported to several EU countries, Russia, Singapore, Thailand, Australia, the US, Canada, Japan and the Republic of Korea. 
Bac Giang's specialty fruit has also been consumed across the country, especially Hanoi, Quang Ninh, Hai Phong, Hue, Da Nang, Ho Chi Minh City, and southern provinces via wholesale markets, trade centres and supermarkets.
This year, the lychee prices are relatively stable, ranging from 8,000 VND to 25,000 VND per kilogram. Lychees for export are sold at between 15,000 VND and 25,000 VND per kilogram.
As the main harvest season will end in the next 10-15 days, with an output equivalent to 30 percent of the total production, authorities recommended people use safe plant protection chemicals to ensure the best quality, prestige and trademark of Bac Giang lychees.
Lychee is one of the 52 key agricultural products of Bac Giang, a list approved by local authorities in 2017.
About 13,500ha of lychee trees in Bac Giang are farmed under VietGAP standards with an estimated output of 90,000 tonnes. Of that area, 218ha with more than 10,000 tonnes of lychees are cultivated under GlobalGAP standards and eligible for export to demanding markets.
Total lychee output in the province is expected at 150,000 – 180,000 tonnes in 2018.
Domestic firms assisted to boost veggie, fruit exports to China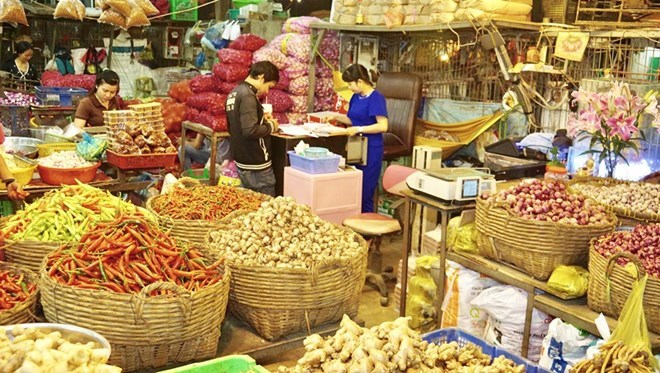 The Vietnam Trade Promotion Agency (Vietrade) under the Ministry of Industry and Trade has supported businesses to promote Vietnam's farm produce and food products in the world, especially Asian markets such as China and the Republic of Korea (RoK).
Vietrade has sent many business delegations to the Chinese and RoK markets to carry out trade exchange programmes and join trade fairs so as to directly meet potential customers.
Recently, the agency has helped eight domestic enterprises in agricultural production introduce fresh and dried fruits at the Guangzhou International Fruit Expo 2018 in China's Guangdong province, which also drew businesses from many countries in the world including Greece, Australia, Turkey, Spain, Chile, Thailand, Argentina, Indonesia and Malaysia.
A Vietrade representative said that Guangdong has been the biggest fruit importer in China, adding that the fair was a good chance for Vietnamese fruit producers and suppliers to promote their products and seek partners and customers, thus boosting their exports.
In the first five months of 2018, Vietnam's vegetable and fruit exports to major markets saw a relatively high growth rate, with the highest rise recorded in the Chinese market, at 18.1 percent to 1.2 billion USD.
Vietrade commented that China remained Vietnam's important market as exports to China accounted for 74.6 percent of Vietnam's total vegetable and fruit export revenue in the first five months of 2018.
Vietnam's vegetable and fruit exports to China enjoy advantages due to the market's high demand, close geographic distance, and similarities in consumer taste.
However, quality requirements in the Chinese market has increased, therefore domestic firms need to enhance their products' quality and study the crops in China to plant suitable fruits and vegetables, avoiding depreciation, the agency said.
VietjetAir to pay dividends to shareholders by shares
The low-cost carrier Vietjet Air will issue more than 90.2 million shares as dividends paid to its shareholders for the last stage of 2017 at the rate of 20 percent.
Accordingly, each shareholder who owns 10 shares of Vietjet Air, coded VJC on the Ho Chi Minh City Stock Exchange (HOSE), will receive additional two new shares.
After paying the dividends, Vietjet Air's charter capital will increase from 4.51 trillion VND to over 5.41 trillion VND. The deadline for dividend payment registration is July 2, 2018.
Over the past year, Vietjet Air has paid high dividends to its shareholders, with over 100 percent in some particular years.
Recently, the Petrovietnam Trading Company (Petechim) has purchased 100,000 shares of Vietjet Air after buying 150,000 shares previously.
Hoa Phat Dung Quat Steel JSC improves administration capacity
The Hoa Phat Dung Quat Steel JSC has announced that it will apply SAP S/4HANA, a next-generation enterprise resource planning (ERP) software, for its iron and steel production complex.
The project will be carried out in the next 10 months. Once the project is completed, the company will have an administration system that meets international standards and helps it analyse business data in real-time and helps the company's leaders to quickly make decisions so as to improve the company's competitiveness.
The Hoa Phat Dung Quat Steel JSC is the first one in the Hoa Phat Group to apply SAP S/4HANA.
The process of the Hoa Phat Dung Quat iron and steel production complex project is on schedule with the first line expected to be operational in the third quarter of this year, meeting demands of the central and southern regions.  
According to Hoa Phat Group, other items are projected to be completed from the fourth quarter of this year to 2019. It aims to put both phases of the project into a trial run in late 2019. 
By the end of the first quarter of 2018, Hoa Phat Group reported revenue of 13 trillion VND (572 million USD), and a post-tax profit of 2.2 trillion VND (96.8 million USD), up 25 percent and 14 percent year-on-year, respectively. The steel sector remained the driver of Hoa Phat during the reviewed period, the group said.
85 products win Vietnam Gold Farming Brand
As many as 85 products were honoured with Vietnam Gold Farming Brand in Hanoi on June 30.
Chairman of the General Council of Agriculture and Rural Development Ho Xuan Hung said the winning products were selected from nearly 400 agri-products across the country.
The council had closely worked with the Department of Agriculture and Rural Development, Department of Industry and Trade, and Associations of Farmers in cities and provinces nationwide for four months to examine the products.
The programme also raised awareness of businesses and farmers about the importance of building and developing brands in business production activities to look towards sustainable exports of agricultural products, Hung said.
He revealed that many small-and medium-sized enterprises (SMEs) registered for the gold brand this year.
RoK firms seek partnership chances with Hoa Phat Group
A delegation of investors from the Republic of Korea (RoK) has visited Hoa Phat Group, one of the three largest steel producers in Vietnam, to seek partnership opportunities.
The delegation, including Kunam Kim, Global Securities Director of the KB Securities and Le Thi Quyen, Deputy General Director of KB Security Vietnam, visited two steel plants of Hoa Phat in the northern province of Hung Yen.
The RoK firms showed interest in the steel production process and technology of Hoa Phat as well as the group's growth prospects as its Dung Quat project completes.
Pham Thi Oanh, Director for Finance of Hoa Phat, said that the group is strong for its river port system at Hai Duong steel integrated complex. The firm is developing a similar system in Dung Quat complex, which is expect to handle ships with capacity of up to 150,000 tonnes, she said.
The ports has helped Hoa Phat reduce cost and get convenience in import-export activities, which pushes the firm up to top 50 biggest steel producers in the world, added Oanh.
She also highlighted that Hoa Phat is using Italian technology, which is friendly to the environment.
As the Dung Quat steel complex becomes operation, Hoa Phat's competitiveness is expected to significantly increase, she stressed, adding that the group has focused on intensive processing and promoting added value of its products.
Currently, two major products of Hoa Phat are construction steel and steel pipes.
In late April this year, Hoa Phat introduced high quality painted steel sheet to the market.
In early June 2018, Hoa Phat also introduced its potential to Thai investors, including One Asset Management investment fund.
Programme promotes Vietnam localities in Italy
The Ministry of Foreign Affairs and the Embassy of Vietnam in Italy have recently held a programme namely "Vietnam Provincial Roadshow in Italy" as part of activities to celebrate the 45th founding anniversary of the two countries' diplomatic ties and fifth anniversary of the bilateral strategic partnership.
The programme took place from June 28-29 in Milan, a metropolis in Italy's northern Lombardy region, with the participation of Chairman of the Hanoi People's Committee Nguyen Duc Chung, Chairman of the Can Tho People's Council Pham Van Hieu, Secretary of the Phu Yen Party Committee and Chairman of the Phu Yen People's Council Huynh Tan Viet, and Chairman of the Quang Ngai People's Committee Tran Ngoc Cang.
Vietnamese Ambassador to Italy Cao Chinh Thien along with representatives from the two sides' ministries, departments and businesses were engaged in the event.
The Vietnamese delegation also attended a seminar on economic opportunities between Lombardy region and localities from Vietnam, which drew over 50 Italian leading enterprises.
The guests later visited some industrial production facilities and innovative start-up centres in Lombardy as well as worked with representatives from Italy-Vietnam friendship associations from different regions and cities in Italy.
Nguyen Duc Chung, Chairman of the Hanoi People's Committee, and Enrico Letta, former Italian Prime Minister and President of the Italy-ASEAN Association, agreed with the proposal of hosting a high-level conference on cooperation between ASEAN and Italy in Hanoi in May 2019 with the participation of senior officials from the Italian government and around 300 leading businesses from the European country.
The department of external affairs under the Ministry of Foreign Affairs and the Italian Chamber of Commerce in Vietnam (ICHAM) signed a memorandum of understanding on cooperation to support Vietnamese and Italian localities and enterprises to enhance partnership and connectivity.
Lombardy is a big economic centre in Italy with gross domestic product (GDP) of 450 billion USD, making up nearly 25 percent of the country's GDP. The region also accounts for over 20 percent of Italy's trade turnover and it is one of the leading economic regions in the European Union (EU).
The cooperation agreement between Lombardy and Vietnam signed in 2010 has created opportunities to promote bilateral trade, which topped 1.7 billion USD in 2017.
The Italian region attaches great importance and prioritise to promoting trade exchange and investment cooperation with Vietnamese localities, especially in the fields of infrastructure, machinery, mechanical engineering, high technology, food, health care, pharmacy, fashion, environment, and technical consultancy.
Locality-to-locality cooperation and people-to-people exchange are one of the priorities in the Vietnam-Italy strategic partnership, significantly contributing to the reinforcement and enhancement of bilateral collaboration in all realms from politics, external affairs, and economy to culture, education, science, technology and sustainable development.
Particularly, as Vietnam and the EU are pushing ahead with the ratification and implementation of their free trade agreement, this is an excellent opportunity for Vietnamese and Italian localities and businesses to tighten cooperation and trade in the fields of their strengths.
Italy is currently the fourth biggest trade partner of Vietnam in the EU while Vietnam is the biggest trade partner of Italy in the Association of Southeast Asian Nations (ASEAN).
The two sides welcomed the effective cooperation between the pairs: Hanoi - Lazio region/Rome city, Ho Chi Minh City - Milan and Tornio cities, Hai Phong city - Liguria region/Genoa city; Vinh Phuc province - Tuscany region, Binh Duong and Emilia-Romagna region, Ba Ria – Vung Tau and Veneto region.
They are promoting the establishment of cooperative relations between Italian localities and Vietnam's Can Tho city, Quang Ngai and Phu Yen provinces, focusing on economy, agriculture, culture and tourism.
Vietnam calls on Swiss investors in agriculture
Deputy Minister of Agriculture and Rural Development Tran Thanh Nam called on Swiss investors to engage in Vietnam's agricultural sector during a trade and investment promotion forum on agriculture in Zurich, Switzerland, on June 29.
Nam highlighted Vietnam's economic achievements, including the highest growth in the region, in recent years since the country implemented its renewal policies.
Vietnam is one of the world largest exporters of many agricultural products such as rice, coffee, cashew, rubber, aquatic products, wood and wooden products, he noted.
The officials stressed that Vietnam is restructuring its agriculture towards higher value, high technology, organic and sustainable growth, with priority on processing and raising quality and added value of agricultural products.
Swiss businesses operating in Vietnam's agriculture sector, including Nestle, Tetra Pak, Buhler, Bucher, Syngenta, have shown their pioneering role in renovating their products, enhancing quality and added value of the products, thus promoting many farm produce of Vietnam in the international market, he said.
Vietnam and the European Free Trade Area (EFTA), in which Switzerland is a member, have been negotiating for a free trade agreement. After being signed and becoming effective, the deal will open up great chances for businesses of both sides to boost their partnership, Nam said.
Meanwhile, Marc Townsend, Chairman of the Vietnam Committee under the Swiss-Asian Chamber of Commerce, said that many Swiss firms has long experience in partnering with Vietnamese farmers, including Nestle that has been operating in the Southeast Asian country since 1912.
Vietnam is strong in the production of rice, pepper corn, cashew and tropical fruits, he held.
Townsend revealed that Swiss enterprises interested in Vietnam have considered the introduction of new Swiss invention into Vietnam, including environmental-friendly technology, and smart cultivation techniques. They have sought opportunities to bring Vietnamese products to the world, he added.
He asserted that the investment environment of Vietnam is attractive. He advised Swiss firms who are keen on expanding investment in Vietnam should thoroughly study the market and demand in Vietnam, along with the culture and working methods of Vietnamese people.
Tran Van Cong, deputy head of the Department of Farm Produce Processing and Market Development under the Ministry of Agriculture and Rural Development, introduced investment and business opportunities in Vietnam's agricultural sector.
Vietnam is now ranking 13th in the world in terms of farm produce exports, while its agricultural products have been available in 180 countries.
Vietnam has 10 major products with export revenue exceeding 1 billion USD - aquatic products, wood and wooden products, cashew, coffee, vegetable, rice, pepper corn, rubber and cassava.
Cong also clarified Vietnam's policies in luring investment in agriculture and rural development as well as incentives for high technology businesses.
He said that Vietnam is willing to apply special preferential policies for Swiss firms in agricultural machineries, processing technology, and high-tech agriculture.
On the sidelines of the forum, businesses of both sides tasted famous agricultural and beverage products of Vietnam.
Tra Vinh farmers grow mangrove forests to breed shrimp
Farmers in coastal Tra Vinh have planted more than 4,000ha of mangrove forests to breed shrimp and other aquatic species, according to the provincial Department of Agriculture and Rural Development.
They are mostly in Duyen Hai, Cau Ngang, and Chau Thanh districts and Duyen Hai town.
The model of growing mangrove forests and breeding aquatic species in them is highly sustainable since it protects the environment amid the ravages caused by climate change, according to the department.
Besides it involves little investment and protects the shrimp from disease outbreaks, according to local authorities.
Huynh Van Phong, who has 4ha of land in Duyen Hai town, said he grew forests on 2ha to breed aquatic species.
He raises 50,000 black tiger shrimp and 6,000 mud crabs every year through extensive farming and earns a profit of more than 200 million VND (8,850 USD), he said.
He has to spend money only on buying shrimp and crabs fry for breeding, and nothing on their food since they subsist on what they find in the forest, he said.  
Phong also breeds blood cockles and mud clams in the submerged forest and earns dozens of million of VND a year.
Pham Thi Hong Diem, Deputy Head of Duyen Hai district's Agriculture and Rural Development Bureau, said the industrial shrimp farming model yields high profits but involves high costs for breeding facilities unlike the mangrove-shrimp model.
Besides, the risks of the environmental pollution and disease outbreaks are high, she said.
Duyen Hai district has more than 8,500ha of shrimp farms, according to the bureau, with the shrimp – forest model accounting for nearly 60 percent.
The bureau plans to petition the district People's Committee and province People's Committee to help establish a value chain to supply organic shrimp to the market.  
The chain will help farmers increase their profits, sustain the shrimp – forest model, protect the environment and provide the market with clean shrimp.
The Mekong Delta province has more than 9,000ha of forests, including more than 4,000ha submerged forests grown by farmers, according to the department.
Tra Vinh farmers raise brackish shrimp on a total area of 24,000ha and harvest 37,000 tonnes a year, according to the department.
Its first high-tech shrimp breeding centre has been supplying quality fry to the market since March.  
The centre, owned by the Thong Thuan Group, has already supplied more than 250 million shrimp fry, mostly white-legged shrimp, to farmers in Tra Vinh and other delta provinces.
Tran Trung Hien, director of the department, said the centre has a capacity of more than 5.5 billion white-legged shrimp, black-tiger shrimp and blue-legged prawn fry a year.
It would help ensure supply of quality shrimp fry for farming, he said.
Tra Vinh has bred 1.35 billion black tiger shrimp fry and 3.1 billion white-legged shrimp fry so far this year.
It has 72 other breeding establishments that can supply around 1 billion black-tiger shrimp fry annually.
Vietnamese, German businesses commit to fight wildlife crimes
Representatives of more than 40 Vietnamese and German companies in Vietnam pledged to adopt a zero-tolerance policy towards wildlife crimes at a workshop in Hanoi on June 29.
They agreed to take a public stand against the illegal trading, transport and consumption of wild animals and related products, and pass on the message to their clients and staff throughout their companies.
The event, organised by TRAFFIC with funding from WWF-Germany and Intelligentmedia behavioural change communication company, aims to encourage the business community to step forward to handle social and environmental issues.
"Wildlife trafficking is transnational by nature and bears repercussions that are felt worldwide. It is an issue that resonates with the German people, and we are pleased with this opportunity for German and Vietnamese companies to come together and spread a united message against this crime," said Katharina Trump, programme manager, anti-poaching, WWF-Germany.
Through the workshop, participants were given an opportunity to learn how to enact a corporate social responsibility (CSR) policy to attract environment-conscious clients, increase competitiveness and mitigate potential risks.
The workshop featured discussions on how companies could construct meaningful messages and incorporate them in CSR activities that would be effective in combating wildlife crimes and lead to a change of practices among their colleagues and customers. 
Participants learnt that adopting these policies could strengthen the reputation of their businesses by ensuring they were not inadvertently participating in wildlife crime.
The event is the latest in a series of activities organised by TRAFFIC with different companies and civil society organisations, such as Vietnam Chamber for Commerce and Industry, Vietnam E-Commerce Association and the Vietnam Automobile Transportation Association, which work towards the eradication of animal trafficking by encouraging companies to take a strong stand against wildlife crimes.
TRAFFIC's efforts to encourage companies to integrate wildlife protection into their CSR activities have spanned the business, tourism and hospitality sectors. Anti-trafficking messages have been put up on buses, websites, events and other platforms, reaching some 250,000 people.
Vietnamese, Italian localities boost economic cooperation
A seminar highlighting economic cooperation between Lombardy region of Italy and Vietnamese cities and provinces took place in Milan city on June 29.
As part of series of activities marking the 45th anniversary of Vietnam-Italy diplomatic relations, the event was jointly organised by the authorities of Lombardy region, the Vietnamese Foreign Ministry's Department of Provincial Foreign Affairs and the Vietnamese Embassy in Italy.
In his opening speech, Altitonante, a representative from the Lombardy administration, stated that Vietnam is a potential market for the region's businesses.
With its advanced science and technology in production and services, Lombardy has always paid attention to fostering its businesses' investment and technological transfer activities in promising markets like Vietnam.
This is an important development objective of local enterprises, he affirmed.
Vietnamese Ambassador to Italy Cao Chinh Thien said that despite recent positive developments, cooperation between Vietnam and Italy, especially in economy and trade, is still yet to match fruitful bilateral political relations as well as potential and expectations of the two nations.  
He stated that Vietnam and the EU are working toward the signing and ratification of the EU-Vietnam Free Trade Agreement (EVFTA) and Vietnam is implementing policies to foster and expand relations with countries around the world, especially those it has strategic partnership with like Italy.
It is a suitable time for Italian and Vietnamese localities, businesses and investors to study collaboration opportunities and grasp information on each other's markets, particularly in areas that the two countries have demand for cooperation such as transport infrastructure, energy, industry and waste treatment, he noted.
At the seminar, representatives from Vietnamese localities and businesses introduced their development potential and preferential policies on investment attraction while the Italians presented their production and business activities as well as their demands for expanding cooperation with and promoting technological transfer for Vietnamese enterprises. 
With a young population, trained workforce with low cost, and notably the rapid growth of middle and upper classes, Vietnam is an attractive destination for Italian investors, said participants.
Nguyen Duc Chung, Chairman of the Hanoi People's Committee, stressed that Italy is the fourth largest trade partner of Vietnam in the EU while Vietnam is the biggest trade partner of Italy in ASEAN.
He expressed his belief that once the EVFTA takes effect, trade relations between the two nations will further develop, adding that Lombardy region's strengths are suitable to development demands of Vietnamese localities.
Hanoi and other localities in Vietnam are actively improving their investment climate and stepping up administrative reforms targeting people and businesses. They wish to cooperate with Lombardy region in areas of its strengths such as tourism, food processing, construction, pharmaceutical technology, renewable energy, heritage conservation, and smart city building.
At the end of the seminar, representatives of Vietnamese cities and provinces witnessed the signing of an agreement on cooperation in fostering connectivity between Vietnamese and Italian localities and businesses by the Vietnamese Foreign Ministry's Department of Provincial Foreign Affairs and the Italian Chamber of Commerce in Vietnam.
Vietnam promotes tourism in Chinese northeastern province
A Vietnam – China cultural, tourism and trade exchange took place in Shenyang city, China's northeastern province of Liaoning, on June 29 with an aim to introduce the Vietnamese country and people to local residents. 
Opening the event, Vietnamese Ambassador to China Dang Minh Khoi affirmed that Vietnam – China comprehensive strategic cooperative partnership grew stably and actively last year. He said high-level visits and contacts were maintained regularly while ties between ministries, agencies and localities became increasingly close. 
The diplomat also reported that two-way trade topped 100 billion USD in 2017 with Vietnam being China's largest trade partner in ASEAN and the eighth largest partner globally. The number of Chinese tourists in Vietnam kept increasing, he said. 
He stressed that Vietnam always highly welcomes and creates favourable conditions for Chinese firms to do business in the country, with priority given to hi-tech and environmentally-friendly projects that pay attention to workers' interest and community activities. 
The ambassador also expressed welcome to Chinese tourists, including those living in the northeast and Liaoning, to visit Vietnam to feel the people's hospitality. 
With beautiful landscapes, unique culture and modern tourism infrastructure, Vietnam is able to meet diverse and increasingly high demand of Chinese visitors, he said. 
Vice Chairman of the Liaoning provincial chapter of the Chinese People's Political Consultative Conference Gao Ke, for his part, lauded the Vietnamese Embassy in China, ministries and agencies concerned for bringing Vietnam closer to the northeast China and Liaoning in particular through tourism promotion activities. 
He believed that more Liaoning people and enterprises will travel to Vietnam for sightseeing and business opportunities. 
On the occasion, the national flag carrier Vietnam Airlines launched a direct route linking Shenyang and Vietnam's Nha Trang beach resort city, making it easier for Liaoning people to travel to Vietnam for leisure and investment.
Wholesale markets need more investment
Regarding the country's key food distribution networks, wholesale markets have not yet undergone proper planning and development so far, according to experts.
Thus, policies are necessary to develop wholesale markets to ensure food safety standards and clear origins of products, according to opinions at a recent meeting on wholesale markets in Vietnam.
A recent report by the Ministry of Industry and Commerce (MoIC) showed that by the end of 2017, there were 8,539 markets, of which 83 were wholesale markets, accounting for 0.97 percent.
Most wholesale markets were in the provinces of Thanh Hoa, Quang Binh, Dong Thap, Tien Giang, Hung Yen, and Hanoi and HCM City.
The markets sold various products, from vegetables, meat and seafood to dry and semi-processed foods, said the report.
Nguyen Van Hoi, Vice Director of MoIC's Domestic Market Department told online newspaper vietnamplus.vn that along with modern retail models, wholesale markets had an effective network of product distribution which plays an important role in connecting producers, distributors and consumers and contributing to enhancing business capability of Vietnamese wholesalers, retailers and enterprises as well.
Additionally, a system of wholesale markets also helps stabilise prices and create jobs for labourers who live nearby.
Despite their important role, investment in wholesale markets has been modest, reported the paper.
Most wholesale markets had sparse infrastructure with few services, unhygienic environments and lack of fire fighting systems.
In Hanoi, there were 6 wholesale markets. But they were on such a small scale that market prices could not be regulated.
Managing the quality of products at wholesale markets was also difficult, said Dao Ha Chung, President of HCM City's Hi-tech Association.
"Vehicles transporting goods to the markets must be tightly controlled to ensure food safety", said Chung.
"The wholesale markets must be equipped with systems to assess the origins of goods as well as their supply chains", he said.
The prices of goods at the markets must be transparent and could not manipulated, he added.
Sharing experiences of developing wholesale markets, Ricardo Lopez Piestch, a representative from Spain's Mercasa Group, which owns 23 wholesale markets in Spain, said that one successful idea was to ensure the presence of farmers at wholesale markets.
This would help farmers to understand market demands, he said.
Food safety was tightly monitored by inspectors. This was an important factor for the quality of wholesale markets, he added.
Vu Duy Dong, Head of Domestic Market Department, said to further develop networks of wholesale markets nationwide, it was necessary to have policies that encourage private investors to upgrade old markets and build new ones.
It was essential to monitor the quality of goods and food safety at wholesale markets as well as to train professional market management staff.
Da Nang looks to become startup destination in ASEAN by 2030
The central city of Da Nang aims to become a destination for startups and innovation in Southeast Asia by 2030, according to Vice Chairman of the municipal People's Committee Ho Ky Minh. 
Speaking at the 3rd International Start-up Conference and Exhibition in Da Nang – Da Nang Startup Wave 2018 (SURF 2018) themed "Startup Capitals" in the city on June 29, Minh revealed that the locality is focusing on five key orientations in a project on developing a startup ecosystem until 2020, with a vision towards 2030. 
They are building the startup culture and raising awareness, knowledge and interest of local youth of startups; fine-tuning and issuing mechanisms, policies to support and promote startup activities; enhancing activities of business incubators and building infrastructure for startup development; promoting the building and development of startup training network; and expanding cooperation to improve capacity and attract internal and external resources for developing startup ecosystem and multiplying cooperation models among authorities, education institutions and enterprises. 
While praising the local authorities for their efforts to create breakthroughs in the work, Deputy Minister of Science and Technology Tran Van Tung hoped Da Nang will continue nurturing startup initiatives, especially those in the fields of local strength such service and tourism. 
The city should consider issuing specific policies for startup support; enhance the provision of services related to laws, accounting, consulting and communication; organise events to share relevant knowledge and experience; and foster startup ecosystem links with localities in and outside the country. 
Vo Duy Khuong, Chairman of the Da Nang Business Incubator, said to develop Da Nang into a destination for startups and an innovation centre in ASEAN in the future, the incubator will work with high schools and higher education institutions to include startup in curricula, thus motivating business ambitions and passions among students. 
The incubator will also give consultations to the municipal authorities in building policies to form a startup support fund, helping startups easily access capital sources of domestic and foreign investment funds and financial and credit organisations. 
Conferences and exhibitions on startups will be also organised to forge links and experience sharing, and introduce startup products to domestic and foreign markets. 
Khuong expressed his belief that the SURF 2018 will be a new development step of the coastal startup ecosystem, towards turning the Da Nang Business Incubator into an innovation hub by the sea.
Domestic and foreign speakers shared startup initiatives, stressing it is necessary to have five capital sources for the work, including financial capital, technological capital, personnel capital, native capital and social capital, he noted.
In the framework of the event, the Pitching Competition featured the best startup projects. 
Organised by the Da Nang Startup Council and the Da Nang Business Incubator, the 3rd International Start-up Conference and Exhibition in Da Nang saw the participation of representatives from the embassies of Israel and Ireland in Vietnam, the Ministry of Science and Technology, local officials and nearly 800 young entrepreneurs.
This was the programme matching startups with investors, representatives from investment funds, mentors and entrepreneurs in the form of one-on-one meeting. It is an invaluable opportunity for startups to seek investments, receive precious advice and connect with experts and speakers in the field.
The Danang Startup Council was established in October 2015 with 59 members including leading thinkers, universities, institutes and businesses.
Meanwhile, the Da Nang Business Incubator is the first public private incubator in Vietnam.  Established in early 2016, the incubator is an innovation platform that helps early-stage startups build their business fast.
Dong Nai sees 8.35 percent growth in industrial production in six months
Industrial production of the southern province of Dong Nai in the first six months of 2018 grew 8.35 percent over the same period of 2017.
Highest rise was seen in water supply, waste management and treatment industry at 13.11 percent, followed by power, gas and hot water production and distribution at 8.35 percent, and mining at 5.2 percent.
The provincial People's Committee attributed the results to the stable global economy that led to stable export orders of many products such as footwear, garment, rubber and plastics.
At the same time, some foreign-invested projects expanded, while some others were put into operations.
Meanwhile, in the first six months of 2018, Dong Nai continued maintaining high and stable economic growth, which was the driving force for industrial production.
Dong Nai's total gross regional domestic product grew 7.5 percent over the same period last year.
With exports of over 9 billion USD, Dong Nai enjoyed trade surplus of over 1 billion USD in six months.
Foreign direct investment reached 950 million USD, completing 95 percent of the locality's yearly target.
As many as 1,650 new firms were established with combined capital of 12 trillion VND.
Dong Nai's total budget collection hit 23.22 trillion VND, fulfilling 43 percent of the yearly estimate and representing a rise of 11 percent year on year.
In the rest of the year, Dong Nai will continue rolling out measures to improve its business environment and enhance competitiveness, while dealing with difficulties related to investment procedures to speed up the progress of disbursement and public investment projects.
Vietnamese lychees get shelf space in Western Australia
This year, Vietnamese lychees have been exported to more than 30 countries and territories around the world, including Australia, a fastidious market for many types of fresh fruit.
Western Australia (WA), the largest State of Australia imposes strict controls on plant quarantine and food safety and hygiene.
Since the Australian Government Department of Agriculture decided to permit imports of Vietnam's fresh lychees in 2015, customers in the sunny southern continent have had a chance to taste delicious fresh lychees whenever the harvest season begins in Vietnam.
Hoang Luat, owner of a company which specializes in the import and export of goods and operates a chain of five MCQ supermarkets selling Asian products in Western Australia, says his company has bought 4.5 tons of fresh lychees from Vietnam since late May. Despite higher prices compared to other types of fruit (around 13-14 AUD per kilo), fresh lychees are popular purchases.
Tran Thi Thuy Van, an overseas Vietnamese in Western Australia, says Vietnamese lychees are much sought after by Vietnamese nationals as they are of a better quality than the Chinese fruit. Many people consider Vietnamese fruit as something of a luxury goods, she adds.
Tran Thi Anh Dung, another overseas Vietnamese, says lychees are greatly favoured by numerous Vietnamese and Australian people. The quality of the product is still in good condition after the long transportation distance thanks to the advanced preservation methods used.
While Australia has opened its doors to Vietnam's fresh lychees, imports of the fruit remain modest. Importers have to choose supplies of high quality fruit and meet stringent quarantine requirements in both nations. In addition, transporting the product via air pushes the price of fresh lychees to an even higher level, making them more of a luxury purchase than an everyday fruit.
Vietnamese coffee maker gets an energy boost
Vinacafe Bien Hoa (HoSE: VCF) is placed among the top three instant coffee producers in Vietnam, alongside Trung Nguyen and Nestle.
After reaching its peak in 2014, however, the company's coffee segment went through a stiff drop in revenue which was recorded at VND1.7 trillion ($74.6 million) last year, a decline of VND300 billion year-on-year and VND550 billion compared to the record high in 2014.
Its portion of revenue generated by instant coffee has plummeted from 80 percent to 50%.
This trend is not unique, as revenues of Trung Nguyen, its major rival, have stayed flat in the last three years at around VND3.8 trillion (US$166.8 million).
According to several market research firms, the market share of caffeine drinks is now being eaten up by energy-boosting alternatives to coffee, like energy drinks and bottled tea.
This trend has helped Vinacafe offset sluggish sales of instant coffee. It introduced the coffee-flavored energy drink under Wake-up brand in 2014. The new product quickly gained popularity in a market dominated by Thailand's Red Bull, PepsiCo's Sting and local Number 1.
Revenue of Wake-up 247 has gone up four-fold in three years. Last year, it was recorded at more than VND1.2 trillion (US$52.7 million), an increase of 55.5% from 2016.
The gross profit of the energy drink was VND557 billion, corresponding to a gross profit margin of 45.5%, higher than the figure of coffee by 12 percentage points.
Vinacafe has targeted VND3.1-3.3 trillion in revenue this year, a 5% year-on-year decline. However, it aims at higher post-tax profit of VND450-500 billion, up 21%-35% from 2017.
To achieve these targets, the company will focus on rebuilding its instant coffee brands by relaunching some products with new makeovers. For the energy drink, it seeks to expand production and distribution.
At the general meeting last April, Nguyen Tan Ky, general director of Vinacafe, said the company has changed its distribution model to secure a two-digit growth rate in face of stiff competition.
Its products are now sold through a nationwide network of its parent company Masan Beverage, a wholly owned subsidiary of consumer goods giant Masan Consumer under Masan Group.