Endowed with a coastline of 72 kilometres, the Mekong Delta province of Soc Trang is not only suitable for developing the mining industry, aquaculture, logistics, and tourism, but also has great potential for industrial-scale wind power generation.
A considerable potential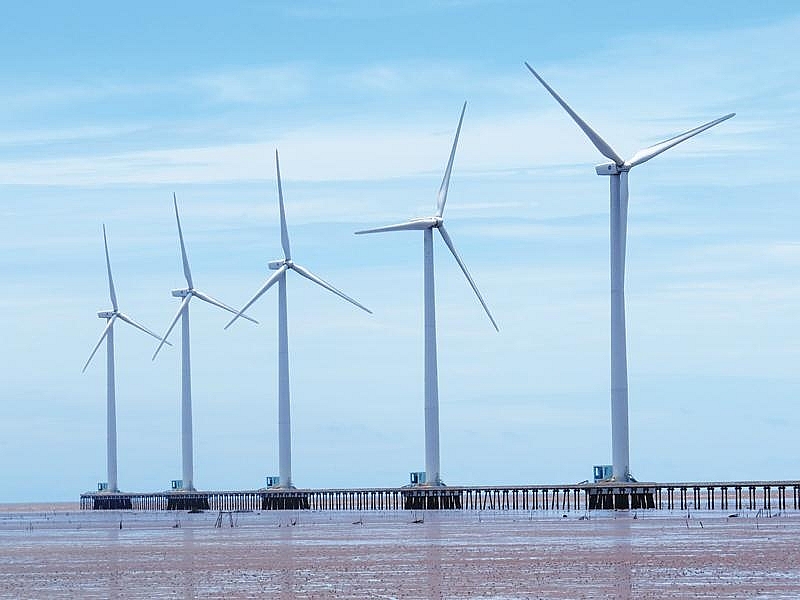 Soc Trang currently owns more than 25,000 hectares of coastal alluvial ground included in the wind power generation investment planning, which is a unique advantage for the province.
According to the survey made by domestic and foreign investors, Soc Trang's coastal areas have considerable potential for wind power, due to the plentiful and stable wind blowing up the long coastline every month of the year.
Based on observation data, at the coastal districts of Soc Trang, the average speed of wind at the height of 60 metres varies between 6.2 and 6.4m per second, giving a great opportunity for wind power development.
According to Liu Wayne, general director of Envision Energy, the company has made surveys inseveral locations and found abundant wind resources so they have applied for investment and wish to be noticed by the province's authorities in order to soon complete their documents.
Besides, according to domestic and foreign investors' assessments, Soc Trang is one of the most promising areas for wind power development in the whole country to invest in wind power generation.
Until now, many investors have contacted the Soc Trang People's Committee to get more information about opportunities in this field. After listening to investors' desires, Soc Trang has been actively supporting investors in researching and developing projects.
According to Soc Trang's wind power development master plan until 2020, with vision to 2030 approved by the Ministry of Industry and Trade with 35,740ha of land area examined, and a potential capacity of 1,470MW.
By 2020 wind power projects will be developed in 13 locations with the total examined area of 27,800ha, with a potential capacity of 1,155MW (200MW development capacity); from 2021 to 2030 wind power projects will be developed in nine more locations with 7,940ha of land area examined, with a potential capacity of 315MW.
So far, about 30 investors are surveying and planning projects in the locations the province set for wind power development. Of these, the province has issued investment guidelines for three projects and is considering other projects.
Being open and transparent in the selection of investors
There are many investors looking to participate in the same wind power projects at the same time. To ensure equality, openness, and transparency in the selection of investors, on May 30, 2018, the Soc Trang People's Committee issued a set of criteria to select investors for wind power projects.
These criteria will serve as the basis to score and rank investors and are not compulsory. These criteria include: financial status, ensuring project implementation, project implementation experience, project implementation progress, technology, land area.
Vo Van Chieu, director of the Department of Industry and Trade, stated that Soc Trang encourages investors from inside and outside the country to come and conduct surveys and analyse investment opportunities in renewable energy projects planned in the province in order to seize the advantages on offer, and not just commit to clean energy resources, but also attract more tourists to visit the province.
VIR