Brussels workshop focusses on EU-Viet Nam FTA     
The Vietnamese Embassy in Belgium held a workshop in Brussels on June 20 to speed up the signing and ratification of the European Union (EU)-Viet Nam Free Trade Agreement (EVFTA).
The workshop was held in collaboration with the European Union, EU-Viet Nam Friendship Parliamentarians' Group and European Institute for Asian Studies.
Speaking at the event, Vietnamese ambassador to Brussels Vu Anh Quang highlighted the positive results of economic, trade and investment cooperation between Viet Nam and the European Union and called for the Union's strengthened collaboration with Viet Nam and the Association of Southeast Asian Nations.
According to him, EVFTA is a balanced document that benefits both Viet Nam and the European Union and has large influences on bilateral political, economic, trade and investment ties.
The agreement will help EU companies access the 90-million-strong Vietnamese market, contributing to boosting bilateral cooperation. It will also allow the European Union to improve its position and role in Southeast Asia and Asia-Pacific, Quang said.
He affirmed that Viet Nam was committed to ensuring an open and transparent business and investment environment as well as following the regulations of the agreement.
Participants at the workshop lauded the significance of the agreement for both the sides.
Many said EVFTA would open up opportunities for the two sides' enterprises through innovative mechanisms to protect investors and provide conditions for the European Union's small- and medium-sized enterprises to more easily access the Vietnamese market.
Ambassador and head of the EU Mission to Viet Nam, Bruno Angelet, pointed out the issues that Viet Nam needed to solve to take advantage of the agreement while suggesting the country protect intellectual property.
He said to boost farm produce exports, Viet Nam should follow the European Union's food requirements and the Sanitary and Phyto-Sanitary Agreement.
Member of the European Parliament, Jan Zahradil, who is also the president of the EU-Viet Nam Friendship Parliamentarians' Group, hoped the agreement would be approved in the current tenure of the European Parliament.
Next week, Vietnamese minister of industry and trade Tran Tuan Anh will travel to Brussels to solve existing technical matters so that the European Council can sign the agreement and submit it to the European Parliament for ratification.
In its current tenure, the European Parliament will convene meetings until mid-April 2019, so both the sides have some 10 months to complete the signing and ratification of the agreement, Zahradil said. 
Cassava exports to Japan surge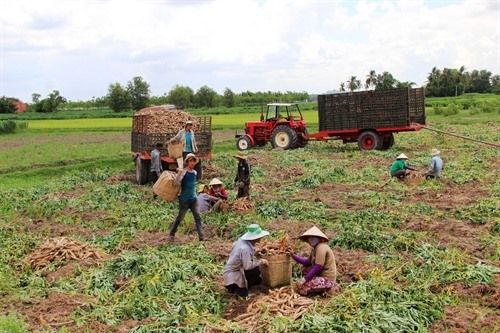 Farmers harvest cassava in An Cơ hamlet in Tây Ninh Province's Châu Thành District.
Việt Nam's cassava exports to Japan surged in the first four months of the year to 10,100 tonnes worth US$2.42 million.
These represented increases of 379.4 per cent and 263.8 per cent year-on-year.
But figures from the General Department of Customs show that the country's overall cassava exports declined by 26.7 per cent to 1.09 million tonnes though their value remained virtually unchanged at $369 million.
This was because the average export price was 37.3 per cent up at $338 per tonne though in Japan it fell by almost a fourth to $239.
China remained the biggest importer buying more than 980,000 tonnes though its imports were down 26 per cent.
Exports to Malaysia, the Philippines and Taiwan saw declines both in terms of quantity and value. 
Wood exports hit US$3.3 billion in 5 months
Exports of wood and timber products continue its upward trend, showing through their export value hitting US$3.3 billion in the first five months of this year, a year-on-year rise of 8.2%.
Four major importers alone, namely the US, China, Japan and the Republic of Korea, accounted for 78.1% of the total export value. The US topped the importers with a value of US$1.1 billion (up nearly 10%), followed by China with US$367.3 million (up 2.8%), Japan with US$350.7 million (up 2.3%) and the RoK with US$288.8 million (up 45.3%).
However, Nguyen Quoc Khanh, chairman of the Handicraft and Wood Industry Association of Ho Chi Minh City (HAWA), warns that the US, as the largest importer of Vietnamese wood and timber products, has reduced the corporation income tax from 35% to 25% to encourage domestic production although it offers preferences for imported goods, especially Vietnamese timber products. Therefore, domestic businesses should avoid shipping products that are growing well in the US.
Currently, Vietnam boasts a strong furniture industry. Exports of most timber products have achieved a quite high growth as global demands are rising.
According to Statistics Canada, the country's imports of wood furniture from China, the US and Vietnam jumped strongly in the first months of this year. Vietnam got the highest value, which accounted for 12.6% of Canada's total imports of the products.
Meanwhile, Japan decreased wood and timber imports from China but raised that from Vietnam in both volume and value. It shows a quality improvement of Vietnamese products which are gradually meeting requirements of the market. Vietnamese businesses should ensure a legal and sustainable sourcing and use of wood.
The overall picture of the wood sector in 2018 and the next years is bright. In addition, domestic businesses are dynamic in market expansion. However, they should grasp the opportunity of global changes in wood production to help the wood sector fulfill its set target, says Mr Khanh.
Vietnam's Coffee King comes down from the mountain
The CEO of Vietnam's top coffee brand, Trung Nguyen, put in a surprise appearance at a recent company event, after "disappearing" for almost five years.
Dang Le Nguyen Vu, known as the Coffee King of Vietnam, had stayed away from public eye amidst a lengthy divorce process with his wife that is yet to end.
Vu, who had nurtured Trung Nguyen Coffee and taken it to 60 international markets, amazed participants at the company event by turning up without prior notice.
The CEO exhorted Trung Nguyen's leaders and staff to do everything differently from other companies in the world.
"Brothers and sisters, you have to start by revolutionizing yourselves," he said in a short speech.
Trung Nguyen must aim to become the number one coffee brand in the world, establishing its presence everywhere, he said.
Vu said he had spent the last five years meditating up in the mountains and now had answers to "all the questions in this world."
The unannounced appearance of Vu has gathered a lot of public and media attention, particularly because his wife, Le Hoang Diep Thao, recently accused four leaders of Trung Nguyen Coffee for misusing their power to manipulate her husband's company while he was away.
Thao, who owns another coffee brand, King Coffee, said that incorrect information had been spread on social media to slander her husband, who was too sick to appear in public.
"These leaders did this to manipulate Trung Nguyen for their personal gain," she said.
The divorce proceedings between Vu and Thao, who used to be the deputy director of Trung Nguyen, had also caught public attention in 2015, when they took each other to court, each accusing the other of obstructing the company's operations.
Vu and Thao have also been embroiled in a lengthy and costly legal battle for years over the ownership of Trung Nguyen Group, which has a charter capital of VND1.5 trillion (US$65.8 million).
Thao was a minority shareholder of the company until Vu ousted her in 2015.
The court has not officially settled the divorce petition.
​US-China trade war to help or hurt Vietnam's economy?
The trade dispute between the US and China, two of Vietnam's top trading partners, could leave both positive and negative impacts on the country, as well as other Southeast Asian nations, business insiders and experts forewarned.
With many Vietnamese products being part of China's value chain, it is certainly that Vietnam cannot avoid the cascading effect from the trade war between these two biggest economies in the world, according to experts interviewed by Tuoi Tre (Youth) newspaper.
It is therefore suggested that not only Vietnamese enterprises but also the government be prepared to confront and deal with different situations that may follow the US-China 'trade war,' which officially broke out on Friday as the States announced a 25% tariff on US$50 billion of Chinese goods.
More than 800 exports, worth about US$34 billion, will be subject to tariffs starting on July 6.
Another 280 or so still need to undergo a public comment period, and will take effect later. US President Donald Trump also threatened to raise the value if China retaliates.
On the same day, China immediately introduced countermeasures of the same scale and strength by imposing its own 25% tariffs on 545 categories of US products worth US$34 billion from July 6.
With China facing escalating retaliation from the US, Vietnam could serve as an alternative supplier of several commodities, which the Southeast Asian country has advantage in, for its northern neighbor.
According to a representative from Handicraft and Wood Industry Association of Ho Chi Minh City (HAWA), Vietnam's wooden products and furniture will become more competitive, with wooden products among items to be affected by the tariff war, and made-in-China wooden products are facing anti-dumping lawsuits in the US.
China is the biggest exporter of wooden products to the US, and Vietnam stands just three places behind.
Vietnam's wood industry could achieve higher growth if local businesses can grab the opportunity that may open up when the US shifts purchase from China to Vietnam, according to experts.
Amid the battle of tariffs between the US and China, any disruption to supply and distribution chains could have a lasting impact.
In the worst-case scenario, companies currently operating in China may have to relocate their factories or distribution centers to reduce the impact from the US tariffs on China.
This is a chance for Vietnam, as an export-oriented economy, to strive to attract investors and emerge as an attractive alternative destination for manufacturers who want to restructure their supply chains.
In reality, Vietnam's exports to the US saw an increase of 14.65% year-on-year, accounting for 39.7% of total exports in the first two months of 2018, while the tit-for-tat exchange of tariffs between the US and China was still an egg of a trade war.
If the US imposes broader tariffs on China, it will affect the cross-border supply chain. Vietnam, a supplier of inputs for many of Chinese exports, will also be hurt as a cascading effect.
This will be true for every economy that is part of the US-China value chain.
On the other hand, China-based firms facing higher tariffs will redirect their raw materials exports towards Vietnam to hide the origin of their Chinese-made products to avoid tariffs.
This practice will affect the local industries in Vietnam, evidenced by the case of steel originated in China but were exported from Vietnam.
Last month, the US Department of Commerce decided to levy import tax on steel produced in Vietnam using Chinese-origin materials.
Besides, economic experts say that China's high inventories of goods due to trade disputes with the United States may cause the country to apply dumping on neighboring markets.
Nguyen Tat Thang, general secretary of the Animal Husbandry Association of Vietnam (AHAV), on the other hand expressed concerns that the US-China trade tensions will delay the signing of a veterinary agreement between Vietnam and China.
As a result, the possibility of exporting livestock products from Vietnam to its most potential market will be decreased.
To minimize the risks arising from trade disputes, Vietnam has to focus on increasing their market access.
Vietnam is already a signatory of numerous free trade agreements (FTA), with two more major trade pacts coming in effect in the near future, Comprehensive Progressive Trans-Pacific Partnership (CPTPP) and EU-Vietnam free trade agreement (EVFTA).
This will give Vietnam an opportunity to increase their exports to alternative markets. 
However, Vietnam suffers from under-developed supply chains, heavy reliance on imports of raw materials, and lack of supporting industries.
It has to focus on removing these obstacles to not only survive trade wars, but also fully realize the benefits of those upcoming FTAs.
Vietnam, RoK foster business connection

The Vietnam Chamber of Commerce and Industry (VCCI)'s Ho Chi Minh City branch on June 19 organised a conference to promote link between enterprises from Vietnam and the Republic of Korea (RoK).

During 2015-2017, RoK's exports to Vietnam surged 60.5% while the country's imports from the Southeast Asian nation scaled up 61%.

In 2017, two-way trade reached US$61.5 billion, up 41% year on year, including Vietnam's exports of US$14.8 billion, a rise of 30% over 2016 and its imports of US$46.7 billion, up 45.3% year on year.

In the first two months of 2018, the RoK shipped US$7.5 billion worth of products to Vietnam, a year-on-year surge of 28.1%. 

The RoK is currently the 2nd largest trade partner of Vietnam and the latter is the 4th largest trade partner of the RoK.

The East Asian country mostly bought Vietnamese garment and textile products, telephones and spare parts, electronics, aquatic products, wood and wooden products, machines, equipment, footwear, transport vehicles, and fabrics.

Meanwhile, Vietnam imported from the RoK cell-phone and computer spare parts, electronic products, fabrics, machines, equipment, chemicals and fertilizers.

Both sides have agreed to lift two-way trade to US$100 billion by 2020, making Vietnam become the 2nd destination for RoK products, just after China.

Regarding investment, the RoK is the biggest foreign investor in Vietnam with over 6,760 valid projects which have total registered capital of more than US$59 billion.
Data analytics and artificial intelligence boost business operations
To help businesses address the challenge of transforming large volumes of data into actionable insights to support business operations, PwC Consulting Vietnam today joined Eurocham and Microsoft Vietnam to organise a workshop themed "How can analytics and artificial intelligence drive new revenue streams for businesses."
Top regional experts from PwC and Microsoft shared current trends in data analytics and artificial intelligence (AI) and revealed how these technologies can help businesses gain more insights internally and externally.
Sales transactions, customer interactions, and other business activities are generating vast amounts of structured and unstructured data everyday.
According to International Data Corporation (IDC), data production is expected to double in volume every two years for the next decade. However, only 0.5 per cent of all data is ever analysed and used.
Data analytics' purpose is to analyse and conclude valuable insights from these enormous volumes of data to support businesses' decision-making and influence the future performance of the organisation.
Meanwhile, AI is increasingly finding use in many industries, including manufacturing, logistics, transportation, and finance and banking, among others.
For instance, AI can help organisations to automate non-value adding processes, identify fraudulent claims and invoices, steer self-driving vehicles in logistics, and drive customer interaction and engagement via mobile channels.
Companies operating in sectors like energy, maritime, real estate, and mining can use video analytics to detect intrusions, identify abandoned objects, evaluate traffic flow density, and enable facial and character recognition.
According to Scott Albin, South East Asian Consulting Data and Analytics leader at PwC, data is the heart of a business and leaders need to embed this thinking into their organisations.
"Using analytics and AI can add value to every part of the value chain and to every area of business decision-making."
"For example, it can help organisations reduce machine downtime—therefore improve equipment efficiency and optimise the supply chain. Data analytics solutions can also enable increased profitability across the value chain, especially in FMCG and retail industries," said Albin.
There is an evident gap between the need for insights from analytics and the capability to deliver those insights.
According to PwC's 2017 Industry 4.0 survey report, business leaders are well aware of the importance of data analytics in decision-making processes.
However, 74 per cent of respondents do not have advanced data and analytics capabilities and only 14 per cent have a dedicated department for data analysis serving many functions across the company.
Meanwhile, the lack of skilled technical resources to manage the systems, high costs, and concerns over data and personal privacy are among the key obstacles holding back business leaders from successfully integrating analytics and artificial intelligence in their organisations.
Albin advised that organisations should embark on a data analytics journey which roughly comprises of four stages.
First, companies should assess the value which exists in their data and assure that the data can be trusted. Companies should focus on identifying the insights hidden in their data.
Second, companies need to prove that the insights can be turned into actionable changes and initiatives which have a clear benefit.
Third is to scale it so the insights from the data can be delivered to the right people at the right time.
Fourth is to repeat this process, since analytics can be applied to many different fields of an organisation.
"We have worked with many clients to embed data analytics in their way of working," said Albin. "This transformation is by no means an easy task and it could take months and even years to get there. Yet there are many great tools and methodologies available to help businesses to get started on their journey to unlock the full power of data."
Companies are also recommended to build a governance structure that enables them to develop and maintain necessary practices and capabilities to manage data more effectively.
Satra launches first food convenience store at hospital
Saigon Trading Group (Satra) on June 19 opened its food convenience store at the Pediatrics Hospital No. 2 at 14 Ly Tu Trong, Ben Nghe Ward, District 1, Ho Chi Minh City.
This is the first store to be inaugurated at the hospital and will serve patients and their relatives, as well as healthcare specialists and staff.
The store will stock items such as diapers, milk, nutritious products and toys due to its special location.
Besides this, a wide range of key Satra product lines will be on sale including Vissan meat, high-grade seafood, vegetables, tropical and cold-hardy fruits and processed foods that are in full compliance with food origin, safety and hygiene regulations.
Satra reportedly expects to open a food court next to its convenience store at the hospital to supply wholesome meals for visitors. The Satra food store and food court concept will be adopted at multiple hospitals across the city, a Satra representative said.
Earlier, three Satra food stores opened for business in Binh Tan District's Binh Tri Dong A Ward, Tan Tao Ward and Binh Hung Hoa B Ward in the first half of June.
The group plans to inaugurate its 187th store in District 8 this month and is targeting a further 26 outlets by the end of 2018.
The HCMC-based company has launched 30 Satra food stores in total since the start of the year, mainly located on the outskirts of the city, and has achieved 50% of its target for 2018.
Store expansion to the suburbs as well as hospitals is a step into a niche market where Satra has yet to face serious competition. The stores in the suburbs have seen consumption surging, the representative added.
Preventive measures to deal with trade defence
When tariff barriers are reduced, there is a trend among some nations to strengthen trade protectionism for their domestic industries by applying trade defence measures.
Experts warn businesses to take preventive measures to avoid losing export markets in the coming time.
According to the Department of Trade Defence under the Ministry of Industry and Trade, Vietnam has faced a total of more than 130 trade safeguard lawsuits, including 77 anti-dumping lawsuits, 10 anti-subsidy investigations, 22 self-defence investigations and 17 tax avoidance and evasion investigations.
Most of these cases have been lodged by the US, Turkey, India, the EU and Australia. Steel products like cold-rolled steel have been selected for regular investigation, with 30 lawsuits having been launched.
Many nations in the world have erected barriers such as trade defence instruments to restrict free trade. Ms Tran Lan Huong from the Department of Trade Defence points out that five trends of trade defence lawsuits will be applied.
Firstly, class action lawsuits have become popular practise, which means that a lawsuit is filed by numerous nations at the same time. Products subject to trade defence investigations are closely associated with the goods of other nations, which have posted higher export turnovers.
The second trend is in lawsuits against tax avoidance and evasion. All cases of tariff avoidance for Vietnam relate to accusations of avoiding taxes from China. Therefore, when the tariffs were imposed on China, Vietnamese businesses have faced risks of competing fiercely with the products in markets which slap duties on China.
MsHuong says when the incident has happened to China, similar incidents will also happen to Vietnam over the next two years in the form of anti-dumping, tax avoidance and evasion.
The third trend is the domino lawsuit. When a country files a lawsuit, other nations will follow their lead and lodge further lawsuits. This means that when Vietnam is sued on one market, it is not certain that the nation will escape lawsuits from other markets.
Many businesses think that their products are exported to multiple markets and if the US investigates their products and imposes duties, they will easily drop this market. However, businesses are unable to foresee whether or not their products will be subject to lawsuits in their remaining markets. The fourth trend is the double lawsuit and anti-dumping and anti-subsidy lawsuits are launched at the same time. These measures are taken by major countries or economic areas such as the US, EU, and Canada.
Ms Huong says there is a worrying trend that foreign nations have conducted investigations by imposing measures to limit imports due to national security.
Phan Khanh An from the Department of Trade Defence says businesses can lose their markets if lawsuits are filed. For example, the US imposed countervailing duties on imports of steel nails from Vietnam in 2014. As a result, their export value fell from U$36 million to US$800,000 in 2015.
Vietnamese stainless steel pressure pipes also suffered anti-dumping duties from the US in 2013, leading to their export value dropping from US$178 million to US$87 million in 2014 and 2015.
Brazil also slapped anti-dumping tariffs on Vietnamese tyre exports in 2012, leading to the export value plummeting from US$5.7 million to US$1.9 million in 2013 and US$650,000 in 2014 and just US$575,000 million in 2015.
The figure has shown that trade defence measures can block products from penetrating markets and seriously affect export businesses, says Mr An.
Huong warns that businesses need to avoid these cases by diversifying their export markets to curb their losses. In markets which have applied trade defence instruments like the US and India, businesses should learn more about their laws and regulations and discover whether these nations have previously imposed trade defence measures on any nation. When the lawsuit is filed, businesses need to deal with the incident by all means.
The Ministry of Industry and Trade recommends businesses consider hiring lawyers to provide consultancy on trade defence measures, which involve complicated issues related to economics, accountancy, finance and law. Businesses need to gain insights into agencies' methods of investigation to properly prepare documents for any lawsuits.
Lastly, businesses need to identify their strategy and targets, as they can lose costs in such lawsuits but can prevent similar incidents in other markets in future.
At the same time, the ministry advises businesses to reinforce solidarity and cooperation to deal with the similar cases, as foreign nations have imposed tariffs on the Vietnamese market, not specific businesses.
Rise in rubber imports as value falls
Vietnam imported 244,000 tons of rubber worth US$439.9 million during the first five months of this year, up 21.6% in volume but down 2% in value against the same period last year, according to the General Department of Vietnam Customs.
The average import price dropped by 19.3% to US$1,082.9 per ton. After seeing a decline in April, imports of the product began to grow in May, rising 25.7% to 50,100 tons with value up 25.3% to US$92 million.
Vietnam mainly bought rubber from Southeast Asian countries, accounting for 34.4% of total imports. The Republic of Korea and Thailand were the two largest suppliers of rubber to Vietnam, trailed by Cambodia.
Despite modest imports, Canada was the market with highest growth, ballooning 9-fold to 228 tons, with value rising 800% to US$548,400. Conversely, rubber imports from France fell sharply by 47.89% to 593 tons.
In addition, imports from Malaysia and Indonesia jumped 49.76% to 9,800 tons and 39.65% to 13,800 tons, respectively.
$717m to be invested in Thai Nguyen     
As many as 31 projects, worth VND16.3 trillion (US$717.2 million), have so far been registered in the northern province of Thai Nguyen within the framework of its investment promotion conference.
This was announced on June 20 at a press meet about the event, which will be held on July 1.
The conference is expected to draw some 800 delegates, including Party and State leaders as well as representatives of ministries, central agencies, diplomatic corps, international organisations and domestic and foreign businesses.
According to the organising board, the conference will launch the VND1 trillion ($44 million) extended Bac Son road project connecting downtown Thai Nguyen with the local Nui Coc Lake tourism site.
The event will also announce a list of 65 priority projects in need of capital and grant investment licences to eligible projects. Memoranda of understanding (MoU) on investment collaboration will also be signed on the occasion.
Thai Nguyen has made lists of three qualified investors for projects worth more than VND3.1 trillion and seven projects worth more than VND1.7 trillion eligible to receive investment licences.
The conference is expected to witness the signing of MoUs on investment cooperation for 21 projects, valued at nearly VND11.4 trillion.
Prior to the event, local authorities had separate meetings with foreign business delegations and investors from Japan, France, the United Arab Emirates, Hong Kong, South Korea and Singapore.
The local leaders also met domestic investors, such as the Sun Group and FLC Group, to discuss about projects on building a cable car system connecting Nui Coc Lake to Tam Dao in Vinh Phuc province and on the development of urban infrastructure and high-tech agro-forestry.
Nhu Van Tam, vice chairman of the Thai Nguyen People's Committee, said the province, located in the centre of the northern mountainous and midland region, boasted great advantages in attracting investment in tourism, industrial development, trade, services and argo-forestry.
To date, it has planned six industrial zones covering 1,400ha and 35 industrial clusters spanning 1,300ha.
Building materials, construction expo opens     
The latest products and services in the construction, building materials, real estate and interior and exterior decoration industries will be on show at the Vietbuild International Exhibition that opens in HCM City on June 21.
The first to be held this year in the city – four Vietbuild expos on various themes will be held this year – featuring building materials, electrical equipment, decorative items, hygiene equipment, smart home systems, door and door accessories, paints, and others.
There are more than 2,500 booths set up by nearly 800 companies from 27 countries and territories, including Australia, Germany, Italy, France, the US, Spain, the Netherlands, Singapore, South Korea, and Viet Nam.
Business-matching events and many seminars will also be held on its sidelines, including a seminar on green building technology and another on new fingerprint lock solutions.
Nguyen Tran Nam, chairman of the Viet Nam Real Estate Association and head of the organisation committee, said the annual exhibition would be a forum for companies to meet, exchange information, explore future co-operation and introduce their latest products and technologies.
The five-day expo is on at the Saigon Exhibition and Convention Centre in District 7. 
Viet Nam, Philippines eye boost to trade, investment     
Viet Nam and the Philippines have great potential for trade and investment, a conference heard in HCM City Wednesday.
Deputy Minister of Industry and Trade Tran Quoc Khanh told the conference: "In recent years economic co-operation between Viet Nam and the Philippines has grown but is not commensurate with the two nations' potential."
Bilateral trade grew by 22 per cent last year to US$4 billion.
In the first five months of this year trade was worth $1.77 billion, an increase of 15.5 per cent year-on-year.
Viet Nam and the Philippines are each other's fifth largest partners in Southeast Asian.
By the end of May the Philippines had invested $328 million in Viet Nam to rank 35th out of 126 nations and territories investing in the country.
"The two countries have a great opportunity to strengthen economic and trade co-operation," Khanh said.
"The Vietnamese Government is taking many steps to improve the business environment for foreign investors."
Deputy Minister of Trade Ceferino Rodolfo said: "Viet Nam is one of the fastest growing markets in the world and attracts a lot of interest from foreign investors, including Philippine enterprises."
At the conference, executives from 20 Philippine food processing, consumer goods, auto, and motorbike companies met with their counterparts from 10 Vietnamese companies to explore co-operate opportunities. 
Tisco asks for help to solve debt issue     
Thai Nguyen Iron and Steel Corporation (Tisco) has proposed its parent company – the Vietnam Steel Corporation (VNSteel), alongside the Ministry of Industry, Trade and Finance, and other relevant agencies assist the firm to extend loan dues and restructure debts to resolve financial issues, dantri.com.vn reported.
At its annual shareholder meeting on June 12 Tisco reported that its total combined net revenue rose 10.9 per cent year on year to VND19.8 trillion (US$880 million) in 2017 and its pre-tax profit was VND898 billion, nearly tripling that of 2016.
However, the company has encountered difficulties in high production costs, which has reduced its competitiveness in the market, while it does not have enough capital to either continue production or expand its factory.
During the second-stage expansion of Tisco's operations, which took place from 2009-10, VNSteel guaranteed Tisco a VND1.86 trillion loan from the Vietnam Joint Stock Commercial Bank for Industry and Trade (Vietinbank). Tisco is yet to pay back the debt.
Tisco reported its charter capital was VND1.84 trillion. The company had spent VND1.5 trillion on the expansion project and it had lent VND531 billion ($23.6 million) to other businesses, but the investments were not efficient.
The company retrieved a part of its outward loans, reducing its receivables to around VND450 billion.
According to the firm's management board, the biggest problem Tisco has to face is how to resolve the loan borrowed from Vietinbank. To resolve the current financial issues, the management board has offered to mortgage two iron and coal mines to any financial institution or business that will buy the VND1.86 trillion debt from Vietinbank so that VNSteel is no longer involved in Tisco's loan.
Another solution is for the Government to sell its ownership in Tisco to the private sector and reduce its stake to below a specific ratio that allows private firms to take a decisive role in Tisco's management board.
However, the divestment plan remains unknown and there has been no business or financial institution that is interested in buying the Government's stake in Tisco.
The two plans have put Tisco in a dilemma over whether it should transfer the State capital to the State Capital and Investment Corporation (SCIC) or remain under the management of the industry and trade ministry and continue resolving existing issues.
The Ministry of Industry and Trade has been asked to submit a divestment plan of Tisco to the Prime Minister for consideration as soon as possible. 
Bac Giang to record $240 million in lychee value     
Thieu lychee, a unique fruit of the northern province of Bac Giang, is expected to record VND5.5 trillion (US$240.28 million) in value this year if it can retain its current price until the end of the fruit season.
A report from the province shows that it had consumed about 125,630 tonnes of Thieu lychee as of June 19, bringing in a revenue of VND3.4 trillion.
China is the main export market for this fruit. At present there are about 1,650 traders, mainly purchasing lychee in Luc Ngan District, a hub of Thieu lychee. There are more than 150 Chinese traders in this area alone..
Chairman of Luc Ngan District Nguyen Thanh Binh said there were a number of companies exporting lychee to the US, Japan, the Netherlands and Australia.
The price of Thieu lychee, which is grown under Vietnamese Good Agricultural Practice (VietGAP) standards, is currently between VND20,000-VND28,000 per kilo (US$0.89 - 1.24), meanwhile normal lychee is priced at VND12,000-20,000 per kilo on average.
The district has 15,290 ha of Thieu lychee, of which nearly 11,500 are being grown under VietGAP standards. Nearly 220ha has been granted area code numbers by the US Agriculture Department and 20ha have been recognised as GlobalGAP standard, a global farm assurance programme translating consumer requirements into Good Agricultural Practice.
According to the provincial Department of Industry and Trade, the province has worked with distributors and retailers such as Big C, Co.oppart and Hapro to enter its products to supermarket chains. Earlier, Luc Ngan District successfully organised a trade promotion conference pushing to export Thieu lychee to China, which is the largest export market of Thieu lychee, accounting for 90 per cent of total export.
General Director of Dong Giao Food Export Joint Stock Company Dinh Cao Khue said the quality of Bac Giang lychee this year was very good, with just 1-2 per cent being infested by pests.
"We plan to harvest about 10,000 tonnes of Thieu lychee in Luc Ngan District, in which 4,000 tonnes will be exported to Japan," said Khue.
The company now has 10 points of purchase in the province for lychee, including those for export, for canning and for making juice.
A Thao, a business person from China, told the Vietnam News Agency that he was purchasing lychee to sell in Beijing. He bought about 60 tonnes of lychee per day at a price ranging from VND23,000 to VND25,000 per kilo.
"China has a lot of lychee but the Vietnamese fruit is more delicious and sweeter with a more beautiful colour. Chinese people prefer them, even though they're more expensive than Chinese lychee," said Thao.
Director of Hung Thao Trade and Export Company Ltd., Dinh Van Hung said this year's harvest was good and his company's sales were high.
He said his company planned to purchase about 8,000 tonnes to sell in various retail chains, especially Co.opmart in HCM City and exports to China.
"I think that the price of lychee will increase in the coming time as China finishes its lychee season. At present, my company is purchasing at the price of between VND20-23,000 per kilo," said Hung.
Luc Ngan District has successfully registered branding protection in eight countries including Laos, Cambodia, South Korea, China, Japan, Singapore, the US and Australia.
Vinh Long unveils construction master plan     
The southern province of Vinh Long on Tuesday unveiled a construction master plan covering the period from 2018 to 2030 and with a vision to 2050.
The Deputy Director of the provincial Construction Department, Tran Hoai Hiep, said the plan aimed to establish Vinh Long as a centre of service, industry, and hi-tech agriculture through equitable and sustainable development.
Hiep said the projects under the master plan would be built in accordance with the projects of the adjusted construction plan for the Cuu Long Mekong Delta, which is expected to become an important road and railway transport hub for the delta and a logistical centre in the urban economic region between Cuu Long Delta, HCM City, and Phnom Penh.
Vinh Long is set to become a hub for paddies and orchards and a centre of hi-tech agriculture, supporting other hi-tech industries in the delta. It is also expected to be a vocational training and biological science research centre as well as a trade and tourism destination.
The province's economic growth rate is predicted to reach 7 per cent by 2030, with an average Gross Regional Domestic Product per capita of US$4,000. 
Petrol, oil prices slightly decrease
Prices of oil and petrol slightly dropped by 300 VND per litre following the latest adjustment of the Ministry of Industry and Trade and the Ministry of Finance on June 22.
After the adjustment, prices of E5 RON92 decrease by 329 VND per litre, and kerosene 386 VND per litre. 
The prices of E5 RON92 are not higher than 19,611 VND per litre, RON95-III not higher than 21,177 VND per litre, and diesel 0.05S not higher than 17,460 VND per litre.
Prices of kerosene and mazut 180CST 3.5S should not be higher than 16,054 VND and 14,437 VND per litre respectively.
The global prices for RON92, which is the base for the production of E5 petrol, stood at 81,252 USD per barrel in the 15-day period prior to June 22. 
RON95 was sold at 83,293 USD per barrel, diesel 0.05S 86,823 USD per barrel, kerosene 86,768 USD per barrel, and mazut 180CST 3.5S 444,901 USD per tonne.
The petrol price stabilisation fund has been used constantly over the past time and at high level, particularly for petrol products, to mitigate the impacts of global rising commercial oil and petrol prices and contribute to curbing inflation.
This time, subsidies for E5 RON 92 is 870 VND per litre (previously 1,270 VND per litre) and RON 95 is 198 VND per litre (previously 698 VND per litre).
The two ministries decided to end subsidies on diesel and kerosene.