Vietnam's pulp and paper industry is on its way to becoming one of the strongest in the region, with foreign companies dominating the scene, but concerns about the high cost of imported raw materials are growing.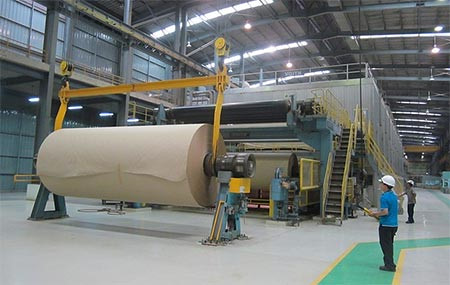 According to Vu Ngoc Bao, former general secretary of the Vietnam Pulp and Paper Association (VPPA), Vietnam is projected to have one of the strongest paper industries in ASEAN within the next few years, trailing only Indonesia and overtaking Thailand. The industry will be dominated by foreign companies, which mainly invest in packaging paper production.
Bao elaborated that the expansion of foreign paper manufacturers added 1.17 million tonnes of packaging paper capacity in 2017, accounting for 40% of total capacity.
The increase brought the total capacity of FDI companies to 1.52 million tonnes of packaging paper last year, accounting for 50% of the industry's total capacity. However, this added capacity mainly comes from three major foreign paper manufacturers.
VinaKraft, a joint venture between Siam Kraft Industry-a subsidiary of Thailand's Siam Cement Group (SCG)-and Rengo Co., Ltd of Japan, inaugurated its second paper and packing factory in the southern province of Binh Duong in April 2017. With the addition of the second plant, the company's total production capacity will be 500,000 tonnes per year.
Meanwhile, Hong Kong's Lee&Man Paper Manufacturing started a paper mill with an annual production capacity of 400,000 tonnes in the province of Hau Giang in March 2017. First initiated in 2007, the project was put on hold the following year due to the global financial crisis and was not resumed until 2014. The firm recently started its second-phase expansion and is expected to double its sales within the next two years.
Taiwan-based Cheng Loong Binh Duong Paper was also granted an investment licence to develop a US$1 billion paper mill in Binh Duong in 2015.
Covering an area of 75 hectares, the mill is designed to produce 1 million tonnes of industrial paper and 50,000 tonnes of household paper per year. The first phase of the project is slated to be put into operation in August, with an installed annual capacity of 300,000 tonnes of industrial paper products.
Bao said that the ongoing foreign investment is a testament to the local industry's vast potential for development. It is projected that the total capacity of FDI companies will reach 5 million tonnes in the next few years, making Vietnam a leading paper manufacturing country in the region.
"That being said, the market share of domestic paper makers will gradually shrink. To catch up with foreign companies, local manufacturers should install equipment with an annual capacity of 200,000 tonnes as well as apply Industry 4.0 technologies in production," he said.
On the same note, Dang Van Son, general secretary of VPPA, pointed out that the expansion of foreign companies with large capital sums and advanced technology will pose a threat to small-scale paper manufacturers.
He said only paper mills with a high capacity can ensure business efficiency, but many local manufacturers fail to achieve this efficiency.
Several local paper mills have an annual capacity below 10,000 tonnes, whereas foreign paper mills have an average capacity of 500,000 tonnes per year. Therefore, the local manufacturers need to restructure and develop new and modern paper mills with larger capacities to increase their competitiveness in the future.
In addition, Vietnam relies heavily on imported pulp and paper, causing difficulties for local production. Vietnam has imported most of its input materials from Indonesia, as well as sourcing high-end packaging paper from Taiwan (China), the Republic of Korea, and Japan to meet the production demand. The country is also sourcing printing and writing paper from Thailand, as there are too few domestic producers for printing paper to meet the local market's demand.
Manufacturers as well as trading businesses have said that the domestic supply of inputs has yet to meet the production demand, as the local industry mainly depends on imported raw materials. This, coupled with the rising prices of input materials, leads to an increase in prices for different types of paper.
According to the VPPA, the prices of locally-produced printing and writing paper have increased by 10-15% since the beginning of the year. Meanwhile, the prices of packaging paper have climbed by 8% following a decline in prices during the first quarter.
Furthermore, local manufacturers have had to compete with Chinese enterprises to buy input materials for paper production since the end of 2017. The main reason is that China is getting tough on pollution. Thus, the Chinese pulp and paper industry has been restricted to ensure the country achieves its environmental protection goals.
"However, the rising prices in Vietnam will not have much of an impact on large packaging paper manufacturers like Tetra Pak or companies using a lot of paper for their finished products, such as guidebooks for electronic products by Samsung and LG," said Bao.
He noted further that China aims to elevate the paper industry to a new height, transitioning from producing low- and medium-quality products to high-end products. Thus, China will lack both raw materials as well as paper products.
This will be a boon for Vietnamese manufacturers, enabling them to export finished products to China. Therefore, local companies should actively invest in increasing their capacities to capitalise on the opportunities, Bao stressed.
VIR