VietNamNet Bridge – The Transport Ministry wants to transfer some administrative services to the control of private enterprises and organisations, and has been developing a plan to achieve this.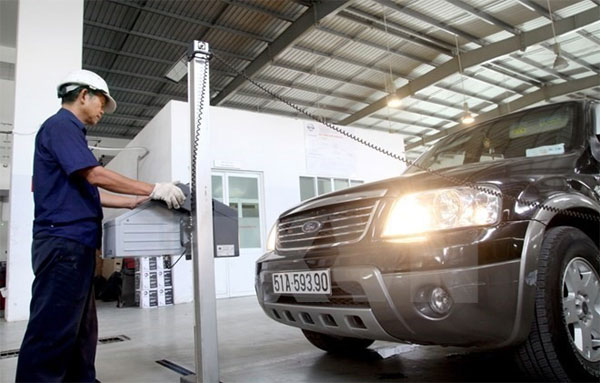 A car is examined at a registration centre in HCM City. — VNA/VNS Photo
Vice secretary of the ministry's office, Nguyen Thi Kieu Nguyet, said that public administrative services are now provided by State agencies which have the authority to grant licences, permits and certificates.
Currently, there are about 490 administrative procedures and about 250 types of licences in the transport sector, Nguyet said, adding that agencies under the transport ministry are reviewing and selecting some administrative services to transfer to private certificators, Giao Thong (Transport) newspaper reported on Monday.
Vice Director of the Directorate for Roads of Viet Nam, Phan Thi Thu Hien, supported the plan, suggesting that administrative procedures should be classified into three groups: those entirely provided by State agencies, those partly provided by private certificators and those entirely provided by private agencies.
She called for a clear criterion to select qualified companies or organisations who could provide administrative services.
Deputy Director General of the Civil Aviation Authority of Viet Nam Nguyen Van Hao said that the most important criterion in the selection of private certificators is to ensure security and safety.
Head of Inland Waterway Traffic Hoang Hong Giang said that the waterway traffic sector deals with about 300,000 procedures per year, most of which relate to training and granting permits to enter or depart from ports.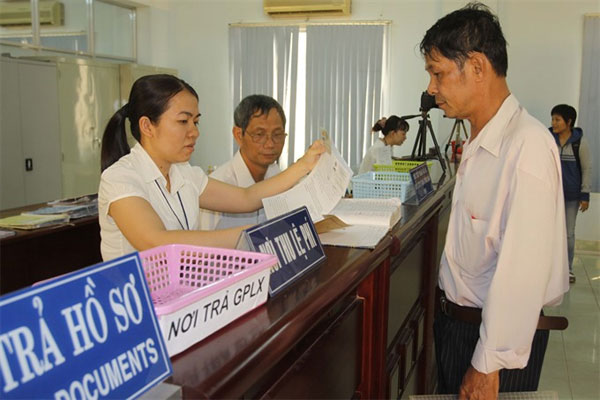 A man submits an application to get a driving licence at HCM City's Transport Department. — VNA/VNS Photo Hoang Hai
As each procedure is priced at VND70,000 (US$3), the yearly revenue from administrative procedures totals around VND21 billion ($920,000), Giang said, adding that few companies are interested in providing such services across 63 cities and provinces nationwide to gain such an amount each year.
The private sector could take over stages like receiving, delivering or checking applications which are currently completed by State agencies, Giang said.
Vice head of Viet Nam Register Dang Viet Ha said that in recent years, the Viet Nam Register - a State body with functions and jurisdictions on the organisation and performance of technical supervision and certification for quality and safety of means of transport – had some administrative procedures completed by private companies.
"It's worth noting that companies care about profit. If they cannot get profit, there is high possibility for 'wrongdoings' to happen," Ha said.
Le Van Dai, director of a vocational training centre under Ha Noi-based No2 Automobile Transport Company told Giao Thong Newspaper that private companies could help with driver training, but driving licences must be granted by State bodies because "no-one should be a judge in his own case."
Nguyen Tien Minh, Director General of Vu Linh Automobile Joint Stock Company said that it would increase competitiveness if two or three certificators can evaluate the quality of new vehicles instead of just one as currently.
"Companies would have more options to choose service providers," he said.
Minh added that few companies are interested in offering services relating to vehicles' emissions because of the high investment required, but it could still lure investors if there was a favourable legal climate. 
Source: VNS