FastGo Viet Nam Company Limited under the NextTech Group launched its ride-hailing service, "FastGo," here on Tuesday after three years of development.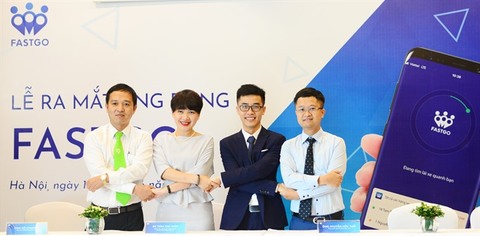 This is the first ride-hailing app to offer insurance to customers for all trips, not charge drivers for discounted rates and provide driver partners with many benefits.
Safety is assured on every ride with an insurance of up to VND200 million (US$8,700) through partner Fast Protection.
The service will charge driver partners a maximum of VND30,000 per day and will organise supporting activities so that they can experience a professional working environment.
FastGo has an operation mechanism similar to Grab. Smartphone users can download the Fastgo app from the Apple Store and Google Play Store.
Speaking at the launch ceremony, Nguyen Huu Tuat, FastGo's general director, said the service would be available in eight cities across Viet Nam in the next three years, with the aim of serving five million customers, mainly targeting the youth and office workers as well as 20,000 driver partners.
The service will be launched in HCM City next month and in Da Nang City in August, besides many other locations nationwide.
FastGo currently offers three key services: Fast Car for private drivers in need of higher income; Fast Taxi, connecting customers with taxi operators providing ride-hailing solutions via the FastGo app; and Fast Luxury, offering transport in luxury vehicles.
The ride-hailing market in Viet Nam has the potential to earn several billions of US dollars in revenue. This is the main reason why we entered the market, Tuat said.
"We target 500,000 customers in the first year of operation and two and five millions in the following years," he added.
FastGo has also signed memorandum of understandings on cooperation with Master Card in the e-payment sector, insurance provider PTI and transport service Open99 Taxi to become their strategic partners.
Earlier this year, a group of young Vietnamese engineers studying in Europe announced another ride-hailing app, Aber.
Aber will provide six services, including Aber Bike, Aber Car, Aber Truck, Aber Travel, Aber Business and Aber Express. The company said it would focus on two ride-sharing services at present and in the near future.
Aber will not surge its price during rush hours and will eliminate the fee commission model. — VNS