Second-hand car traders in HCMC are now finding it challenging to keep up business, as the number of second-hand cars available is falling while customers' appetite for such vehicles is also waning, news website Dan Tri reports.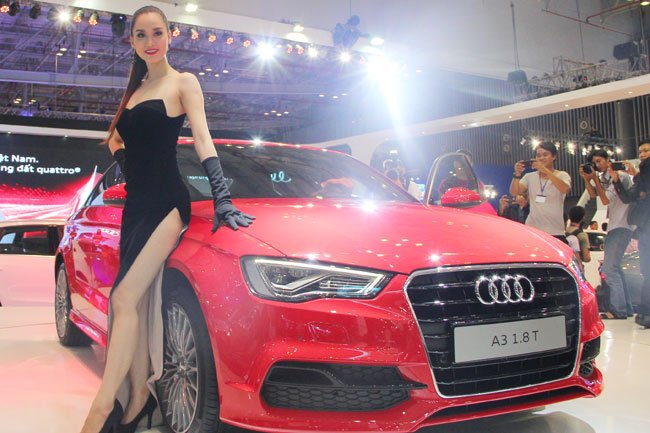 A model introduces a car at an exhibition in HCMC
Prevailing regulations have made imports of brand-new cars tougher, so many car owners retain their vehicles for use pending the loosened policy on vehicle import. Meanwhile, first-time car buyers are also looking forward to buying new cars since the prices of such vehicles are predicted to decrease further in the coming time.
Le Duc Toan, owner of a used car store in the outlying district of Binh Chanh, says that many new models of cars have yet to be shipped into Vietnam, as auto firms still find it difficult to meet stringent import requirements as regulated in the Government's Decree 116/2017/ND-CP on auto manufacture, assembly, import, maintenance and warranty services.
Since early this year, car imports in certain weeks or months have almost ground to a halt as the decree lays down quality, technical safety and environmental protection requirements for imported completely-built-up (CBU) cars.
The decree forces car importers in Vietnam to obtain Vehicle Type Approval (VTA) certificates from authorities in exporting countries, but such certification is new to them.
Though authorities in some Asian and European countries have come to terms with the VTA requirement, the importation of CBU cars is just beginning to speed up.
Therefore, the number of second-hand cars for sale on the local market is falling, as residents are inclined to keep their old vehicles for travel, says Toan.
"In order to buy high-quality used cars, we must mobilize our staff to seek information from sellers, traders and brokers. It is not easy to look for such vehicles now," he explains.
Despite the limited number available, the number of customers who buy second-hand cars is falling, as they are taking a wait-and-see attitude, hoping the prices of brand-new CBU cars will decrease, according to him.
Besides, his store cannot gather a wide range of used vehicles for potential customers to choose from.
Old models of Japanese brands account for 60% of his revenue while those of Germany and South Korea make up a very modest proportion. Most of his customers choose 5- to 7-seater SUVs rather than sedans.
He says his store used to earn a profit margin of 10-15%, but the margin turns thinner now, ranging from 2% to 5%. If he includes leasing costs for his store space and salaries for his staff, his business produces a trivial profit.
"This is why many of used car traders have no way but to go out of business, or desperately save their failing business," he explains.
Bui Ngoc Dung, a second-hand car store owner in Tan Binh District, shares the same view as Toan's, saying that his store is selling an average of four or five vehicles a month lately. Earlier, the number of his sold cars was twice bigger.
Dung says used cars whose prices range from VND350 million (US$15,300) to VND700 million are of considerable interest from local residents. Favorable makes of such vehicles include Toyota Fortuner, Toyota Innova, Toyota Vios, Ford Ranger, Hyundai Santa Fe, Mazda 3 and Mazda CX-5.
Representatives of many used car stores in HCMC also have similar viewpoints. The second-hand automobile market is quite bleak, and the future outlook remains uncertain.
SGT