Largest-ever Vietnam Motor Show 2018 to open in October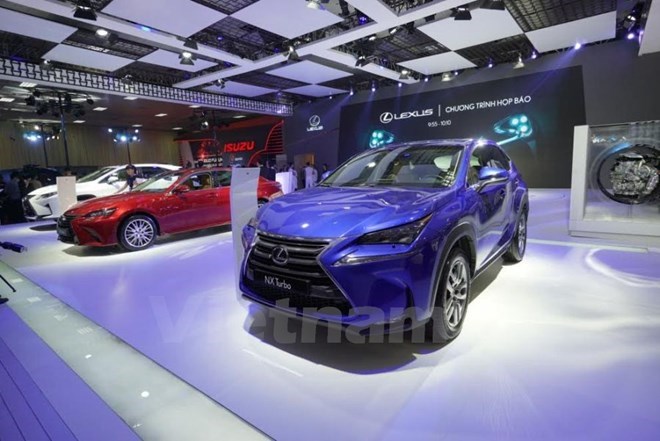 Vietnam Motor Show 2018 will take place at the Saigon Exhibition and Convention Centre (SECC) in Ho Chi Minh City from October 24-28.
Jointly organised by the Vietnam Automobile Manufacturers Association (VAMA) and the Vietnam Car Importers Association (VIVA), the event will feature 18 brands from member firms of VAMA and VIVA, namely Aston Martin, Audi, Bentley, Chevrolet, Ford, Jaguar, Honda, Lamborghini, Land Rover, Lexus, Maserati, Mercedes-Benz, Mitsubishi Motors, Nissan, Subaru, Toyota, Volkswagen and Volvo. 
Exhibitors will introduce both locally-assembled and imported vehicles across segments from medium, luxury, sport and luxury sport cars.
An area for displaying support industry products will be also arranged, with the participation of hundreds of firms specialising in equipment and accessories for automobiles, lubricant companies and banks. 
According to the organising board, Vietnam Motor Show 2018 will be the largest-ever event of this kind in country. 
Dual fairs on premium, mother, baby products kick off in HCM City

The 2018 Vietnam International Premium Sourcing Fair (VIPREMIUM) and the 6th International Mother and Child Products Exhibition () were kicked off at the Saigon Exhibition and Convention Centre (SECC)  in Ho Chi Minh City on May 31.
Hosted by Coex Vietnam and the Korea International Trade Association (KITA), the VIPREMIUM 2018 brings together more than 180 exhibitors from the Republic of Korea, Vietnam, and Singapore.
On display at over 250 booths are premium products in the fields of food and drinks, beauty and cosmetics, fashion and accessories, home appliances, gifts and toys, electronics and technology and more.
A Biz-matching Program will also be held on the sidelines of the fair for product suppliers and potential buyers. The event is expected to see the attendance of major retailers of consumer goods, including  LOTTE Mart, 7Eleven, Circle K, SCJ TV Shopping, Yes 24 and VGS Shop.
The VIETBABY 2018, also organised by Coex Vietnam, features nearly 290 booths run by 136 exhibitors from 14 countries, including Abbott, Boryung Medience, Alzipmat, Parklon, Alpha and Iconix.
Themed "Wonderland for mother and baby", the fair offers kids free entrance to an entertainment space to experience a wide variety of games and creative activities and a number of magic, circus and music shows and cartoon move screening. It also has an area providing massage and care services for expecting mothers and babies.
A photo contest, namely "Dream of Your Baby", was launched as part of the fair, inviting mothers to send pictures of their babies and children. Winners of the contest will be awarded on the stage of VIETBABY  2018 on June 1.
The two exhibitions run through June 3.
Low interest rate slows G-bond sales

Despite potential of expansion due to high investment demand, little capital has been mobilised from Government bonds due to interest rates below investors' expectation.
According to the Ministry of Finance, as of May 17, 2018, the State Treasury mobilised 56.02 trillion VND from Government bonds, 20 percent of the yearly target, and equivalent to 54 percent of the amount in  
the same period last year and only 33.6 percent in the same time of 2016.
Meanwhile, the Hanoi Stock Exchange revealed that investors' engagement in bids for Government bonds has increased sharply compared to 2016 and 2017.
According to Nguyen Thi Kim Oanh, President of the Vietnam Bond Market Association (VBMA), the Government bond market has high potential of development as investors' demand remains high. 
Oanh said the problem is the difference between investors' expectation in interest rate and issuers' offering rate. 
The gap between interest rate in the primary market and secondary market has made investors hesitate.
At the same time, the State Treasury does not aim to sell Government bonds at all costs, but hopes to maintain a low interest rate, therefore, it has made little adjustment in the interest rates.
The Ministry of Finance reported that in the first four months of this year, total investment from the State budget, including Government bonds, was estimated at 65 trillion VND, 16.27 percent of the target  assigned by the National Assembly.
Slow disbursement also led to a surplus of about 11.3 trillion VND in State budget.
Liquidity of the banking system has still been high, but not as strong as in early 2018, resulting in a rise in inter-banking interest and a reduction in demand.
Oanh asserted that if the disbursement of investment is not improved in the coming time, the success of bids in primary markets will not meet expectations.
The VBMA leader said that currently, the market is experiencing an adjustment period.
Nguyen Thi Hoang Lan, Deputy Director of the HNX said that since April, interest rates have increased, with additional 40 points for five-year term bond, 30 points for 10-year term and 15 points for 30-year  
term.
Vietnam's leading fruit exporter eyes 20 percent growth

The Dong Giao Foodstuff Export Joint Stock Company (DOVECO), Vietnam's leading exporter of vegetables and fruits,  expects a year-on-year increase of 20 percent in export in 2018.
DOVECO Deputy Director General Dinh Gia Nghia said that the company set a target of 100 million USD in fresh and processed fruit and vegetable export turnover in 2020.
Along with a processing complex in Ninh Binh province and a plant in Bac Giang province with a combined capacity of 40,000 tonnes of products a year, the company plans to put another processing plant into operation in the Central Highlands province of Gia Lai in the third quarter of this year.
The Gia Lai plant has a designed capacity of 30,000 tonnes of products per year, focusing on concentrate juice, frozen products and canned food. Once operational, it is expected to buy and process hundreds of thousands of vegetables and fruits of various kinds in the Central Highlands region.
The plant's revenue is expected to reach at least 1.8 trillion VND (79 million USD).
DOVECO's products are now available in 63 cities and provinces nationwide and 30 countries over the world.
Pharung Shipyard delivers first oil tanker to RoK partner

The Pharung Shipyard Company under the Vinashin Group on May 31 handed over to a Republic of Korea (RoK) partner a 6,500DWT oil tanker following a contract signed in 2016.
The oil tanker, coded BS01 and named "YN YEOSU", is 109.4m long and 18.2m wide, and can hold up to 7,700 cubic metres of goods. It is designed for 18 crewmembers.
It is designed by Asia Ship Design & Consultants Co., Ltd and certified by RoK register agency which is equipped with modern equipment mainly from the RoK and Japan.
This is the first of the three oil tankers of the same kind that the company has delivered to the RoK partner under the contract.
The Pharung Shipyard is speeding up the building of the rest two tankers, BS02 and BS03, thus handing over them to the RoK company prior to the schedule.
Nordic nations seek opportunities for cooperation with Can Tho

Leaders of the Mekong Delta city of Can Tho on June 1 discussed opportunities for cooperation in trade and investment with diplomats of four Nordic countries – Norway, Finland, Denmark and Sweden.
At the meeting, Norwegian Ambassador to Vietnam Siren Gjerme Eriksen said enterprises from Norway are seeking opportunities to invest in Vietnam in the fields of aquaculture and hi-tech agriculture which are also the city's key sectors, so that there will be a number of advantages for the two sides to work together.
Finnish Ambassador to Vietnam Kari Kahiluoto said Finland has strengths in innovation and clean technology so the country is keen to explore chances for partnership with Can Tho in developing innovation startups and sustainable energy.
Ambassador of Sweden Pereric Hogber said Sweden wants to partner with Can Tho in education, noting that the country will offer student exchange programmes and a number of high-quality courses for Vietnamese students through cooperation with the University of Can Tho.
In addition, Sweden will consider granting scholarships to Vietnamese students and create more necessary conditions for them to study in Sweden, he said. 
Sweden is also ready to share with Vietnam its experience in Triple Helix model of innovation which fosters interactions and cooperation between the government, training establishments and businesses in human resources development, the diplomat added.
Meanwhile, Danish Ambassador Christian Brix Moller voiced his hope that Denmark will collaborate with Can Tho in renewable energy, marine shipping and ship building.
Chairman of the municipal People's Committee Vo Thanh Thong highly spoke of the ambassadors' proposals. He noted the fact that Can Tho is now home to 76 FDI projects, with combined registered capital of 555 million USD, but none of them are operated by investors from the Nordic nations.
He pledges that the city will provide all possible conditions for investors from the countries to do business in Vietnam.
Thong also asked the diplomats to take into account promotion of investment and cooperation in smart cities, information technology and infrastructure development.
He invited the four ambassadors and businesses from the four countries to attend the upcoming international investment promotion conference to be held in the city.
Vietnamese booth attracts visitors at Thaifex

Nearly 50 Vietnamese exhibitors are present at the 15th World of Food Asia trade show (Thaifex) in Bangkok, Thailand from May 29 – June 2. 
Stalls by Vinamilk, Trung Nguyen, Vinamit attract many visitors. In particular, the space "organic and natural village" with dried fruits, rice, processed coconuts, organic milk, and products with geographical indication such as Phu Quoc fish sauce, Binh Phuoc cashew nuts, Ben Tre grapefruits is also a focus of the event. 
On the sidelines of the trade show, the Vietnamese embassy in Thailand's Commercial Office and the Business Association of High Quality Vietnamese Goods organised a seminar on connecting ASEAN firms with partners. 
The event aimed to seek solutions to challenges brought about by the fourth industrial revolution, share experience in commercialising products. 
On the occasion, many Vietnamese and Thai enterprises met and signed contracts in the field of food and beverages. 
The trade show is co-hosted by the Thai Chamber of Commerce and the Department of International Trade Promotion of Thailand.
RoK – potential market for Vietnam's fruit-vegetable exports

The Republic of Korea is now the fourth biggest importer of Vietnamese fruits and vegetables.

Statistics from the Korea International Trade Association showed that the RoK imported 264,500 tonnes of fruits and vegetables worth US$543.2 million in the first three months of this year.

The figures represented a year-on-year increase of 3.6% in value, but down 3.6% in volume.

The RoK increased imports of these products from some markets like Peru, China and Vietnam. However, imports from Vietnam made up a mere 1.7% of the RoK's total import turnover.

Therefore, there is still a large room for Vietnamese businesses to promote fruit-vegetable exports to the Northeast Asian country in the coming time.

Notably, the RoK imported over 70% of food and agricultural products. The demand for fruits and vegetables is increasing.

According to the Business Monitor International (BMI) research firm, Korean consumers are increasingly favouring fresh fruits and vegetables.

The expenditures for fresh fruits and vegetables accounted for 12.2% and 12.4% of the total food consumption in 2012, respectively, which are expected to increase to 19.1% and 18.4% by 2022.

Vietnam earned US$1.62 billion from exporting fruits and vegetables in the first five months of 2018, a year-on-year rise of 16.54%.

In May alone, the country grossed US$303.1 million from selling fruits and vegetables abroad, up 10% against the same month last year, according to Vietnam Customs.

Fruit-vegetable export turnover was the second biggest earner in the agricultural sector, after aquatic products.

Vietnamese fruits and vegetables have been sold across 60 countries and territories, including four main markets namely China, the US, Japan and the Republic of Korea.

In January-April, fruit-vegetable exports to most markets registered growth with China importing nearly US$989 million worth of products, a year-on-year increase of 30.3% and 75% of fruit-vegetable export turnover.

The US came second with US$39 million (up 12.3%), followed by Japan at US$36.55 million (up 15.9%) and the Republic of Korea US$34.78 million (up 13.28%).

With the positive outcomes from 2017 and the first quarter of 2018, Vietnam is expected to gross US$10 billion from exporting fruits and vegetables in the near future.

The country earned a record US$3.45 billion from fruit and vegetable exports in 2017, a year-on-year rise of 40.5%, much higher than traditional staples like rice, crude oil and coffee.

EU, Belgium pledge to expedite EVFTA signing with Vietnam

The European Union (EU) desires to move forward the early official signing of the EU-Vietnam Free Trade Agreement (EVFTA) and pledges to help Vietnam improve its capacity to fully and effectively realize the trade pact's commitments.

This is according to EU representatives speaking at a meeting with Nguyen Van Binh, head of the Communist Party of Vietnam (CPV) Central Committee's Economic Commission and secretary of the CPV Central Committee, who led a high-ranking Party delegation on a visit to Belgium and the EU.

They extolled Vietnam's determination and goodwill towards the signing of the trade deal which is of great political and economic importance to both sides.

During the May 30-31 visit to Belgium, Mr Binh met European Commission (EC) Vice-President Jyrki Katainen, Belgian Deputy Prime Minister and Minister for Development Cooperation, Alexander De Croo,  former Deputy Prime Minister and Foreign Minister Steven Vanackere, and Federal Minister of Energy, Environment and Sustainable Development, Marie-Christine Marghem.

At a working session with the EC Vice President, Mr Binh told his host that Vietnam always attaches importance to its relations with the EU and praised the positive developments in Vietnam - EU cooperation over recent years, especially in trade and investment. The EU is Vietnam's second largest trading partner and export market, accounting for 18% of the country's exports.

In addition, the EU is among the five biggest foreign investors in Vietnam with last year's turnover in bilateral trade approaching US$52 billion, and Vietnam's trade surplus with the European bloc hovering around US$31.8 billion.

The two sides agreed to ratify the EU-Vietnam Framework Agreement on Comprehensive Partnership and Cooperation (PCA), which aims to create an important legal framework to elevate comprehensive ties between Vietnam and the EU.

Mr Binh highlighted the EVFTA's great benefits to Vietnam and the whole EU, as it will lay the foundation for closer cohesion between the EU and Southeast Asia, and the Asia-Pacific region, bucking the trend of rising protectionism in other nations around the world.

His views received support from senior Belgian officials such as Marie-Christine Marghem, who remarked that Belgium fully supports the EVFTA negotiations.

At other working sessions in Belgium, the two sides affirmed that economic and financial cooperation is of fundamental importance to bilateral ties and pledged to boost coordination for a productive implementation of the outcomes of the fourth meeting of the Joint Committee and to take more effective measures to support import, export, trade and investment activities.

The Belgian side will facilitate the Vietnamese products which meet its standards in accessing distribution channels and supermarket and retail networks, with a focus on agricultural and seafood products.

For his part, Mr Binh assured Vietnam's  sustained  efforts to improve the investment and business environment and accelerate economic restructuring, focusing on the equitisation of state-owned enterprises (SOEs) and suggested the Belgian government  encourage its businesses to intensify their investment in Vietnam in prioritized and key areas  such as sea transport, logistics services, green technology, agriculture, renewable energy, and health care as well as engaging in the equitisation of SOEs.

He asked Belgium to speed up the progress of urban development and climate change adaptation projects in Ninh Thuan, Binh Thuan, and Ha Tinh, which have used Belgium non-refundable aid, and to swiftly complete the drainage and wastewater treatment project in Cua Lo Town (second phase).

Depleting fish stocks imperil local livelihood in Mekong Delta

Fish populations in the terminal stretch of the Mekong River running through southern Vietnam have considerably declined over the past few years chiefly due to recent dam constructions, jeopardizing the livelihood of poor local fishermen.

When floodwaters seasonally submerged the Mekong basin in Vietnam, numerous boats and canoes ran on rivers and on flooded rice paddies to catch various fish, which were found aplenty.
Fishermen had a good haul, earned satisfactory sums of money, and fermented tiny dead fish in multiple ceramic pots to make fish sauce.

But this happy picture is part of the past, as floods with high water levels have not returned to southwestern Vietnamese provinces, which are crossed by the Mekong River, since 2011.

Even when they did, fish did not come in their heyday abundance.

The number of fish caught yearly has dramatically decreased after more than a decade, with the figure reaching 22,000 metric tons in 2016 and 2017, compared with 40,000 to 60,000 metric tons in the 2000s, according to Tran Phung Hoang Tuan, director of the Department of Fisheries in the Mekong Delta province of An Giang.

There are no records of how much of the fish stocks has diminished since new hydropower plants on the upstream Mekong River were constructed, but impacts on Vietnamese fishermen are clear, Tuan said.

Bui Thi Suong, a woman who has spent over 40 years fishing in An Giang's neighbor Dong Thap Province, wistfully recalled that she and her husband used to make a large amount of money from catching  fish in the flood season.

"It was not an easy job, since we had to stay up late, get up early and wear wet clothes most of the time. But we loved it because we got lots of money," Suong said.

"But now," she left her sentence unfinished with a sigh, implying her precarious situation of modest daily fish hauls.

Nguyen Van Hoa, a Vietnamese national residing in Cambodia, said the depletion of fish populations is present both at home and abroad for his compatriot fishermen.

Several Vietnamese crossing the border to catch fish in a privately hired portion of the Mekong River in Cambodia returned home empty-handed, he said.

"In the past, it was normal for one to make several dozens of millions of dong [US$800-US$2,000] at the end of the flood period. But now it would be lucky to able to scrape by after the time."

A senior fisherman in An Giang, Huynh Van Be, described as desolate a vast expanse of flooded rice fields near his house on which canoes of poor residents would cruise at night to net fish when he was young.

Many affected residents who relied on inland fishing in the province are switching to fish farming or agriculture as the main source of income.

Tuan, of the An Giang fisheries department, attributed the severe fish stock decline to production activities in the upstream stretches of the Mekong mainstream, the impediment to fish migration and habitat loss, and shrinking spawning grounds due to dam building at these locations.

China, Laos and Cambodia have planned on hydropower dams along the river, with the first country completing eight and the second expected to build its third-largest amidst opposition from neighboring nations, according to domestic news media.

At present, local authorities in the Mekong Delta are taking proactive measures to deal with the limited fish population.

The government in Dong Thap, for instance, has banned residents from fishing during a certain period of the year and imposed punishment on fishermen who use small-hole nets, electrofishing equipment and explosives.

But a local official said that is not enough.

"Help should be extended to residents in the transition from fish catching to other jobs, and traders in young fish should receive penalties," he suggested.

Vietnam's exports make May rebound

After suffering a decline in April, Vietnam's exports rebounded in May with most key products achieving strong growth and exports rising to US$19.2 billion in May, up 4.5% over April and 7.1% against the same period last year.

According to the General Statistics Office of Vietnam, exports in the first five months increased 15.8% to US$93.09 billion, with the domestic sector making up US$26.43 billion (up 17.8%), and the foreign direct investment (FDI) sector (including crude oil) accounting for US$66.66 billion (up 15%). The country recorded a US$3.39 billion trade surplus to the end of May.

Despite these positive results, there are still some challenges to be surmounted in the coming time, such as unstable exports, dependence on key markets, difficulties in overcoming tax and technical barriers, food safety, tracing product origins, and connectivity between production and market.

Particularly, the country's exports greatly depend on the FDI sector, while the sector's production and exports are heavily dependent on regional and global supply chains. Consequently, Vietnam's exports will be affected if there are any fluctuations in those supply chains.

At the fifth meeting of the 14th National Assembly on May 26, Minister of Industry and Trade Tran Tuan Anh gave a presentation on a number of issues related to export activities. He said that Vietnam's exports have been on the right track in recent years with a shift to processed and manufactured products. Domestic products have penetrated many major markets around the world. Last year, 28 products reached an export value of more than US$1 billion each.

There are, however, some obstacles which remain in the way of consistent growth for exports. In spite of the market reach, export growth is unsustainable due to unstable and inconsistent product quality and an overreliance on some markets such as China and the EU.

To ensure this does not become a bigger problem than it already is, Vietnam must diversify its export markets to ensure sustainable growth.

Airfare hike looms as Vietnam's Vietjet increases service fees

No-frills Vietjet has decided to increase administrative service charges for both domestic and international routes, raising concern over a climb in air ticket prices.

In a message sent to ticket agents nationwide on May 28, budget carrier Vietjet announced it would increase service fees in terms of seat selection and booking to a new range between VND210,000 (US$9) and VND370,000 (US$16) after June 1, 2018.

Varying on routes, the new administration service charges show a spike of VND100,000-VND130,000 (US$4-US$6) from the current fee level.

On the same day, a representative of Vietjet confirmed this adjustment, adding that the reason for the fee increase would be cited later.

Meanwhile, flag carrier Vietnam Airlines and its low-cost peer Jetstar Pacific have made no movement regarding this kind of charge.

A source told Tuoi Tre (Youth) newspaper that upon Vietjet's announcement, many ticket agents have encouraged their customers to place booking before June 1 to avoid the new service charges.

On the other hand, aviation experts criticize Vietnam's carriers for a lack of transparency in charging service fees, from the above administrative fees to utility payments, while all these charges are added to the passenger's ticket price.

Recently, all the three major Vietnamese airlines have failed to make it to the world's 50 cheapest airlines, according to the third Global Flight Pricing report by the leading travel planning platform Rome2rio.

Vietjet charges its passengers an average of US$$0.14 per kilometer, compared to US$$0.15 of its low-cost fellow Jetstar Pacific.

National carrier Vietnam Airlines had a much higher cost per kilometer ratio, US$$0.3.

EVN ensures stable electricity supply for southern hub

HCM City is expected to have a stable electrical supply during the summer, according to the HCM City Power Corporation (EVN HCMC).

In April, demand for electricity during peak hours rose to 80.3 million kilowatt hours per day, which is 4.8 percent higher than in April last year.

The maximum output for April was 4,138.5 megawatts, which is 7 percent higher than April last year.

To prepare for the hot season, EVN HCMC has been upgrading the current power system by opening remote operating centres, unmanned substations, and other modern technologies to increase operating ability and ensure that any problems are resolved quickly.

In addition, EVN completed grid maintenance in March, and is now operating the grid carefully to avoid overloading, under a power supply plan approved by the Ministry of Industry and Trade late last year to ensure full coverage.

Accordingly, every month, the Electricity Regulatory Authority of Vietnam works closely with EVN HCMC and other related parties to manage monthly supply plans.

To maintain uninterrupted electricity supply, EVN said that hotline maintenance will be applied to the electrical equipment while it is in use, and highly pressurised hoses will be used to clean ceramic insulators, which will not require electricity to be shut off.

Mobile generators and substations will also be used.

Families and businesses have been urged to save electricity and ease the supply burden for EVN by carefully using electricity.

Businesses have been encouraged to look at their production schedules and minimise electricity consumption during peak hours, as well as invest in energy-efficient machines.

The electricity industry forecasts that national demand for electricity for 2018 can soar up to 650 million kilowatt hours per day, up by around 11.3 percent compared to 2017. The maximum output can rise up to 34,300 megawatts.

Domestic trade, services crucial to economic growth

Domestic trade and services have played an important role in meeting people's consumption demand and contributing to the economy's growth in recent years, an official of the Ministry of Industry and Trade (MoIT) has said.

Nguyen Van Hoi, Deputy Director of the MoIT's Domestic Market Department, made the remark at a workshop in Hanoi on May 18.

He noted that the policy of developing the domestic market to stimulate local consumption has been expanded nationwide, which has won the support of businesses and people and generated important outcomes.

Between 2011 and 2017, total retail sales of consumer goods and services grew by 10 percent each year, reaching nearly 3.57 quadrillion VND (156.54 billion USD) in 2016 and 3.23 quadrillion VND (141.63 billion USD) in 2017. The figure was estimated at almost 1.4 quadrillion VND (61.39 billion USD) in the first four months of 2018, up 9.85 percent year on year.

Although the increase of total retail sales of goods has slowed down since 2011, it was still 1.5 – 2 times higher than the average GDP growth in the 2006 – 2016 period.

Trading infrastructure have attracted foreign investment and developed rapidly, mainly in cities. Although the expansion of traditional markets has halted recently, they still hold an important role and maintain their competitiveness compared to modern distribution channels.

There were about 8,540 markets across the country by the end of 2017, nearly 75 of which were in rural areas. Most of the markets focus on retail while only 0.97 percent of which was wholesale markets.

Meanwhile, there were 957 supermarkets in 62 out of 63 provinces and cities, excluding Ha Giang province, and 189 shopping malls in 51 of the total localities. Most of them are located in big cities and downtown areas. 

Notably, the numbers of supermarkets and shopping malls in the five cities of Hanoi, Hai Phong, Da Nang, Ho Chi Minh City and Can Tho alone account for 47 percent and 50 percent of the total, respectively.

Nguyen Van Hoi said to boost trade and services nationwide, the MoIT will continue coordinating with localities and sectors to develop trading infrastructure.

It will work with relevant ministries and sectors, especially the Ministry of Planning and Investment and the Ministry of Finance, to overhaul policies to attract investment in trading infrastructure and step up training to improve the quality of manpower in the distribution and retail sector, he added.

Vietnamese farm produce seeks to reach French customers

The Vietnam Agricultural Product Week 2018 will offer various kinds of farm produce such as fruits, vegetables, aquatic products, processed food and beverages at France's Rungis market from June 26-28.

France is the third biggest economy in Europe and sixth in the world with a population of 66 million, according to Hoang Van Du, Deputy Director of the Agricultural Trade Promotion Centre under the Ministry of Agriculture and Rural Development. 

Rungis is one of the biggest farm produce markets in the globe, which provides agricultural products for the French capital and proximity areas with 18 million people, he said.

Paris and France in general are home to a large number of Asian people who have high demand for made-in-Asia farm produce, he added.

Each day, up to 6,000 tonnes of farm produce are transported to the market, one tenth of which are transported to the nearby airport for outbound shipment, Du unveiled.

The Vietnam Agricultural Product Week will feature a wide range of activities to introduce and promote Vietnamese agricultural products to French distributors and wholesalers, restaurants, hotels and supermarkets as well as increase business-to-business connectivity, he said.

The Agricultural Trade Promotion Centre has coordinated with Vietnam's Trade Office in France to explore the European market.

"We have set up an information technology and market research office to study regulations on imports and customer habits", he said.

"France in particular and Europe in general are choosy markets. They have strict requirements on the quality of products", Du added.

Therefore, Vietnamese businesses must work harder to meet European regulations on ensuring food safety and hygiene and trace of the product origins, he suggested.

It is important to create environmentally-friendly products, he recommended.

Additionally, businesses need to prepare sufficient materials with good quality to meet the big number of orders from foreign markets.

Du also advised enterprises not to buy and use illegal, unreported and unregulated (IUU) aquatic products.

Instead, they should focus on developing brand names and improving quality and design of products, he said.

AEON Vietnam plans to build shopping mall in Can Tho

Leaders of the Mekong Delta city of Can Tho on May 18 held a working session with managers of AEON Vietnam Co. Ltd., an affiliate of AEON Japan, about the possibility of building a shopping mall in the locality. 

AEON Japan has already built six shopping malls in Vietnam, including those in Ho Chi Minh City, Hanoi, the northern city of Hai Phong and the central city of Da Nang. Four of them have been put into operation, one is under construction and the other has completed investment procedures. 

Speaking at the event, Senior Director of AEON Vietnam's Shopping Mall Development Bloc Nakamura Tsutomu said the planned mall is expected to have four storeys so that it needs an area of 2-5ha, including a department store and a shopping centre. 

He proposed building the centre in a location with two fronts, convenient transportation and abundant population. 

Tsutomu wished that the municipal authorities would assist in seeking a suitable location for the project and relevant legal issues. 

Chairman of the municipal People's Committee Vo Thanh Thong said with annual trade growth of 15-20 percent, only behind Hanoi and Ho Chi Minh City, Can Tho stands ready to offer all possible support to AEON Vietnam to launch the project. 

He asked AEON Vietnam to take fact-finding trips to seek a suitable location and directed the municipal Department of Planning and Investment and Transport Department help the investor survey the market and complete necessary procedures to launch the project as soon as possible.

Domestic firms urged to improve product quality, added value

Improving the quality and added value of products is crucial for Vietnamese firms to access and fully tap the US market, experts said at the Vietnam-US Business Forum held in Ho Chi Minh City on May 18. 

Deputy Minister of Industry and Trade Do Thang Hai said two-way trade between Vietnam and the US surged 47-fold from 220 million USD in 1994 to nearly 51 billion USD in 2017. Vietnam is now the 16th largest trade partner of the US while the US has become Vietnam's top trade partner in the past decade, he said.

The two economies have supplemented each other, Hai said, adding that while Vietnam has demand for machinery, hi-tech, aviation, telecommunications equipment, and agricultural products used for production, the US is keen on importinge farm produce, apparel, leather and footwear, and electronic products. 

However, products with high added value or luxury consumer goods have accounted for an inconsiderable proportion among Vietnam's exports to the demanding market. 

According to experts, each US state has different laws and regulations apart from the federal laws so that Vietnamese exporters need to grasp them before doing business. 

Additionally, the US has issued new and strict regulations and standards on food quality, safety and origin, especially for imported agro-forestry-aquatic products. 

Chu Thang Trung, Deputy Director of the Ministry of Industry and Trade's Trade Defence Department, said the US has enhanced protectionism measures for domestic manufacturing and limited imports in recent years. 

According to Trung, the number of US lawsuits regarding anti-dumping and anti-subsidy on many countries' goods has doubled to over 100. For Vietnam alone, the US launched legal proceedings against 25 cases involving aquatic products, steel nails and clothes hangers. 

Trung said almost Vietnamese firms are small and medium-sized with little experience in trade defence so that they will incur high costs or even risk losing the market if being sued. 

Dinh Thi Huong Nga, from the Handicraft and Wood Industry Association of Ho Chi Minh City, said Vietnam's wooden furniture exports to the US surpassed 3 billion USD last year, accounting for 40 percent of Vietnam's total, mostly those in medium segment. 

General Secretary of the Vietnam Association of Seafood Exporters and Producers (VASEP) Truong Dinh Hoe said stricter standards on food quality and hygiene safety will force Vietnamese exporters to improve quality to overcome technical barriers. 

Trung urged firms in the same sector to foster connectivity and jointly cope with trade contingencies. 

In policy terms, the government and trade representative agencies need to devise specific strategies to negotiate with authorities while enhancing warnings and offering instructions to Vietnamese businesses in legal proceedings to protect their legitimate rights and interests, he said.

New rules to collect and clarify market price data

The Ministry of Finance (MoF) has drafted a circular on rules and methods of collecting information and reporting market prices of some domestic goods and services.

The move aims to facilitate the synthesis, analysis and projection of commodities prices by central and local agencies, in order to standardise information and gain a better picture of the national inflation situation.

The list of commodities and services subjected to the newly-recommended market price reporting regime includes essential commodities that can represent groups of goods and services relating to food, construction materials, medicines and medical services, transportation, education, entertainment and tourism.

The draft recommends that the Departments of Finance of centrally-run cities and provinces nationwide send monthly, quarterly and annual reports on market prices of commodities in their localities to the MoF's Price Management Department.

Reports will include information on the evolution of the consumer price index (CPI) calculated within each locality, together with analysis on the status and the causes of the factors affecting CPI.

The reports also evaluate the efficiency of local management and administration of prices, including the price management of some important and essential goods in the locality and the promulgation of legal documents related to commodities' market prices.

In addition, the reports will also forecast the CPI and the market price situation in the next period.

In case of abnormal fluctuations in prices, the provincial and municipal Department of Finance have to make irregular reports on price fluctuations of some essential goods and services in the locality.

The commodities included in the price report include rice, pork, beef, chicken, fish, shrimp and seasonal vegetables (for food), cement, construction steel, sand, bricks (for construction materials), car fare, bus fare, taxi fare (for transportation services), tuition fees of public kindergartens, public school fees and university fees (for education).

The Ministry of Finance is gathering public comments on this draft by posting the draft in the Ministry's e-Portal.

EU tops exports of Viet Nam shrimp

The European Union (EU) market was the largest export market of Vietnamese shrimp in the first quarter of this year, according to Viet Nam Association of Seafood Exporters and Producers (VASEP).

In the first quarter, the export value of shrimp from Viet Nam to the EU gained a year-on-year increase of 20.2 per cent to US$742.9 million, including $302.4 million in March, up 25.8 per cent compared to March 2017.

Therefore, the EU maintained its position as the largest market for Vietnamese shrimp products, accounting for 18.2 per cent of Viet Nam's total shrimp export value in the first quarter.

The association said the EU was considered as the "most dynamic" market for Vietnamese shrimp in 2017. In 2018, the shrimp export to this market has maintained an upward trend.

Viet Nam has gained by exporting shrimp to the EU, because India, Viet Nam's big competitor in the EU market, has faced difficulties in exporting shrimp to the EU market as a result of antibiotic residue testing. India has also faced the risk of banning shrimp exports to the EU, reported Cong thuong newspaper.

In addition, Vietnamese shrimp is more affordable than its competitors' products and has the advantage of gaining the GSP (Generalised System of Preferences) from the EU that Thailand and China do not have.

The Ministry of Industry and Trade said in the time to come, Viet Nam's shrimp exports to the EU would see more advantages, once the European Union-Viet Nam Free Trade Agreement, which is in the preparation phase, takes effect. As committed, after the agreement comes into effect, Vietnamese goods, including shrimp products, will enjoy special preferential tariffs.

However, to promote shrimp exports to the EU in the future, experts said enterprises still need to pay special attention to quality, food safety and origin of raw materials. We are importing shrimps from India for processing, exporting to other markets. Meanwhile, shrimp export to the EU is under strict control of antibiotic residue. Therefore, Vietnamese shrimp exporters should pay more attention to the source of raw materials while exporting to the EU.

The association said Viet Nam's shrimp export in the second quarter is expected to continue to increase due to an adequate supply of raw materials for processing plants and a stable demand in the world market.