Clam farmers in the Cuu Long (Mekong) Delta province of Tien Giang are finding innovative solutions to produce sustainable value chains in an aim to meet international standards.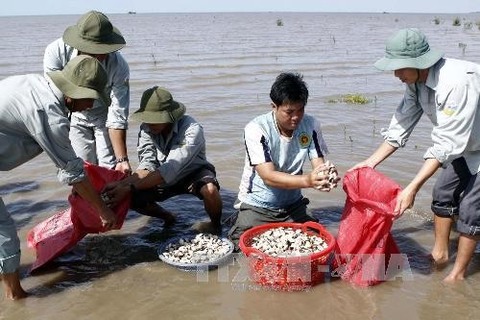 Farmers harvest clams at the Rang Dong Clam Co-operative in Ben Tre Province's Binh Dai District. 
In recent years, declining fishery stocks, disease, and environmental impacts have affected both quantity and quality of clams (meretrix lyrate) in the province.
To improve value and enhance the competitiveness of local clam farming, a new project has begun since 2013, according to Nguyen Tien Diet, head of Fisheries Division under the province's Department of Agriculture and Rural Development (DARD).
Under the project, Tan Thanh Commune authorities in Go Cong Dong District and local clam farmers are working together to achieve the Marine Stewardship Council (MSC) certification, which is the world's most credible and recognised standard for environmentally sustainable wild-caught seafood.
Nguyen Quoc Minh, vice chairman of the Tan Thanh Commue's People's Committee, said six community-based groups of clam farmers have been established in the locality, including 150 households that are breeding clams on 1,600ha.
Each group has a leader and a management board who work as volunteers without a salary.
Tran Van Chi, 65, a local clam breeder, said the current price of fresh clams is around VND20,000 (US$0.88) per kilo.
Clam farmers can earn a profit of VND50 million ($2,190) per hectare each year, making up about 40 per cent of local farmers' incomes, he said.
To achieve those results, the commune's clam farming sector has worked for over four years to achieve the MSC standards, but funds are still needed to see the completion of the certificate issuance from MSC.
Meanwhile, earlier in 2009 Ben Tre Province 's small-scale, community-based clam fishery sector became the first one in Southeast Asia that met MSC standards and was granted the certification.
Ben Tre's MSC certification process was co-sponsored by the province's DARD and World Wide Fund for Nature (WWF).
Local co-operatives in the province have closely managed and carefully surveyed the brood stock and harvestable clams within their area.
Tran Thu Nga, director of the Centre for Transfer of Technology – Services and Community Development for Vietnamese Agriculture – Fisheries under the Viet Nam Fisheries Society, said the seafood sector faces challenges in finding markets as well as environmental concerns.
The MSC Fisheries Standard helps cope with the global trend of over-fishing and the degradation of the marine environment.
"The MSC certification will help local clam breeders reach out to consumers worldwide," Nga said.
Raising local residents'awareness of sustainable development plays an important role in building a sustainable production model in Ben Tre Province, Nga added.
Benefits increase
Clams are one of five key fishery products in the province besides tra fish,tiger prawns, blue-legged prawns and white-legged shrimp, Nguyen Van Buoi, deputy director of Ben Tre Province's Department of Agriculture, said.
"Over the past 10 years, local clam farming has increased significantly in productivity, especially of clam seeds," he added.
Covering 65km of coastal areas, the province is home to over 4,000 hectares of clam farming, mostly in Ba Tri, Binh Dai and Thanh Phu districts.
Working with their farmers, the cooperatives can produce about 4,500-5,000 tonnes of fresh clams per year, Buoi said.
MSC certification has helped increase the local clam price by VND5,000-10,000 ($0.22-0.44) per kilo compared to the clam rates harvested by other localities in the country.
The co-operatives'average annual revenue in recent years has risen to VND75 billion ($3.3 million) and even jumped to VND110 billion ($4.8 million), greatly improving their members'incomes.
Of the figure, 80 per cent is divided equally among all members who are required to have only two children. The remaining 20 per cent will be used to set up a fund for running the their operations.
Besides an average annual benefit of VND5-6 million ($219-263) per person, the co-operatives'members also have an other steady income from collecting clams in the harvesting season.
Each person can earn VND200,000-300,000 ($9-13) from this job for one to two hours.
Clam value chain

The provincial People's Committee and Department of Agriculture and Rural Development have provided support and advice to the co-operatives, Buoi said.
Many research projects have helped clam farmers improve their technology and effectively limit impacts possibly caused by disease and climate change on clam breeding processes.
Most co-operatives have strictly obeyed regulations on exploiting clams to make sure they are old enough for harvesting.
To protect clam seeds, exploiting clam seeds from 5,000 to under 100,000 must be approved by DARD. Anything over 100,000 has to be approved by the province's People's Committee.
Vo Thanh Hiep, general director of Hung Truong Phat Aquamarine Product JSC, one of leading clam exporters in Ben Tre Province's Binh Dai District, said his company's clam products are mostly exported to EU, US, Japan, Australia and Asia markets.
The company has a large variety of exports such as frozen cooked whole clam in vacuum bag, half-shell clam, clam meat and value-added products (clams with sweet chili source or with garlic and butter sauce).
Hiep said: "Currently, global clam demand is high but the local supply of raw materials is not enough to meet this demand."
The company exports about 4,000 tonnes of clam products per year. However, only half of them are from Ben Tre's clam fishery.
Consequently, the clam processing factories have to buy raw materials from traders instead of directly purchasing them from co-operatives.
"The factories cannot compete with prices offered by traders in the local market, which makes it hard to buy enough raw materials to meet demand," Hiep explained.
In addition, some foreign markets are strictly controlling products'source of origin and possible pest infestation.
Hiep said the demand of clam products with MSC certification in foreign markets has significantly increased in recent years.
About 25 per cent of the company's customers have asked for clam products with MSC certification, most of them from US, Germany, France and UK.
They require Vietnamese farmers and producers to strictly comply with standards like MSC.
Therefore, Ben Tre plans to establish closed clam production chains that include clam farming and processing to control product quality and enhance value of clams in its localities.
In this year's second quarter, it has piloted the first closed clam production chain at the Dong Tam Clam Co-operative in Binh Dai District and the Hung Truong Phat Aquamarine Product JSC.
EU-funded project
A workshop took place today in Ben Tre Province to launch the project "Inclusive and sustainable clam and bamboo value chains development in Viet Nam."
The 4.3 million euro (US$5 million) project will be funded by the European Union (EU), Oxfam and its partners.
Under this project, in the period of 2018- 2022, it will help small producers build clam value chains in Ben Tre, Tra Vinh and Tien Giang provinces, and bamboo value chains in the central provinces of Thanh Hoa and Nghe An. — VNS