VietNamNet Bridge - Experts have warned of a 'real estate bubble' as land prices have been escalating.
/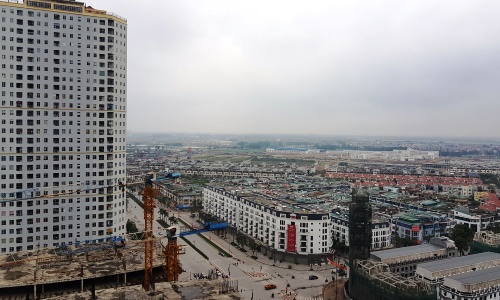 Has the 'real estate bubble' returned?
Deputy director of the Central Institute of Economic Management (CIEM) Tran Kim Chung said at a recent workshop that he can see eight out of 10 signs of a real estate bubble.
He said the number of transactions and newly kicked-off projects, the scale of projects, cash flow, and price levels in the real estate market all are on the rise, which shows  high risks of a crisis.
He said if the other two indexes – public investment and the capital for construction – also increase, this means the crisis of 2008-2009 could return.
Also according to the expert, the real estate market develops in a 10-year cycle, with recovery, growth, recession and crisis in rotation.
The real estate market was at the bottom of crisis in 2011-2013. It began recovering in 2014 and then bounced back in 2015-2017.
The real estate market was at the bottom of crisis in 2011-2013. It began recovering in 2014 and then bounced back in 2015-2017.
Sharing the same view, Nguyen Manh Ha, chair of the Vietnam Real Estate Brokers' Association, said 'price fever' is occurring with land only, not yet with apartments, but if the price escalation cannot be curbed, this would have bad impact on the market as it occurred in 2008-2009.
Vu Van Phan from the Ministry of Construction confirmed that 'land fever' is seen in some areas.
These include the suburbs of HCMC, near the Long Thanh Airport area. Investors, speculators and people rush to buy land there because they hope the land prices would increase sharply in the future, when Long Thanh Airport is put into operation.
Phan also mentioned the land fever in the areas expected to turn into SEZs in the future, including Van Don in Quang Ninh, Bac Van Phong in Khanh Hoa and Phu Quoc in Kien Giang.
According to Phan, in the last months of 2017, in Van Don, the land prices in some areas soared by 200 percent just after several months. 
The same thing is occurring in Van Phong and Phu Quoc.
Meanwhile, Dang Hung Vo, former Deputy Minister of Natural Resources and the Environment, now a real estate expert, said the price escalations in some SEZs are not enough to conclude that a real estate bubble is taking shape.
Vo said a real estate bubble appears when land price escalation occurs in the entire market for a long time.
Comparing the current conditions with that in 2007-2008, when the crisis broke out, Vo said that the current situation is quite different. 
In 2007-2008, the price soared every day. At this time, price increases are only occurring in some cities and provinces.
RELATED NEWS
Real estate market is 'fragile', could lead to another bubble, experts say
Real estate market to prosper thanks to stock upswing
Kim Mai