An Giang: rice export up in both volume, value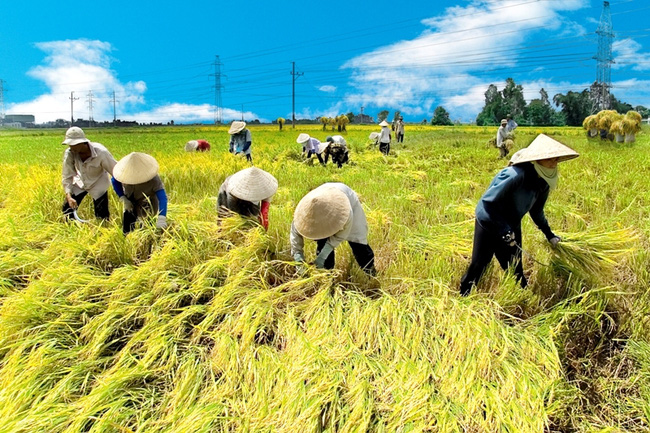 The rice export of the Mekong Delta province of An Giang rose both in volume and value in the first four months this year, said Director of the provincial Department of Industry and Trade Vo Nguyen Nam. 

The province earned 276.48 million USD from exports, up 9.9 percent. Of which, 63.8 million USD was from shipping 126,860 tonnes of rice abroad, up 42.17 percent in volume and 54.8 percent in value. 

Meanwhile, up to 36,900 tonnes of frozen aquatic products worth 84 million USD were shipped abroad during the period. Among them, tra fish saw an 8.5 percent reduction in export volume but an increase of 14.2 percent in export value. 

In order to boost exports this year, the province has regularly updated policies and information about export markets and promptly removed obstacles to the export of key products such as rice and tra fish. 

The province has also flexibly directed cross-border trade and regularly maintained trade promotion activities, especially in border districts, contributing to raising its exports.

Can Tho prepares 54 projects for investment promotion conference

The Mekong Delta city of Can Tho plans to put up 54 projects to invite investment at its upcoming investment promotion conference in mid-August. 

The list of projects, which need a combined 100 trillion VND (over 4.38 billion USD), was reviewed at a conference on May 3 on preparations for the conference. 

The investment promotion conference under the theme of Sharing potential for mutual development, is slated for August 10. Around 500 domestic and foreign delegates are expected to attend the event, where the city will introduce its strengths, its commitment to investors along with local investment opportunities. 

The city plans to seek advice and experience for its development towards becoming a service and hi-tech agriculture centre as well as an information technology hub of the country.  

Accordingly, three thematic discussions will be held on services, hi-tech agriculture and information during the conference. 

Some investment projects will be awarded licences at the event.

Last year, Can Tho attracted some 77 foreign direct investment projects worth 656 million USD.

The same year, the city posted its highest ever retail revenue of over 106 trillion VND (4.66 billion USD), up 10 percent from 2016. With that figure, Can Tho topped the Mekong Delta and was ranked third nationwide only behind Ho Chi Minh City and Hanoi.
Checkpoints for specialized inspections at ports should be removed: expert

Checkpoints for specialized inspections at some ports and airports should be abolished as they have proven ineffective, said Nguyen Minh Thao, head of the Business Environment and Competitiveness Department at the Central Institute for Economic Management (CIEM).

Thao told the Daily at a recent seminar on the business environment that she went to such a checkpoint at the Cat Lai port customs office in HCMC at 2 p.m. but she found the labs of the Quality Assurance and Testing Center 3 (Quatest 3) and Vinacontrol were not operational.

These agencies later told her that the office rental and manpower costs they had to cover were higher than testing fee revenues, so they had no choice but to close their offices at Cat Lai port.

Checkpoints for specialized inspections were set up at seaports and airports in late 2015 and early 2016 by the customs departments in Quang Ninh Province, Haiphong City and HCMC. The checkpoints are represented by the Institute of Public Health, Veterinary Center for Region 6, Phytosanitary Center for Region 2, Quatest 3 and other agencies.

Their establishment came after the Prime Minister issued Decision 2026 approving a scheme to improve the efficiency of specialized inspections of exports and imports.

The ultimate goal is to shorten the time for customs clearance and reduce cargo storage and warehousing costs for exporters and importers who are subject to specialized inspections. However, not all types of commodities have their testing results returned at the same time.

For example, individuals who receive gifts worth less than VND2 million (US$88) from their relatives overseas will conduct procedures for epidemics check and have their results returned immediately at the checkpoint at the Tan Son Nhat International Airport.

However, if their gifts worth more than VND2 million, the checkpoint will receive their requests for testing while other procedures will be transferred to its headquarters in downtown HCMC due to lack of testing equipment.

Meanwhile, many agencies at the checkpoint at Cat Lai port do not have competent staff there, so important procedures must be done in the city center. Consequently, their testing results can only be returned after several days.

Thao of CIEM cited a Government resolution on improving the country's business environment and competitiveness as saying that after four years of execution, the number of commodities subject to specialized inspections prior to customs clearance has declined by a mere 10 percentage points, just half of the target.

She added around 58% of commodities subject to specialized inspections face overlapping checks by ministries, or even agencies within a single ministry.

Moreover, tests are still lengthy, leading to extra costs for enterprises.

Specialized inspections have long been regarded as a terrible headache for importers and exporters. Therefore, the Government has repeatedly asked competent agencies to make radical reform in the field.

More incentives for social housing development

The legal corridor for social housing development has recently changed towards providing more incentives than it was first mentioned in the Housing Law in 2005.

Last year, the nation's average floor area per person rose 0.6 square metre to 23.4 square metres as compared to 2016.

In 2017, a further 0.19 million square metres of social housing was added in urban areas, raising the total area for social housing in the urban region to 3.49 million square metres.

According to Minister of Construction Pham Hong Ha, the country now has more than 4 million square metres of social housing but only 40 percent of public demand has been met.

The Housing Law in 2014 and the government's Decree No.100/2015/ND-CP have provided full regulations and policies on the development and management of social housing, he said.

However, due to economic difficulties and limited State budget for development investment, the allocation of capital for implementing social housing support policies has not yet met the large demand of low-income people.

In the medium-term public investment plan for the 2016-2020 period, the government could arrange only a small amount of 1.2 trillion VND for the field.

Experts said it is necessary to create long-term capital sources for the development of social housing projects.

Preferential credit packages are needed to help enterprises investing in the field and people buying social housing properties.

Nguyen Ngoc Thanh, Vice Chairman of the Vietnam Real Estate Association, said the 30-trillion VND (1.32 billion USD) housing aid package, which was launched in 2013 and ended in 2016, created a breakthrough in the field, but it was just an aid package, not credit policy.

The government's Decree 100 states clearly that the capital to implement social housing projects is sourced from preferential credits from the Vietnam Bank for Social Policies, he said.

The State Bank of Vietnam (SBV) has decided to keep preferential loan interest rate unchanged at 5 percent for purchase, rent or hire of social housing projects in 2018.

The decision took effect from the beginning of this year, replacing Decision No 2544/QD-NHNN, dated December 30, 2016, on interest rate for loans applicable in 2017 for social housing projects.

China intensifies checks of fruit imports from Vietnam

Like the U.S. and Australia, China has strengthened safety checks of Vietnamese products, mainly fruits, from now to 2020.

A report sent to the Ministry of Industry and Trade by the Vietnam Fruit and Vegetable Association on April 5 says Vietnamese fruits and vegetables, whose export revenue amounted to US$3.5 billion in 2018, are subject to China's recently amended regulations on food safety.

Guangxi's quarantine agency has informed that it began on April 1 to trace the origin of and check the quality of fruits imported from Vietnam. This means when China restricts imports of fruits from Vietnam via border trade, Vietnam can ship just eight types of fruit – dragon fruit, rambutan, mango, longan, lychee, banana and jack fruit through official channels.

This will force Vietnam to rethink the way its fruits are exported to China. It can no longer rely on border trade as had been done over the years.

China's increased inspections of the quality of Vietnamese fruits might heavily impact Vietnam's fruit and vegetable exports as China is the biggest export market. In 2017, of Vietnam's fruit and vegetable exports totaled US$3.5 billion, with China accounting for US$2.65 billion, or 75.5%.  Other nine export markets made up only 24.50%.
HCM City helps supporting industries improve quality
     
The HCM City Centre for Supporting Industry Development has collaborated with other agencies to provide human resource solutions to supporting industries.

Together with the International Labour Organisation, it has organised the SCORE programme for training workers at small and medium-sized enterprises in supporting industries.

After the programme, six enterprises have improved production by applying the Japanese 5S model and Kaizen method.

The former is designed to improve productivity through organisation and cleanliness, and the latter is used to evaluate and find the ways to improve the work done by the company.

The Japan International Cooperation Agency has supported five small and medium enterprises in the automobile industry.

Thanks to these programmes, enterprises have overcome shortcomings with respect to finance their development strategies, thus making them become suppliers to companies like Mitsubishi and Samsung.

The city Department of Labour- Invalids and Social Affairs has urged the People's Committee to hire foreign experts in the field of support industries, organise training programmes to skill managers and teachers at colleges and intermediate schools.

The centre has also organised training courses for enterprises in areas such as starting up businesses and management.

ASEAN+3 economies to grow slower in 2018-19
     
Half of the ASEAN+3 economies are projected to grow at a slower pace in the next two years, reducing the region's overall growth rate, reports the ASEAN+3 Macroeconomic Research Office (AMRO).

ASEAN+3 includes 10 ASEAN economies and three other large economies---China, Japan and South Korea.

Seven of the 13 economies that are predicted to grow more slowly in the next two years include the four East Asia economies besides Thailand, Singapore and Malaysia---the leading economies in the ASEAN region.

The GDP (gross domestic product) growth rates for these economies range from 1.3 per cent to 6.6 per cent in 2018 and from 0.7 per cent to 6.4 per cent in 2019. Among them, China is seen as the strongest growing economy while Japan is considered the weakest as AMRO slashes its growth forecast for Japan from 1.3 per cent in 2018 to 0.7 per cent in 2019.

AMRO predicts the GDP growth of the ASEAN+3 block to reach 5.4 per cent in 2018, down 0.2 percentage points from 2017.

Two economies that may be steady in the next two years are Viẹt Nam and Cambodia, whose GDP growth may remain stable at 6.8 per cent and 6.6 per cent, respectively.

Improving economies in the region include Brunei, Indonesia, Laos, Myanmar and the Philippines. Among them, Brunei is projected to post the strongest GDP growth, which almost tripled from 0.6 per cent in 2017 to 1.6 per cent in 2018 and is expected to double to 3.4 per cent in 2019.

Therefore, the region's overall GDP growth is projected at 5.4 per cent in 2018 and 5.2 per cent in 2019, "underpinned by resilient domestic demand and export growth with stable inflation", AMRO said in its "ASEAN+3 Regional Economic Outlook (AERO) 2018" report, released on Thursday in Manila, the Philippines.

The overall inflation rate for the entire region is estimated at 2.1 per cent for 2018 and two per cent for 2019, up from 1.8 per cent in 2017. The overall inflation rate among ASEAN+3 economies has been steady at an average of 1.7 per cent in the past three years after falling sharply from 2.6 per cent in 2013-14.

"Most regional economies are in their mid-business cycle, where growth is picking up with a small output gap close to zero and stable inflation," AMRO said as credit has started slowing down in some of the regional economies after a period of "above-trend growth, partly reflecting the result of proactive policy action by authorities".

According to AMRO, risks confronting the region are mainly external, with near-term ones being the escalation of global trade tensions, faster-than-expected tightening in global financial conditions, escalation of regional geopolitical risks and weaker growth in the third quarter, while medium-term risk is the sharper-than-expected slowdown in China's growth and capital flight.

These risks can also have high impacts on the regional economic growth in future. In addition to this, the region can face perennial risks that lie in cyber-security attacks and climate change.

"If these risks materialise, there will be spillovers to the region through capital outflows, higher borrowing costs and lower trade and investment flows," AMRO said.

To cope with the potential threats to the regional economic growth, AMRO suggeststhat policymakers in the region "should continue to build policy space, particularly in monetary policy, in anticipation of tighter global financial conditions ahead".

"Fiscal policy may have to play a greater role in supporting growth while macroprudential policy can help safeguard financial stability," the report says.

Meanwhile, regional governments should focus on strengthening their management policies to "raise productive capacity through building physical infrastructure and human capital and to promote economic diversification to improve resilience in the economy", said AMRO'schief economist Hoe Ee Khor.

To address these challenges, the region "should improve connectivity through investment in infrastructure with trade facilitation policies, grow a vibrant services sector and develop a skilled labour force through labour upskilling, immigration and education", Khor said.
Fortress Tools leads the way to the stock exchanges

Foreign-funded firm Vietnam Fortress Tools JSC is joining other companies of its kind on the local stock exchanges, leveraging the growth of Vietnam's capital market and possibly leading a new trend of foreign-invested firms going public in the near future.

A total volume of more than 26.8 million shares of Vietnam Fortress Tools (Fortress), at par value of VND10,000 ($0.44) a share, is going to be listed on the Hanoi Stock Exchange (HNX) in May. According to Vi Nguyet Cam, Fortress investor relations manager and head of the supervisory board, Fortress expects its shares to start off at VND40,000 to VND60,000 ($1.78-2.67) a piece.

The company's earnings per share (EPS) for 2017 sit at VND3,602 ($0.16), while earnings per share (EPS) for 2018 is forecast at VND5,945 ($0.26). The price-to-earnings ratio (P/E) stands at 6.94 for 2017 and is estimated at 6.73 for this year. A P/E of 6.73 is considerably more attractive than the average P/E of the local stock market, which sat at 20 last week.

While it has been observed that other foreign-invested enterprises (FIEs) have not done so well following their initial public offering (IPO), things for Fortress could not be better ahead of its debut on HNX.

Marc Djandji, head of institutional sales at Rong Viet Securities (VDSC), said that Everpia, for instance, went public at probably one of the worst times for Vietnam, in 2010, "when the market was going nowhere and liquidity was bad".

"When a company makes its IPO, whether it's an FIE or not, going public with the right market conditions makes a big difference," noted Djandji. "The market right now is much better for an IPO.

"We're seeing a situation where more and more private companies are deciding to list. They're seeing the opportunities that the market offers," he told VIR. Thus, the timing for Fortress to get listed in May is great, he stressed.

Fortress was originally set up in 2006 under the name Formosa Tools – a 100-per-cent foreign-owned gardening tools manufacturer. It is a member of Taiwanese-backed Formosa Tools Co., which holds 30.55 per cent of its chartered capital.

Apart from Formosa Tools, Fortress's major shareholders include Emblem Holding (18.34 per cent), Probus Opportunities (9.33 per cent), and VN Alpha Limited (7.37 per cent).

Thanks to the rapid growth of the manufacturing sector, Fortress's sales have been on the rise over recent years, with about VND459 billion ($20.4 million) in revenue recorded in 2016, with the number reaching VND546 billion ($24.27 million) in 2017 and estimated at VND1.4 trillion ($60.8 million) for 2018. Pre-tax profit for 2017 grew some 175 per cent from 2016, from VND25 billion ($1.11 million) to VND68 billion ($3.02 million).

Fortress switched from a limited liability company to a joint stock company in 2016 and changed its name from Formosa Tools to Fortress Tools. Through private placements, the company raised its chartered capital to VND268.07 billion ($11.91 million) by the end of 2017.

"The reason for us to shift to a joint-stock company is owed to the apparent shift of global retail chains from placing their orders from China to other nations," said Cam. "Fortress has benefited from this trend and we have received mounting orders from traditional clients such as Walmart and Lidl, as well as new ones like Bond Manufacturing Co., which has the licensed for Stanley Black & Decker, one of most well-known hardware brands in US & European countries."

Lidl Hong Kong, as per Cam's account, is Fortress's strategic partner in Vietnam, and Lidl as one of the largest global retailers will back Fortress with its financial planning, credit line, material sourcing, and sales orders. She also told VIR that Fortress has an ambition to become a lucrative listed FIE on the local stock exchanges, paving a new trend for other FIEs in Vietnam.

The company, meanwhile, said that it is fully aware of other listed FIEs like Everpia or Taicera, which saw share prices falling following their listing, causing concerns over a divestment spell among foreign investors.

"Fortress stands apart from this trend, as we will expand production and grow swiftly in the near future," noted Cam. "Fortress currently operates as the main production hub for Formosa Tools, so we don't have a plan for divestment.

"Rather, Formosa Tools and the Hsu family, the founders of Formosa and Fortress Tools, will invest more to enhance local capacity, with the percentage of holdings to be just over 50 per cent, while leaving the rest for other investors. We want to attract small and individual investors in Vietnam through our listing to enhance our share liquidity and to boost our brand recognition," she added.
ACV suffers bitter losses from Viethaus project

Irrational calculations at its largest outbound investment project, Viethaus, have brought remarkable losses to ACV, Vietnam's largest airport operator.

The Government Office has collected comments from the ministries of Foreign Affairs, Finance, and Planning and Investment on how to deal with the Viethaus project based in Berlin (Germany) of Airports Corporation of Vietnam (ACV).

Earlier, the Ministry of Transport (MoT), which is ACV's management authority, in a report to Deputy Prime Minister Truong Hoa Binh, has floated the idea of terminating the project, based on ACV proposal.

Accordingly, in case the German government does not offer long-term space leasing at a favourable rate and long-term visa to its staff, ACV will ask its member unit Southern Airports Services JSC (Sasco) to return the space in the third quarter of this year when the space leasing contract expires and stop the investment project according to Vietnamese and German laws.

Last October, the Government Inspectorate's conclusion No.2569/K-TTCP confirmed that Viethaus was ineffective and was losing investment capital.

According to the Government Inspectorate, by the end of 2015, Viethaus project's cumulative losses came to EUR13.4 million ($16.4 million).

It would be extremely hard for ACV to recoup its investment capital of EUR763,280 ($934,100), in addition to the EUR8.85 million ($10.83 million) guarantees which had turned into debts and VND47.06 billion ($2.09 million) of other debts.

Viethaus was initially a cooperative deal between Sasco and German partner HMSky GMbH in 2005.

In 2010, the German partner transferred its entire stake in Viethaus to Vietnamese corporate entity Global Telecom Service JSC.

After three revisions, the project reported EUR9.41 million ($11.5 million) in total investment capital, of which the investors contributed EUR2.63 million ($3.2 million) (Sasco contributed $934,100 and Global Telecom $2.28 million).

The position of Viethaus was touted as one of the reasons the project faced difficulties from the start. The entire space of Viethaus is part of an old residential building in Berlin, leading to high renovation costs.

During the 10 years from 2005-2015, Viethaus's total expenses (loan interest, human resources, space, and amortisation costs) came to EUR14.5 million ($17.75 million).

In the meantime, the project's total revenue was a mere EUR7 million ($8.5 million), less than half of the JV's total expense.

In 2016, in a bid to restructure the project, ACV agreed with another of its members, Vietnam Aviation Transport JSC (Satsco), to found a fully-owned subsidiary in Germany to cooperate with Sasco to exploit the Viethaus building.

Two years later, Satsco was mired down in the same difficulties as Sasco, with revenue far below its total expenses due to inflated space leasing charges.

"Satsco is negotiating to close the cooperation deal with Sasco at the Viethaus project," a source from ACV revealed.
750MW gas-to-power project of Sembcorp closer to implementation

The 750 megawatt gas-to-power project invested by Sembcorp Industries' (Sembcorp) subsidiary Sembcorp Utilities comes closer to implementation through the signing of a memorandum of understanding (MOU) between the investor and the Quang Ngai People's Committee.

The signing ceremony occurred in the framework of Vietnam-Singapore Business Forum 2018, which was organised in Singapore on April 26 during Prime Minister Nguyen Xuan Phuc's official visit to Singapore.

This move follows the signing of an MOU between Sembcorp and the Ministry of Industry and Trade (MoIT) in March 2017 for the development of this gas-to-power project under a 20-year build-operate-transfer arrangement.

To date, Sembcorp has completed its feasibility study and submitted it to MoIT earlier this year for further review and evaluation.

Koh Chiap Khiong, head of Singapore, Southeast Asia, and China at Sembcorp, said, "We are committed as a long-term investor to Vietnam and hope to grow our offerings as an integrated energy player to support Vietnam's move to cleaner energy sources to power the nation's economic growth."

At present, the province is co-operating with the company to push relevant ministries and stakeholders to speed along the process as well as promote the project to ensure progress and quality.

Laguna Lang Co receives investment certificate for expansion and casino

Banyan Tree Holdings from Singapore, a leader in hotels, resorts, and luxury apartments in the Asia-Pacific region, has been granted the investment certificate to increase its total investment capital at Laguna 

According to the local media, the charter capital of Banyan Tree Holdings will increase to $300 million from $175 million. Besides, the added capital will be used to build 998 more hotel rooms and 1,073 villas, while $249.8 million of the added capital will go to the casino project alone.

Previously, at a working session with Thua Thien-Hue authorities on January 2, 2018, Prime Minister Nguyen Xuan Phuc agreed in principle to add the casino business to Laguna Lang Co after years of mulling.

Starting operations in March 2013, the $875-million Laguna Lang Co Resort is located near Lang Co Bay, framed by a three-kilometre beach in Chan May region. This development includes Banyan Tree and Angsana hotels and spas, an 18-hole championship golf course designed by Nick Faldo, private villas and residences available for sale, convention facilities, and a plethora of recreational activities for guests of all ages.

The adjusted investment cerificate was issued after both the Thua Thien-Hue People's Committee and the investor submitted documents numerous times to the prime minister to seek approval for the casino.

Notably, earlier in July 2014, Singaporean resort developer Banyan Tree Holdings sought the provincial leaders' approval to build a casino in the complex, claiming the step would play an important role in the development of Laguna Lang Co Resort, the company's first project in Vietnam.

In June 2015 and August 2017, Thua Thien-Hue proposed the prime minister to add the province's Chan May-Lang Co Economic Zone to the list of areas allowed to have casinos in the country.

Along with Banyan Tree Holdings, another foreign investor visited Thua Thien-Hue looking to develop casino projects. In late July 2017, US-based casino operator and hospitality business Hard Rock International Inc. confirmed its interest in developing a casino at the Laguna Lang Co integrated resort complex.
Sunseap solar farm to be kicked off in mid-2018

Sunseap International—a unit of Sunseap Group, Singapore's leading clean energy provider—expects to kick off the construction of a $150-million solar farm in mid-2018 to put it into commercial operation by June 2019.

According to newswire Pv-magazine, the firm has recently received the Decision on Land Handover (Phase 1) for the 168 MegaWatt-peak (MWp) solar farm in Ninh Thuan province in the framework of the Vietnam-Singapore Business Dialogue 2018 held in Singapore on April 26.

This was preceded by the issuance of the investment certificate which came after securing approvals from various authorities, including the Government Office, that are required for solar projects exceeding 50 MWp.

Once completed, the project will generate enough electricity to power up to 200,000 households in Vietnam and create permanent employment for over 200 workers. Additionally, it will be allowed to sell power to the national grid at the mandated solar feed-in tariff of 9.35 US cents/kilowatt hour for the next 20 years, provided they start delivering clean energy to the grid by June 2019.

Frank Phuan, co-founder and chief executive officer of Sunseap, said: "This is the largest project to date for Sunseap and we are honoured to be able to participate in the greening out of Vietnam. This Vietnamese solar farm project is in line with our vision to conserve the environment and at the same time contribute to communities across Asia."

According to Luu Xuan Vinh, Chairman of the Ninh Thuan People's Committee, the project is one of the largest solar energy projects in Ninh Thuan.

The province has issued the investment certificate and the decision on land handover (phase 1), handing over 130 hectares of land to the project developer. The remaining 56 hectares are expected to be handed over in May 2018.

Earlier on February 14, Sunseap International signed an agreement with InfraCo Asia Development Pte., Ltd. (InfraCo Asia) to jointly develop a 168MW utility-scale solar power project.

Accordingly, InfraCo Asia will take a minority stake alongside Sunseap's existing partner, CMX RE Canada, while Sunseap International will continue to hold a majority stake in the project.

One of the first large-scale solar projects to go online in Vietnam, the solar farm will tap into Vietnam's significant solar potential, generate employment opportunities, and contribute to a cleaner energy mix for the country.

ACA Investments pours extra $100 million in retail and logistics ops

ACA Investments, Japan's leading fund management company and an affiliate of Sumitomo Corporation, will spend $100 million on conducting M&A deals in the retail and logistics sectors in order to increase its presence in Vietnam.  

This capital will be disbursed within five years via investing in five or six local small- and medium-sized firms, according to newswire DealStreetAsia.

Earlier in May 2017 ACA Investments completed the purchase of a 20 per cent stake in Bibo Mart JSC with the ambition to take its available advantages to become the dominant baby and mom retailer in Vietnam. Bibo Mart is already dominating the baby and mom retail market.

Starting out with only two stores in 2006, Bibo Mart now has 120 stores. It is expected that by the end of this year, the number of stores will double over 2016's figure to reach 180 and then 500 by the end of 2019.

On average, about 10 new stores will open nationwide each month. Bibo Mart stores will be located in more than 18 cities and provinces, targeting locations that are densely populated and convenient for buyers. Over its 12 years of establishment and development, Bibo Mart is now the No.1 mother and baby chain in Vietnam and is valued at $140 million.

Speaking at the signing ceremony, Hiroyuki Ono, partner at ACA Investments, stated, "Through this investment in Bibo Mart, we hope to seize the opportunities that exist for Japanese corporations to expand in the Vietnamese retail market."

ACA Investments is one of the best-performing fund managers in Asia, with a head office in Singapore and extensive experience in investing in projects in the Asia-Pacific region. It was established in 2008 and focuses on growing companies in specific industries as well as investment-related services, such as mergers and acquisitions advisory.

ACA Investments has invested in four firms in Vietnam, namely Viet Thanh Technology Corporation (March 2014), Cat Dong Trading and Service JSC (March 2015), BBM Investment JSC (August 2016), and SonKim Land Corporation (January 2017).

According to the latest developments, on April 2, Cat Dong transferred 26.9 per cent stake to e-commerce firm Scroll Corporation from Japan. Thus, the Japanese investor holds 63.9 per cent stake in Cat Dong, which owns e-commerce sites CungMua.com, NhomMua.com, and Shipto.vn.
Digiworld targets 25% CARG annually

Electronics and FMCG distributor Digiworld Corporation (DGW) has recently approved the target of around $207 million in net revenue this year, an increase of 23 per cent compared to the previous year. 

Gross profits doubled to nearly $880,000 making up 19 per cent of the annual plan. Distribution of laptops, mobile phones, and office devices is expected to make up 96 per cent of this goal.

The company sets a target of 25 per cent CARG every year. It reported stunning results in the first quarter with nearly $56 million in net revenue, rising 66 per cent year-on-year. This revenue has been the highest since the company first listed in 2015. Consolidated after tax profit reached $857,000, an increase of 127 per cent year-on-year.

Most of Digiworld's business sectors have recorded positive results. A hike in the mobile phone sector's revenue came from the brands Xiaomi and Sharp. In office equipment, growth was good and stable as more brands had different product categories.

The consumer goods sector recorded growth from the contribution of the newly acquired FMCG Company CL Ltd. and revenue from Kingsmen products from the third quarter last year in the healthcare sector.

"Digiworld is the exclusive distributor of the washing liquid, fabric softener, and toothpaste of Japan's Lion Corporation. We only started in the middle of 2017 but the growth is astounding," Digiworld's Chairman Mr. Doan Hong Viet said.

This company confirmed that its FMCG business segment will bring $8.8 million in revenue after one year, four times higher than last year due to good market development, research and development, the expansion of distribution channels, and marketing campaigns. However, Mr. Viet affirmed that this figure would change drastically in the middle and for the long-term due to the surging growth of the FMCG sector in recent years.

Digiworld also broke into the pharmaceutical sector last year and confirmed the great market potential as demand for healthcare among Vietnamese consumers is on the increase. The sector is expected to grow by 100 per cent in revenue and is expected to hit $44 million within the next two years.

Digiworld's Chairman also identified that pharmaceutical distribution is very different from the firm's traditional sector, electronic devices. The company will strengthen connectivity with pharmacies to create and expand its distribution system and launch new healthcare products.

In order to implement this plan, Digiworld's management board plans to raise charter capital by issuing six million individual shares.

Clingme app benefits all

At Germe, a clothing store for teens on Hanoi's Ba Trieu Street, Ms. Thanh Hai browsed through its selection. After choosing a dress, she paid using the Clingme app on her phone, because it offers a cashback of up to 10 per cent. "I also use the app at restaurants and coffee shops," she said. "I can save VND3 to 4 million ($130 to $175) every month."

Cashback is one of the three outstanding features of Clingme, a mobile app that uses technology to support retailers and was  developed by CEO Tran Hai Quang and his colleagues since July 2013.

Mr. Quang told VET that cashback is an outstanding function of Clingme because it brings tangible benefits to customers. "It's not a new idea and has been provided by banks already, but at low rates of 1 to 5 per cent and sometimes even less than 1 per cent," he explained. "Clingme is the first app with cashback rates of up to 15-20 per cent and even 40 per cent." Its customers can save from VND7 to VND10 million ($310) ($440) when using services through Clingme and the method for doing so is quite simple: just take a photo of the bill and send it to Clingme. They can also pay bills directly via the app.

Clingme's cashback function differs from other e-commerce websites such as muachung and hotdeal. It does not offer "shock" prices to customers; its cashback rate depends on the type of products as well as the profit of their partners. "Clingme expects each transaction to be profitable, and the discount is to benefit both Clingme's users and retailers," Mr. Quang said.

The app also helps users find restaurants, fashion shops, pharmacies, and ATMs, among others. Mr. Quang's team has constantly updated the online ordering system on Clingme. "Instead of going directly to shops or restaurants, customers can order food or drinks and especially clothing via Clingme," he said. "We commit to delivering food and drinks within 30 minutes, to ensure quality." 

After graduating from the Foreign Trade University and with an MBA earned in the US, Mr. Quang decided to return to Vietnam and go into business. Though Clingme was not his first startup, it combines his heart as well as his experience. He told VET that the startup stemmed from the desire of himself and his colleagues to establish a large and professional technology company in Vietnam. Realizing the potential of the online-to-offline market, he chose to apply mobile technology to support retailers. It went with restaurants and coffee shops because Clingme is a consumer internet company and therefore focuses on sectors that consumes use on a regular basis.

Four years after its launch, Clingme has 3,000 preferred locations in Hanoi and Ho Chi Minh City and app downloads not total some 500,000 and is rising 30 to 35 per cent per quarter. "But Clingme pays more attention to the number of transactions," he insisted. "The figure in 2017 was seven times higher than in 2016." Transactions are much more important than user numbers, he explained, as the app doesn't want to merely attract users to sell advertising.

In order to achieve success, Clingme had to overcome a range of challenges initially. Its greatest obstacle has been employee recruitment, with Mr. Quang saying that having good staff is a key factor in development. The challenges also differ between Hanoi and Ho Chi Minh City, as Clingme has had to educate people living in the former. "It can be difficult for Hanoians to adopt new technology," he said. "We therefore have had to 'train' them and explain the benefits of our app." This is simply not an issue in Ho Chi Minh City, where users and partners are more open-minded and not afraid to use new technology. Even though Clingme is headquartered in Vietnam's capital, most of its customers are in the southern city.

Though 2017 was a milestone year for Clingme, Mr. Quang is not resting on his laurels. In talking about upcoming strategies, he said he hopes to increase the intelligence of the app, especially in terms of big data. "Clingme is trying to improve its intelligence by consulting with experts from Silicon Valley on improvements," he said. "We want to analyze customer data and suggest suitable products."

Another goal is promoting the locations that accept payments via Clingme. This fits in with the "cashless" trend and security concerns over debit or credit card information being disclosed. He emphasized that in addition to increasing the number of locations using Clingme, he will also expand its services to other cities and provinces to exploit the potential of tourism in the country.
SCG & SolarBK partner to distribute residential solar solutions

SCG Concrete Roof (Vietnam) Ltd., a member of Thai conglomerate the SCG Group, has recently signed a cooperation agreement with the SolarGATES Trading JSC, a subsidiary of the SolarBK Holdings Group, to officially become a nationwide distributor of SolarGATES renewable energy products and solutions.

SCG Concrete Roof spent some nine months exploring Vietnam's renewable energy market before deciding to partner with Solar BK Holdings. The groundwork for the collaboration came from a need to find qualified solar panel suppliers in Asia to provide solar power solutions integrated with SCG Concrete Roof's products in Thailand. 

After visiting the international-standard photovoltaic (PV) module manufacturing process at IREX - a member of SolarBK Holdings - SCG Concrete Roof was impressed by the efficient workflow and value chain, from manufacturing and technology to technical solutions. Visiting the Solar Experience Space (a community-based project held by SolarBK Holdings) at Ho Chi Minh City's Bach Khoa University last October allowed SCG Concrete Roof to gain insight into the vision and development orientation of SolarBK. SCG Concrete Roof then decided to establish a long-term partnership with SolarBK in Vietnam, beginning with the distribution of residential-scale PV solutions.

One of the business activities of SCG Concrete Roof is to provide roofing solutions to households. With over 80 distributors nationwide, it expects to partner with SolarGATES to deliver smart, environmentally-friendly solutions by installing PV systems on rooftops. Distribution items include residential-scale PV rooftop solutions, residential-scale solar water heater solutions, and renewable energy products and gadgets. 

A representative from SCG Concrete Roof said that SolarBK Holdings is a giant corporation in designing, building, and implementing green energy solutions in Vietnam. The prestige of its parent company's brand is a convincing reason for SCG Concrete Roof to believe in successful collaboration with SolarGATES, who is also considered one of only a few Vietnamese enterprises in the field of renewable energy with a nationwide distribution network. 

"Inheriting the distribution network of its parent company, SolarGATES has considerable potential to fully cooperate with SCG Concrete Roof in the implementation of solutions for residential customers, as well as providing O&M services (Operations and Maintenance) all over the country," said Mr. Nguyen Vu Nguyen, Operations Director of SolarGATES. "SolarBK Holdings has a complete value chain, from technology and production lines to financial solutions, which is a solid foundation for SCG Concrete Roof to aim for more comprehensive and smarter solutions in the future."

The signing ceremony marks the beginning of an important partnership that will not be limited to Vietnam. SCG Concrete Roof is now distributing SolarGATES's PV Rooftop solutions in north-central Nghe An province. Distribution to other markets will be handled in the shortest possible time.

Vinacomin posts rosy first quarter results

State-owned mining conglomerate Vinacomin has reported buoyant performance in the first quarter of the year, with profit touching 45 per cent of the full-year plan, driven by exceptional alumina revenue.

Favourable weather, rising market demand, and robust economic growth have contributed to Vinacomin's rosy first-quarter performance.

Its total revenue came to VND30.29 trillion ($1.34 billion) in the first three months, equal to 26.6 per cent of the annual plan and a 123 per cent jump on-year.

The mineral business segment posted a sharp jump in revenue to VND4.38 trillion ($194.6 million), up 53 per cent on-year, which largely came from an 83 per cent growth in alumina revenue.

This helped lift Vinacomin's profit to an estimated VND900 billion ($40 million) in the first quarter, a 45 per cent jump on-year.

According to Vinacomin chairman Le Minh Chuan, coal consumption will continue to be strong over the next few months due to rising demand, as will alumina sales.

In March 2018 alone, the group sold nearly 4 million tonnes of coal and reduced its stockpile volume by 800,000 tonnes.

In the second quarter of the year Vinacomin is set to fulfil 52-55 per cent of its annual plan, all by the mid-way mark of 2018.

In 2018 Vinacomin aims to make VND113.8 trillion ($5.05 billion) in revenue, up 3.6 per cent on-year. Of this figure, VND56.29 trillion ($2.5 billion) is to come from the coal business, VND16.47 trillion ($732 million) from the mineral business, VND12.23 trillion ($543.5 million) from the power business, and more than VND22 trillion ($984 million) from other business.

The group also envisages producing and selling 36 million tonnes of coal, 1.9 million tonnes of which are bound for export.