Viet Nam will not build more new sugarcane plants between now and 2020, following a plan for the sugar industry's development until 2020 with a vision to 2030.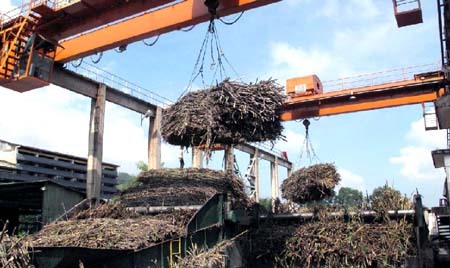 Pho Phong sugar factory, financed by Quang Ngai Sugar JSC in the central province of Quang Ngai.
The plan, recently approved by the Ministry of Agriculture and Rural Development (MARD), aims to promote the industry's competitiveness and sustainable development while meeting domestic consumption demand and gradually moving towards exports. Currently, the country produces more sugarcane than consumers are willing to buy; the plan aims to reduce supply until demand can catch up.
In the 2017-18 crop, the domestic sugarcane industry has struggled, the Lao Dong (Labour) newspaper cited the Viet Nam Sugarcane and Sugar Association as saying.
As of March 15, sugar mills nation-wide had produced more than 750,000 tonnes of sugar. However, over 70 per cent of production, or 530,000 tonnes, sat in inventory during the period—meaning no one wanted to buy it and the product will likely go to waste. 
The same situation was seen at sugar trading companies, with more than 14,000 tonnes of stockpiled sugar, the newspaper reported.
According to the development plan, Viet Nam will only expand the capacity of operating plants in the areas where it will able to further develop sugarcane farming. The total designed capacity of these factories will be 174,000 tonnes of sugarcane each day.
The plan also gives priority to investing in equipment and technology reforms in order to increase the rates of white and refined sugar.
From now to 2020, the country's sugarcane growing area will be maintained at 300,000ha while its sugarcane production will be ensured at more than 20 million tonnes and sugar output at 2 million tones, including 1.3 million tonnes of refined sugar.
The plan targets that by 2020, at least 70 per cent of factories and factory clusters will be able to process over 4,000 tonnes of sugarcane per day. About 5.5 million tonnes or 90 per cent of bagasse will be used to produce 1.1 million kWh of electricity every year.
By 2030, sugarcane and sugar output will be respectively increased to 24 million tonnes and 2.5 million tonnes. More than 90 per cent of factories will process at least 4,000 tonnes of sugarcane each day. The industry is expected to recycle 7 million tonnes or 91 per cent of bagasse annually to produce 1.5 – 1.6 billion kWh of electricity.
In order to reach these goals, top priority will be given to supporting enterprises in diversifying sugarcane products and increasing the price of electricity produced from bagasse. That can encourage enterprises to invest in this kind of business.
Focusing on researching and facilitating the production of ethanol fuel from sugarcane juice and molasses and stepping up activities to prevent sugar smuggling are also prioritised.
In addition, building data systems able to provide updates with the latest information about the world sugar market will help local enterprises actively participate in global transactions.— VNS