As foreign brewers remain firm in their ambitions to expand in the local beer market, domestic enterprises are also implementing plans to gain market share.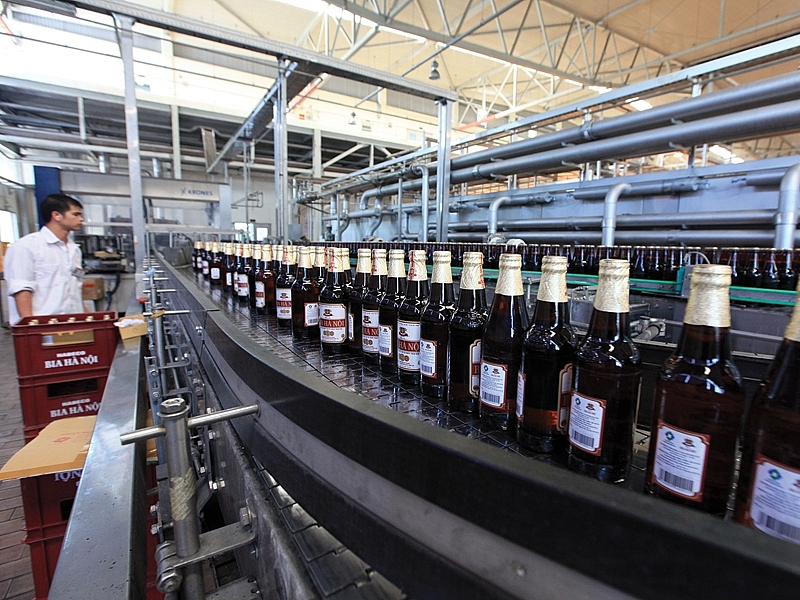 Sabibeco is opening its six brewery to compete with foreign competiors
Most recently, Saigon-BinhTay Beer JSC (Sabibeco), an affiliated brewer of Vietnam's leading beer firm Sabeco, kicked off the construction of the Saigon-Long Khanh beer manufacturing plant with a total investment capital of VND900 billion ($39.51 million).
Covering an area of 4.5 hectares in Dong Nai province's Long Khanh commune, the plant is expected to come into operation by April 2019 with the annual capacity of 100 million litres. The plant will be equipped with machinery and manufacturing lines imported from beer manufacturing equipment supplier Krones Group.
The aim of this beer plant is to contribute to the firm's plan to become the leading brewer in the country. According to the plan, Sabibeco will increase its capacity to 1 billion litres per year by 2020.
Once the Saigon-Long Khanh plant comes into operation, it will be the sixth beer manufacturing plant operated by Sabibeco.
At present, the firm's five beer manufacturing plants are focusing on improving the Sagota beer brand in both the domestic market and overseas markets.
With the total consumption of about 3.8 billion litres of beer each year, Vietnam is an attractive market luring in numerous foreign brewers, including Carlsberg, Heineken, and AB Inbev. These investors are determined to increase their market shares via M&A deals.
Notably, in March, Cees't Hart, chairman cum general director of Carlsberg, arrived to Hanoi to look for specific plans to increase Carlsberg's holding in Habeco.
In the framework of the visit, representatives of Carlsberg discussed with the Ministry of Industry and Trade (MoIT), Habeco, and relevant authorities the state divestment progress.
After Carlsberg, which holds a 17.3 per cent stake in Vietnam's third-largest brewer, failed to use its priority purchasing rights to buy more stakes in Habeco, Cees't Hart stated during his visit that Habeco is a good asset and Carlsberg will offer a competitive price for a stake in the brewer.
Along with Carlsberg, Heineken and AB Inbev also expressed ambitions to acquire Habeco's stakes to increase their market share in Vietnam.
Another foreign brewer wanting to increase its presence in Vietnam is Thai Beverage (Thaibev). Accordingly, after acquiring a 53.59 per cent stake in Sabeco, Thaibev announced plans to sell between 1.85 and 2 billion litres of beer and increase Sabeco's market share to 50 per cent this year.
"Being the largest shareholder of Sabeco, we will support the corporation to become the leading brewer in Vietnam. We will take Sabeco's products into F&N's distribution system in Vietnam and other countries, and simultaneously increase Sabeco's beer sales in Singapore, Thailand, and Vietnam," said Koh Poh Tiong, chairman of F&N—a member company of Thaibev)—at Sabeco's meeting to summarise the business results of 2017 and the development plan for 2018.
At present, Sabeco is the largest brewer in Vietnam with a market share of 41-43 per cent, while the runners-up are Heineken with 25-27 per cent, Habeco with 16 per cent, and Carlsberg with 10 per cent, respectively.
VIR