Viet Nam spent US$58 million to import pesticides and raw materials in March, lifting total imports of the commodities in the first three months of this year to $194 million.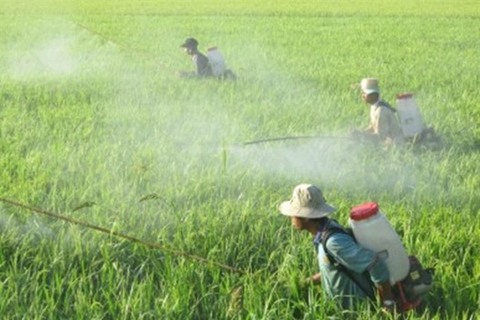 The imports mainly came from China, accounting for 54.2 per cent of the total value, Thoi bao Kinh te Viet Nam (Viet Nam Economic Times) reported.
Imports of pesticides from the UK, Malaysia and India also increased sharply in the first months of the year, rising 80 per cent, 51.5 per cent and 26.3 per cent, respectively, from the same period last year.
According to statistics from the Department of Plant Protection, Viet Nam currently has about 1,700 pesticide active ingredients with 4,080 goods.
However, there are only about 2,000 products in the market, of which 20 per cent are bio and herbal remedies. The rest are still in the list but have little or no foothold in the market.
Apart from pesticides, the country also imports a lot of fertiliser. It is estimated that the volume of imported fertiliser in March reached 350,000 tonnes, worth $100 million.
In total, the import volume and value of fertiliser in the first three months reached 879,000 tonnes and $245 million, down 28.6 per cent in volume and 25.7 per cent in value compared with the same period last year.
Fertiliser is imported mainly from China, Malaysia, Norway, the US and South Korea. — VNS