The Republic of Korea's conglomerate CJ's CJ CGV Vietnam, the leading film distributor and movie theatre operator in Vietnam, reported VND2.8 trillion ($122.7 million) in revenue in 2017 with a market share of 47 per cent, running laps around competitors.
Dominating Vietnam's movie theatres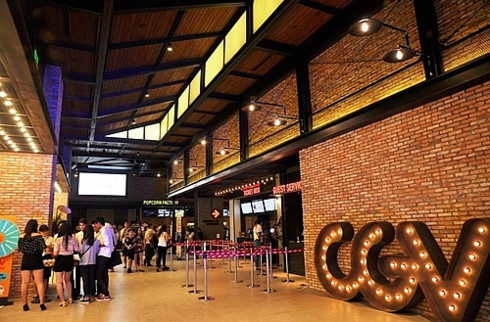 CJ CGV owns a series of movie theatre chains in numerous countries. According to its financial statement of 2017, CJ CGV Vietnam acquired an average VND7.6 billion ($333,126) per day, equalling VND2.8 trillion ($122.73 million) for the whole year with a net profit of VND140 billion ($6.1 million), up 30 per cent on-year.
By the end of 2017, CJ CGV Vietnam's multiplex movie theatres had 324 screens across the country. Its market share was 47 per cent, up 7 per cent on-year.
In July 2011, CJ CGV completed the purchase of an 80 per cent stake in Megastar Media Company (Megastar), Vietnam's leading cinema owner and film distributor, for $73.6 million. Then, Megastar was renamed into CGV.
In 2015-2017, CJ CGV maintained double-digit profit growth. Notably, in 2015, its profit reached KRW2.5 billion ($2.36 million), to then double to KRW5 billion ($4.72 million) by 2016 and KRW6.5 billion ($6.14 million) last yearm, according to vnexpress.net.
With the 47 per cent stake, CGV is considered the largest movie chain in Vietnam, followed by Lotte Cinema, Platinum, Galaxy, and BHD.
Monopoly and favouritism
Along with being the largest movie theatre operator in Vietnam, CJ CGV Vietnam is also infamous for its scandals of disadvantaging Vietnamese movie producers and distributors.
Notably, in May 2016, in a joint petition to the Vietnam Cinema Association, eight domestic film producers and distributors alleged that CJ CGV Vietnam put them at a disadvantage by using its market dominance to claim an unreasonable share of box office revenue from the Vietnamese films it screens and distributes.
"With its overwhelming share of movie theatres in the market, CJ CGV Vietnam demands unreasonable share of the revenue from movies distributed at its chain. Vietnamese movies produced by CGV and screened at other theatres have to pay 55% of the revenue to CGV. Domestically produced movies released at CGV's theatres also have to pay 55 per cent to CGV," stated the signatories, including BHD, Galaxy, and Skyline, among others.
CJ CGV has been in trouble multiple times in South Korea for the same reason. In 2014, the movie theatre chain was reportedly fined for KRW3.2 billion ($2.87 million) by the Fair Trade Commission (FTC) for favouring movies produced by affiliated companies and giving them advantage in screening periods. Lotte Cinema was fined for similar charges.
In 2008, as reported by news site hollywoodreporter.com, CGV was one of the four South Korean movie theatre chains determined by FTC to be "abusing their dominant business position" in a range of unfair practices, including prematurely ending the screening of movies and issuing excessive numbers of free tickets without the distributors' permission.
VIR