At least six member countries of the Transpacific Partnership's new avatar, the CPTPP, including Viet Nam, are likely to ratify it this year, enabling it to come into force in early 2019, a seminar heard in HCM City on Thursday.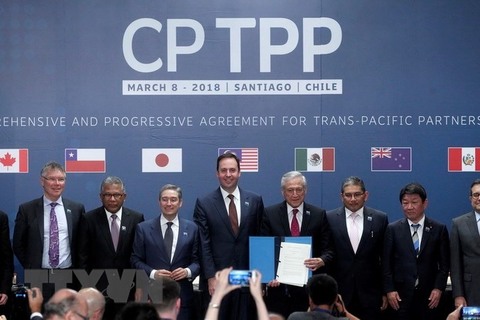 Representatives of countries joining the signing ceremony of the CPTPP in Chile in March 2018. 
On March 8 the CPTPP, formally known as the Comprehensive and Progressive Agreement for Trans-Pacific Partnership, was signed in Santiago, Chile, by the 11 remaining countries -- Australia, Brunei, Canada, Chile, Japan, Malaysia, Mexico, New Zealand, Peru, Singapore and Viet Nam -- after the US pulled out from the original deal, the TPP, last November.
Gaining access to the US market was a major reason for many countries to sign the deal, meaning the US's withdrawal made TPP-11 less attractive, Ngo Chung Khanh, deputy director of the Ministry of Industry and Trade's multilateral trade policy department, said.
"But it is only in the short term. In the long term, the CPTPP still offers a lot of benefits [to member countries].
"The CPTPP is a deal that reaffirms freedom of trade in the Asia Pacific, and joining the pact does not only give us access to 10 markets but in the long run to others as the deal will be expanded in future."
The CPTPP, which will bring 90 per cent of trade tariffs between 11 nations down to zero, is very similar to the original TPP, though 22 of the latter's provisions (mostly insisted on by the US) have been suspended.
Khanh said it is possible the US would come back to join the CPTPP as the pact is gaining interest in many countries like the UK, Indonesia and South Korea.
But he said from his experience as a member of Viet Nam's WTO negotiating delegation a decade ago that a country achieving membership of an existing organisation is tough because then the negotiations involve one versus many.
He said at the next meeting the CPTPP members would discuss guidelines for countries wishing to join the pact in future.
He advised Vietnamese firms to get up to speed on the new terms of the CPTPP to take advantage of the opportunities it would bring in 2019.
"The pact will come into force two months after it is fully ratified by six of the 11 members. Japan has taken the initiative and ratified it. Besides, Canada, Australia, Peru, Mexico, Chile, and Viet Nam are all committed to ratifying the pact this year."
CPTPP members represent 13.5 per cent of the global economy and a population of 500 million, which is larger than that of the Europe Union.
According to estimates from the Peterson Institute for International Economics, the economies of the CPTPP members will add 1.7 percentage points because of the deal.
Viet Nam and Peru will be the biggest winners with their GDPs benefiting by 2-3 per cent. — VNS