Japanese low-cost airline Vanilla Air, which is wholly owned by All Nippon Airways, announced its official exit from Vietnam's affordable aviation market despite optimistic business performance over the past 18 months due to its failure over local competitors.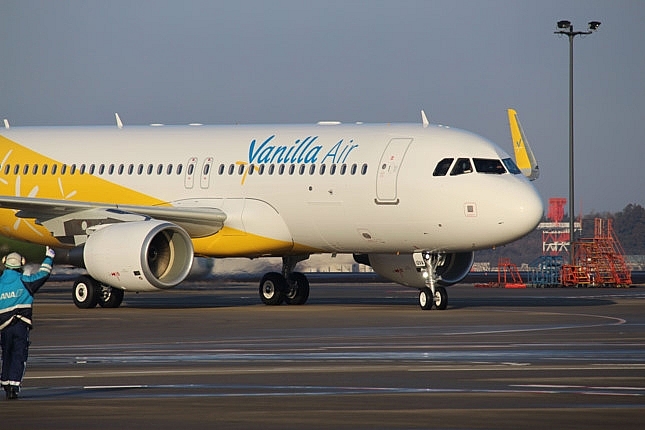 The Japanese airline leaves Vietnam after only 1.5 years of operations
On March 25, the All Nippon Airways-owned airline officially cancelled 100 per cent of its services in Vietnam, three days after its merger with Peach Aviation, a subsidiary of ANA Holdings.
To date, both Vanilla Air and Peach Aviation are specialised in catering affordable aviation services, sharing the parent company of ANA Holdings, Japan's leading air travel services provider.
In September 2016, Vanilla Air initiated the two flight routes of Ho Chi Minh City-Taipei (China) and Ho Chi Minh City-Tokyo (Japan). Along both routes, the Japan-based airline saw constant, intense competition with other foreign-invested airlines such as EVA Air, Uni Airways, and China Airlines, as well as Vietnam-based affordable airlines such as Vietnam Airlines and Vietjet.
Additionally, Vanilla Air has been planning its merger with Peach Aviation in October 2018, expecting to be wholly acquired by late March 2019.
VN's air transportation strives to make ASEAN's top four by transport volume
After merging with Vanilla Air, Peach Aviation is forecast to become Japan's largest airline in the affordable air travel sector regarding the number of seats per aircraft. By the end of March 2017, thanks to Vanilla and Peach, ANA Holdings secured 52 per cent of the total number of seats offered in the Japanese aviation sector for both domestic and international air transport.
According to newswire Japan Times, Shinya Katanozaka, president of ANA Holdings, explained the group's decision by saying, "The business performance of both Vanilla and Peach were ideal, therefore, the merger would benefit our (ANA Group's) overall business performance due to the rising number of passengers travelling to Japan lately."
In Tokyo, Vanilla Air concentrates on providing services in Narita International Airport with seven domestic and seven international flight routes. Vanilla focused on delivering connecting flights to the Philippines, Taiwan, Vietnam, and Hong Kong.
Meanwhile, Peach Aviation's services were narrowed down in Kansai International Airport in Osaka to 12 domestic and 13 international routes. Peach catered connecting flights to South Korea, Taiwan, China, Hong Kong, and Thailand.
Source: ForbesVietnam/VIR